On a fine Sunday afternoon, the last of the warm and bright summer days, the kids and I decided to wander into central London for a walking tour involving history and sweet treats.  We took the Piccadilly and Petits Four walking tour of the neighbourhood around St. James's London with Yannick Pucci.  Yannick is not only a tour guide at the British Museum but he also runs his own tours through London Unravelled.
The Piccadilly and Petits Fours Walking Tour
Our tour group was small which made visiting places easy.  It turned out to be just me, the kids, Yannick and Angie from Silverspoon London.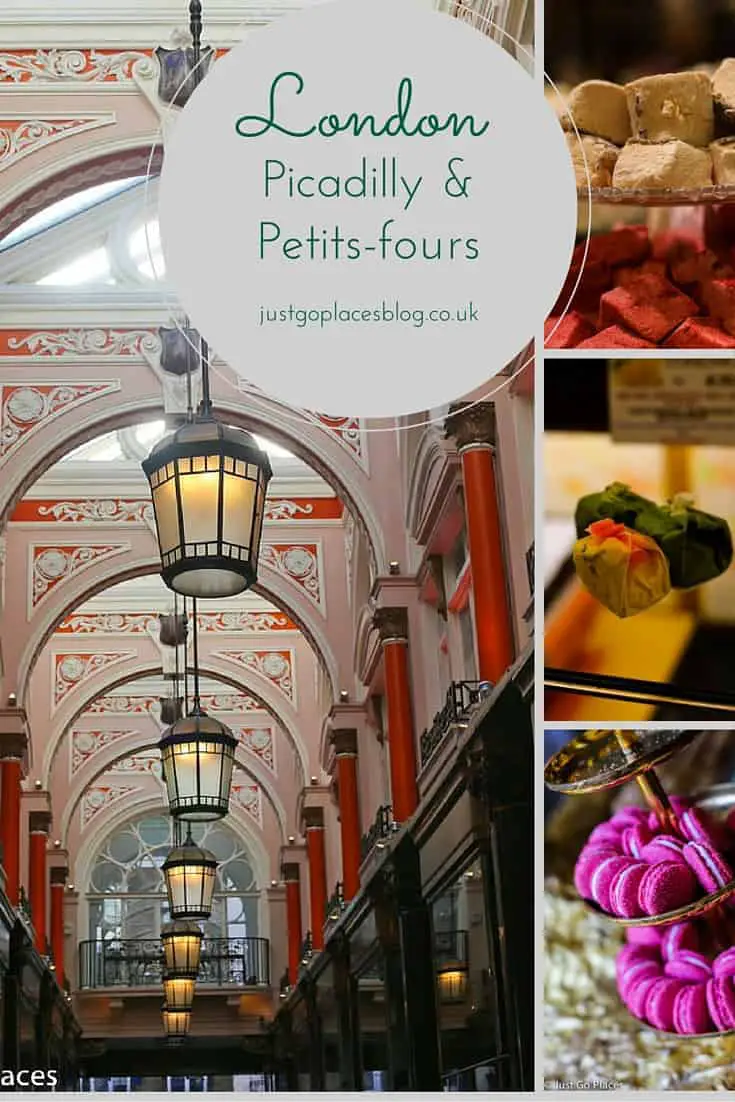 You meet Yannick near the entrance to Green Park as you exit from the Green Park tube station.  Unlike other tours I've been on, the meeting point was very easy to find.  The tour covers a relatively small area but it is packed full of interesting places and history.
The petits fours portion of the tour lets you try out some of the internationally-renowned sweet treats that the area has to offer such as French macarons, English chocolates and Japanese wagashi confectionary.
St. James's London Trivia
I don't want to give too much away about the tour (trust me, Yannick is a font of knowledge) but I love trivia.  I thought I'd share my favourite pieces of trivia from the area around St. James's London.
In no particular order, did you know:
Green Park has no flowers because Catherine of Braganza ordered all the flowers ripped up when her husband, Charles II, picked some flowers from the park to take to his mistress.  Charles was a known womaniser but this thoughtless behaviour was too close to Catherine's home.  Literally.  Green Park at that time would have been part of the royal palace grounds.
Before it became Green Park, the area was a graveyard for lepers.  Henry VII built St. James's Palace where the leper hospital, dedicated to St. James, had been located.  And, property values immeasurably skyrocketed.
Piccadilly was originally named Portugal Street in honour of Catherine of Braganza.  Maybe Charles II was trying to placate his wife after the mistress incident.
Mr. Fortnum of Fortnum & Mason fame made his fortune by recycling Queen Anne's candles.  Queen Anne insisted on fresh candles every day and so her old candles were thrown out even if they were still usable.
The Georgian male fashion plate, Beau Brummell,  was credited with bringing in the modern fashion for a 3 piece suit.  Even though he favoured an understated, elegance, it still took him 5 hours a day to get dressed.  I can only imagine how long it took to achieve the artfully tousled curls in his hair as shown on his statue.
These beautiful mews houses are used by the Stafford Hotel for people who want a long-term stay in London.  They started off as the stables for the fancy houses of the aristocrats in the neighbourhood.
Some of the streets around Piccadilly still have some of the original gas lamps from Victorian times.
The Embassy of Texas was in an alley behind Berry Brothers wine merchants for the four years that Texas was an independent republic.
One of the prototypes for the famous British red phone boxes is tucked into the entryway of the Royal Arcade.  The phone box is listed on the historic register.
Burlington Arcade was created next door to Burlington House (now the Royal Academy) so that people would stop littering in the alley next door to the house.
Our Verdict of the Tour
We had a really good time!  The tour was fairly fast-paced even though it the area around St. James's London is pretty small. I discovered all these random side passages to get between places.  In addition, there were enough snack breaks and interesting historical anecdotes to keep my kids interested.
The Picadilly and Petit Four tour costs £15 per person and lasts approximately 2 1/2 hours.  You get 5 tastings included in the price. You should wear comfy shoes as there is a fair bit of walking. The tour begins and ends near Green Park Tube.
SPREAD THE WORD! PIN THIS TO YOUR TRAVEL PINTEREST BOARDS FOR FUTURE REFERENCE! 
We did not receive compensation of any form, monetary or otherwise, from any of the products, services, hotels  etc mentioned in this article.
This site generates income via partnerships with carefully-curated travel and lifestyle brands and/or purchases made through links to them at no extra cost to you. More information may be found on our Disclosure Policy.