Egypt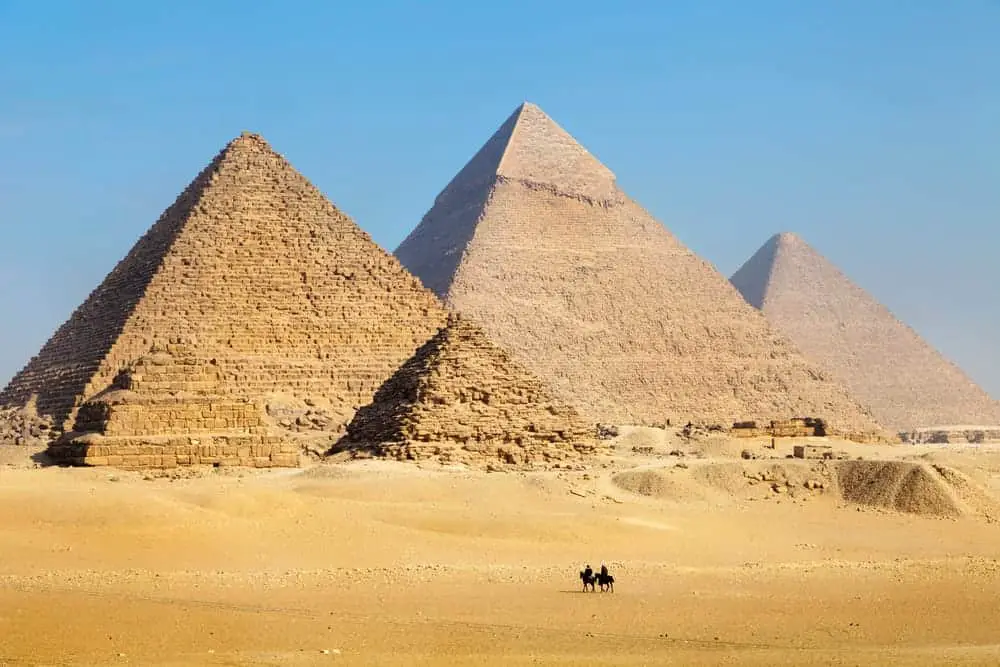 Places To Visit In Egypt
Having been to Egypt twice, including once with the children, I think you really need a long vacation to Egypt to do the country justice. There is so much to see and do including the visiting the capitol of Cairo, the pyramids of Giza, the vast temple complexes of Luxor and Abu Simbel, drifting along the Nile River and enjoying the beach resorts of Hurghada and Sharm El Sheikh.
Cairo and Giza
The capitol of Egypt is a city with streets teeming with life and colour. A visit to the Egyptian Museum is a must-do. You will be able to see even more Ancient Egyptian artefacts when the new building for the Egyptian Museum is realised.
Giza with its immense pyramids is a short drive from Cairo itself. We have tips for a family visit to the Great Pyramids of Giza, including going inside.. We were less impressed with the Sphinx located near the Great Pyramids for reasons which don't have little to do with the monument itself.
Along The Nile River
A Nile River Cruise is the best way to explore this magnificent river where life carries on in many respects like it has for thousands of years. On the cruise, you have various stopping points such as the Temple of Horus in Edfu, the Valley of the Kings and Abu Simbel.
Beach Fun at Sharm el Sheikh
For a sunshine break, the beaches of Hurghada and Sharm el Sheikh provide top-class resorts and activities.
My daughter didn't want to go snorkelling and so we took a glass bottom boat tour to see why everyone raved about the snorkelling and diving. The rest of the family were not about to forgo snorkelling though. Although our trip to the Gulf of Aqaba was supposed to be for snorkelling, the best part turned out to be encountering a pod of playful dolphins.
Sharm el Sheikh isn't all just beach sun and fun though. There is a small but charming old market which is fun to visit.
Practicalities for Visiting Egypt
You can get an overview of practical information for Egypt online.
Safety in Egypt
The first question that always surfaces when I mention visiting Egypt is safety in Egypt. We have had good experiences in the country but the area is undoubtedly volatile.
Here is the travel advice for Egypt from the UK government and the US State Department.
You will need to make your own assessment about your appetite for travel risk. I keep in mind that Europe (including England where I have lived for nearly 20 years) has repeatedly appeared on the US State Department travel advisory list.
I can, however, say with certainty that Egypt is a beautiful country with hospitable people and a jaw-dropping history.
Getting Around Egypt
By far, the easiest way to get around Egypt for long distances is by internal flights. We did not drive in Egypt. You can hire drivers and cars very easily. When you disembark from a Nile Cruise, you can hire a caleche and driver (aka an "Egyptian Ferrari") to take you sightseeing.
Accommodation in Egypt
These are the hotels that I can recommend in Egypt:
The Cairo Marriott Hotel is a former palace converted into a luxury hotel. It's got beautiful grounds, a nice pool area and a casino.
The Oberoi Group have two luxury Nile Cruisers – the Zahra and the Philae. The Oberoi Zahra and the Oberoi Philae Nile cruisers spend different lengths cruising the Nile and also have different stopping points.
The Oberoi Group have a beach resort in Hurghada – the Sahi Hasheesh if you want to round out a Nile Cruise with some beach time.
The Four Seasons Resort Sharm el Sheikh is very family-friendly with its beach location and its four pools.
SaveSave
SaveSave
SaveSave
SaveSave
SaveSave
SaveSave