I crept past the looming head of Amenhotep III.  His smirk gave away his thoughts on my midnight excursion through the gallery of priceless artefacts. Don't judge me buddy, I thought, you're made of stone.  You don't have mortal needs. The low rumble of the ventilation echoed through the open halls and high ceilings.  As I moved further along the gallery, I realised the rumbling was just a parent snoring.  Poor Amenhotep III survived thousands of years to spend his nights listening to middle-class British people snoring at a British Museum sleepover.
My Sweaty Betty pilates socks shuffled past more pharaohs whose names I didn't know and assorted Egyptian gods.  I realised that this walk was the most work that my pilates socks had seen in a year.  Just when I thought I had gone too far, I heard the rumbling louder again.  I was in another section with another parent snoring. I wondered if sleepover organisers had separated out the snoring parents for everyone's sanity.
Fumbling past the darkened statues, I realised that it was a right at the Rosetta Stone to exit the Egyptian galleries. (Yeah, the real Rosetta Stone.)  It was a left at the Rosetta Stone to get to the Parthenon and a right to get to the bathrooms.  Welcome to a British Museum sleepover.
A British Museum Sleepover
For my daughter's 10th birthday, she wanted to have a slumber party at a museum.  In London, you can get sleepovers at several museums, including the Science Museum, the Natural History Museum and the British Museum.
I chose the British Museum because not only do I love it but also because they had the most structured program.  A bunch of hyped-up children running around a museum brought back memories of the days I had spent on the children's floor of the Science Museum before the twins started school.  They thoroughly enjoyed the experience.  I did not.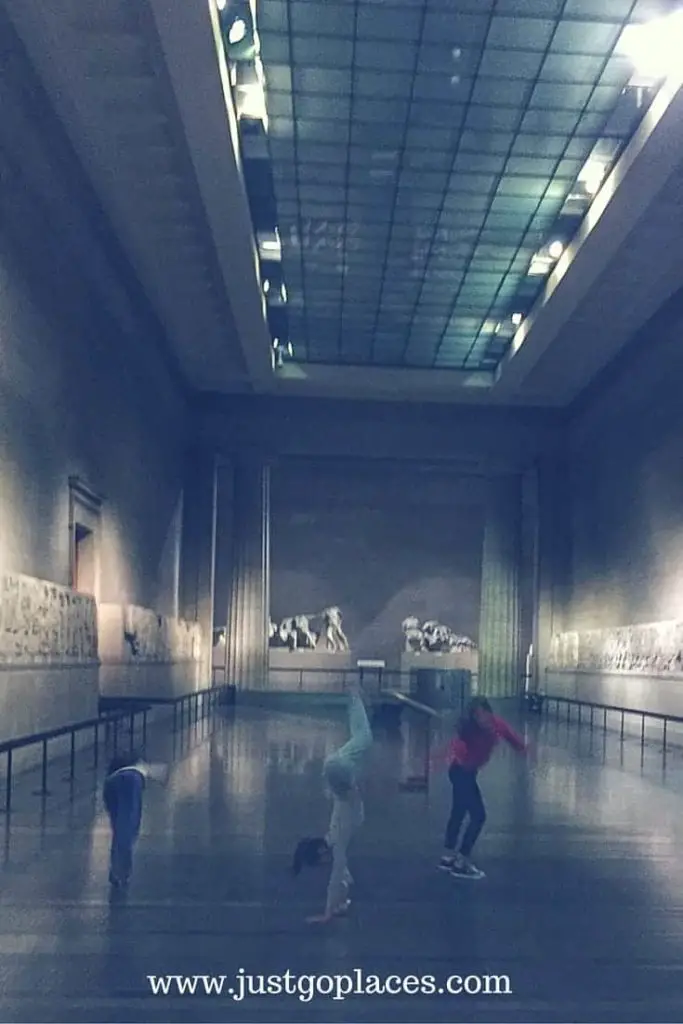 The British Museum sleepovers are a highly organised affair. Registration starts at 6pm when the museum closes to the public.  There are 2 activities, a snack break and another two activities.  Preparation for bedtime begins at 11:30 and the lights go out at midnight.  Wake-up time is 6:30 AM, breakfast at 7 AM and then there is a final activity before you are sent home.
I was utterly impressed with the military precision with which this sleepover was organised.  I shall name no names but I have friends who have done sleepovers at other institutions which are not as well controlled.  The children are kept occupied, active and out of trouble.  My husband pointed out that the sleepover organisers probably learned their skills at the ultimate in British sleepovers, boarding school.
Did anything surprise me?  Yes! We were allowed to sleep among priceless artefacts in the Egyptian and Assyrian galleries.  When we have a party at my house, I clear the rooms of important things. I'm not sure why the British Museum would trust these kids with their (let me repeat) priceless artefacts. In addition, the shopping section in the middle of the museum was left wide open.  The New Yorker in me didn't understand why they didn't worry about light-fingered people.  Presumably, the British Museum thinks their guests are too well-behaved to steal (unless, of course, it involves the Parthenon and a dubious permit to purchase).
Sleepover Activities
At the sleepover, our group of a couple of hundred children was split into four smaller groups.  Each group did one activity together and then changed to another activity.  I have been told there is always an arts and crafts activity and a physical activity.  I would say most of the children were in the 9-11 year old range and fairly well-behaved.  There were a couple of know-it-all Nigels whose parents beamed with indulgent pride at their precocious offspring but the activity leaders were very good at keeping all the children involved.
Our sleepover at the British Museum had an Olympic Games theme in honour of the Summer Olympics in Rio this year.  The four activities were arts and crafts, capoeira, story-telling and secrets of the Ancient Greek Olympics which from what I could tell was just a museum crawl.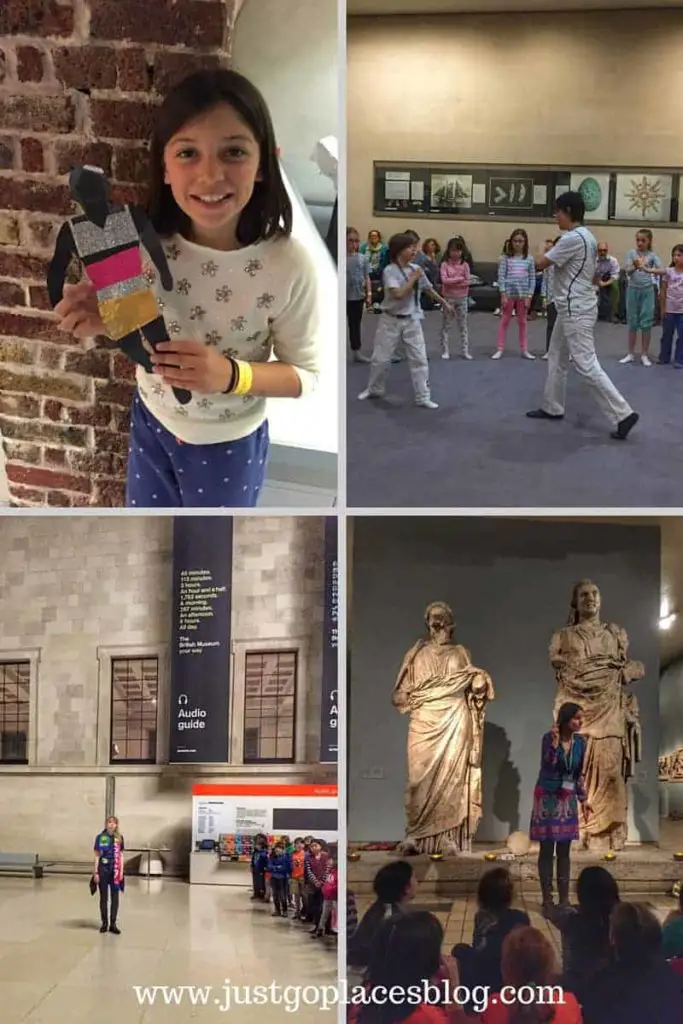 The arts and crafts hour involved creating your own Olympic athlete.  Give my kid anything with glue and glitter and she is a happy camper.
Next up was the Capoeira lead by a team from the London School of Capoeira.  Capoeira??  This martial art is an important cultural heritage and sport associated with Brasil. They glossed over the history and heritage of Capoeira which I think the children would have benefited from knowing. Maybe they didn't want to get into a discussion on the slavery origins of Capoeira with all the liberal intellectual parents in the crowd.  Anyway, our children jumped and kicked through 45 minutes until they were near exhaustion.
After the break, we had story-telling which my children initially thought would be too babyish.  It wasn't.  They absolutely loved the story-telling which was lead by an enthusiastic lady who had a gift for theatre.  We learned about the origins of the ancient Greek Olympics as well as the Greek gods associated with them.
The last activity involved walking around the galleries, upstairs and downstairs in the museum. We started and ended in the Parthenon which was only fitting. If my children weren't exhausted before this activity, they were bone-tired afterwards. They crawled into their sleeping bags and were fast asleep in 15 minutes.  Although I had been dreading sleeping on a museum floor with an ordinary sleeping mat and sleeping bag, I was fast asleep in minutes as well.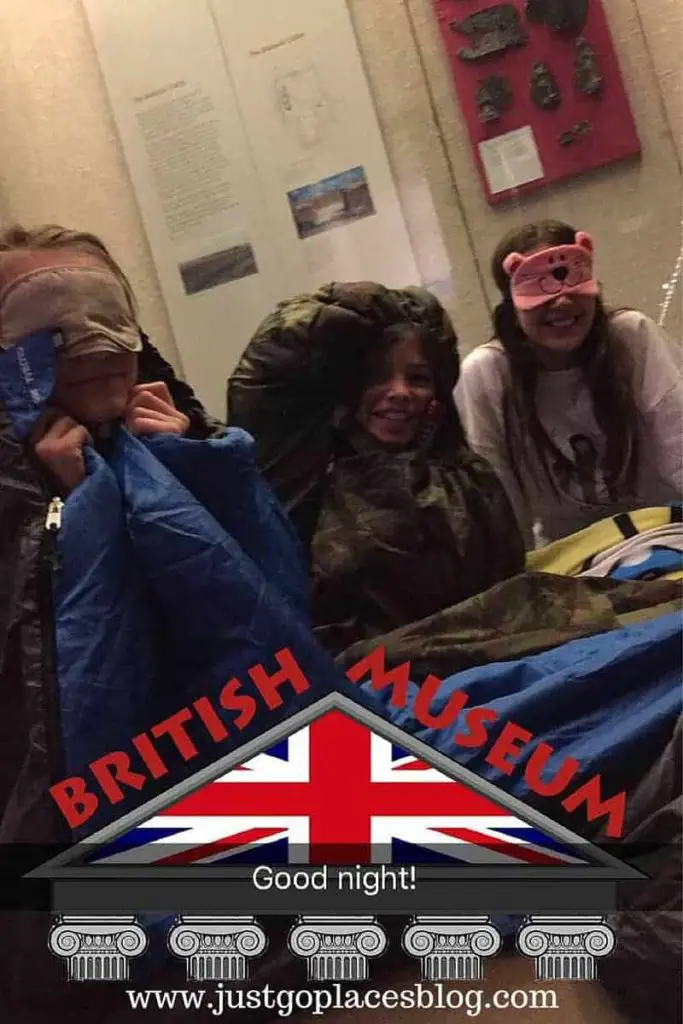 The morning came way too soon.  I think it was cruel & unusual punishment to start Sunday morning off with a class on Greek and Roman trumpeting.  Why trumpeting?  To announce games and stuff, I guess.  I was half-asleep even with a trumpet blaring in my ear.  My kids were completely into it though. After the session, they went to try out all the trumpets which was as noisy as you can imagine.
Handy Tips For A Museum Sleepover
My daughter and her friends absolutely loved the British Museum sleepover.  I'm pretty sure we will be back to do another sleepover later in the year.  I have some handy tips if you are considering a sleepover at the British Museum:
You are not allowed to bring anything motorised into the galleries.  You are, however, allowed to bring blow up beds that are battery-operated.  Smart parents brought blow-up beds (including doubles) and cot-beds so that they didn't have to sleep on the floor.
Don't bother with camping backpack gear.  The smart money brought roll-away suitcases where you can just throw stuff into it in the morning.  This trick will save you a lot less packing stress when you are bleary-eyed in the morning.
Go early so that you can get a prime position to set up camp.  We found a little nook that was perfect for our 4 girls to set up.
The museum is kept at a nice temperature.  Light sleeping clothes and a blanket are all that is needed.
When you pack your snack, make sure that you have enough to feed your crowd but not too much.  Any extras get thrown out and don't get given back to you.  If I had known our Joe & Seph's popcorn would not be returned to us, I would definitely have eaten the bag (whether or not I was hungry).
The children are woken up at 6:30 AM.  The adults who wanted some peace and quiet in the bathrooms woke up at 6 AM to use the facilities unmolested by little people.
They say not to bring any valuables and so I did not bring my DSLR.  Bad move. Lots of parents had their cameras because it is a great opportunity to take photos of the museum without tons of visitors blocking your perfect photo.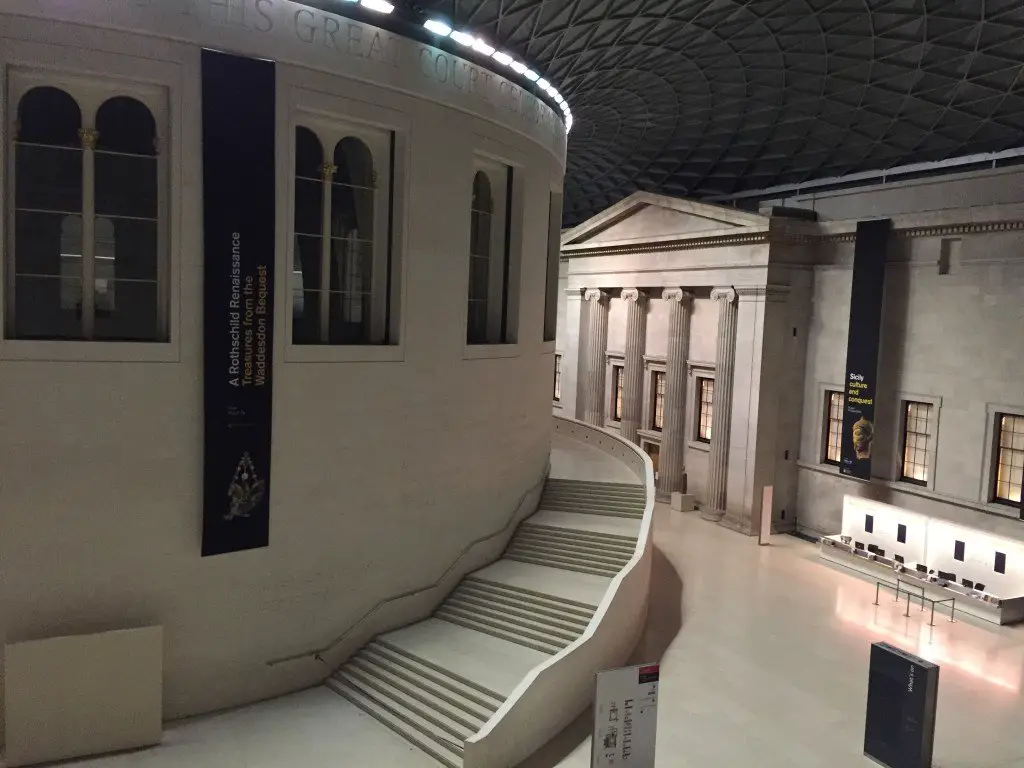 Practical Information
The British Museum has sleepovers for its Young Friends several times a year on a Saturday  night in conjunction with the special exhibits they have at the museum.  The rules are strict and the event very controlled.  The sleepovers are for Young Friends and their friends.
In your party, one child needs to be a Young Friend.  Young Friend membership is easy to obtain through the museum.  The Young Friend can bring two guests, one of which is a child between 8-15 years old and another must be an adult.  Adults are required to be with their children at all times.  They can only guarantee that two Young Friends will be placed together during the nights' activities.  Hence, we had 2 Young Friends, 2 adults and 2 guests in our little birthday party.  This rule prevents people from bringing entire classroom groups to the sleepover which believe me is a good thing.
The British Museum sleepover is restricted to children 8-15 years old.  Even if you don't have children of your own, how hard can it be to convince a kid to do this sleepover? If you don't have any friends with children, the Natural History Museum does sleepovers for grown ups.  Although the children and I had a blast, I 'm not sure I'd do a museum sleepover without kids.  Camping even urban and indoors is not my thing.
What do you think?  Have you been to a museum sleepover or would you consider one?
SPREAD THE WORD! PIN THIS TO YOUR TRAVEL PINTEREST BOARDS FOR FUTURE REFERENCE! 
We did not receive compensation of any form, monetary or otherwise, from any of the products, services, hotels  etc mentioned in this article.
This site generates income via partnerships with carefully-curated travel and lifestyle brands and/or purchases made through links to them at no extra cost to you. More information may be found on our Disclosure Policy.