Living abroad its the big American holidays I miss especially the Fourth of July and Thanksgiving.  Thanks to the prevalence of American movies, however, people know about these holidays abroad.  You can find something happening related to the theme whether its a concert and fireworks in Hampstead Heath in London or a party in Reykjavik.
The American Bar in Reykjavik
Located in a prominent town square in downtown Reykjavik, right near the Icelandic Parliament, the American Bar is hard to miss.
In fact, earlier this year the American flag which hung outside its premises had to be taken down because members of Iceland's Parliament objected to seeing another country's flag from their windows.  Fear not, though, the American flag flies proudly inside shielded from the sensitive gaze of government officials. (Ok, to be fair, the US Congress would be unhappy if they had to see another country's flag from their windows).
The American Bar (and restaurant) was the place to be this past weekend for its July 4th celebrations.  We heard it advertised on the radio and flyers for it across the city.  From what we could tell, most of the city seemed to have made an appearance.  The crowd was a mix of locals and tourists (including plenty of families) who spilled into the square.
Fourth of July at The American Bar
Outside the American Bar, a stage was set for the entertainment portion of the event.  A nearby ice-cream truck sold delicious gelato (not very American but who am I to quibble over ice-cream?).  There was also a tent set up barbecuing hot dogs and burgers.
Where else was a British-American family in Reykjavik supposed to go to celebrate American Independence?? It seemed completely appropriate.  We got there early we thought but not nearly early enough.  Even before the official starting time of 2 pm the outside tables were gone.  We snagged a good indoor table with a view and ordered drinks and hot wings.  Life was good!
The afternoon started with a Jazz band.  People were dancing and waving American flags. Luckily it was a summer weekend so Icelandic government officials were not around to witness the display.
Also, part of the festivities was an all-you-can-eat hamburger contest which I have to agree is probably a very American thing.
Then some poor guy was brought onto the stage.  He was near-naked wearing only a jock-strap. It turned out he was a groom out on his stag night. His so-called friends had tied Near-Naked Groom and forgot to put on sun-cream.  With Iceland's Midnight Sun issue, Near-Naked Groom had pretty much burned to a crisp except for the rope ties (which were clearly visible next to his sunburned skin).
We left after a couple of hours because the crowds seemed to be getting 'happier' as the afternoon wore on.  After the Near-Naked Groom, we weren't sure how inappropriate the entertainment would get!
Interior Decor at The American Bar
The American Bar itself is an amusing homage to American pop culture. It's supposed to be like your usual American sports bar with lots of sporting memorabilia and giant screen TV's.  The music is traditional American pop from the last few decades.  Overall, though it seems much more stylish and cleaner than any American sports bar in the US I've ever been to!
I'll let the photos tell the story.  For a cliche sort of place, the food was good and the atmosphere fun.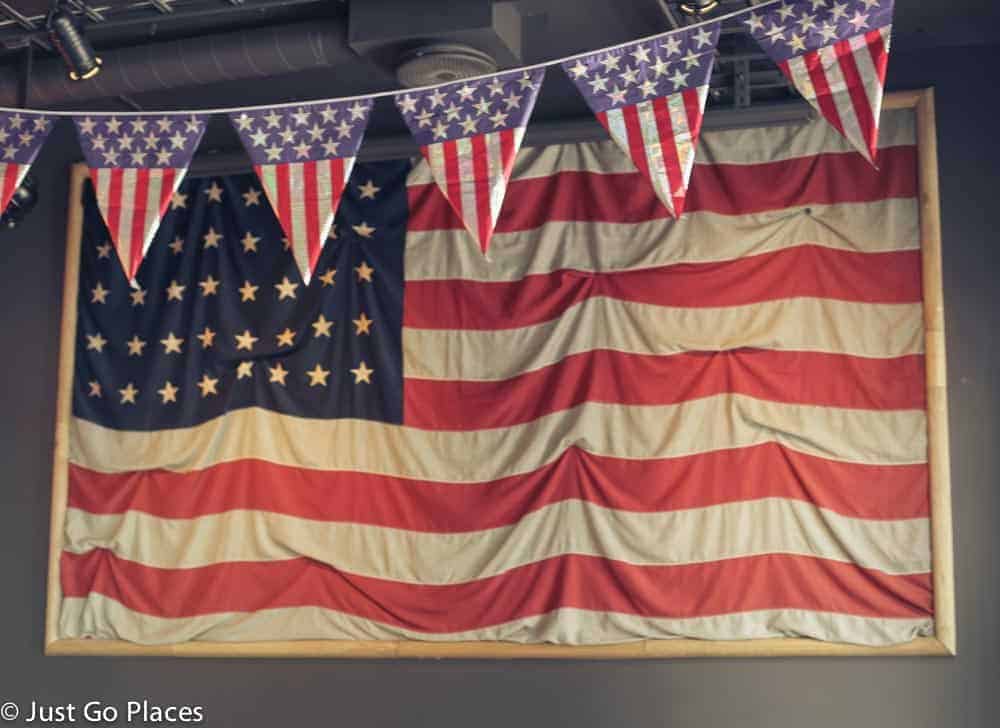 I know it was just good marketing on the part of the American Bar to celebrate the Fourth of July.  I am also aware, however, that I have no idea what the important Icelandic holidays are, never mind celebrate them.  We all had a good time celebrating a very American holiday in a city where the sun doesn't set in July.
Visiting The American Bar
The American Bar is located at Austurstreiti 8-10 in Reykjavik.  It's open from 11AM 7 days a week.  On weekends, it stays open until 4:30 AM.
SPREAD THE WORD! PIN THIS TO YOUR TRAVEL PINTEREST BOARDS FOR FUTURE REFERENCE! 
This site generates income via partnerships with carefully-curated travel and lifestyle brands and/or purchases made through links to them at no extra cost to you. More information may be found on our Disclosure Policy.