As I entered my friend Sheryl's home, the smell of garlic and bacon wafted from the kitchen.  I am a lover of both and so I walked like a zombie straight to her stove.
"What are you making?" I asked, trying not to salivate.  My dog who had accompanied me on this visit had no such inhibitions.  He wagged his tail hopefully at the scent of fried chicken but was rewarded only with a bowl of water.
"Chicken Adobo," she replied.  "It's Filipino comfort food."
Watching her as she finished cooking, we chatted about the dish she is making.  I also managed to get her recipe which I have shared below.
A Family Trip to Busuanga in The Philippines
Sheryl had just returned to London from visiting her widowed mother in Manila.  She had gone with her Israeli mother-in-law and her husband and children to the Philippines for about 10 days. They had spent a few days with her extended family in Manila.  They also had a few days of rest and relaxation at Busuanga Bay Lodge on the island of Busuanga in the Philippine archipelago which is famous for great snorkelling and diving.
I will write about Sheryl's beach adventures on the island of Busuanga in a later post.  It sounded idyllic – white beaches, island-hopping and great snorkelling.  Of course, there were the usual family (mis)adventures too.  The children got to drink coconut milk straight from coconuts.  Her daughter stood on fire coral accidentally which really stung.  Her mother-in-law tried to pet a 'cute' puffer fish which promptly sank its front teeth into her hand.  Other than the minor mishaps, everyone loved the trip and came back happy.
Clearly, Sheryl was missing her Philippines sojourn and cooking up a sensory feast to compensate.
Frankly, I'd be missing this kind of beach holiday too!
Sheryl's Chicken Adobo
Although it seemed exotic to me, Sheryl explained that Chicken Adobo is a fairly standard dish in The Philippines.  For example, if you are interviewing a cook for your home, you will get her to make a Chicken Adobo.  If you like her version of that dish, then she's probably a good fit for your family.
Every family has their own variation of Chicken Adobo.  The base for this dish is always chicken legs, thighs and wings (no breasts).  The chicken is cooked with soy, vinegar, onion, garlic and ginger.  If you travel to the south of The Philippines, the Chicken Adobo gets spicier.  It is commonly served over rice.
Sheryl's version of Chicken Adobo is not spicy so it's perfect for children.  Having tasted Sheryl's Chicken Adobe, the flavours were a combination of sweet and sour with a hint of salt.  I know my children who are fans of sweet and sour  would love it!
Ingredients:
10 pieces of chicken thighs and legs
2 whole red onions diced
10 cloves of sliced garlic
2 slices of diced Spanish panceta (similar to Italian pancetta)
1/3 of a can of Stella Artois
1/4 cup of palm vinegar
5 tablespoons of soy sauce
Sprinkle of rock salt
1 tablespoon of sugar
8-10 whole peppercorns
3 bay leaves
2 tablespoons of crushed ginger
1 carton (1cup/250 ml) of coconut milk mixed with hot water to create a pint (570 ml) of coconut liquid
Preparation
Fry the chicken on high heat until it is lightly browned on both sides and transfer to a dish.  Lightly pat the chicken to remove excess oil.  Transfer the chicken to a pot. Fry the onions, bacon and garlic on high heat in a separate pan and then transfer to the pot with the chicken. Combine the rest of the ingredients.  Cover the pot and simmer.  Stir once during the cooking process.  Cook for 35-45 minutes until the chicken is tender and falls of the bone.  Serve with steamed rice.  Serves 8.
So, of course, I asked her about the inclusion of beer.  When did Stella Artois become a Filipino cooking ingredient?!  Sheryl laughed.  Traditionally, Filipinos use apple cider vinegar.  She prefers Stella because it's pretty flat and when cooked, all that is left is the sugar.  (Doesn't say much about drinking Stella does it?!).  She also uses a small amount of palm vinegar for the vinegar taste without the sourness.
[youtube https://www.youtube.com/watch?v=yqr3QqniO94&w=560&h=315]
Chicken Adobo in The Philippines
A quick look on the internet showed me that Chicken Adobo is the national dish.  Although the term adobo is Spanish for cooking with a marinade, Filipinos were already cooking with vinegar and salt.  Vinegar acts as a preservative.  With the advent of the trade with the Chinese, the Filipinos used soy sauce as an addition to the dish or a substitution for the salt.
Adobo refers to a way of cooking a stew with vinegar and salt.  It's commonly made with chicken or chicken and pork.  Muslim Filipinos make beef adobo instead of pork.  You can also the adobo method to cook vegetables (e.g., okra or bamboo shoots) fish and seafood (e.g., shrimp, squid, cuttlefish).  For the truly adventurous, there are adobo versions cooked with frog and snake.  I think I might just have to skip those last ones!
***
Hope you enjoyed this little foray into cooking traditional Filipino food for the modern family with Westernised tastes.
SPREAD THE WORD! PIN THIS TO YOUR TRAVEL PINTEREST BOARDS FOR FUTURE REFERENCE!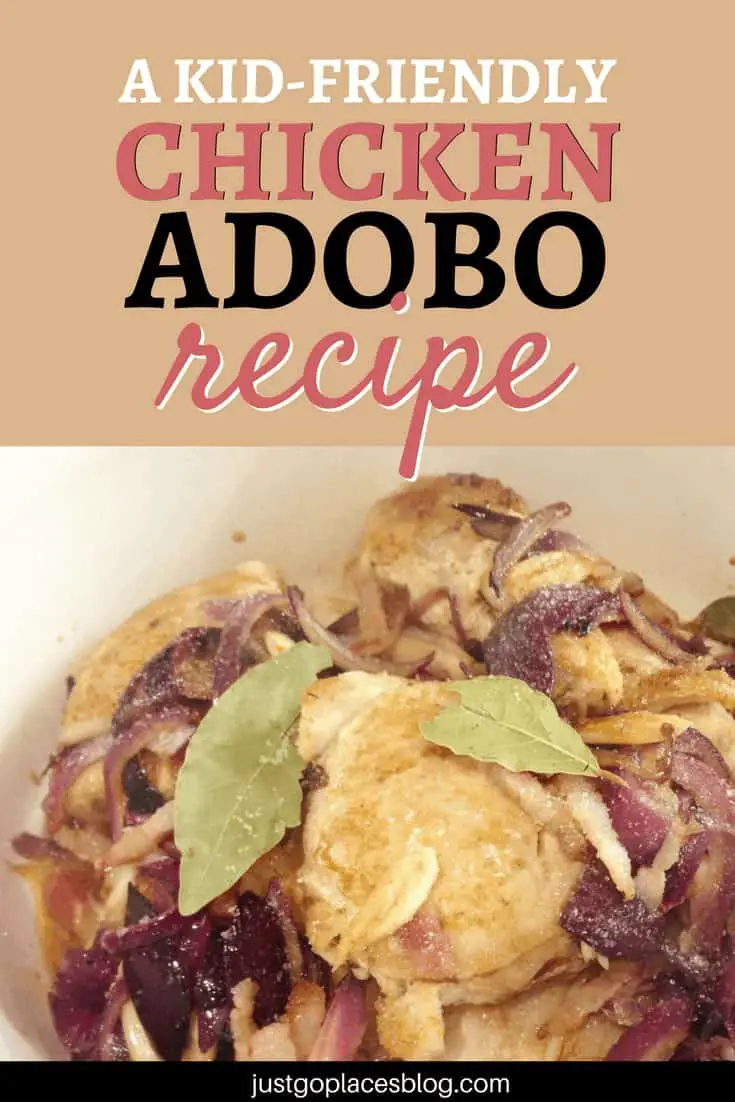 This site generates income via partnerships with carefully-curated travel and lifestyle brands and/or purchases made through links to them at no extra cost to you. More information may be found on our Disclosure Policy.