This year the broadcast for the Eurovision Song Contest happened when we were at Aquadome, a thermal spa in the Tyrol region of Austria, the host country.  It seemed only appropriate we crash out in our hotel suite after a long day of hanging out in thermal pools and see what talent Europe could produce.  Also, BBC1 was one of the few English speaking channels on the television.
Eurovision 2015: Building Bridges
In Eurovision 2015, 27 countries sent entrants that competed against each other to win a brief moment of glory and then slide back into obscurity.  In the nearly 60 years of this song contest, only some of the winners have gone on to fame, most notably ABBA and Celine Dion.  Winning Eurovision provides a useful if expensive way of spotlighting countries who need a publicity boost.
The biggest complaint about Eurovision is the block voting.  Each country is allocated from 1 to 12 points to give to other countries because you can not vote for your own country.  Nonetheless, many countries have a buddy system where they give their biggest votes to each other.  For example, the Scandinavians all vote for each other as do the former Soviet republics.  The UK has no friends and usually winds up at the bottom of the pile with a pity vote thrown at them by maybe Ireland.
Austria, last year's winner and this year's host country, chose the theme for Eurovision 2015 –  building bridges.  We're not sure where (or by whom) these bridges were being built but it seems a nice idea in this day and age.
For example, Putin would probably like a "bridge" back to the former Soviet colonies reinforced with tanks. The British public are voting in a couple of years on whether they want to burn their bridges and leave Europe.  Greece are protesting their austerity bridge.  Australia, making a guest appearance, would need  a really long bridge over the continents of Eurasia.
Conchita Wurst, the Eurovision 2014 winner, is building a bridge between genders.
Eurovision on Twitter
Eurovision is hysterically funny if you watch it along with a twitter feed.  They are so many British wits who bring out their best punchlines for this show.  It's a foregone conclusion the British aren't going to win so their natural reaction is dark humour.
Here are some of my favourite use of Twitter's famous 140 characters for Eurovision 2015.
Russia
Russia had a good song and an attractive, if somewhat emotional, singer.
They came perilously close to winning.  I can't imagine a show noted for its campness being any fun hosted by a country as restrictive as Russia.  Notably, a few countries completely refused to give any points to Russia in protest over their foreign policy and their stance on homosexuality.
Full title of the #RUS entry: "A Million Voices (Cried Out in Terror and Were Suddenly Silenced)." #Eurovision2015

— The Daily Thompson (@EmmyThomps) May 23, 2015
"This is as close to democracy as some of you will get." #Eurovision2015

— Ken Plume (@KenPlume) May 23, 2015
"Vlad is not happy." #Eurovision2015 pic.twitter.com/1nNDQkZfW4

— Dave Meddows (@davemeddows) May 24, 2015
You were so close, Vladimir, so close #RUS #Eurovision2015 pic.twitter.com/90TqnmczAn

— Maxim Eristavi (@MaximEristavi) May 23, 2015
The Russian who announced his country's points was also quite funny when he announced in his best Count Dracula voice the twelve points would go to themselves.  The funniest point was the split second when no one knew if he was serious because it is something Russia would completely do.
https://vine.co/v/eqXVU2zwB9O/embed/postcard
Hungary
Hungary had a nice if somewhat earnest song and the singer had a gorgeous outfit.  Overall though it was a snoozefest.
It's like someone invited Sinead O'Connor in case too much fun was being had #Eurovision2015#Hungary — Ladyloki (@ladyloki) May 23, 2015
Spain
Bringing out the big guns for Spain was Edurne a hot blonde who ripped off her clothes on stage.  She's dating the Manchester United goalie and, as noted by many, clearly a good catch by him.
Fake hair wind AND Velcro cape AND topless dancer. Finish the bottle #Eurovision2015

— jonny hopper (@jonnyhopper) May 23, 2015
Little red riding hood transformed into Shakira…? #Eurovision2015 — Maryne Lahaye (@MaryneeLahaye) May 23, 2015
Greece
Greece can't afford to put on a Eurovision contest so they probably did not send their strongest candidate.  I thought their staging was notably lacking in special effects (probably couldn't afford that either).
12 points from Germany in exchange for a 3% primary surplus. #eurovision2015 — Mike Bird (@Birdyword) May 23, 2015
Australia
Australia, with its huge Eurovision fan base, were invited to be guests in this year's contest.
Dear Australia. WHAT THE HELL ARE YOU DOING?! Regards, The Queen. #Eurovision2015 #AUS — Elizabeth Windsor (@Queen_UK) May 23, 2015
Australia is like the guy who got so drunk and ended up in a party then sobers up and like WTF where am I? #Eurovision2015 — Clinton F. Barton (@_ClintBarton_) May 23, 2015
Austria
Even the host country was not spared some ribbing, especially when the piano caught  fire during the set and the singer blithely continued with the song.
Unusually, the Austrian entry have not spent their entire life living underneath their family home, locked in a cellar. #Eurovision2015 — Julia Hartley-Brewer (@JuliaHB1) May 23, 2015
"And that, kids, was the reason for World War III" #Eurovision2015 pic.twitter.com/CVyuv2SEwE — Tunc (@huldufolk_) May 24, 2015
Am I the only one who's concerned that this guy's piano is on fire? #Eurovision2015 — Catherine Bracy (@cbracy) May 23, 2015
Austria has decided that hosting two years running would be too expensive. #eurovision2015 — James O'Malley (@Psythor) May 23, 2015
United Kingdom
The song was dire.  Enough said.
#Eurovision2015 at least we weren't last pic.twitter.com/DxchXvKIHC — liam (@livmhogan) May 24, 2015
This has got about as much chance of winning as a Liberal Democrat. #Eurovision2015

— Elizabeth Windsor (@Queen_UK) May 23, 2015
This video will be attached to our resignation letter when we quit the EU. #eurovision2015 — James O'Malley (@Psythor) May 23, 2015
I feel like I'm watching a really bizarre, awkward performance by a tiny European country. Only its us. Still. GO ON #GBR #Eurovision2015

— Daniel J. Layton (@DanielJLayton) May 23, 2015
In General  
I must say, I am quite surprised Qatar didn't win #Eurovision2015. — Cameron Atfield (@CameronAtfield) May 24, 2015
#Eurovision2015 is lasting longer than an Oscar Pistorius trial…

— AngryBritain.com (@AngryBritain) May 23, 2015
He killed a cat … And it's voice haunts him #Eurovision2015 — bob mortimer (@RealBobMortimer) May 23, 2015
It's All About Sweden
In a Eurovision show with the Building Bridges theme, it seemed only appropriate that Sweden win.
Everyone likes Sweden.
They haven't invaded anyone in a long time and have no plans to do so in the immediate future.
The Swedish royal family is remarkably modern.  The next two sovereigns in line for the throne are both female since they abolished male primogeniture.  Prince Carl Philip made headlines last week by announcing his engagement to a soft porn model.
The country itself is modern, progressive, educated  and a great place to live – the qualities so many other European countries want to emulate.
Oh yeah, the Swedish song was pretty good and the singer, Mans Zeimerlow, easy on the eye.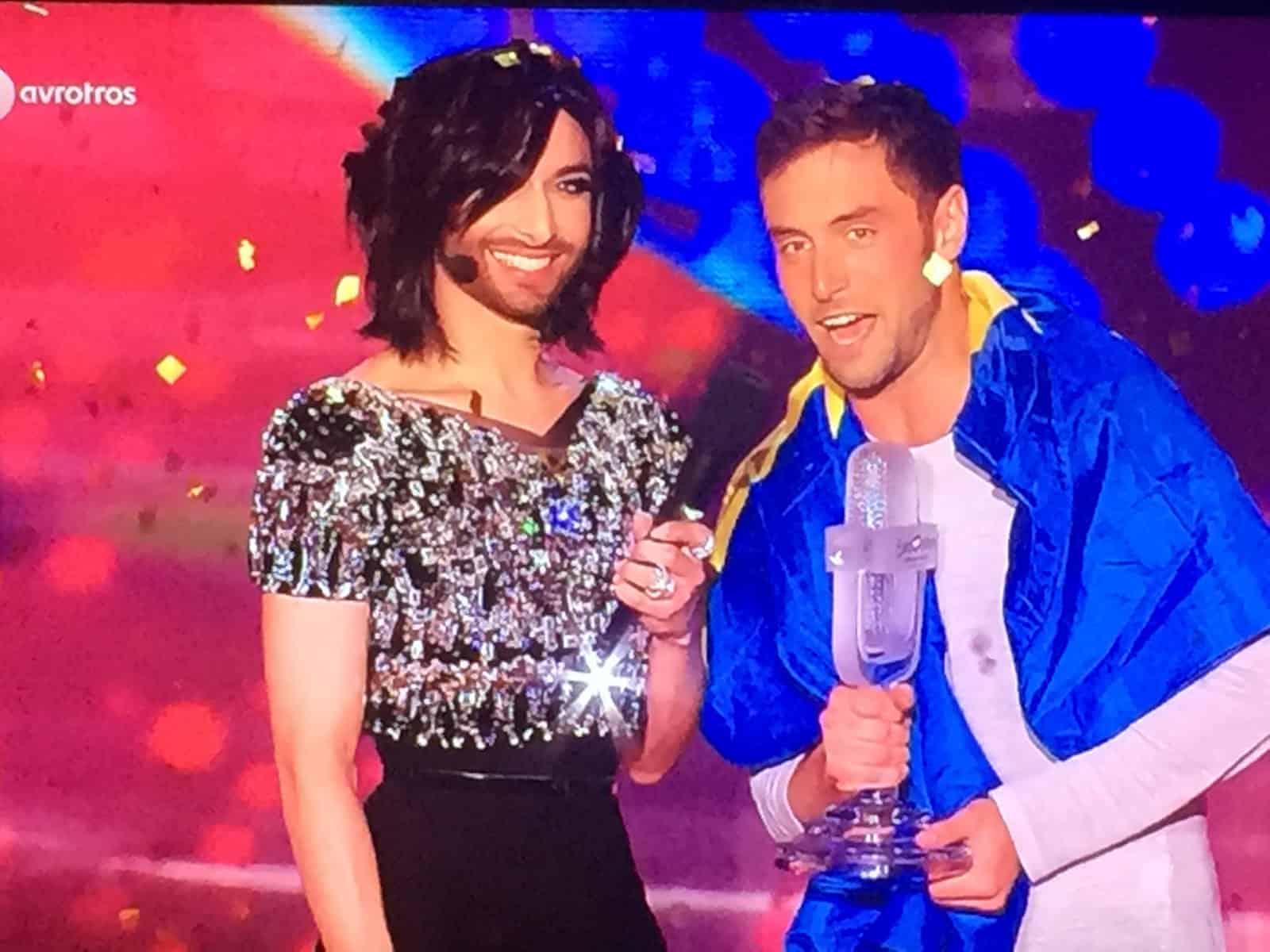 If I were Sweden though, I would definitely keep an eye on Russia.
Next year, comrades, NEXT year…. #Eurovision2015 pic.twitter.com/z3lQE8sGXI

— Chris Banks (@ChrisBanksMusic) May 23, 2015