So much happened in the world in 2016 and much of it wasn't good.  If I only had a garden, I would do a ritual burning of a giant wooden 2016 sign just to make sure it was behind us. On the other hand, on a personal front, we've had so much fun this past year travelling to some very cool places.  I didn't realise all we had done until I started writing this article.  Here is our Instagram year in review. As you can see, I didn't necessarily post the photos of where we went during our travels. Nor did I just pick my most liked Instagram photos because if you went by them, I only ever stayed in England or went to the USA.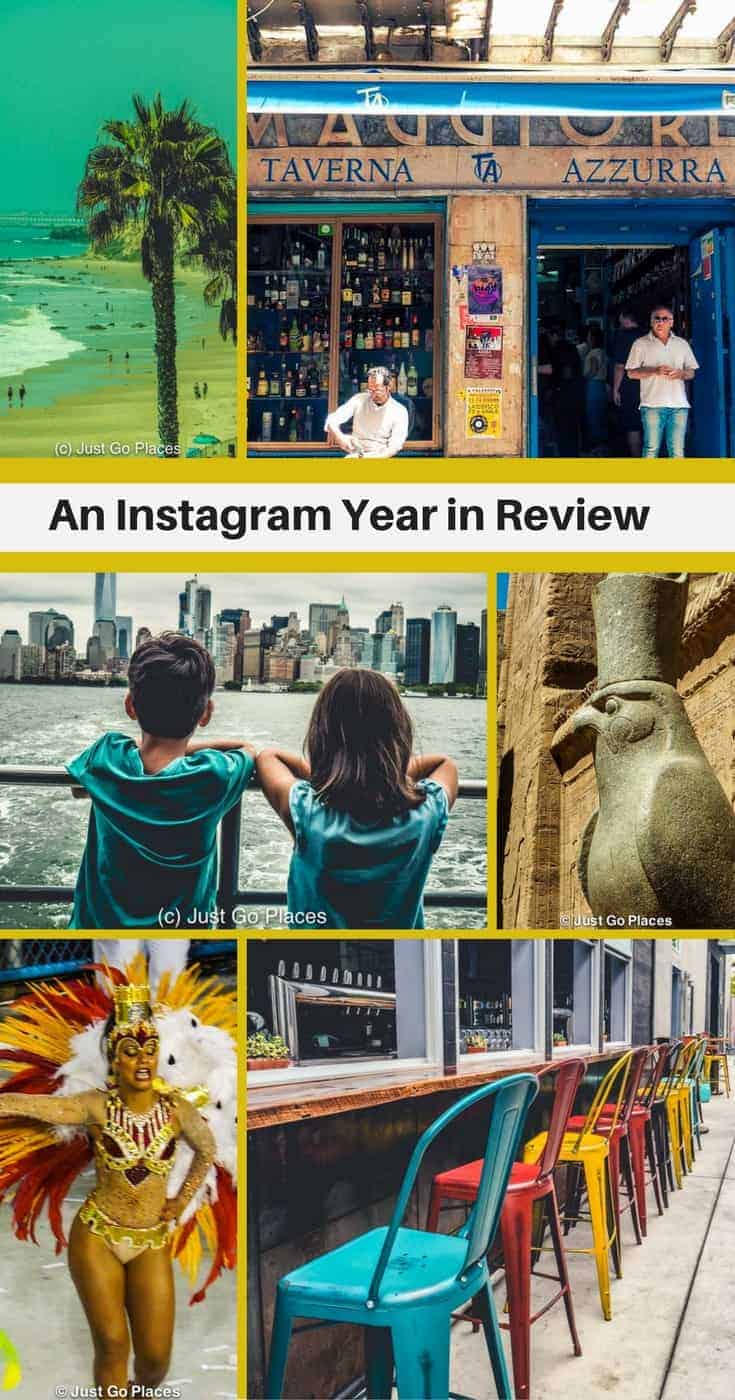 Instagram Year in Review by Most Popular Photos
My most popular Instagram photos were mainly of the USA and England as shown by this nifty collage created by this nifty site 2016BestNine.  That globe photo in New York City was the first Instagram photo I took to have more than 500 likes!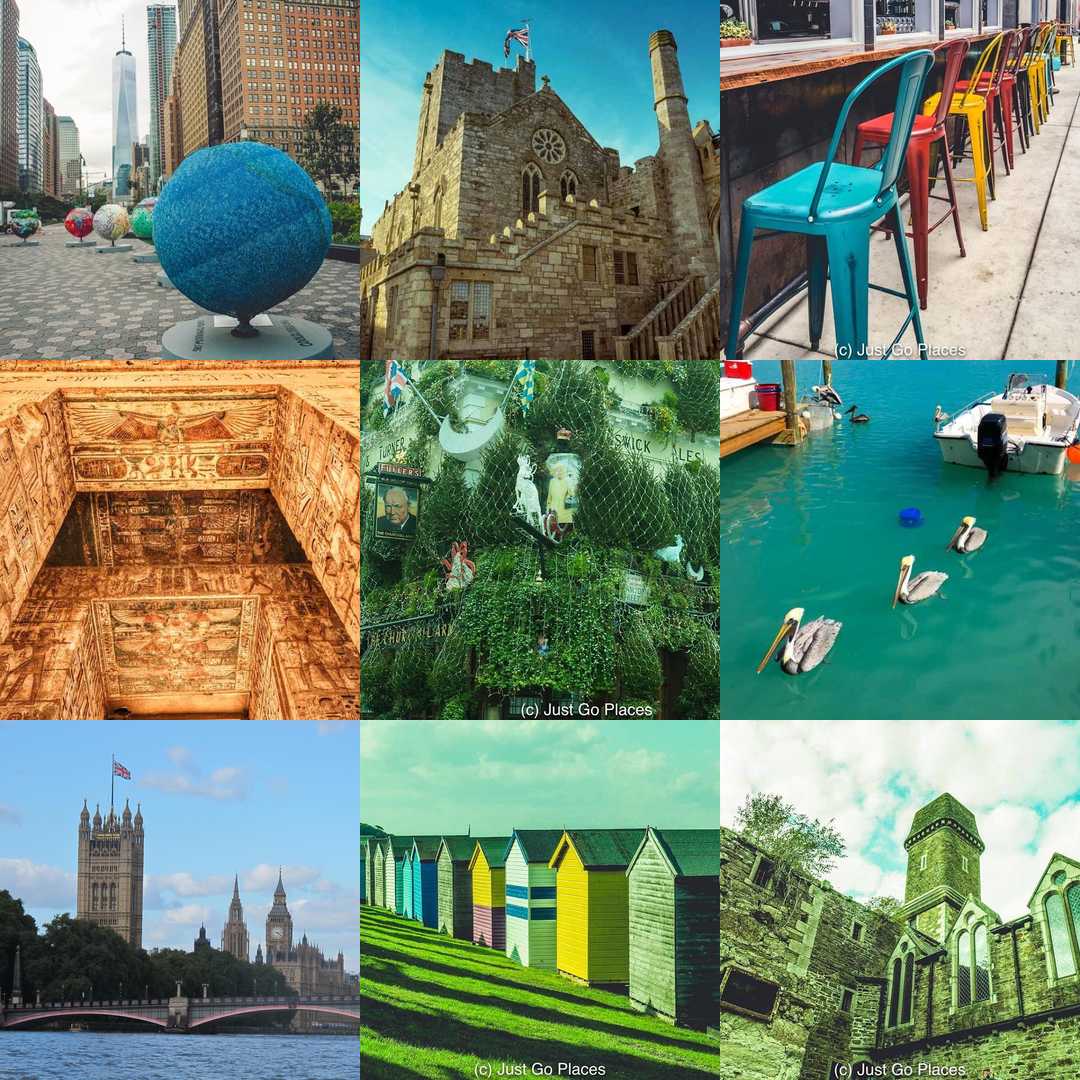 A map shows what our travel year looked like courtesy of Travellers Point (a great website for mapping out your travels by the way).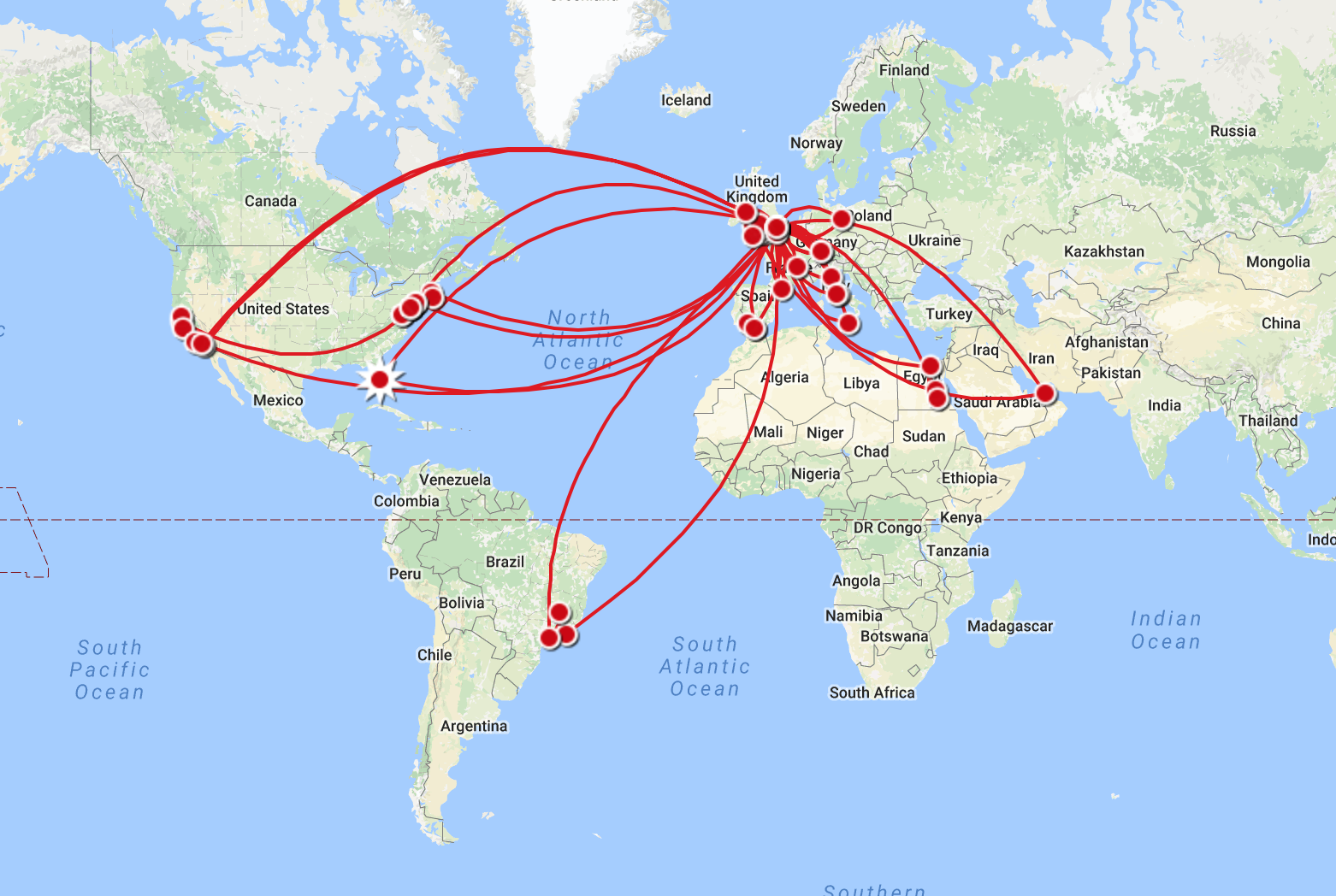 The Year That Was 2016
January
We started the year at Hawks Cay Resort in Duck Key in the Florida Keys with a healthy dose of sunshine.  We really enjoyed Key West which felt more like a part of the Caribbean than mainland USA.
On our return, we went to pick up our dog who was in Wales with friends who were taking care of him during our absence.  They live in Pembroke which is where you can take the ferry to Ireland.

Then, I joined my friend Rachel from Rachel's Ruminations for a long weekend trip to Bologna in Italy organised by the fabulous city-centre Hotel Touring.
February
We were lucky to get even more sunshine when we joined friends in Rio de Janeiro for Carnival. Although the whole family had fun, we hated our very expensive Airbnb and decamped to the nearby Hotel Ceasar Park. While in Brasil we went around the countryside, include Ouro Preto the old mining centre of Brasil.
Then I had to go Stuttgart for the new house we are building in London. Long story, check out my home and interiors blog for the whole 2 year saga, if you really want to know. Hopefully, it gets built in 2017 and all will be well.
March
My husband was in Berlin for work which is why I went along with him to attend ITB, a travel conference. Berlin, as always, was a blast.
I had been impressed with Cairo and Sharm el Sheik when I took the kids in 2015 but a press trip on a Nile River cruise showed me how beautiful the rest of the country was.
We also went skiing at Bequeira-Beret in Spain which was a real surprise (in a good way).  The slopes were great and the food and wine even better. We may have been the only non-Spanish guests at the Hotel Val de Neu because this resort is a little-discovered skiing gem in Europe.
April
The Easter holidays saw us in Dorset in England.  I always feel bad that I don't spend more time travelling in England.  I quickly remembered why after spending two weeks being windswept and rained upon along the UNESCO world heritage designated Jurassic Coast.

Post-Dorset, I took the kids and went to the Traverse travel conference in the Welsh capital of Cardiff.  My husband was able to join me. While my husband ate and drank at a very nice pub with the kids, I took this very cold and windy day trip to the Brecon Beacons courtesy of Visit Wales.
Pretty as it was in the United Kingdom, my resolution to see more of it did not survive two weeks of damp and cold in England and Wales. We booked a last minute trip to Malaga for some much-needed sunshine.
May
We took the kids to visit some of the Loire Valley chateaux in France which also provided spring sunshine, good food and wine.
I had to do one last trip to the Swabian Alb to work on our new house.

Leaving the kids at home, my husband and I ate and drank our way through some very nice restaurants in Dubai. Considering our hotel, Grosvenor House, has 9 world-class restaurants located within it, we were able to waddle back to our rooms after some meals.
I also joined my husband in Dublin for some work thing he had to do.  I entertained myself going on lots of educational tours of Dublin the kids could not have taken.
June
The first week of June we spent with our friends Andrew and Brenda of Dish Our Town at a villa in the little town of Cefalu in Sicily courtesy of Massimo Villas.
July
We spent July at our summer home in Martha's Vineyard with friends and family.
August
We spent August with my family hanging out in rural Pennsylvania and sightseeing in New York City. For my husband's 50th birthday, he wanted to take the kids on a road trip down the Pacific Coast Highway in California.
September
I went back to Southern California in August when I joined my husband for a work thing he had to do.  We stayed at the luxurious Terranea Resort located just outside of Los Angeles. Here he is hard at work when we went searching for street art in Los Angeles.
October
We had a big family reunion with the English side of the family in Whitstable in Kent once again for my husband's 50th birthday.  The entire year seemed to have been a string of birthday celebrations for him.  I also took the kids to Fowey in Cornwall in England for their October half-term holiday.
November
Can you believe that I did not leave London in November?  My daughter has exams to enter middle school in January. Her need to study put a crimp in our travel plans.
December
I met a friend in Rome for a long weekend. Funny but true story:  They were putting up decorations on the giant Christmas tree in front of St. Peter's Basilica.  The guy on the cherry picker saw me taking photos and decided to strike a pose. Unfortunately he dropped the box of decorations.  The driver of the cherry picker and I burst into laughter.
I took the kids to New York and Pennsylvania to see friends and family before the Christmas holidays. I discovered the difference between New York and London during the holidays is the constant stream of Christmas music everywhere in New York City.  I don't know how those salespeople in the stores, the waiters in the restaurants can stand an entire month of it.
Our Plans for 2017
I hope you enjoyed our Instagram year in review. What are we planning for 2017?
Well, it will be similar to this year in that we'll spend our summer in the USA. We've got plans to visit Venice during Carnival, a lifelong dream of mine. We've also booked a two week trip to China for Easter.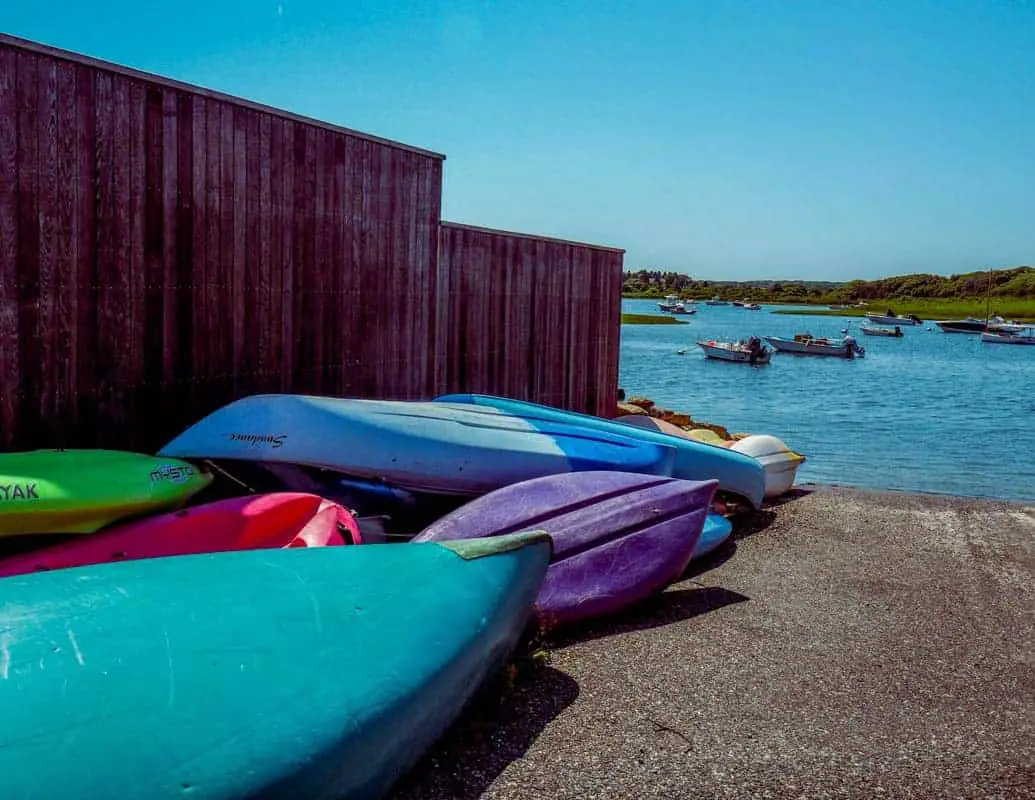 I'm sure France will figure prominently in our trips as well.  My son will do his crossing over ceremony from a Cub Scout to a Boy Scout on the beaches of Normandy as part of the Transatlantic Council of the Boy Scouts of America Camporee.
My daughter is spending a term at a boarding school in the south of France. It's all I can do not to hire a house in the neighbouring village for 3 months and 'casually' drop by. Or, maybe a good [easyazon_link identifier="B00OBSW7UI" locale="US" tag="jg20-20″]Teddy Bear spy camera[/easyazon_link] will do.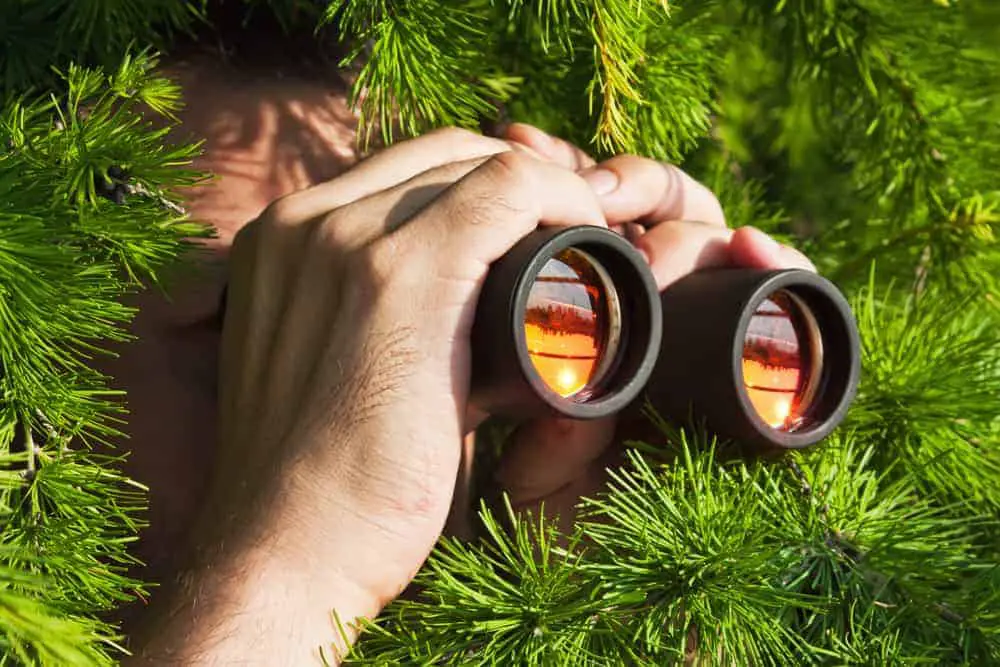 Follow along on my Instagram account @justgoplaces and see what we get up to in 2017!