Welcome to the podcast show notes and transcript for Episode 2: Adventures of a Location Independent Lifestyle. This episode Rachel Heller and I speak with Betsy Wuebker, one part of the travelling duo comprising of Passing Thru.  Betsy and her husband champion an intrepid location independent lifestyle where they travel the world with no fixed abode. The plan was to put into practice Tim Ferris' famous teachings in his book, The 4 Hour Work Week. How did that work out for them?  Listen and find out.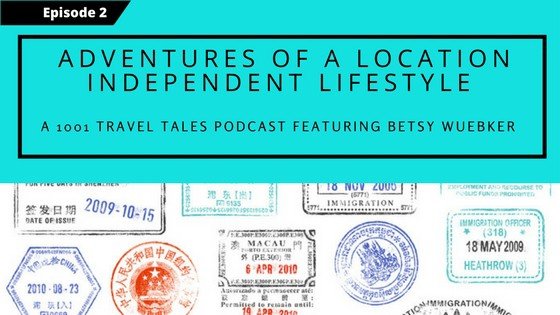 Time Stamped Show Notes
0:30 Introduction to the Wuebkers
1:20 The Location Independent Lifestyle
6:45 Cyclones in the South Pacific
10:45 Throwing Caution To The Wind in Thailand
15:45 The Pros and Cons of a Location Independent Lifestyle
22:38 About That Four Hour Work Week…
Listen
Go here to listen to the latest episode of 1001 Travel Tales Podcast.
If you don't use iTunes, you can listen by clicking on the link below.
[soundcloud url="https://api.soundcloud.com/tracks/307747745″ params="auto_play=false&hide_related=false&show_comments=true&show_user=true&show_reposts=false&visual=true" width="100%" height="450″ iframe="true" /]
Reviews and Subscriptions
Now if you like the podcast then it would be a HUGE help if you subscribed and left a rating & review.
<— Click here to subscribe –>
It might seem insignificant, but it helps more than you might think.
Transcript
This is a transcript of 1001 Travel Tales Podcast: Episode 2: Cyclones in the South Pacific (Transcript). The text has been lightly edited for clarity and readability.
A conversation with Shobha George (Just Go Places Blog), Rachel Heller (Rachel's Ruminations) and Betsy Wuebker (Passing Thru).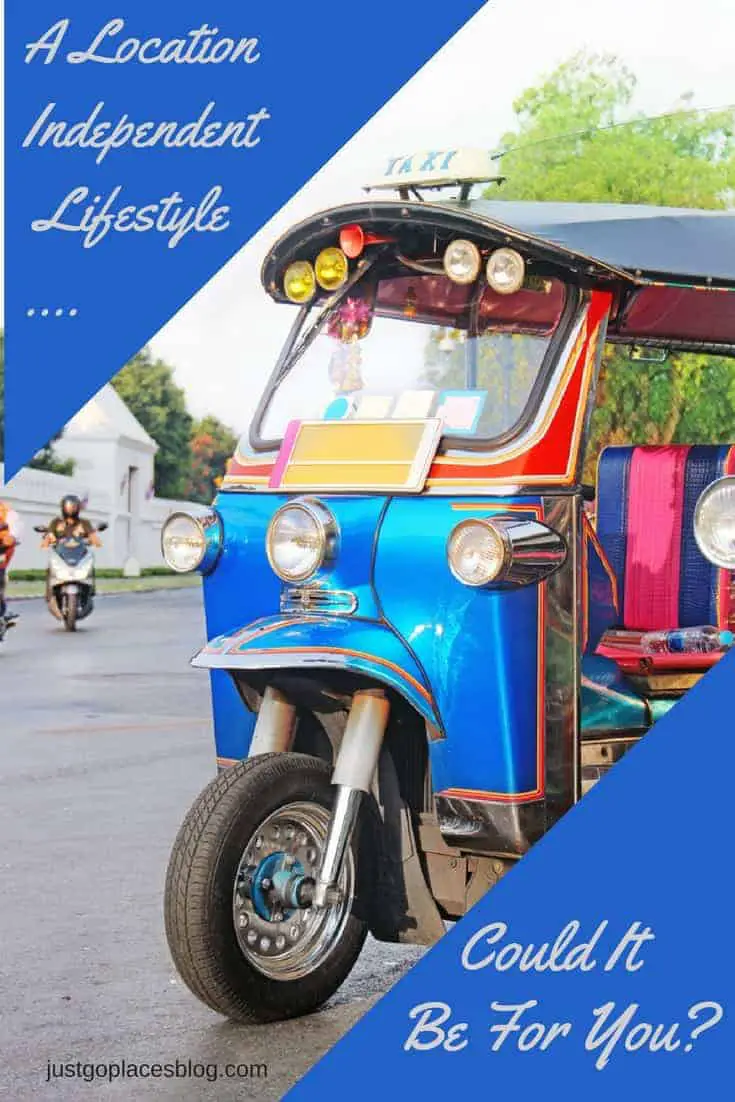 Introduction to the Wuebkers
SG: Today, we're speaking to Betsy Wuebker who is one half of the blogging duo of PassingThru.com. She and her husband have been traveling full-time for the last three or four years and she has got lots of stories to tell. Welcome to the show. Hi Betsy.
BW: Thanks! Aloha!
RH: She's saying aloha from Minnesota, mind you.
SG: You identify most strongly with Hawaii.
BW: Well, yeah. I mean we did – both of us have lived in Minnesota. Pete has lived there forever and I've lived there for 35 years. But we do view Hawaii as – the island of Kauai actually as our home, even though we've been traveling full-time for several years. We're really homeless.
RH: They're homeless. They're the happiest, homeless people on the planet.
BW: Yeah, exactly.
The Location Independent Lifestyle
SG: Let's talk about how you do your full-time travel. It seems that you do a lot of house sitting as well. Is it mainly house-sitting?
BW: Well, no. We use house-sitting as a mechanism to keep the expenses down. I mean we're not made of money. A lot of people have the incorrect impression that to travel full-time, you have to be extremely wealthy. If that were the case, we wouldn't be doing it obviously. But part of the equation is not only creating and maintaining an income that is location-independent, so you can do it anywhere, but also to keep the expense load down or in balance with the income. So we found that long term house-sitting enables us to reduce that expense load and also stay in one place, do slow travel and so we get to know where we are in more depth.
So our MO over the last couple of years has incorporated international house-sitting and so we go from sit to sit.Then we punctuate the time in between sits with maybe a little bit of faster pace or we'll attend a travel blogging conference, which is where I met you all.
That was the first time back in Spain. The itinerary really doesn't have a master plan. We just take a look at what opportunities are out there in the short and midterm and then kind of our movements just kind of fall into place based on those.
SG: It's an adventurous take on retirement, isn't it?
BW: Well, we're not really retired. I mean early in our marriage, we reluctantly concluded that we were unable to traditionally retire. So for a variety of reasons, primarily financial in nature. So we had to figure out – since we would be working until the day we died, we had to figure out what we were going to do that we both enjoyed and that was sustainable as we aged and so we had to consider, well, if our mobility is compromised or this type of thing. So working online and developing revenue sources online that would replace or supplement income became a priority back in 2008 for us when we started our blog.
SG: It seems like you approached this like a business plan.
BW: Well, we did. I had read this little book by an obscure author named Tim Ferriss called [easyazon_link identifier="0307465357″ locale="US" tag="jg20-20″]The 4-Hour Work Week: Escape the 9-5[/easyazon_link]. Maybe you've heard of it and I was really inspired by that. We had no clue how we were ever going to make that kind of a vision work and then we just sort of stumbled into a couple of revenue streams that turned out to be really lucrative and three years later, Pete quit his day job. So that started us down the road to location-independence.
[easyazon_image align="none" height="500″ identifier="0307465357″ locale="US" src="https://www.justgoplacesblog.com/wp-content/uploads/2017/02/51v5Pje3AtL.jpg" tag="jg20-20″ width="333″]
RH: I see. Now, tell us about some of your travels. Where have you been most recently other than Minnesota?
BW: We came to Minnesota from Fiji by way of Kauai. Since we left Kauai a couple of years ago and that was when we went full board full-time travel, homeless. We said – our daughter is getting married in September of 2016. So we will travel for two years and then we will come back for the wedding and then we will figure out what we're going to do.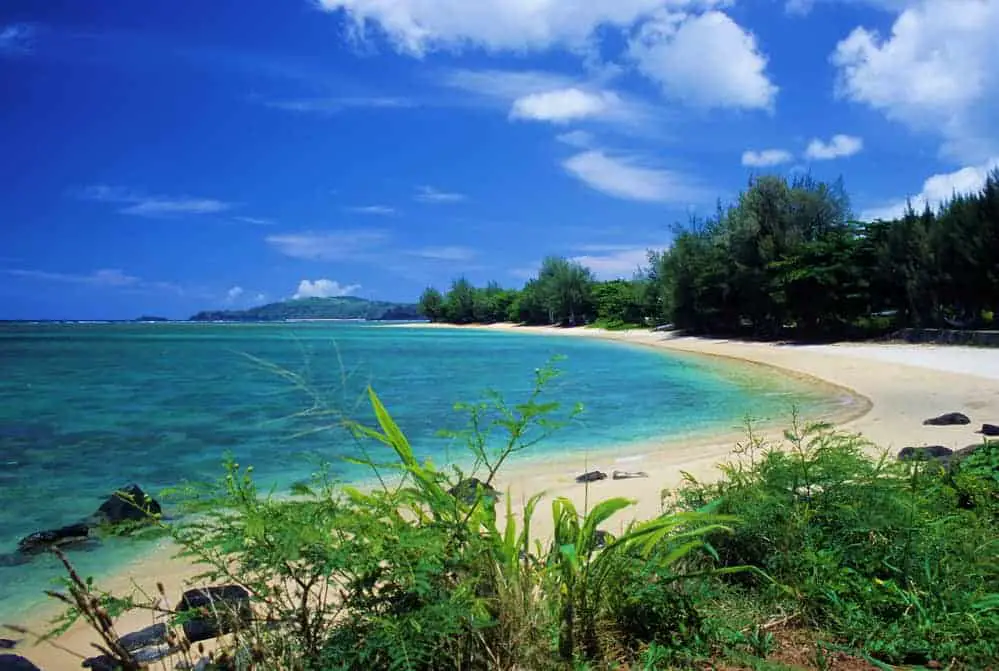 So the wedding happened and we haven't really figured out what we're going to do. But a house-sit came up here in Minnesota. So that's why we're here. But in the interim, we've been to about 35 countries.
Yeah. And we started house-sitting in Fiji which was a short jump from Kauai. That was our first house-sit and then from there, we house-sat in Australia, Brisbane and Darwin and traveled a little bit Malaysia, Singapore. Then I met you girls when we came to Spain for the TBEX Conference. We traveled around Europe after that. We house-sat in the UK and Brussels and Munich. Brussels, we were twice house-sitting. Then we went back to Fiji after some land travel in Central Europe and then we went to Southeast Asia and then we had a house-sit in China and we went back to Fiji after that and then …
Cyclones in the South Pacific
RH: Now I'm going to stop you there because I read in your blog – I think it was your last time in Fiji where you experienced firsthand – what do you call them?
SG: Not a monsoon. Is it a monsoon?
RH: Well, typhoon.
BW: Cyclone. Yeah. I mean hurricane, typhoons, I mean it's all the same storm, trust me.
SG: It's a lot of rain and wind.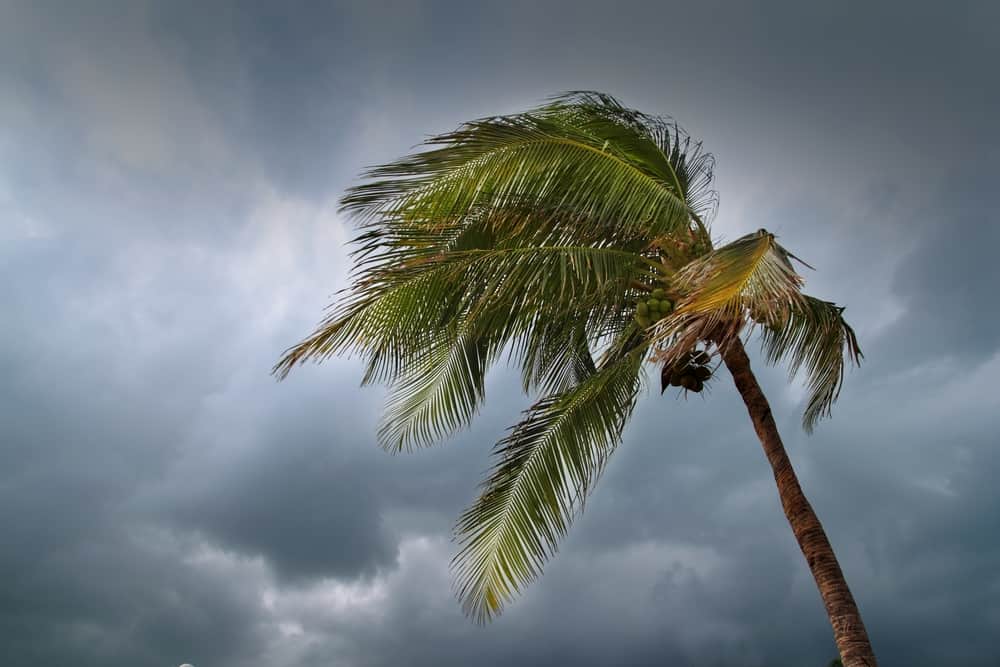 RH: It wasn't quite sort of planned for your time in Fiji, was it?
BW: No. That Fiji house is one of our most beloved. We've been there four times now. As house sitters and we love the dogs. The house is gorgeous, on the top of a hill with ocean views. What's not to like, right?
The very first day, we were at that house-sit back in 2014, there was a bushfire that we had to fight, that was coming towards the house.
So here we are. I'm in a sarong and Pete is trying to put the fire out with the garden hose. The local fire brigade is up there and they're beating it with bushes and brooms and stuff. It was like, oh, this is kind of serious, isn't it? So anyway, we came back to that house and had a lovely time and then this spring, we came back in January and we're going to be there for about three months. Just in passing, the homeowners said – we've become friends with them after these many sits and they just said, "Oh, by the way, it's going to be cyclone season while you're there." But Fiji hasn't had a major cyclone in X number of years …
SG: It will be fine.
BW: I know, right? Well, you know what I mean? We just prepared for hurricanes living on Kauai and everything and it's just a matter of hit or miss. Well, it decided to hit and it turned out to be a category five cyclone. The biggest one ever recorded in the Southern Hemisphere.
Yeah. Trust me, you do not want to be in an event like that. I'm here to tell the tale. Fortunately for us, the eye was initially projected to go right over us and then it veered north onto the other main island where there was an incredible amount of devastation and over 50 people died. So it was pretty intense there. But we survived with minimal damage. It was a miracle and a couple of weeks later, a little category two came along and we're just like …
RH: Been there, done that.
BW: Yeah, exactly. So you don't want to be in a storm like that.
RH: Would you do another house-sit there if they asked you to?
BW: Oh, in a heartbeat. I mean they did want us to come back this fall. But we had the wedding.
RH: Right.
SG: After a bushfire, a cyclone, what else could Mother Nature throw at you?
BW: I don't know.
RH: There's still room.
BW: Isn't it a volcanic island? Dormant, I think. I mean it is in the ring of fire. So I suppose it could have an earthquake or tsunami or something like that. But honestly, it was exciting and it makes for a good story.
RH: Yes, yeah. We like good stories. So I think that probably counts as your scariest travel experience or are there worse?
BW: Well, that's the scariest natural event I think. We've had a couple of situations that in retrospect we probably wouldn't repeat. We have thrown caution to the wind let's say a couple of times and everything has always worked out well. But in retrospect, I think oh, that could have gone so wrong.
SG: Give us details.
BW: Oh, details.
SG: You can't leave us like that.
Throwing Caution To the Wind in Thailand
BW: Yeah. We were in Thailand and we had taken the train from Bangkok down to Surat Thani, down the coastline of the Gulf of Thailand and we needed to cross from Surat Thani to Krabi where we were going to be working with a very luxurious hotel. We didn't think we were cutting it close. We had a connection with the bus to make and we didn't think we were cutting it close. But we didn't realize that Thai train schedules are just merely a suggestion.
SG: It's more advisory than …
BW: Yeah, exactly. It's just like oh, it could happen. But it probably won't. It didn't. So we arrived in Surat Thani with about 15 minutes to make the bus which was across town in heavy traffic. We knew it just wasn't going to happen. So we walked out of the train station, the only foreigners, the only farang, right? And me with this hair, I'm immediately noticeable. I looked different than everybody else.
SG: I want to clarify for the listeners that you have beautiful, long, blonde hair which would stand out in Thailand because it would …
BW: And I'm not a small woman either. Everybody in Thailand has dark hair and is quite small. I'm not hard to miss. So we walked out there and immediately we were surrounded with folks who wanted to give us a ride anywhere. We could have said anything and that would have been where they're going.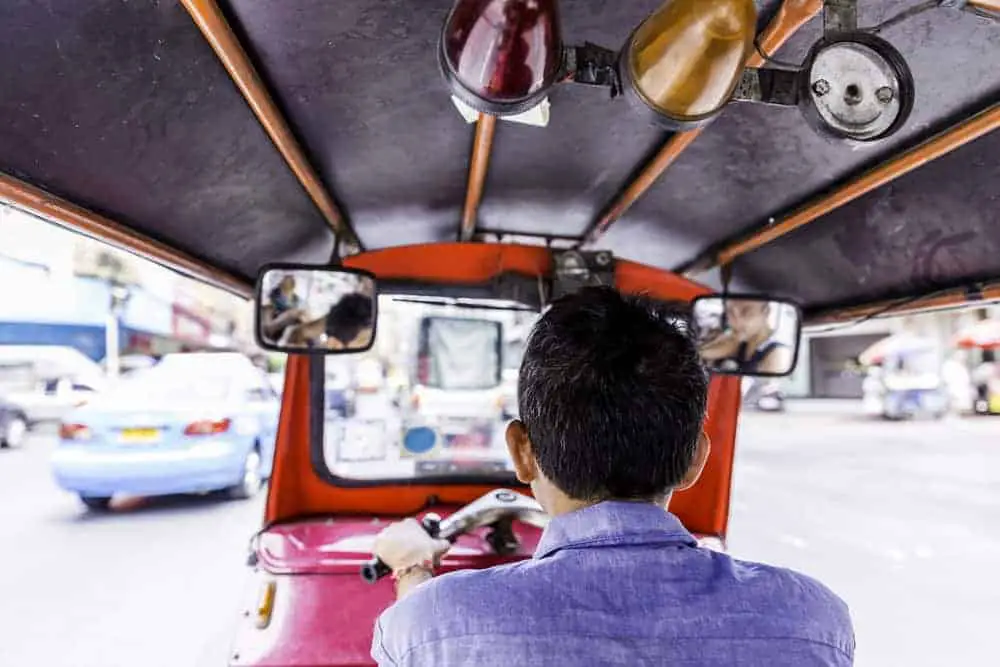 So we let ourselves be convinced by this very persuasive gentleman with a sidekick that he was going to get us to that bus on time. So, they grabbed our suitcases and off we went and this is contrary to every piece of advice that you will ever get anywhere is don't do this. Don't do this. But there we were and the vehicle was a pick-up truck and we were sitting in the back. There was no tailgate.
SG: What?
BW: No tailgate. We were just like – I looked at Pete. The sun was setting and there was all this traffic. We were sitting in fumes and the guy is driving like 60 miles an hour weaving in and out of all these tuktuks and motorbikes and everything. I looked at Pete and I said, "It has been nice knowing you." So the 15 minutes came and went and we were still in the back of the truck. The guy hangs through the window and he says, "I called the bus. They will meet us at the 7/11 on…" And I'm like oh, right. It's like OK, do I have any identifying marks or whatever? I mean I do have one tattoo that they could identify me if they ever found the body, right?
So we're just screaming through this traffic, overcome by noxious fumes and everything and they pull into this – it wasn't a 7/11 but it was like this gas station convenience store kind of combination and so I thought, well, I'm hopping out of the truck. I really have to go potty, right? So I run into the bathroom and of course you know what they're like in Southeast Asia.
It's a squatty potty and I'm there squatting away and I hear somebody calling my name. Miss! Miss! Come on! So I come out of the ladies' room and by golly, the bus is there. It's waiting for us just like they said.
SG: Personal service! How wonderful!
BW: I know. So they loaded our luggage on the bus. Everybody is laughing and backslapping and everything. Thank you so much and everything and the guy holds out his hand for payment, right? He said – I forget how much it was. But it was like 50 bucks a person or something. I mean it was just outrageous. Pete paid it and we got on the bus.
SG: That is a story. That's the sort of thing you tell your kids to never do and here you are. You've done it.
BW: Yeah, exactly.  I mean only take the official taxi. Don't ever get in a vehicle with somebody …
SG: Definitely don't ride in the back of a pick-up truck.
RH: With no tailgate and always negotiate the price before you sit down in the …
BW: Right, right, right.
SG: I bet there weren't any seatbelts, were there?
BW: We were hanging on to our bags for dear life because he's taking these corners.
SG: Always wear a seatbelt. There are no seats.
BW: No.
SG: What an adventure.
BW: It was. It was hilarious. But I definitely hope I never have to do something like that again.
The Pros and Cons of a Location Independent Lifestyle
SG: Do you miss having a permanent base to call home?
BW: Well, I will be honest. Sometimes I do. But I think I miss the idea of having one more than the actual because since we've returned to Minnesota, we spent some time at my husband's family cabin up north and there were a lot of maintenance issues and stuff that …
SG: So boring.
BW: Yeah.  I'm over this. I'm just over it. I mean, oh, so – we're house-sitting here at a beautiful home which would – now I think to myself, oh, this would be just the right size. Home for the two of us and it's beautifully-decorated in a gorgeous wooded setting and everything. But they have so much stuff. They really don't. We're used to such a minimalist lifestyle now that if I look at all of the stuff and I realize that Western civilized house living – I mean you've got all this stuff. Do you really use it that much? Yeah, it's all comfortable and everything. But no, I think if we were ever settled down in one place, it might be a one-bedroom apartment or something like that.
RH: When you talk about stuff and how much less you have, I'm curious what you travel with. Obviously you travel with whatever you have, right?
BW: Yes.
RH: You have your home base. How much do you travel with? Do you check a bag?
BW: Yes, I do. There are purists out there who – I only have a 22-liter backpack or whatever. You know, just punch those people in the face because – and Pete will say that I have too much stuff. But I have a bag that I check because it's too big for carry-on. It's a duffel bag with wheels actually. So it's not like a square suitcase. But I would imagine I can get the same amount of stuff in there that somebody else might get, like a 25-inch suitcase, if that is a benchmark.
Then we each have a smaller 20, 21-inch roller suitcase that we carry on, which holds primarily tech stuff that you don't want to check. So I got like my jewelry and that and that sort of thing. Everybody says, "You travel with jewelry?" and it's like, "Yeah, I travel with jewelry." Breaking another rule probably. I mean we're old – aside from the back of pick-up trucks, we really haven't gotten into too many shady situations. We're to bed so early that I don't think robbers come out. It's long after we've gone to bed. So …
RH: You're not going to get mugged in a dark alley if you're never in a dark alley.
BW: That's true. When my mom told me when I was dating – she said nothing good ever happens after 1:00 AM and honestly for us, nothing – we wouldn't even know if it happened after 8:30 PM. So we like our creature comforts too. We're not particularly comfortable in shadier areas. We try to pick a nice, safe area to stay in.
SG: Yeah. A question I have. I mean you basically only have one suitcase. How do you account for different weather?
BW: Well, up until this return to Minnesota, really hadn't been an issue. We had stored winter clothes. Initially, we had a stored unit and that held art and IRS tax records and winter clothing and the few household items that we thought we might be using if we were ever to return to a more conventional light.
When we came back for the wedding, we realized that was just stupid. Here we've been paying all these storage fees and so we emptied out the storage unit and we moved the winter clothing to our daughter's house. She has got a lot of attic storage in her farmhouse. When the weather started to turn, we went through that stuff and man, it was like Christmas because we just traveled with warm weather clothing. I didn't even have real shoes. So I mean just flip-flops. It was really like Christmas …
I got this green sweater. Oh, I loved wearing that or this, that or the other thing. It was like, oh – it was sort of like going back in time and fortunately we're old enough that we don't have to have the latest fashion. I wouldn't even know what that was. So recycling all this stuff that we kept.
From now on, I think it's going to be a bit more difficult. I'm going to have to pare down because I can't fit everything now. I will have to continue this lifestyle with a combination of warm and cold weather clothing. I bought a pair of fake UGG boots at Wal-Mart and when they wear out, I will just throw them away. That's my one pair of winter shoes. Huh?
RH: Or you could just move back to the warm weather places.
BW: Yeah, exactly. If we do, I will just mail the stuff back to our daughter or something.
BW: I just don't really worry about stuff like that because what I found is that if you need something, you can generally get it wherever you are.
RH: Sure.
SG: That sounds very liberating, doesn't it?
RH: Yeah. If you need a jacket, because you don't have a jacket, you go buy a jacket.
BW: Exactly.
SG: You don't sweat the details so much then.
BW: No, you really don't. The one place where that philosophy didn't really serve me well because I'm 5'6" and I wear like a size large and I have long feet. It didn't serve me very well in Thailand as we were trying to prepare for colder weather going to China. I could not find a pair of shoes that fit me and I wound up buying a men's pair of clogs. It's just so that I could have something on my feet with socks. But then we went to their equivalent of Wal-Mart or Costco or something and I bought a $12 pair of shoes while I was there. Fortunately for me anyway, Chinese people are bigger. It's not all birds tweeting and flowers circling around your head or anything like that.
SG: Unicorns and rainbows.
BW: Yeah, yeah, exactly. It's not all that.
About That Four Hour Work Week …
RH: Yeah. The thing you haven't said is you were inspired by this four-hour workweek book but you don't have a four-hour work week. You work a lot harder than that.
BW: Oh, gosh, yes. I think The 4-Hour Workweek, it's a lie! But I will say that yes, that we work more than four hours a week definitely. I started to have a rebellion earlier this year. When we stopped in Kauai, we gave ourselves permission to have a real vacation for two weeks and prior to that, we have been working seven days a week, probably eight or ten hours a day and you know as well as I do how easy it is to sit in front of that computer and you look up and it's …
SG: The day has passed.
BW: Yeah.
BW: I mean you're just – it's shocking. It's like what? What happened to the day? There are days literally where I'm that person working in her PJs because I haven't gotten out of the chair to change into real clothing. That's kind of pathetic. But that's the way you roll. But after that vacation in Kauai, I found it really hard to get back into that type of dedicated eight to ten hours a day, seven days a week. I realized that I had burned myself out, producing content and keeping up with social media and all of the requirements that just seem to increase on a daily basis in order to maintain this sort of career.
So I took a long, hard look at things over the summer and I really even then couldn't get my bearings. I'm now just starting to figure out what I want things to look like going further in the – from this point and it's going to be very much simplified.
Yeah, there's so much to do that you find yourself you're not doing everything well. So I had to step back and say, "OK, let's prioritize here." You know, I mean we don't need to be on every social media channel. We need to be where the readers are. So we need to figure what that is and then focus. It's going to be channeling things in a more focused way and also to concentrate on the writing and that means less frequent and better quality. I hope. But …
Thank you. But the best of that is always the storytelling factor for us. Nobody has had our experience. Nobody has had your experiences either. Both of you are excellent storytellers as well.
Onward and upward.
SG: Onward and upward as ever. Well, thank you Betsy for talking to us.
RH: Thank you.
SG: So we've been just talking to Betsy Wuebker who writes at PassingThru.com.  She is living a life of full-time travel and you can read all about her adventures at her website PassingThru.com and she is on all the usual suspects on social media, mainly Pinterest, Instagram, Twitter.
BW: Facebook, Twitter, yeah.
RH: Thank you.
SG: Thank you.
BW: Bye.
 [End of transcript]
This article contains affiliate links about which you can learn more on the Disclosure Policy.