So many bad MAD jokes that I don't even where to start. MAD Museum  (also known as the Museum of Arts and Design) in New York City is a small and quirky museum located on the west side of Manhattan. After a morning spent wandering around the area, my children and I stopped by MAD to check out the Judith Leiber exhibit featuring dozens of her bejewelled evening bags and minaudieres.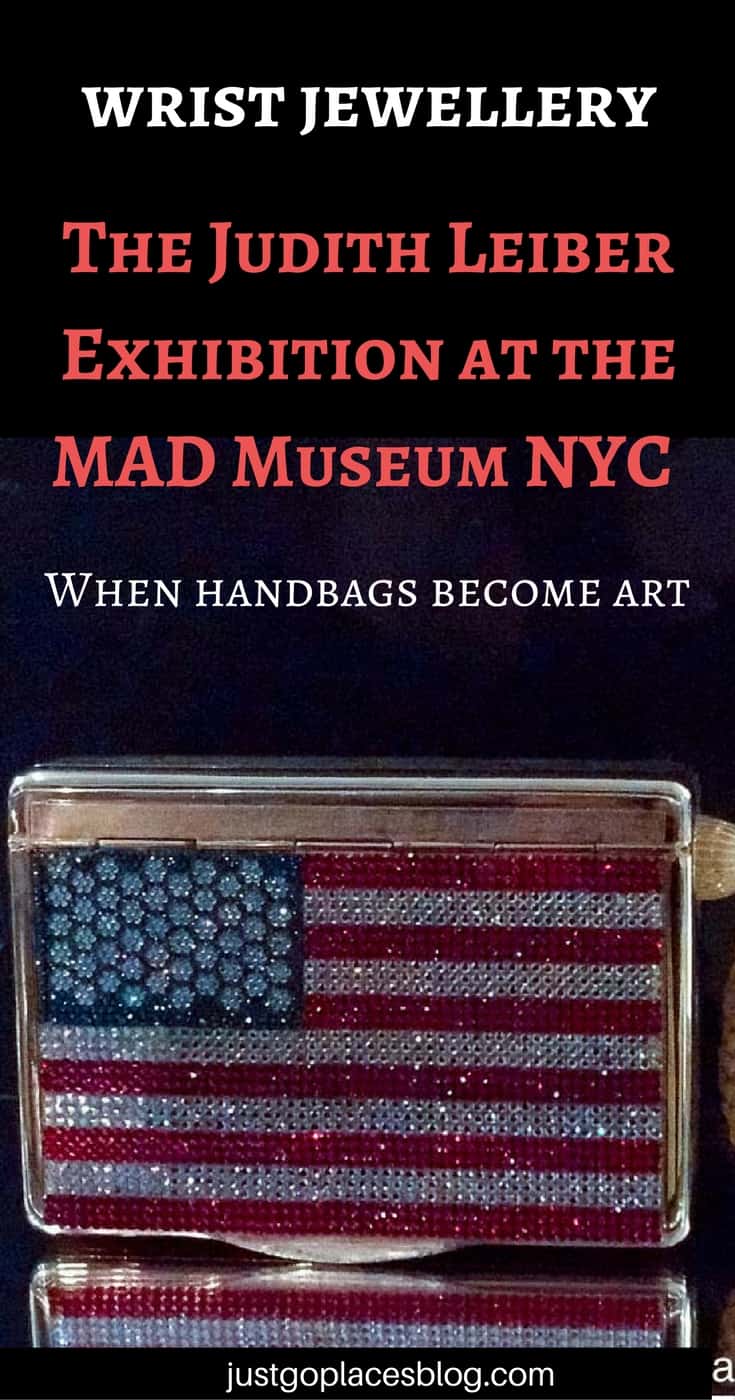 Judith Leiber is the name to know in celebrity evening bags. She has a colorful international history herself. Born to a wealthy Jewish Hungarian family, she studied at Kings College London, worked at a prestigious Hungarian handbag company, survived the Nazi occupation of Hungary during World War II and married an American soldier.
After the war, the couple moved to New York. Judith first worked with a New York handbag designer but then started her own company in 1963.  Of course, it was only natural that MAD would highlight this hometown immigrant hero of the decorative arts with a special exhibition.
The Museum of Arts and Design
If you are in Columbus Circle, you really can't miss the 10 story gleaming Museum of Arts and Design. The building shimmers like a vertical lake thanks to a $90 million tile and glass facelift to the modernist building that was previously at the location.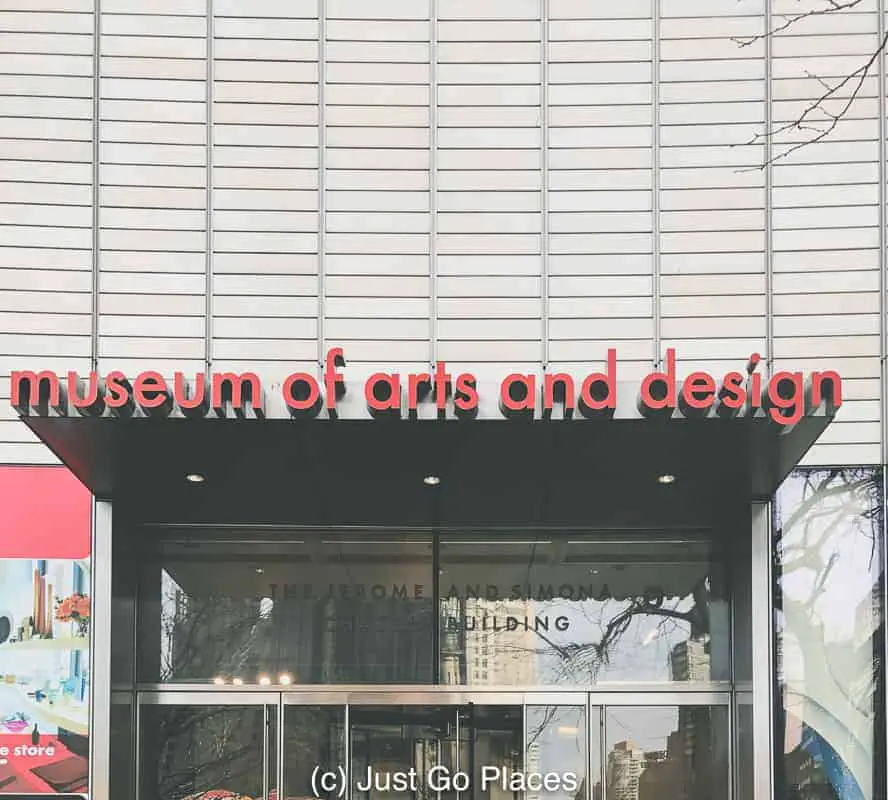 Whats On at MAD Museum
Although the museum was founded in 1958, the MAD Museum only got its swanky new digs in 2008. The museum had acquired thousands of pieces of art, craft and design from the 1950's onwards.
Yet, only 10% of the museum's permanent collection is on display at any given time. The other floors are devoted to assorted things like artists' spaces, an auditorium, and an education centre.
Bookending the building, on the bottom floor there is a very cool gift store and on the top floor, Robert the restaurant has great views of Central Park. I couldn't visit Robert the Restaurant without thinking of Robert The Doll.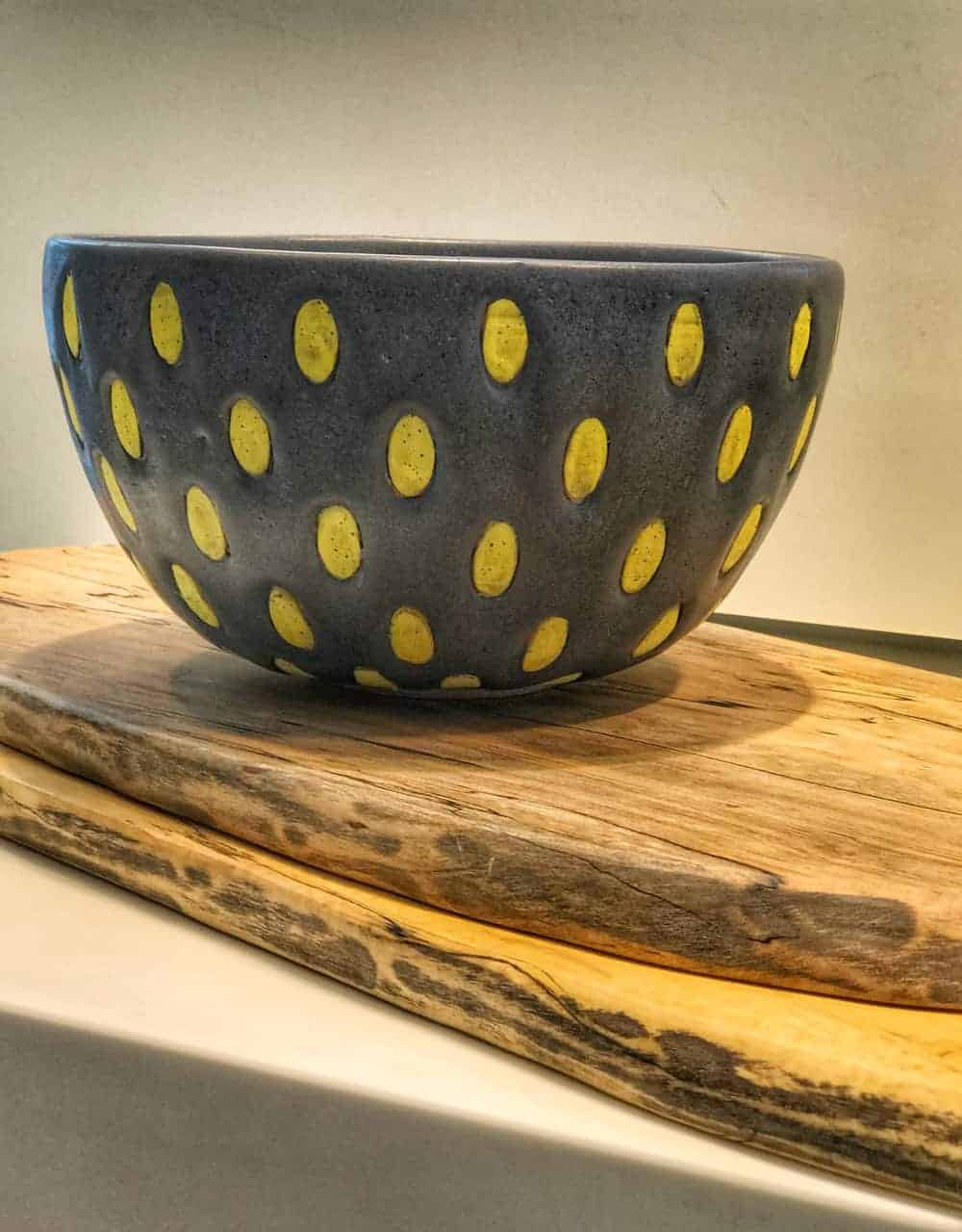 Special Exhibits at MAD Museum
So whether you enjoy this museum really is dependent on what the special exhibitions on display happen to be at the time of your visit.
For example, the Judith Leiber exhibit showcasing her crystal-encrusted evening bags was beautiful and interesting to both my daughter and myself. My son's eyes glassed over like he was contemplating throwing himself into Columbus Circle traffic as a more appealing alternative. Each of the floors though are small and so we were able to finish ogling over the gorgeous Leiber handbags before he got too desperate.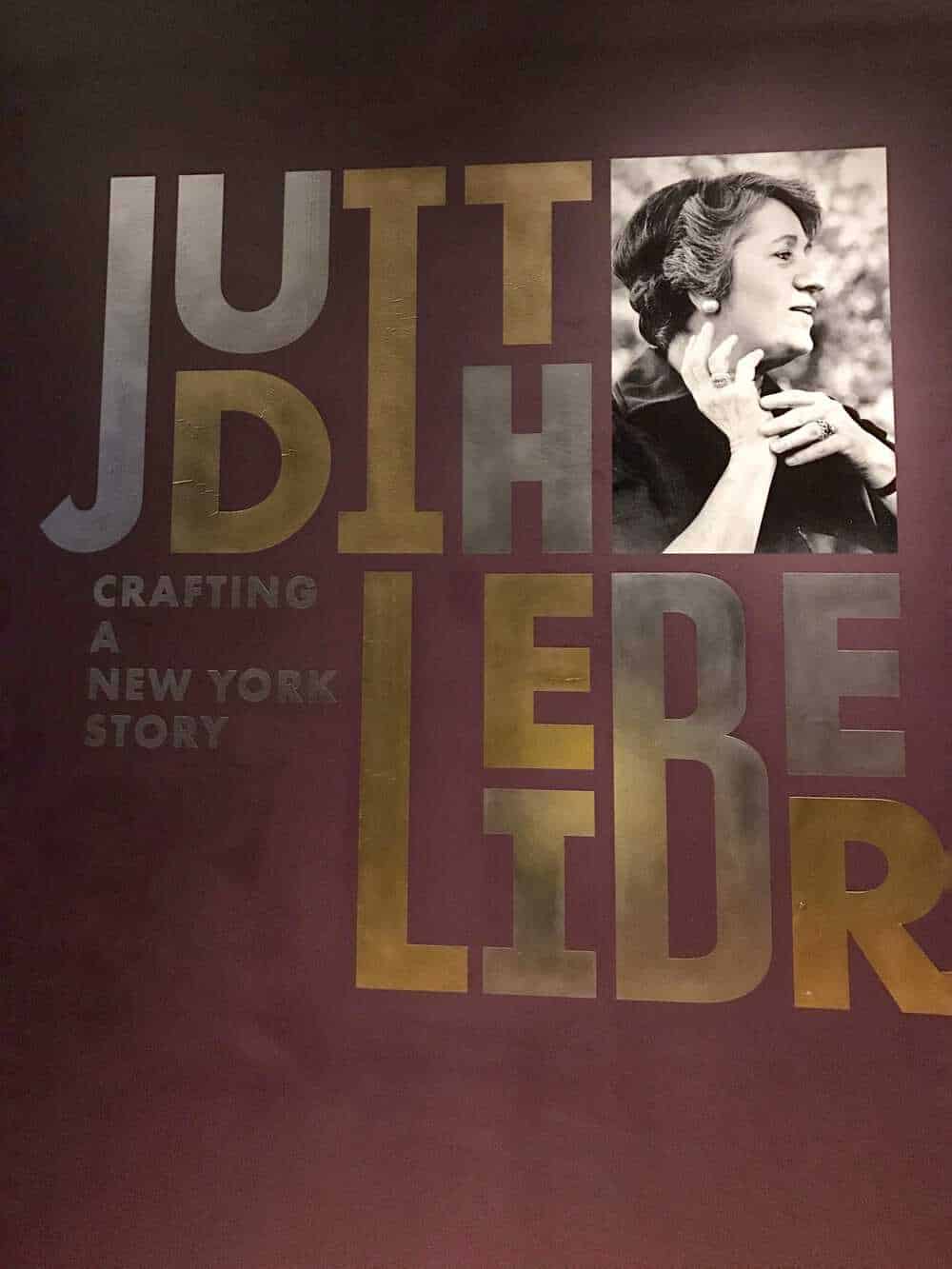 Previous temporary exhibits have been Crochet Coral Reef (a crochet project with yarn and garbage that highlights marine life issues); Richard Estes: Painting New York City (photorealism); and fashion After Fashion (an exhibit on the end of times for the fashion industry). So, as you can tell, it's a mixed bag catering to many different interests.
The Judith Leiber Exhibition
We went to the Judith Leiber exhibition on her evening bags which was fantastic!!! Well, for my daughter and me. My son's reaction was less enthusiastic. He does not appreciate the beauty of jewel-like evening bags.
Judith Leiber Bags
Judith Leiber is a firm celebrity favourite for evening bags. These little bags can run into thousands of dollars and have achieved collector-status similar to Faberge eggs. There's a lady in New Orleans who has almost 300 Lieber bags.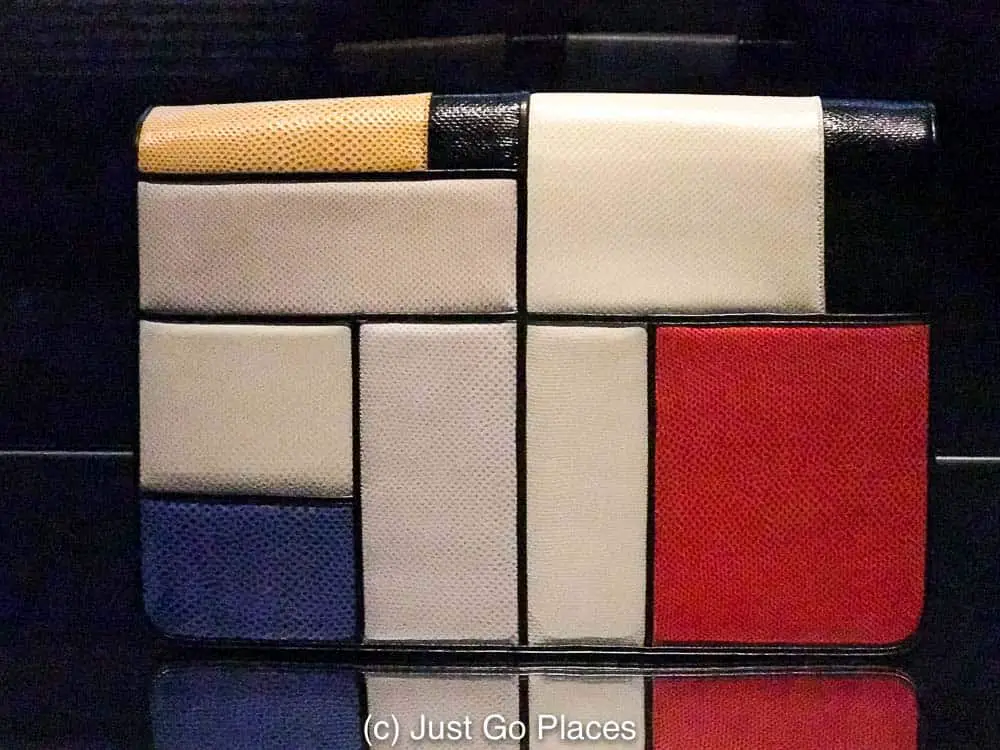 Leiber became a household name when she designed the handbag carried by First Lady Mamie Eisenhower at President Eisenhower's inauguration ball. Leiber has since  made evening bags for several first ladies, including a minaudière of Socks the White House Cat for Hilary Clinton.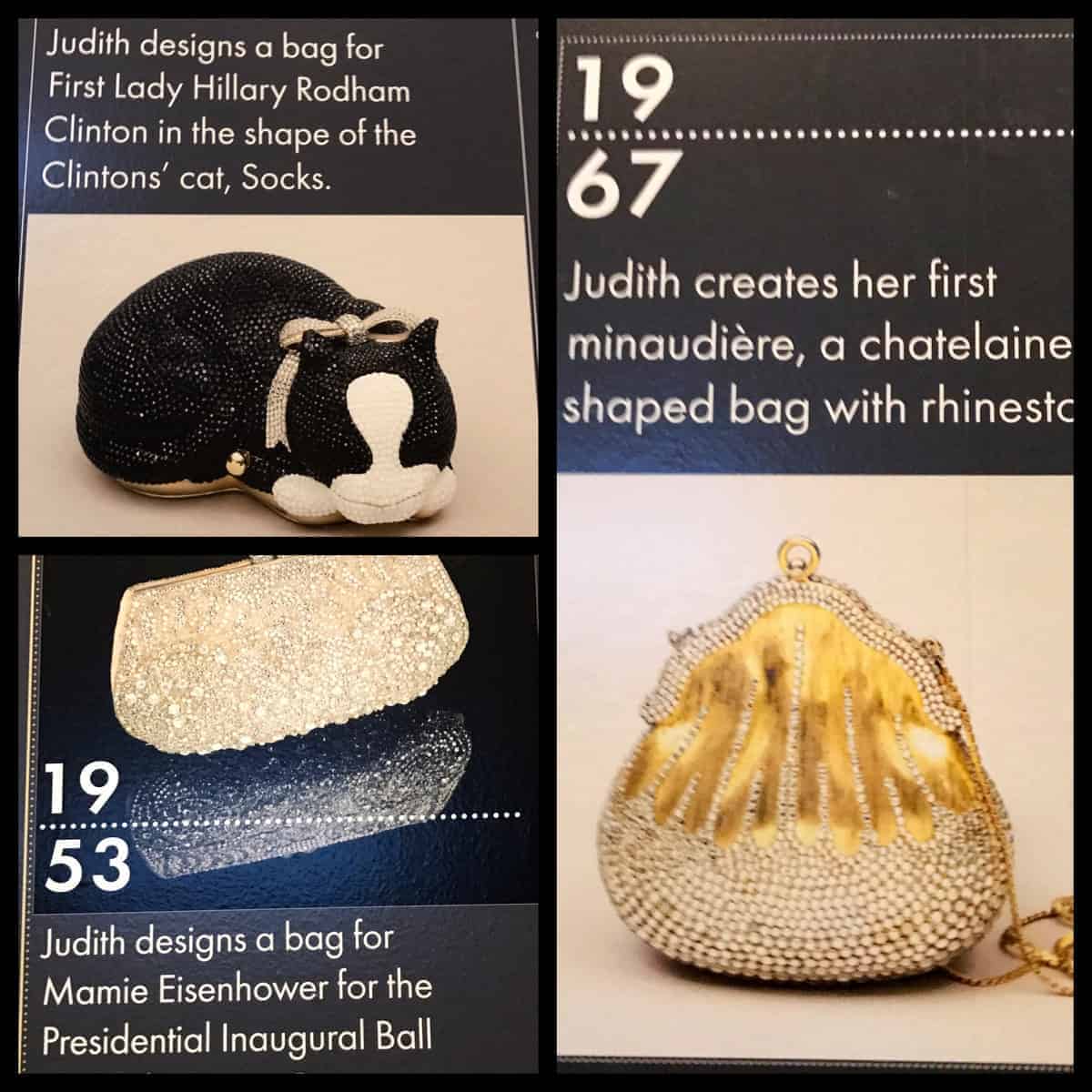 If you want to read more about Judith Leiber,  Jeffrey Susan has written her biography, No Mere Bagatelles.
Although the Leiber exhibition at MAD has finished, the Leibers have set up their own small museum in the Hamptons called the Lieber Collection. Entry is free and the museum is open for limited hours during the summer.
The Story of Handbags
I loved that MAD gave an introduction that explained the rise of handbags as a fashion accessory to my accessory-and-sparkle-mad daughter.
Until the 18th century, women had pockets in their outfits that they could carry stuff. Imagine all the stuff that you could stick inside one of those Elizabethan skirts. With the rise of a more streamlined silhouette for women's clothes, women started carrying a reticule (a pouch on a cord).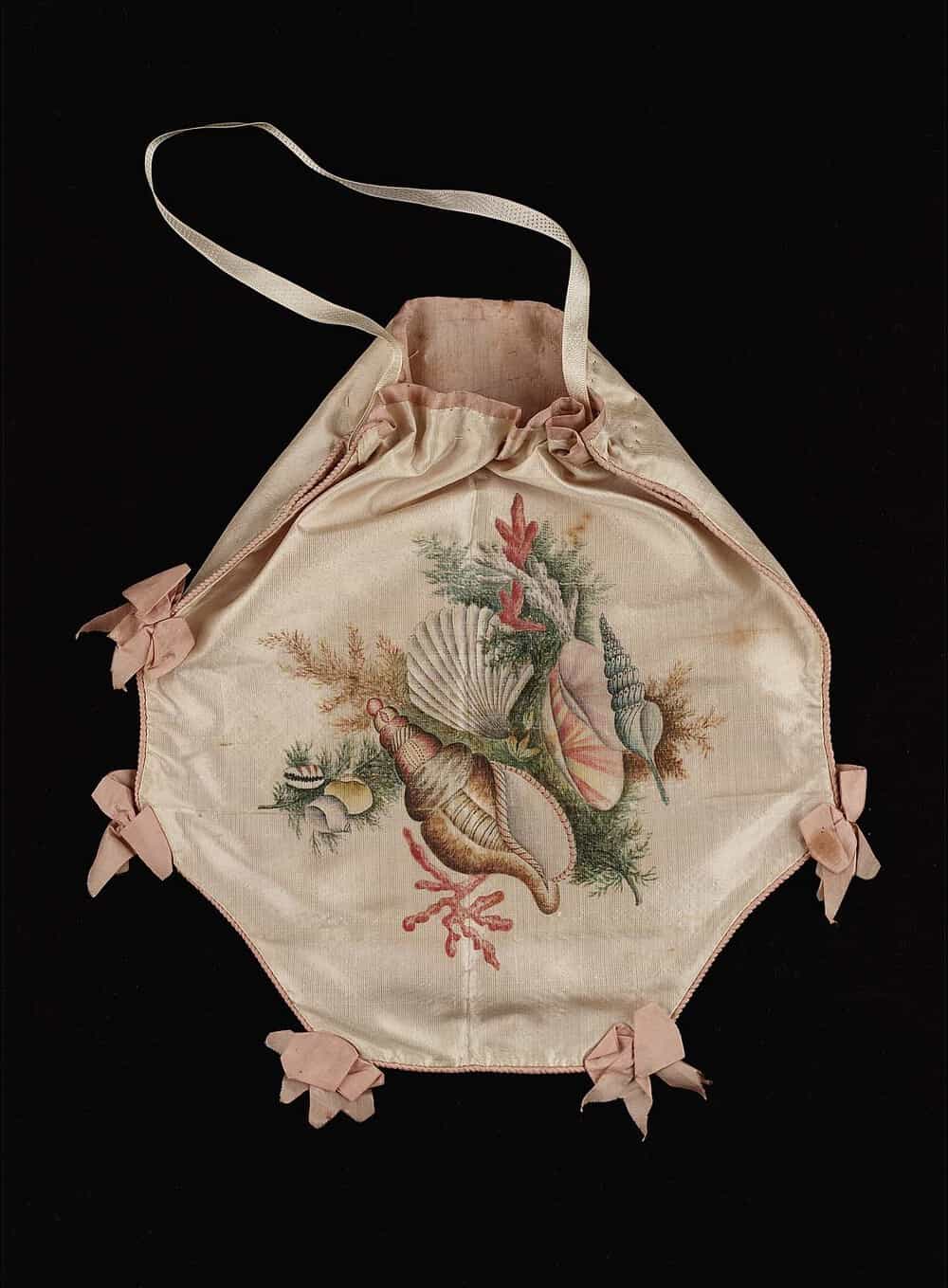 Women, of course, had to carry a lot of stuff for themselves (lipstick, money etc) as well as stuff in their role as caretakers. As a mother, I often felt like a packhorse with my ginormous diaper bag with essentials for two babies.
Even now, I am the one who carries the water bottles, the band-aids, hand sanitiser and everything else the kids need. Their pockets are reserved for important junk they pick up along the way, like interesting sticks and stones.
Judith Leiber's Creations As Decorative Art
Judith Leiber's creations are truly a cross between art and accessory –  similar to many of the items we saw at the Swarovski museum in Austria. You can see why many Leiber  pieces have become collector's items.
The designer is most famous for her minaudieres (metal evening bags encrusted with jewels and precious metals) which she started making in 1967.  The minaudière started off as a way for her to repair a damaged handbag but then came into a life of their own.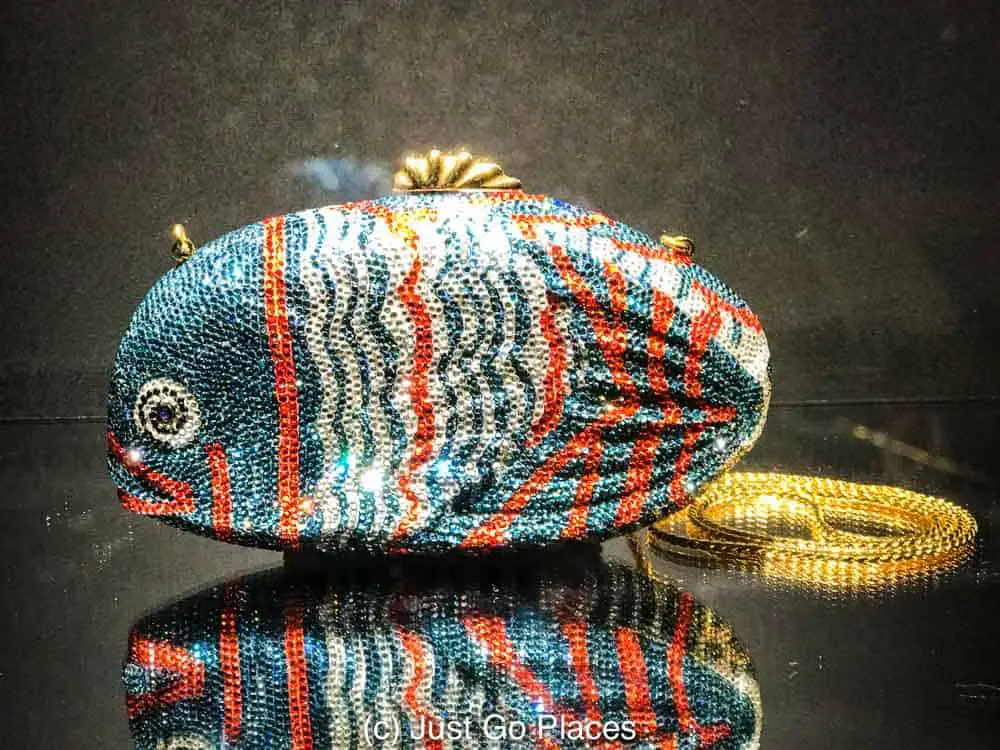 Judith Leiber has designed more than 3500 bags, all of them handcrafted and unique over her 35+ years designing under her own name. Judith designed her last bag, The Peacock, in 2004.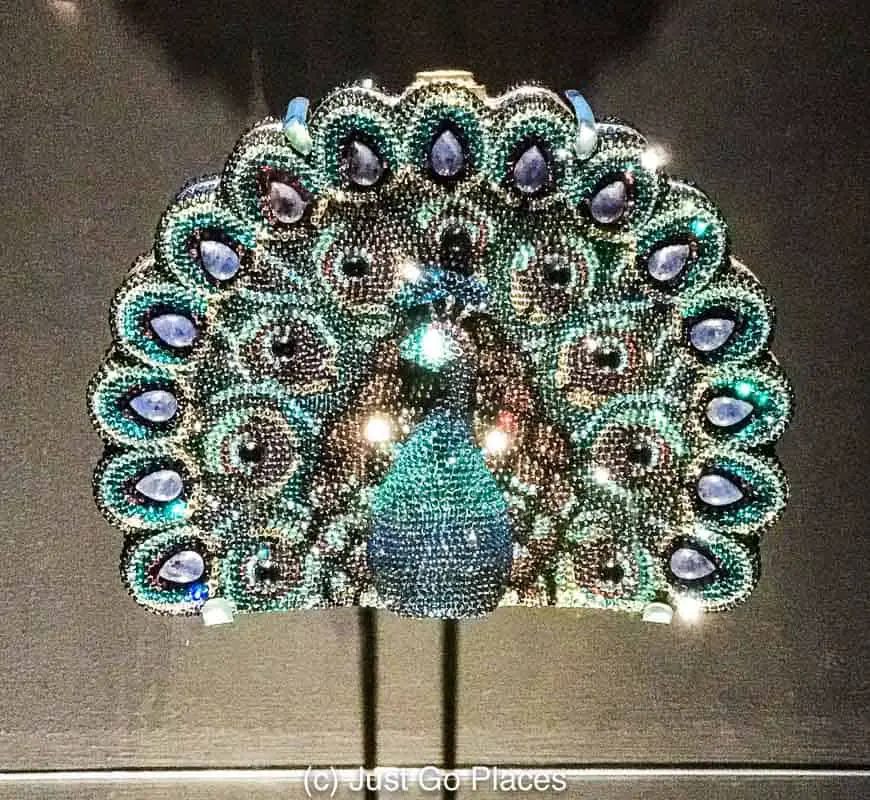 Visiting MAD Museum
The Museum of Arts and Design is a small but cool museum. You'd be MAD to miss it. Sorry, couldn't resist. It's right near Columbus Circle, the shops at Coumbus Circle and the 57th west entrance to Central Park.
Definitely check out future exhibits at MAD before you visit to make sure that you want to see what's on. The entrance price of $16 for adults is pretty steep if you don't like the rotating exhibits. Luckily, children 18 years and under are free. MAD is also free for everyone on Thursday nights.
MAD is located at 2 Columbus Circle. Like many museums in New York City, MAD is closed on Mondays.
Where To Stay
We have stayed near the Mad Museum at The Hudson Hotel, a charming boutique hotel just behind Columbus Circle. The subway at Columbus Circle is a major hub so there are many transportation options available.
Nearby we have stayed at Row NYC which is closer to Times Square. It's small but great location. The Westin New York is also closer to Times Square and has larger rooms. If you are looking for suite apartments, we can recommend the newly renovated The Benjamin which is a short walk across to the East Side.
Where To Eat
If you chose not to eat at Robert, we recommend eating at Landmarc, a French and Italian bistro by Chef Marc Murphy at the Time Warner Center next door. My kids were thrilled that there was cotton candy as a dessert option at Landmarc. Alternatively we have also gotten freshly-made deli sandwiches at eaten in Central Park nearby.
Jean-Georges Vongrichten's flagship restaurant Jean-Georges is across the street at 1 Central Park West. They do have a reasonable lunch menu if you would like to try a 3 star Michelin restaurant in New York. For my kids, though the decision was a no-brainer when cotton candy was involved.
SaveSave
SaveSave
SaveSave