On our recent trip to New York City we rented a flat through the London-based company One Fine Stay.  They rent flats in New York City and London which are privately-owned.  For whatever reason, the owner isn't using their flat during the time it's available for rental.  Each flat is well-described on the company's website and also includes a bit of information about the owner and any known downsides.  Overall, the flats seem to be modern, well-maintained pied-a-terres owned by professionals or retirees.
We chose a 2 bedroom apartment near Gramercy Park primarily for the location.  My husband would work out of his firm's New York office in mid-town and the children and I would explore downtown.
The building itself was a charming brownstone with a wrought iron staircase and exposed brick walls.  The apartment was on the ground floor (handy since there's no elevator in the building).  Although small, the flat was well laid out.  Out of the kitchen window is a quintessential New York view – an air shaft.  I felt I was home.  In fact, in my 15 years of living abroad, this apartment in New York was the only time I felt homesick for my younger Manhattan lifestyle.
The kitchen is tiny and has no dishwasher reflecting another New York apartment feature — most people tend to eat out or do take away.  I don't understand how New Yorkers eat out so much and still stay thin – even with all the carb-avoidance, it must be that they either work out like fiends and/or have plastic surgery.
Although listed as suitable for 6 people, I would think that many people would be a tight squeeze because you would have to use the sofa bed in the living area.  It's certainly comfortable for 4 people (or 2 adults/3 kids) in the two bedrooms.   The closet space is limited but adequate (another New York feature!).
Our location, near Union Square, was convenient for transportation and everyday shopping.  Nearby, there is a Whole Foods Supermarket and Trader Joe's for groceries, a Duane Reade for pharmacy items and a Best Buy for small electrical items you may have forgotten to pack.  We also found a little playground at 19th Street and 2nd Avenue.
What else?  The apartment didn't have laundry facilities but Prestige II laundromat is located across the street.  At 80 cents per pound and same day service, I found them good value and reliable.  Your clothes come back clean and neatly folded, perfect for packing!
All flats come with a iPhone which was very handy for local calls as well as navigation and local tips.  I found the New York One Fine Stay staff welcoming and responsive to questions.  We had no problems anyway, except the occasional minor WiFi hiccup.
I had asked to see another 2 bedroom flat a couple of streets away that One Fine Stay also rent.  This flat was listed as unsuitable for children and I soon found out why – the art installation on the mantlepiece was broken wine glasses!  There are only 2 apartments in the buildings.  The foyer was beautiful with antique pieces mixed in with the scooters and mail.  You had a real sense of it being someone's home.  The apartment itself was beautiful with a little terrace area.  If you are travelling as a group of adult friends, this apartment is definitely a nice alternative to staying at an impersonal hotel.  (I'm thinking Christmas shopping trip!!).
So what's the verdict?  We found One Fine Stay provided a smooth and easy experience and we would certainly rent one of their flats again. As a former New Yorker, I can vouch that I felt less like a tourist and more like I belonged again.  Perhaps you CAN go home again, even if only for short trips.
SPREAD THE WORD! PIN THIS TO YOUR TRAVEL PINTEREST BOARDS FOR FUTURE REFERENCE!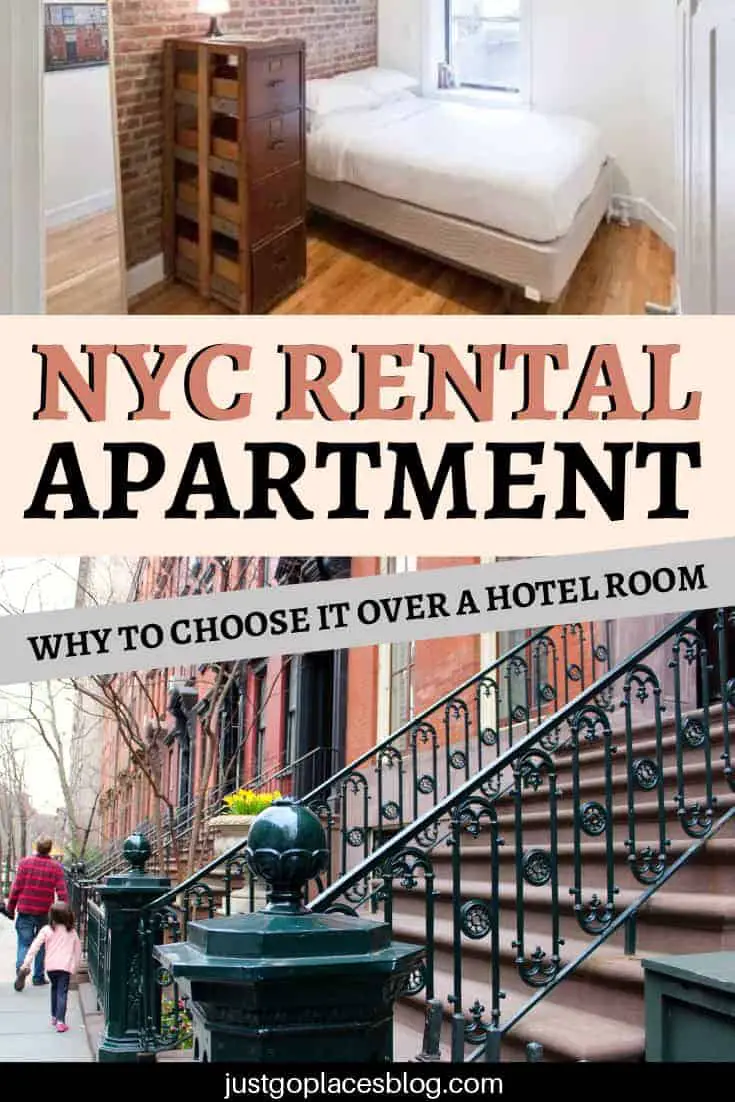 This site generates income via partnerships with carefully-curated travel and lifestyle brands and/or purchases made through links to them at no extra cost to you. More information may be found on our Disclosure Policy.