Welcome to the podcast show notes and transcript for Episode 3: The Mongol Rally or Bust. In this episode Rachel Heller and I speak with Alice Nettleingham who just completed the epic road trip, The Mongol Rally during the summer of 2016. The Mongol Rally is where you take your trusty beat up old car 10,000 miles from England to a finishing line in Russia. (No, not Mongolia – Alice tells us why the Mongol Rally no longer finishes in Mongolia.) What were the highs and lows of this epic adventure? Listen and find out.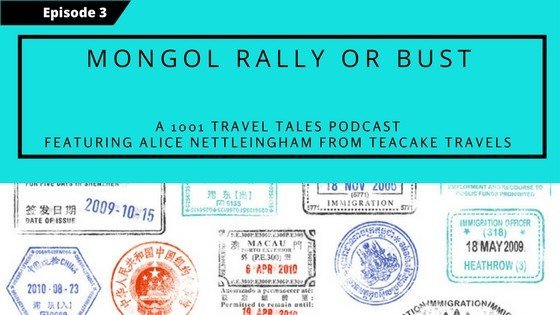 Time Stamped Show Notes
0:40 What is the Mongol Rally?
3:10 When The Mongol Hordes Descend
4:38 Why Do The Mongol Rally?
5:58 Pros and Cons of the Mongol Rally
6:50 A Birthday At Chernobyl
7:10 Genghis Khan't Touch This
9:30 All You Need is a Rust Bucket and a Dream
11:50 How [Not] To Form a Mongol Rally Team
16:10 What Exactly is a Tea Cake?
17:50 Catching Up on Bangladesh
19:00 Studying Jujitsu in China
Listen
Go here to listen to the latest episode of 1001 Travel Tales Podcast on iTunes.
If you don't use iTunes, you can listen by clicking on the link below.
[soundcloud url="https://api.soundcloud.com/tracks/307859011″ params="color=ff5500&auto_play=false&hide_related=false&show_comments=true&show_user=true&show_reposts=false" width="100%" height="166″ iframe="true" /]
Reviews and Subscriptions
Now if you like the podcast then it would be a HUGE help if you subscribed and left a rating & review.
<— Click here to subscribe –>
It might seem insignificant, but it helps more than you might think.
SPREAD THE WORD! PIN THIS TO YOUR TRAVEL PINTEREST BOARDS FOR FUTURE REFERENCE!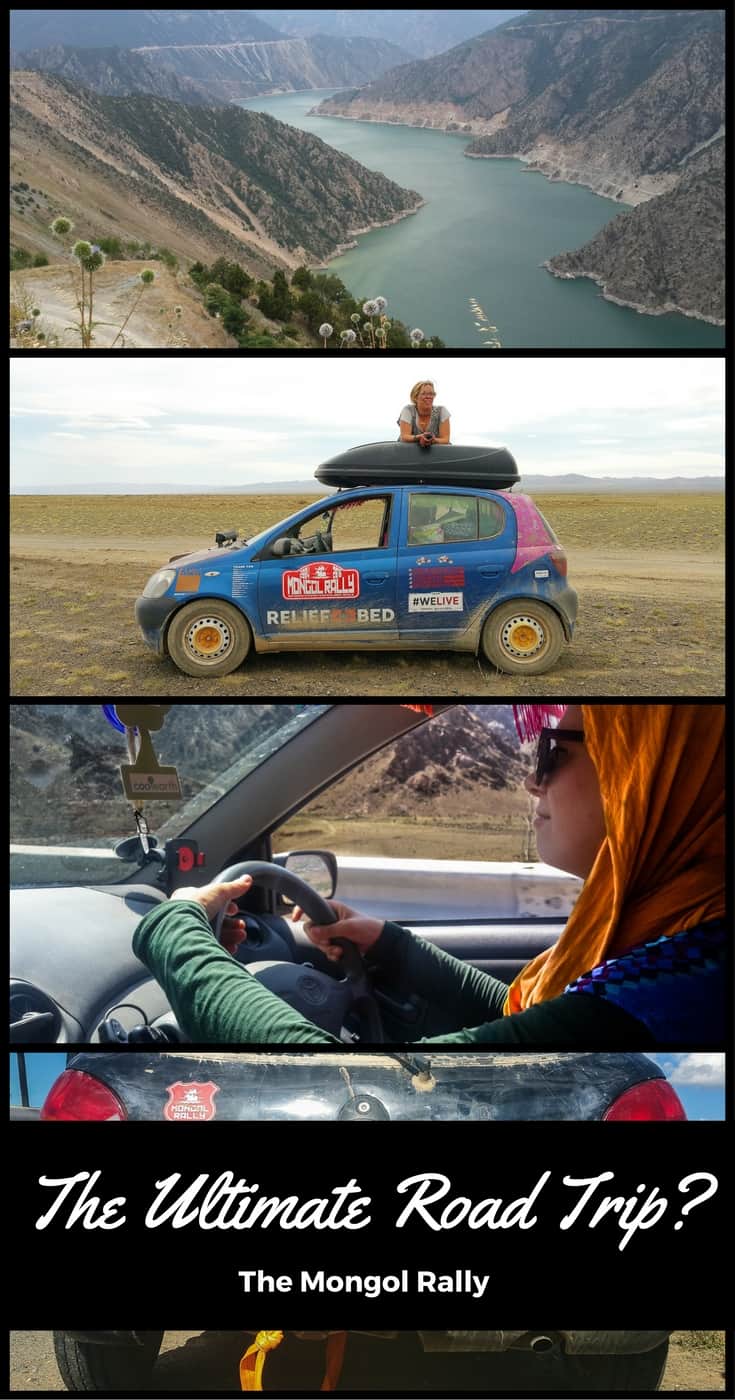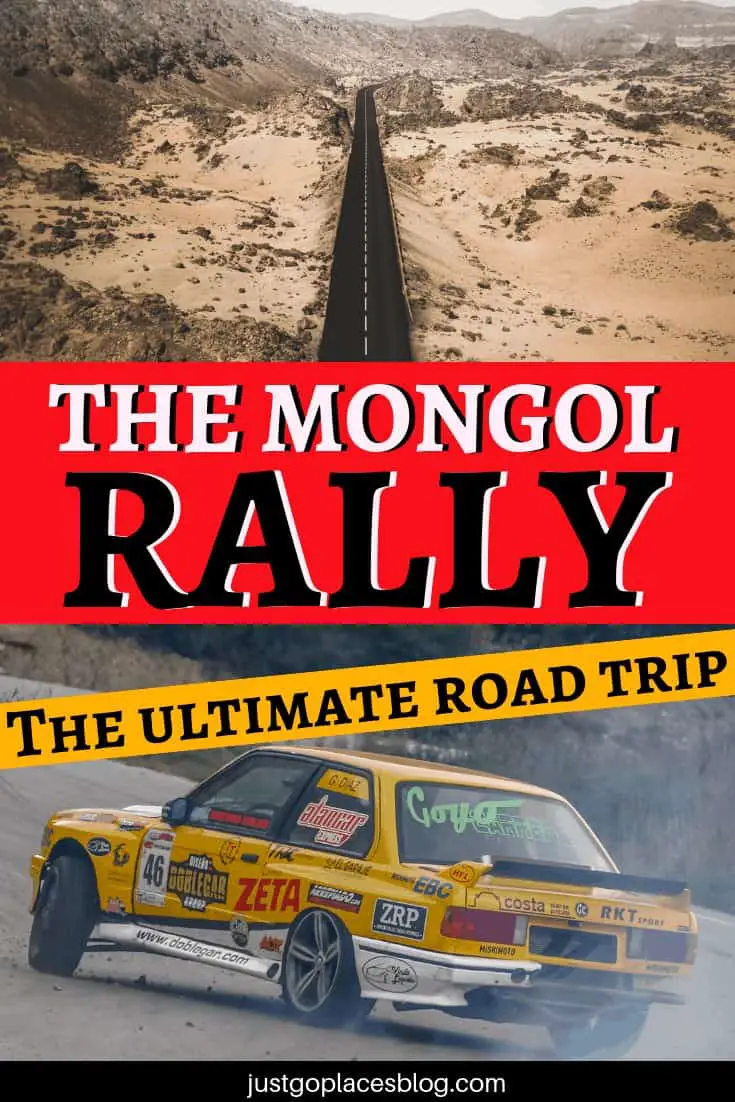 This site generates income via partnerships with carefully-curated travel and lifestyle brands and/or purchases made through links to them at no extra cost to you. More information may be found on our Disclosure Policy.
Transcript
This is a transcript of 1001 Travel Tales Podcast: Episode 3: Mongol Rally or Bust (Transcript). The text has been lightly edited for clarity and readability.
A conversation with Shobha George (Just Go Places Blog), Rachel Heller (Rachel's Ruminations) and Alice Nettlingham (Teacake Travels).
SG: Here today we are with Alice Tea Cake from Tea Cake Travels and we're going to talk to Alice about her recently completed and I mean just recently completed Mongol Rally experience. It just seems like the best road trip ever and I love road trips so I'm really excited about this. Welcome Alice!
AT:  Thank you, thank you so much I've still got the Mongol rally pretty psyched to tell you what's been going on, fill you in, yeah.
What is the Mongol Rally?
RH: What is the Rally first of all?
SG: For people who don't know. 10,000 miles, 21 countries.
AT: Oh God, I know, exactly. Where do I start? So the Mongol Rally has been running for 13 years and it's basically about starting in London and finishing in Russia because the rules have changed. I can tell you a little bit more about that later. But it's about finishing in Russia and you can choose your own route, you just have to get to Russia in a certain amount of time and I think it's around about 2 months is the time limit they give you. And yeah, that is it.
RH: So is it a race?
AT: It's not a race it's basically about making sure that you get to Russia alive and in one piece, basically.
SG: With your sanity intact.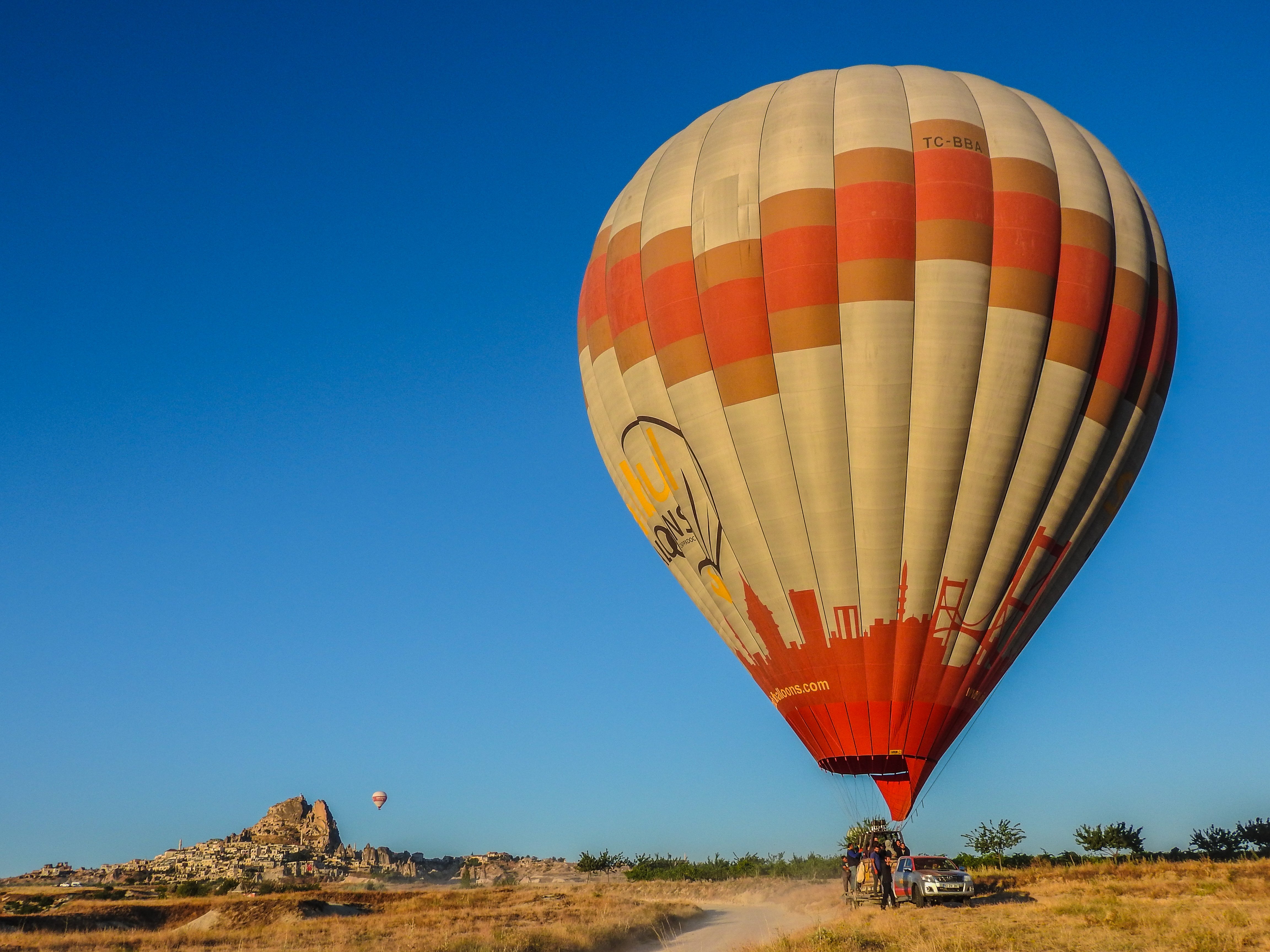 AT: Yeah, that's another thing.  Yeah, and that's what it's about. I mean it is basically set up to be difficult you know because the Mongol Rally is not about driving your finest 4-wheel drive, it's about basically buying a car which is rubbish. Our car I think it cost about 350 quid.
Yeah, a Toyota Yaris and that is the point. You have to make it difficult. It has to be a terrible car, you're not really meant to use maps like there's definitely no rescue service, it's just about, but a lot of people were very traditional to it and they only took maps.
SG: So, I assumed that the Mongol Rally was a bit like a caravan. All of you travelled together but you don't.
AT: I mean hell no, I mean this year for example, there were 320 teams.
SG: You start together?
AT: Yes, which is fantastic in itself because you start at the race course and you go round this race course with all this like majestical music going and your kind of like Yyyeeaahhh, I'm off! And then that's it you just all go off and slowly but surely you will kind of separate. I mean they do try and keep it together. They have parties in different countries throughout the route…
AT: But that's only in Europe, so once you're past Europe you're on your own really until you get to the finish line.
RH: Which is in?
AT: Which is in Ulan Ude in Russia.
SG: No longer Mongolia?
AT:  No longer Mongolia. So, because it's been running for 13 years there were some problems with people basically breaking down in Mongolia and leaving their cars there, right.
When the Mongol Hordes Descend
AT: And Mongolia was like, screw this! You know I don't want all of these cars in my country you know, screw you!. So the rules have changed…
SG: You have 300 packed up rust buckets
AT: I must tell you more about that later though. Yeah, I mean you do literally go through some kind of Mongol Rally graveyard along your way. You see these cars you know like…
Like burnt out, absolutely abandoned like cages of nothing. You're like, oh my God but…
SG: Something out of Mad Max.
AT: Yeah, I swear you got it spot on girl, it is like Mad Max in that desert.
RH: So wait a minute, so now it doesn't go through Mongolia?
AT: Oh it absolutely does. So you go through Mongolia but you have to get your ass out of there.
RH: Okay, alright. And then and so you cut up from Mongolia into Russia.
AT: Exactly.
AT: It's a beautiful finishing line. It's the largest, I think it's the largest salt water lake in the world.
AT: Yeah. So it's really, really beautiful there.
SG: We saw pictures of you guys having fun in the water.
AT: I was in hospital at that point I think unfortunately with pancreatitis but yeah, this city also boasts the largest Lenin heads in the world.
RH: Lenin heads?
SG: Busts. Yes, got you.
AT: Yes so if you want to see Lenin in very strong material then you can see…
SG: Two-storey's high.
AT: Yeah, yeah it's mahussive. Yeah, it's absolutely massive.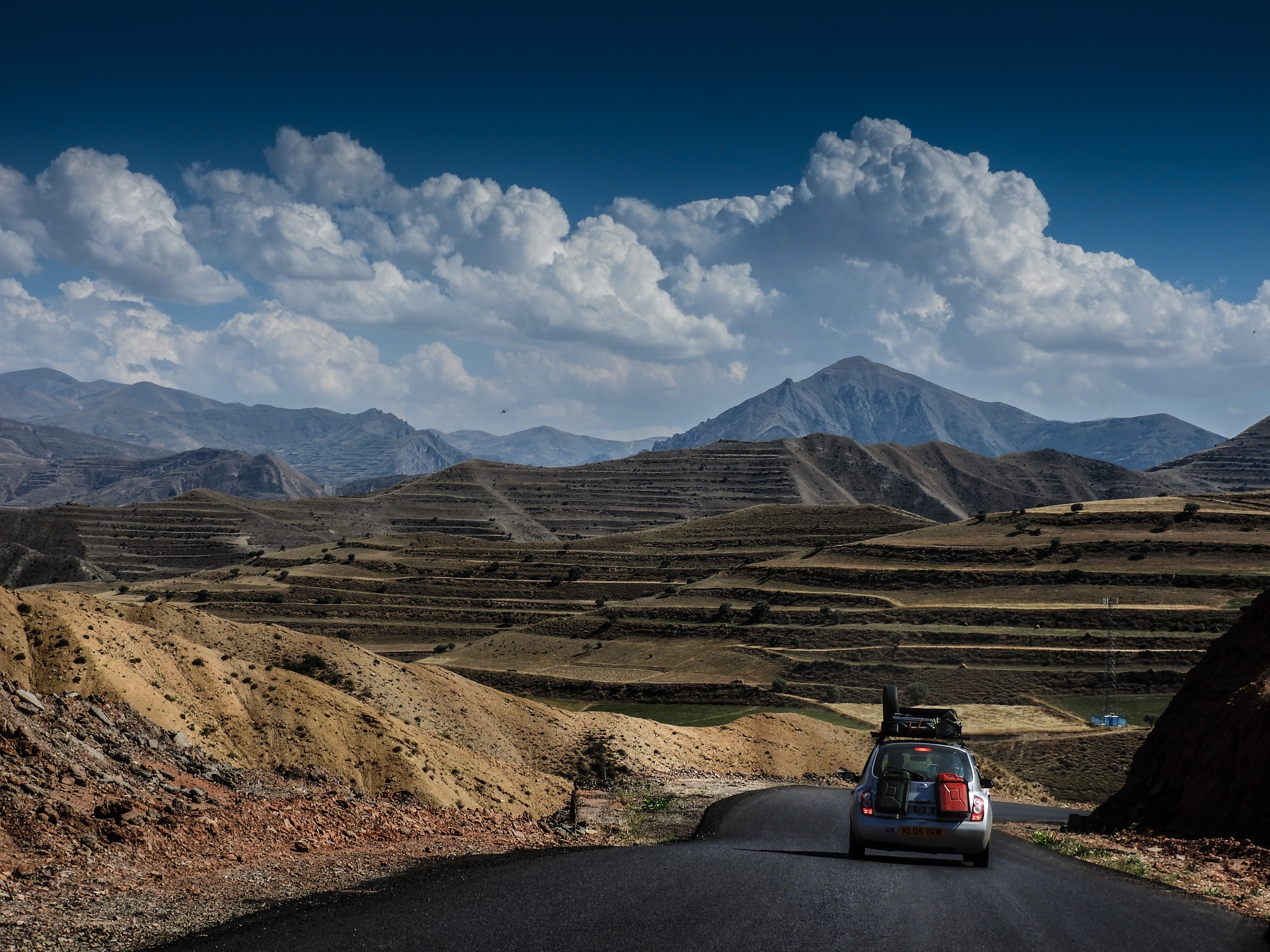 Why Do The Mongol Rally?
RH: So besides just the fun or challenge, what is the point of this?
AT: People do it for a lot of different reasons. People just, you know they love driving or they just want to be insane, they just. Yeah, a lot of people just want to say that they've done it, which is understandable. It is very crazy, it's very unique.
SG: Once in a lifetime experience.
AT: Yeah kind of once in a lifetime experience.
RH: I've trouble at picturing the distance, you're saying you have to be there within something like 2 months.
SG: 10,000 miles.
RH: Was that tough to get there in 2 months or did you end up spending all day driving everyday or could you stop and look at things?
AT: Oh man, I mean where do I start? So just coming from like how I travel, I'm a slow traveler and I love learning about cultures and soaking it up and taking it all in. Like when you're on the Mongol Rally it is unfortunately not about that. It is one of my negatives about the Mongol Rally. If you're there to really experience a country you need to just let go of that immediately. There was I think, oh my God there was one day where I went through 4 countries in one day.
AT: Yeah, and because we have, we have a schedule. You cannot dilly dally.
RH: That was Northern Europe wasn't it?
AT: You got it.
RH: Right where I lived. I know the ones.
Pros and Cons of the Mongol Rally
AT: Yeah. So this is one of the downfalls of the Mongol Rally I would say that if you wanted to really stay cultured up then do not do it for that. It is about the challenge and about saying that you basically went from London to Russia in 2 months.
RH: So when you say you drove back was that the slow version of the same thing?
AT: Yeah.
SG: How long did that take?
AT: Just for calmness sake, I had to drive back just for my own sanity because the way that I went there is not me. I was like I cannot get to Russia and just fly out. Like I would not be satisfied.
I would not be happy. So we went the Southern route, right? We went through like Kazakhstan, Uzbekistan. Oh, yeah, we went through all the Stan's. It was truly beautiful, it was amazing. We went through Iran, it was great.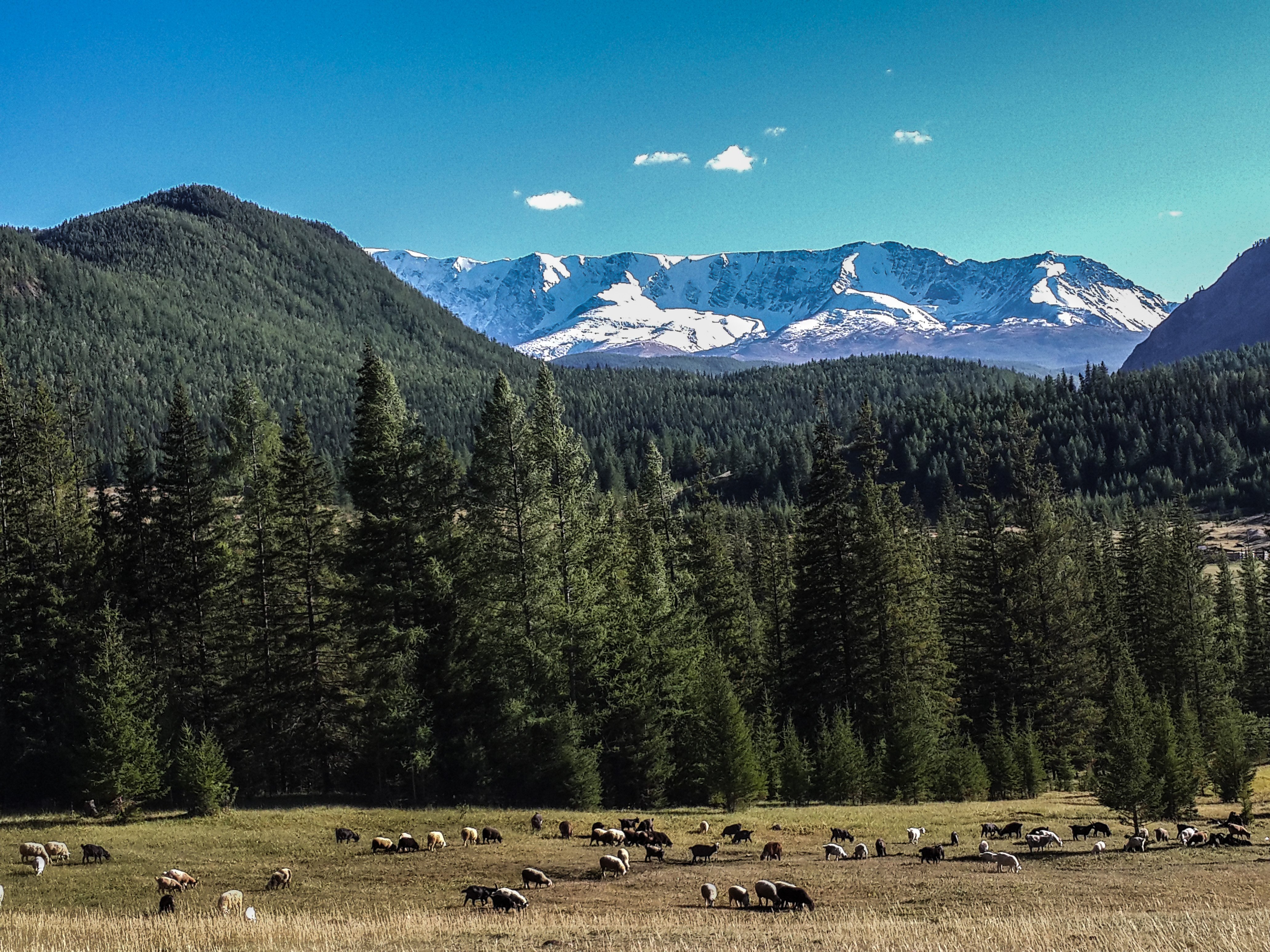 AT: But to go back I drove the Northern route. I spent 1 month in Ukraine.
SG: Oh nice.
A Birthday at Chernobyl 
AT: It was, yeah. That was amazing as well. I went to Chernobyl for my birthday.
RH:  Oh fun. You can do a Tour of Chernobyl, did you do that?
AT: Yeah, it was amazing, it…
RH: They put you in a suit, right?
AT: Oh yeah
RH: It's still you know active?
AT: Oh yeah, I mean it's serious yeah. Especially in the hospital. Like the radiation is way off the scales so…
SG: Well that's a birthday to remember.
AT: Yeah, that's just how I fly.
Genghis Khan't Touch This
SG: How many times did your car break down on the way over?
AT: Oh, okay. So we were a 5 woman team and we actually had 2 cars. So we kind of placed some bets at the beginning of the rally about who's car would be better and we had a Ford and we had the Toyota Yaris. I was in the Toyota Yaris. It was an absolute trooper like I should brand ambassadorship for Toyota because honestly, I think we had a cut in the petrol tank. It was just a minor scrape so we had to get that fixed. We had to give it a couple of hip replacements because you know suspension was just absolutely crazy.
SG: So you just roll up onto the local mechanic and ask them to fix your car?
AT: Pretty much.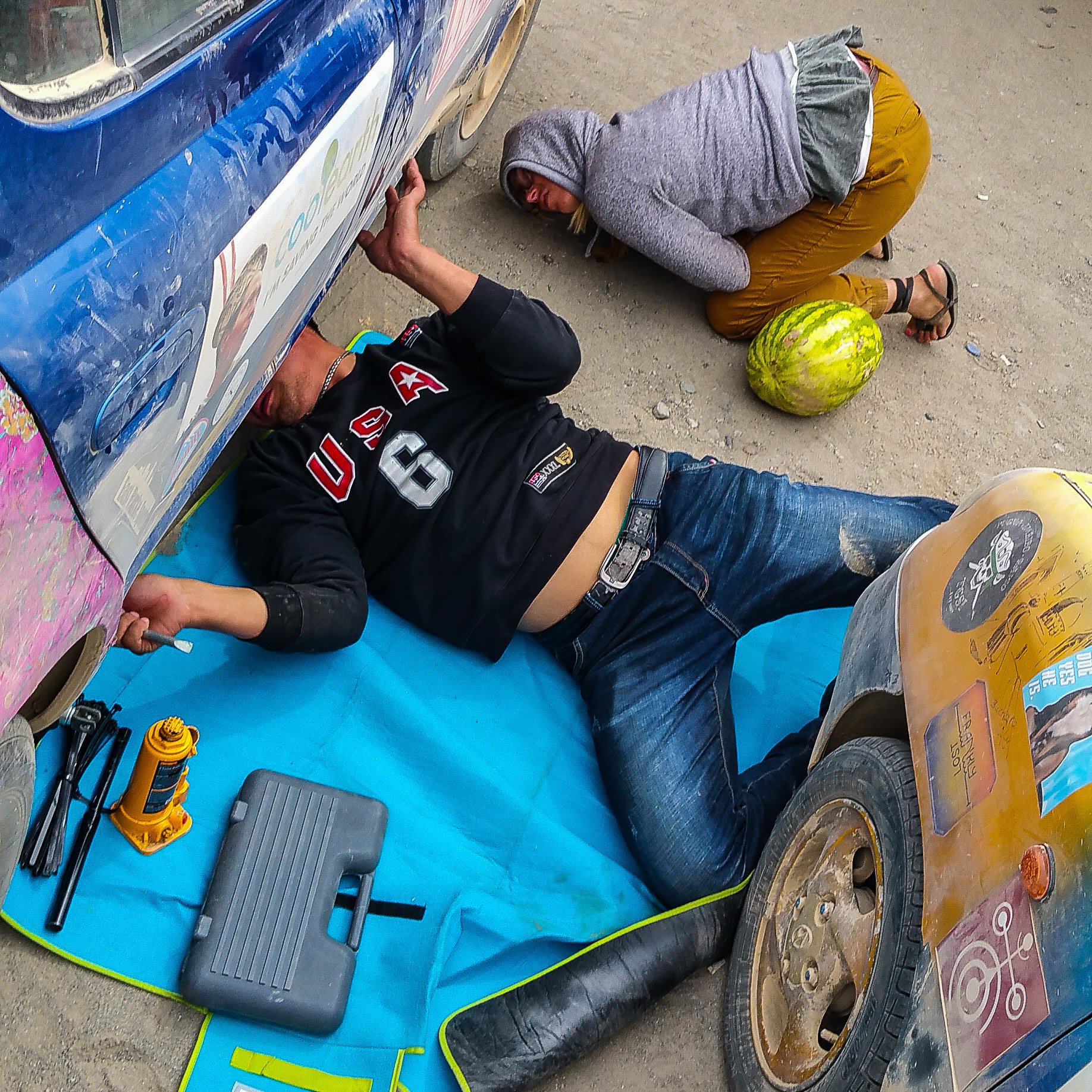 RH: None of the 5 of you were mechanics. It would seem to me it would make sense to bring a mechanic along.
AT: Well, so one member of our team Paula, she's an ex-punk rocker roadie. So she has pretty good knowledge of cars actually I have to say. She brought a tool-kit, she could do a fair bit but yeah I mean it didn't really bother us to be honest. Oh gosh, this is so terrible. It didn't bother us because we're women , so we brought our tool-kit and if we did get in trouble we would just be on the side of the road with our tool-kit and be like, hey can you just lend a hand, please?
So we got a lot of help that way and it's pretty obvious if you take your car in and something is wrong with it and you point to it that they're going to know what's up. And it doesn't cost an arm or a leg in these places so it was no trouble. But the other car, the Ford. Oh man!
SG: It didn't make it?
AT: It made it, just. Yeah…But it definitely had quite a few problems. There was one point I think it broke down every day for like 5 consecutive days.
SG: Oooh. Did you schedule in the breakdown time like a couple of extra days.
AT: Oh God! I mean this is hell no this is another thing. I think…
SG: Because you have to go faster if you miss time.
AT: Yeah man, like what you think the Mongol Rally is it's not going to be you know like man, I remember one day we drove 18 hours straight and that happened more than once so…
SG: I like the mystique of the Mongol Rally but I'm not sure I'd like being on the road…
RH: I'm not sure how that would affect your back, yeah.
SG: Yeah, on the road that long because like you I'd want to stop and see all these cool places. That's the hard part.
AT: Exactly, I know and this is the thing. I'm so happy to tell you about it but there's definitely downsides as well that you just don't think about until it happens and you're like oh man, like, yeah.
All You Need is a Rust Bucket and A Dream
RH: And this wasn't only women's teams, there were male teams as well.
AT: Tons of different teams. There was 320 that took part this year.
SG: 320 teams.
AT: Yes.
AT: I think 120ish made it.
SG: Wow!
AT: Yeah.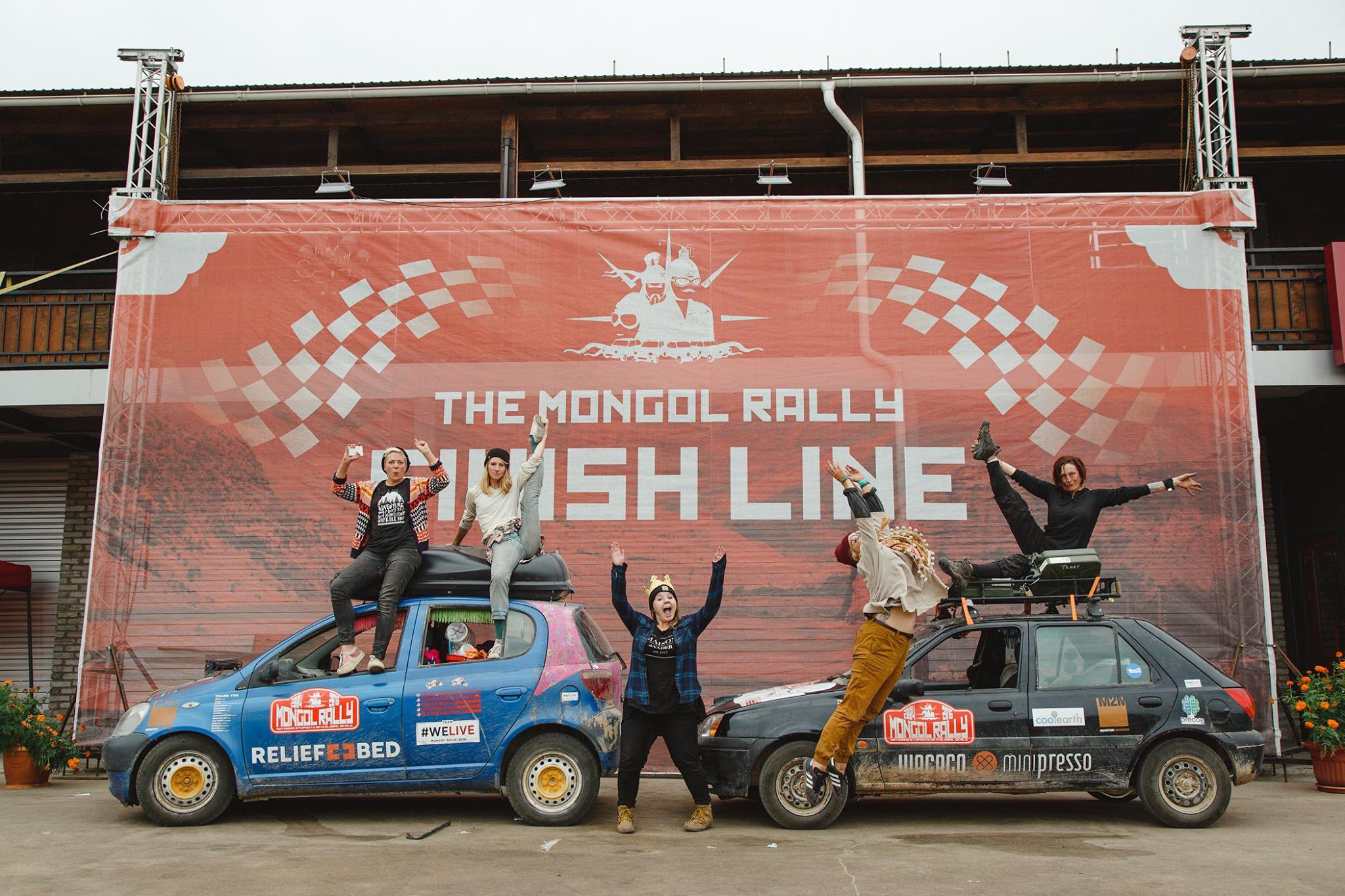 SG: What happened to the others, is there some graveyard? They're hitch-hiking on some side road in a Stan.
RH: Did they breakdown or just go home?
AT: Oh it was so. Some cars actually physically broke down and some people just broke down…
RH: Yeah.
SG: You girls are tough.
RH: Where were you staying at night or did you just drive through the night as well?
AT: Yes so some nights I definitely slept in the car.There was camping. We did a lot of camping, a lot of coach surfing. Hotels we were at our wits ends you know but our budget was not massive so it kind of.

RH: But there is no rules about the budget. You're just supposed to take a beat up car.
AT: Yeah, I mean there is no rules about the budget but as far as the budget you can spend on the cars definitely there's rules about that you know you cannot bring a very roadworthy car basically.
SG: So you could roll up into the nearest Four Seasons in your 300 pound Yaris.
RH: Oh man, that would be what I would want to do.
SG:  Come in sputter, sputter…
AT: and people would stone you at the start line and they would be like get out of it, go on and then get stoned.
SG: So what did the other people like, the other teams are they British, are they from all over?
AT: Absolutely amazing people straight off the bat. There were definitely a lot of Americans that came over to do it.There was you know obviously a lot of British as well but people from everywhere. It was very cool actually, yeah a lot of different people. But…
SG: Was there a demographic or an age group?
AT: Well yeah, I mean that's even better actually. There were some teams like there was a couple of mature ladies. I think they were around the age of 65 that were doing it. They were from Scotland, oh I wish I could remember their names, I can't which is awful a bit. They were doing it so it's definitely all mixed ages.
RH: And did they make it?
AT: Yeah, they did make it.
RH:. Okay, Yeah.
SG: Good for them.
AT: Yeah, they did make it. And then you've got the kind of 18 year olds that are like fresh before they go to Uni, they're like yeahhh, let's do it!
RH: And did they make it?
AT: Uhhh!  Some definitely did make it, yeah, I don't know.
SG: I bet they others are still out there drinking somewhere.
RH: Mongolia.
AT: Yeah, Mongolia burnt out shell of a car. yeah. Oh man.
How [Not] To Form a Mongol Rally Team
SG: Oh, what a story. I know that you did this as part of looking at women's rights in these countries as a bigger issue. You want to tell us about that?
AT: Yeah I'd love to. When we were putting the team together we actually did start out trying to get guys in there they just kept dropping out.
SG: Wusses.
AT: Yeah, they just kept dropping out so in the end we were an all women team and we really wanted to give some kind of reason to the madness so what can we do, what are we passionate about. And it was a no brainer really. We're all very strong women, we all believe in women's rights and women being open to opportunities and challenges which are going to push their boundaries and make them achieve.
Awesome stuff, you know so we're like right we're going to meet some women along the way and we're going to find out their stories and their culture and you know we thought it was a great idea. We did meet with a lot of interesting women admittedly time constraints and like mishaps sometimes we had to cancel which is such a shame. But since we got back we've been catching up with those women over Skype. So you know we're still determined to talk to them. We've met some amazing people we really, really did.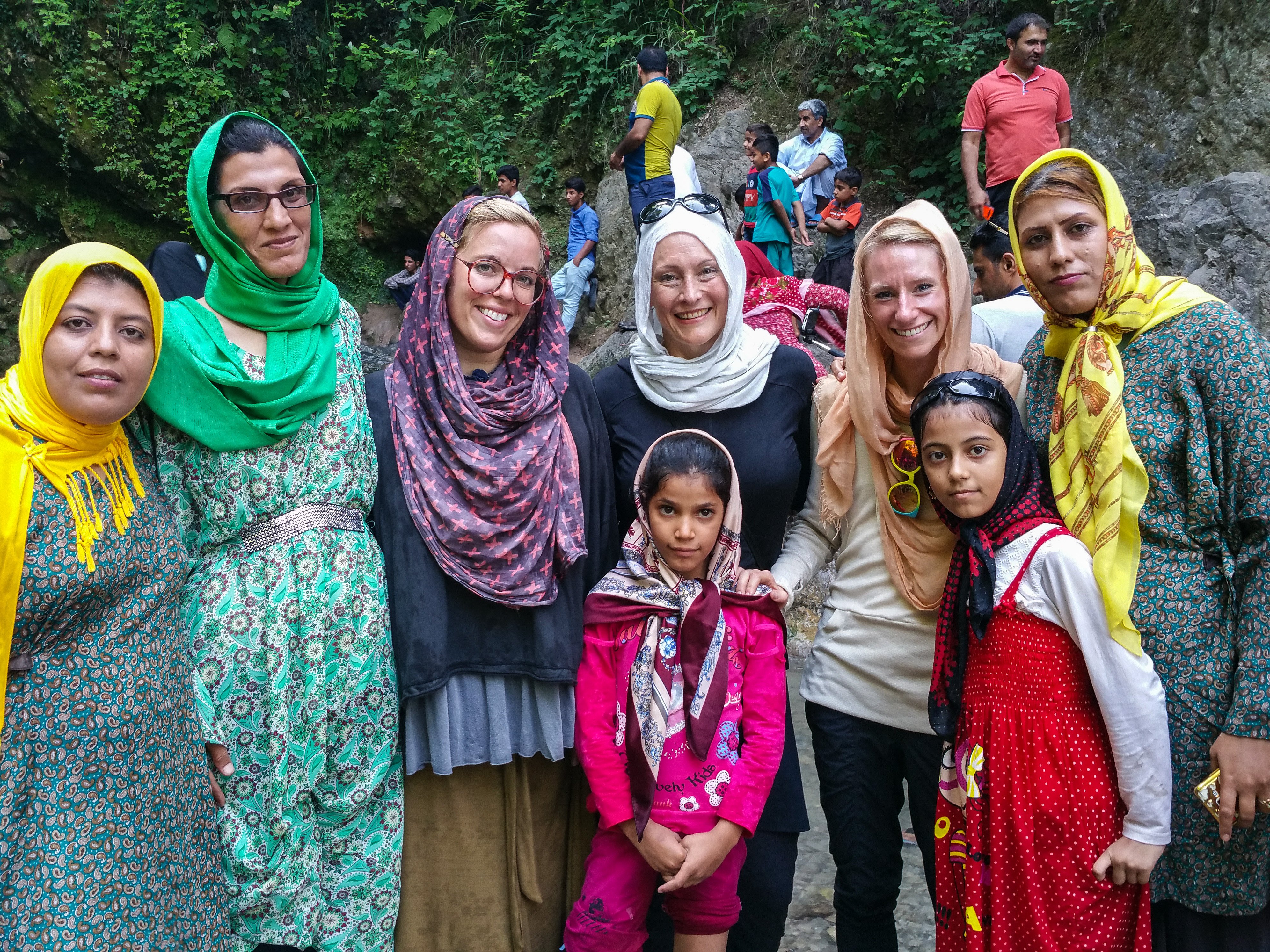 RH: Give us an example!
AT: There's this lovely girl called Sinaan that we met. She is Iranian, she is now currently living in Turkey. I can't talk to you a lot about it because it's quite sensitive for her but met her in Turkey and we're still talking to her and we're just you know slowly learning more about what she's been through and what she's hoping for the future.
SG: And you'll have some of these stories in your e-book when it comes out?
AT: Absolutely, so we're working on the e-book now. We're kind of finalizing all the interviews and in the New Year…
SG: Okay.
AT: We're going to publish it and all those proceeds are going to go to charity and…
SG: I think it's wonderful. I can't wait to read it
RH: These stories aren't sort of here's what the situation is with women's rights in Iran. This is here's this individual person's story.
AT: Very much so, we really wanted to, yeah
SG: That's really interesting.
AT: We really wanted to capture that woman's what she's going through
SG: Anecdotal.
AT: Absolutely.
SG: Which is an individual's story is very powerful and much more relatable than facts.
RH: Exactly, yeah.
AT: It was really, really lovely to meet those women, yeah. It was great.
RH: Now how did you end up doing this?
AT:  I don't know I'm kind of renowned a bit as the yes woman I think. Like…
RH: So you're a pushover is what you're saying?
AT: Ooh, I don't know, I mean…
SG: She agreed to appear in this podcast!
AT: I know, I know I said yes so easily. I regretted it immediately. Oh, no I don't…
SG: Put it positively – she's fun-loving and likes new experiences.
AT: Exactly.
RH: And open and yes.
AT: Yeah, I hate to say yes to something which could open a new door and let me learn something new you know, so the minute they invited me to do it I was like…
RH: Who invited you?
SG: Did you know all 5 of them beforehand?
AT: Ooh, the craziness gets even more. So we did not meet until the day of the Rally.
SG: All of you or just some of you?
RH: So they invited you sight unseen.
AT: Yeah so we basically sorted it all out online. We had weekly Skype calls because you know obviously we had to get sponsorship and we had to like really have a plan. So we had weekly Skype calls. We did get to know each other kind of online before then but yeah actually meeting each other face-to-face that was the day of the Rally.
RH: So what if one of you had turned out to have some horrible habit and had put off the other 4 it would have been too late to say we don't want to travel with you.
AT: Yep, pretty much.
SG: Like you know Tourette's.
RH: Or snored really loudly.
AT: Yeah, I mean I'll be straight talking. We all had our positives and we all had our negatives, who doesn't, right? And that's amplified you know 10-fold when you're in a car together.
SG: For 2 months.
AT: For 2 months straight. So I'm not saying it was easy but we got there we did it and I love all of them, so…
SG: What do you think you've learned from this?
AT: I learned a lot. I learned that I definitely love slow travel. I learned that I'm a solo female traveler for a reason. I also learnt that you should live fast and really enjoy everything that you have because who knows what tomorrow is going to bring.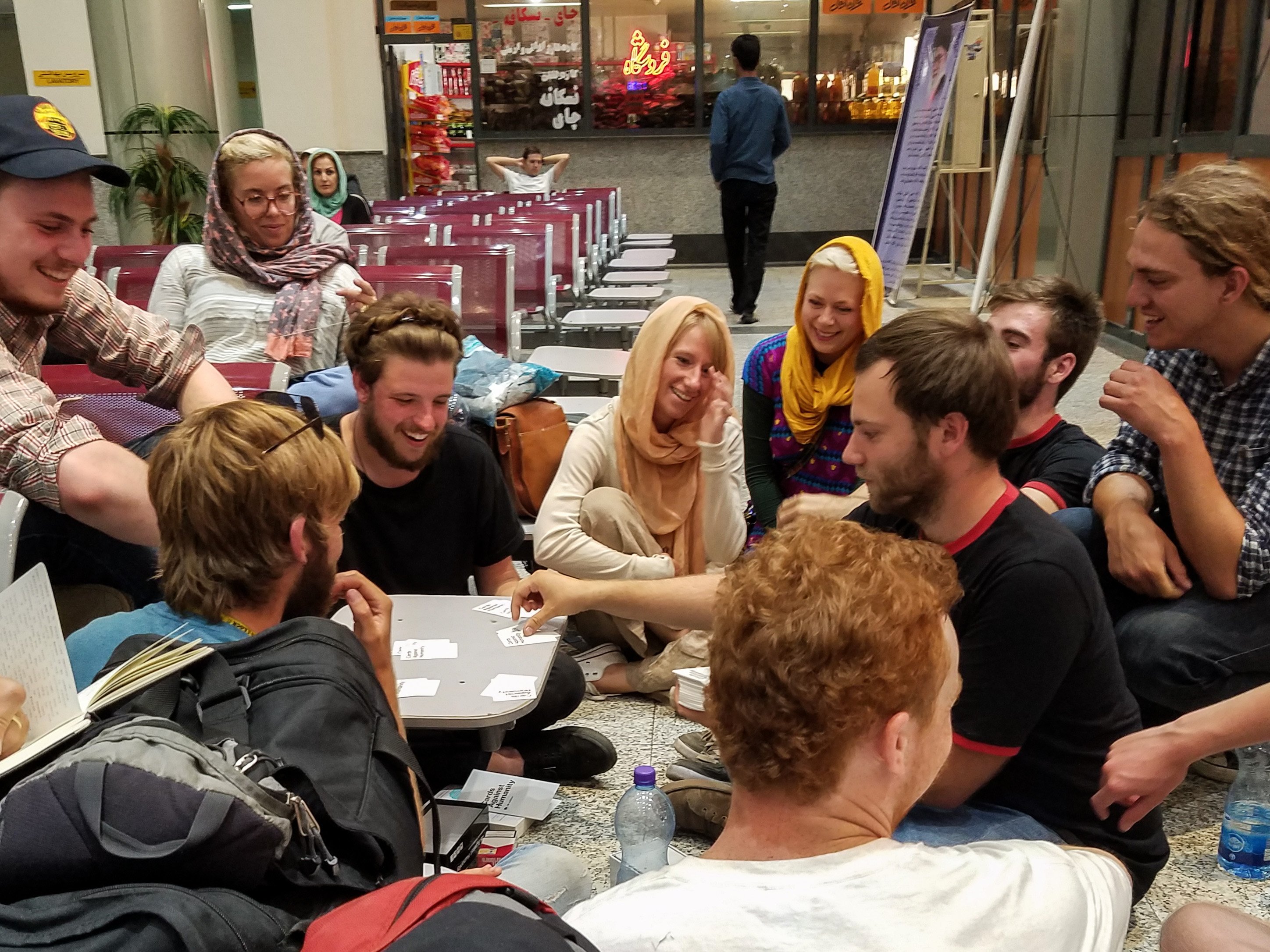 RH: That's really good, Okay, enough about the Rally. Because that's a good end to that. Tell us about your blog.
What Exactly is a Tea Cake?
AT: So my blog is Tea Cake Travels and…
SG: Where did the name come from? Are you a Tea Cake fan?
AT: I mean I don't mind a tea cake I will be honest.
SG: Who does?
AT: A cup of tea and a tea cake is lovely.
RH: I'm sorry, I'm going to have to embarrass myself. What the hell is a tea cake?
AT: It's a Scottish creation and it's very much a kind of biscuit and it's got some like yummy marshmallow stuff going on in the middle and then it's coated in chocolate. And that's a tea cake
RH: Okay, okay. I know what it is.
AT: It's okay don't, yeah, don't worry about it. I mean people do like tea cakes in Britain but it's very much actually a nickname. So when I first started traveling I had a lot of American friends because I went to teach English in South Korea originally. That's how I left the UK and they all just started to call me tea cake, you know because I'm British and they just we like tea cake, tea cake so I was like alright, and it just stuck.
And you know when you're starting out of a blog you don't think a, I don't know… I don't think you ever really, really, truly think about the name. So I was like it's Tea Cake Travels it's as simple as that. But a lot of people think I'm a food and travel blog and I'm like oooh, nope, nope it's definitely not that. But…
SG: I like my food but I mostly travel.
AT: Yeah travel. Yeah but  I mean Teacake Travels is essentially, I like to think it's a little bit different to most female solo travel blogs. It's hurtfully honest and it's about pushing your boundaries as a woman to achieve your full potential and you're doing that through travel. So like the Mongol Rally. When someone said do you want to do it I was like yeah, totally. I just really want to try things that maybe women would not immediately think of and show that it is possible and you can get a lot from doing these kinds of things.
RH: So what are you going to try next?
Catching Up on Bangladesh
AT: Aah! Well, right now at the moment I have to say it's been a pretty busy year so I'm just chilling out. I have so much material that I want to catch up on like Bangladesh for example, it was an amazing experience and I still haven't finished writing about it.
SG: Very few people have gone to Bangladesh, it must be an amazing country.
AT: Absolutely amazing. Amazing people, amazing food and just it's still off the beaten path. It was a real eye-opener. I went there especially because the media was really kind of beating down on Bangladesh at the time. It obviously had a lot of trouble.
RH: It's all about floods and poor people. That's pretty much all you hear.
AT: Right, and that is definitely not the picture you know. So, I wanted to go just to be like I'm sure it's alright let's have a look. And it was, it was amazing so, yeah. Yeah and I can't wait to pen it down actually. so. But I've got to start, I've got to write, re-charge and then I'll be off again.
SG: What do you do with your blog when you're 2 months on the Mongol Rally? Because I know you're on Snapchat and that was about it.  Because you barely had a car, never mind wifi or anything else.
Studying Jujitsu in China
AT: Tell me about it. I mean if I had been a good blogger I would have pre-organized all of my blogs and…And scheduled posts, yeah. but it was crazy before that because I was studying Jujitsu for 3 months. So, yeah it was all a bit crazy, I just didn't have time.
RH: You do do slow travel don't you. 3 months?
AT: Yeah, I really like to soak stuff up so yeah.
SG: So how's the Jujitsu coming?
AT: Really, really good. I haven't had to use it yet, thank God.
RH: She felt prepared for the Mongol Rally.
AT: Yeah. You're right, I was head of security that was my job yeah.  Jujitsu in itself I have to say just for solo female travelers like if you want to know how to protect yourself it's definitely the best defense system. Because it's not about strength. It's about the actual techniques that you do. You do not have to be strong, you do not have to be big like the smallest woman could definitely protect herself against a big guy if he was trying to…
As opposed to any of the other martial arts. Yeah, I mean obviously I'm biased but I would say that Jujitsu is perfect for women. It's very, very good.
RH: That's good to know.
SG: Yeah, it is.
AT: Yeah.
SG: Well Alice, thank you very much for speaking to us.
AT: Oh thank you so much.
SG: It was a pleasure.
RH: Yes it's www.teacaketravels.com.
AT: You got it.
SG: She's on a whole lot of social media as I said I follow her on Snapchat, she's hysterical so definitely do that.
RH: She has the symbol for Twitter, Facebook, Instagram, Google+, LinkedIn and Pinterest on her card.
SG: But I got to tell you the most interesting is Snapchat because You really see her bubbly personality there. Thank you very much.
AT: Thank you so much.
{End of Transcript}