The Red Cube (1968) by Isamu Noguchi is one of the sculptures you can find in downtown Manhattan.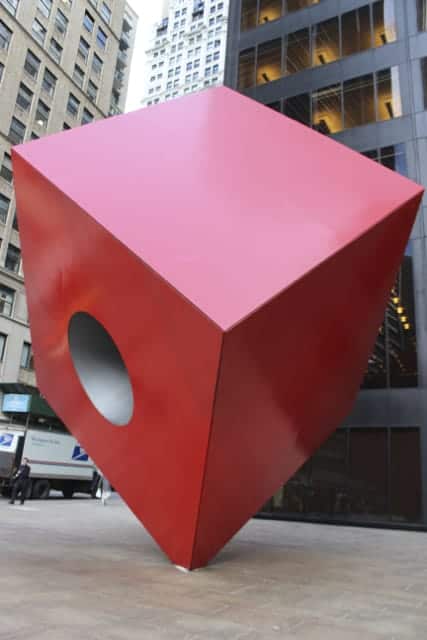 The sculpture is made of bright red steel and surrounded by skyscrapers on three sides.  You can see the building behind through the grey-painted hole in the middle.  Technically Red Cube isn't a cube at all but a parallelepiped (!)  because it is longer than it is wide.
Red Cube is all diagonal lines while the buildings surrounding it are vertical and horizontal lines.  Looking at it from a distance, the geometry of the piece is particularly striking.  Contrast also how the sculpture seems slightly precariously balanced on one end while the buildings are solid and sturdy.  The top is pointed towards the sky, striving and reaching like the skyscrapers it is surrounded by.  Some people also say that the cube represents a die which, of course, is very appropriate in the financial district.
Isamu Noguchi (1904-1988) was an American artist, sculptor and designer born in Los Angeles to an American mother and a Japanese father.  His works can be found in many major cities throughout the world.
Where can you find it?  In front of 140 Broadway at Exchange Place between Liberty and Cedar Streets.  Nearby in front of the Chase Manhattan Bank Building is another Noguchi work, Sunken Garden.