Walking into the Piano Bar at the Shangri La Muscat, I was a little bemused when a man walked over to the lady at the piano and started snapping his fingers at her.  She was playing a rocking rendition of Purple Rain, and it took her a minute to turn her face to him.  She was met with a halo of flash from the man's camera.
"You could just have caught my attention by simply saying hello!" she said.  Or, waiting for the song to finish and for her to look up, I thought.
The steel magnolia in her voice was immediately recognisable.  A fellow American!  Looking over my shoulder, she immediately broke into a smile at my friend.  It turns out she knows my friend through mutual singer friends.  I can never get over what a small world it is.
Pamela, the resident singer at the Shangri La Al Bandr Hotel for the next few months, came over to chat with us when she had her next break.  We were admiring her beautiful Arabic Jelabiya dress, when she invited us to go shopping with her during our stay.  Shopping?  Sure.  I never met a mall I did not like.
Arabic Jalabiya Dresses
Pamela introduced me to the colourful world of Arabic Jalabiya dresses for women.  The Jalabiya for women is similar to a caftan with a high neck and long sleeves.  The male version is a simple white and called a dishdasha in Oman.
What is a Jalabiya?
This blog post has a good rundown on the different types of  outfits women wear in the Arab countries.  Mostly, we as foreigners see the Abaya, the long black outer covering that Arab women wear outside the home.  Women can wear the elaborate Arabic Jalabiya dresses for women-only parties or for attending weddings.  I learned that women and men traditionally are gender segregated at Arab weddings so it would be an women-only event.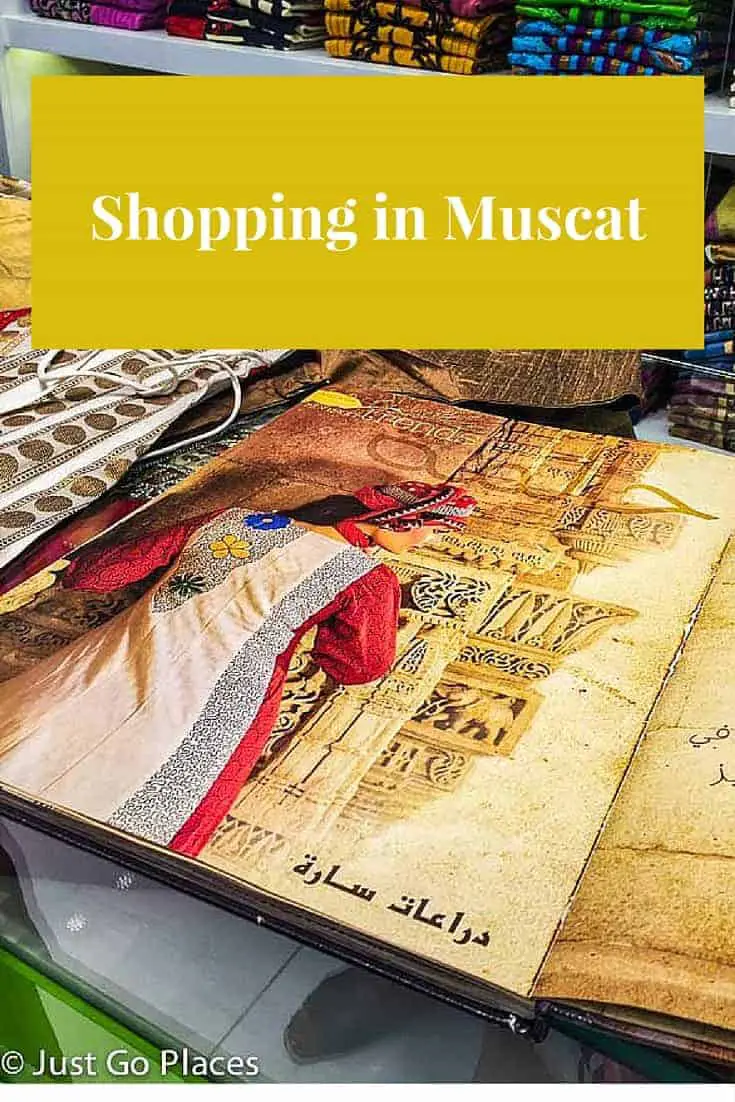 For foreigners living or visiting Arab countries, such as Pamela working in Oman or Kim Kardashian visiting Dubai, it is completely acceptable to wear the Jalabiya outside in public generally.  Pamela has a collection of gorgeous Jalabiyas for work because the outfit is both glamorous and modest.  Of course,  the Kardashians manage to make even the Jalabiya look a bit trashy wearing the top low-cut and hiking the hem up.  No surprise there.
Photo Gallery of Arabic Jalabiya Dresses
So here are some photos of the beautiful beadwork and detailing of the Arabic Jalabiya dresses.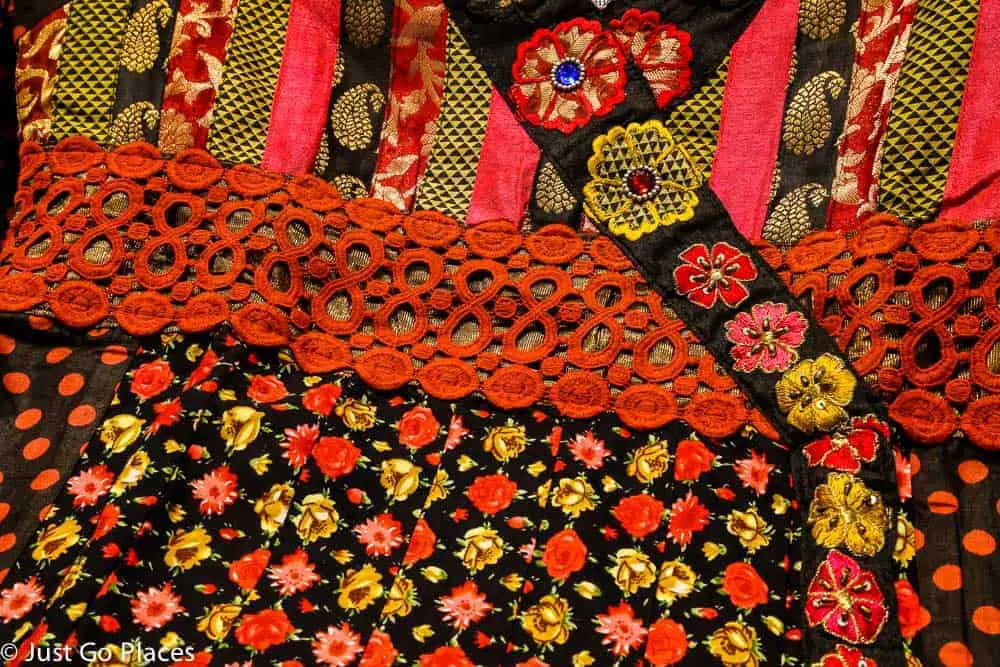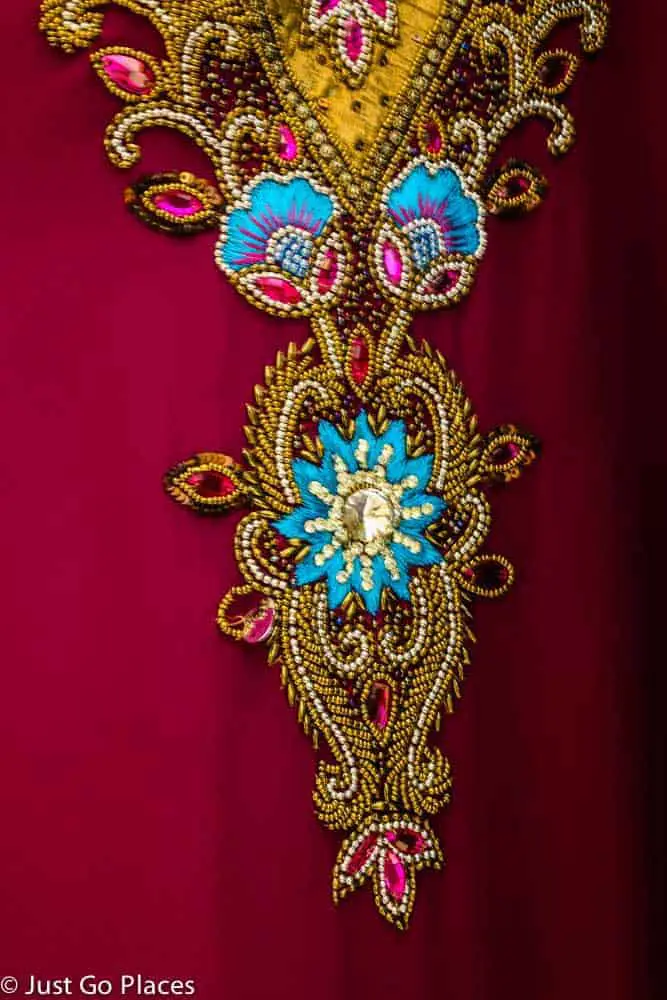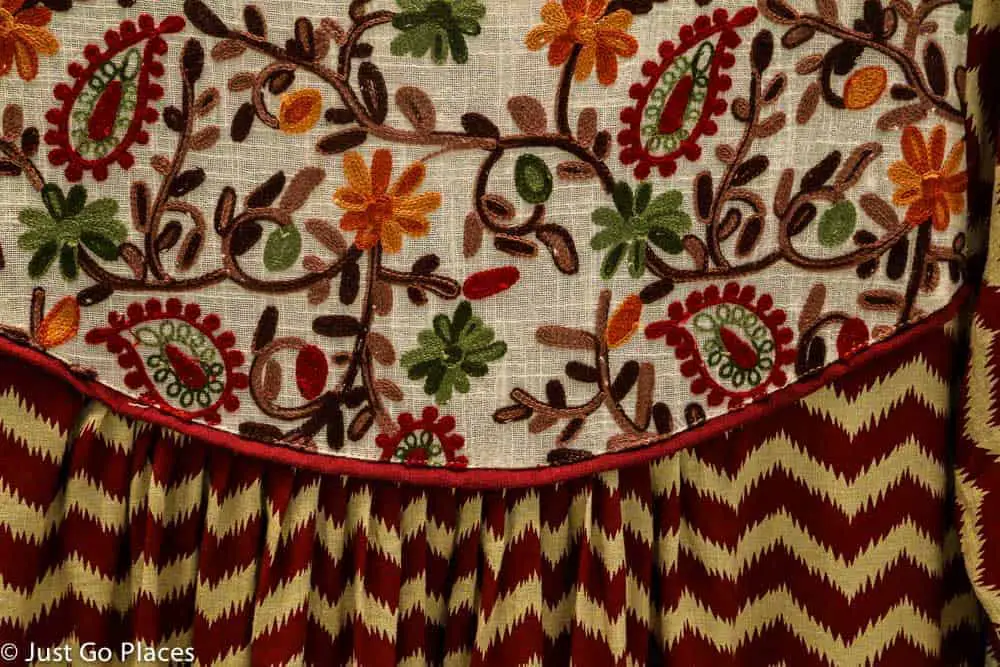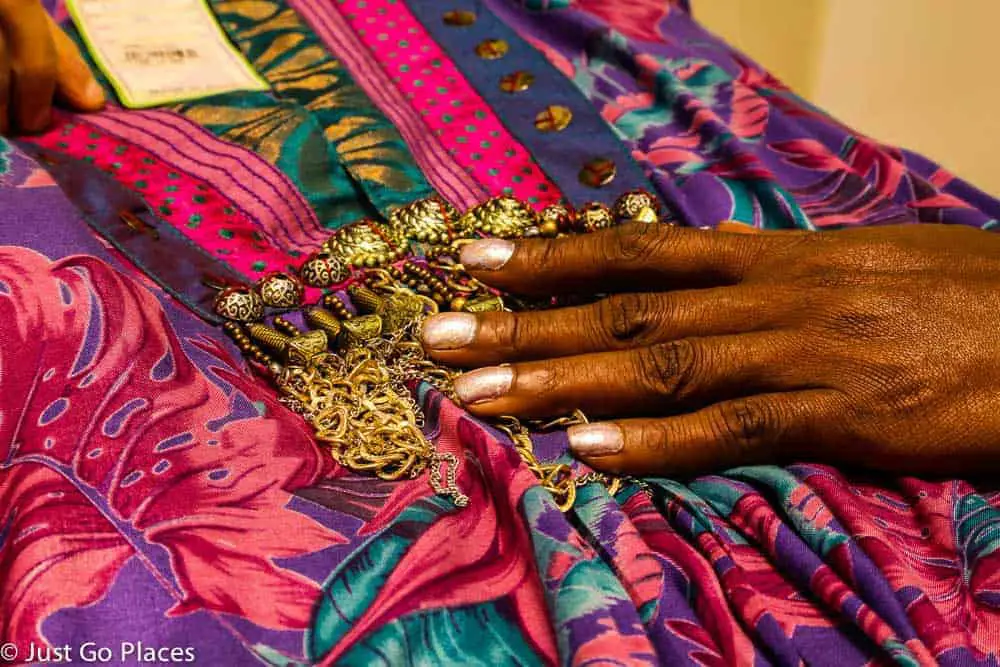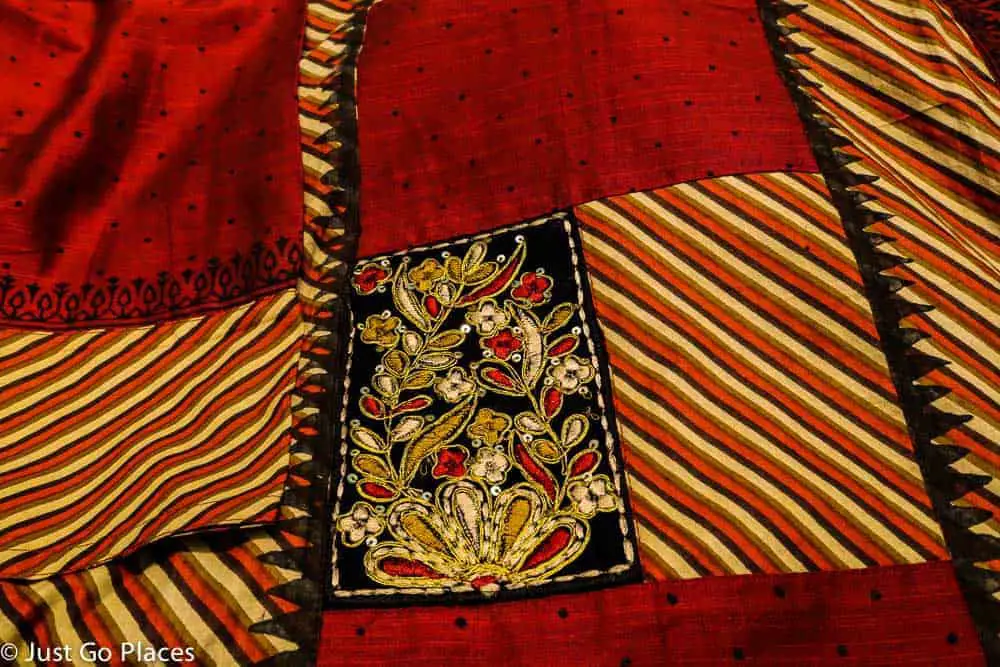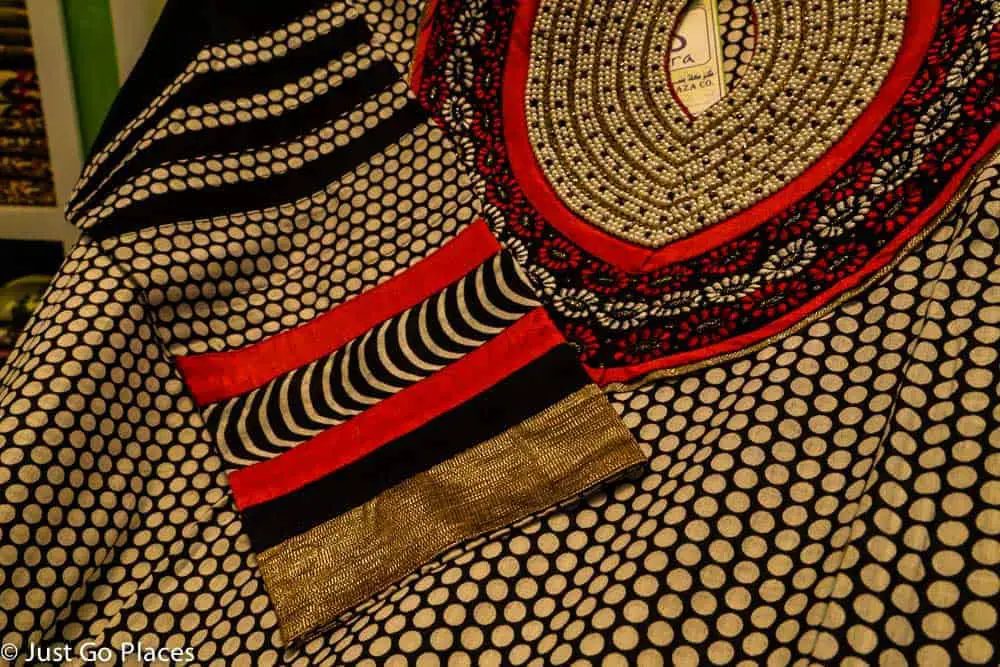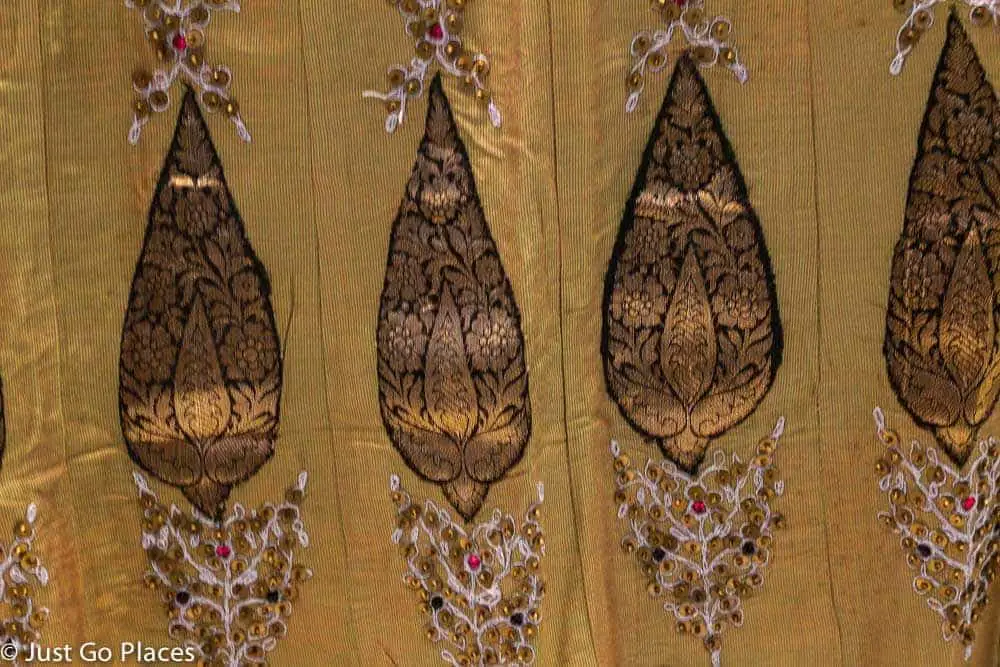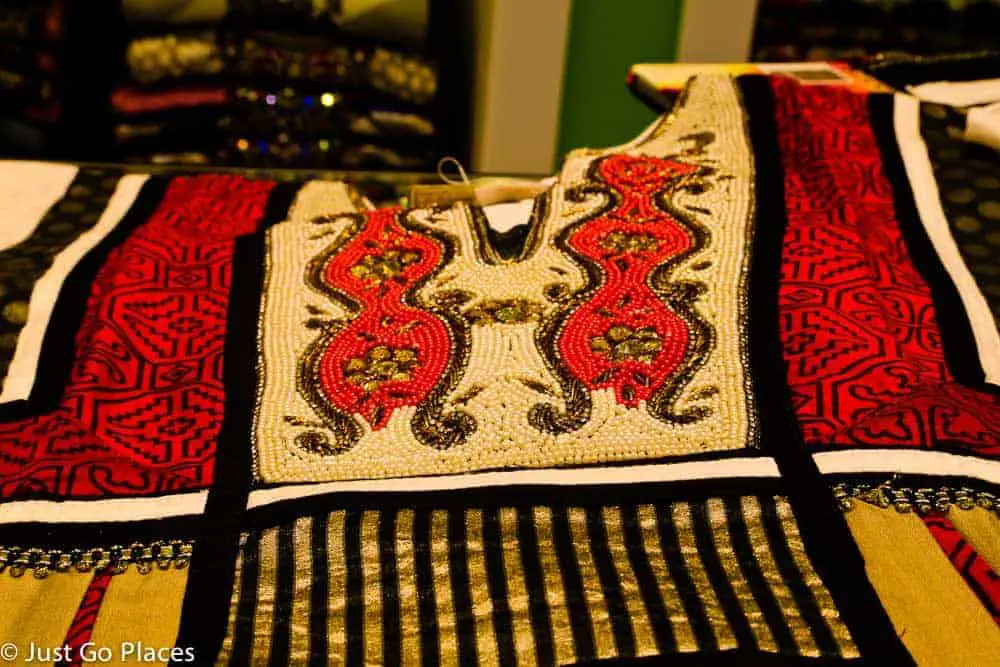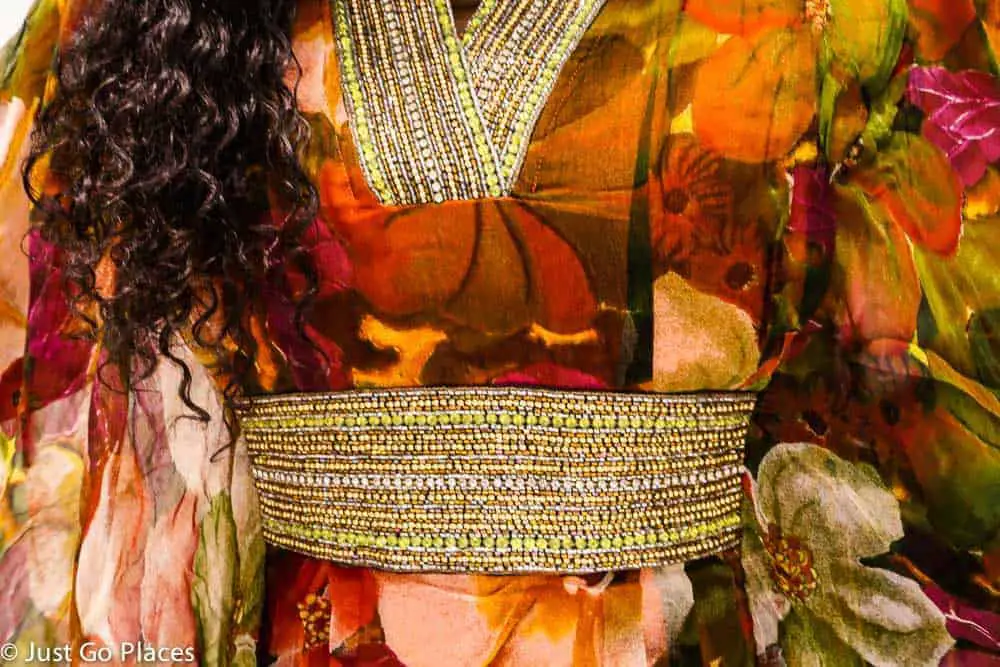 Avenues Mall in Muscat
The Avenues Mall in Muscat is considered the high-end mall in Muscat.  The largest mall in Oman, it contains many European, American and local stores.  For example, I saw Starbucks, Victoria's Secret, The Early Learning Centre and MAC cosmetics.  Note though that the largest mall in Oman is still nowhere near the size of malls in Dubai or Abu Dhabi.
Sara Plaza
We were shopping for Jalabiyas at the Sara Plaza store at the Avenues Mall. Sara Plaza seem to have stores throughout the Middle East though.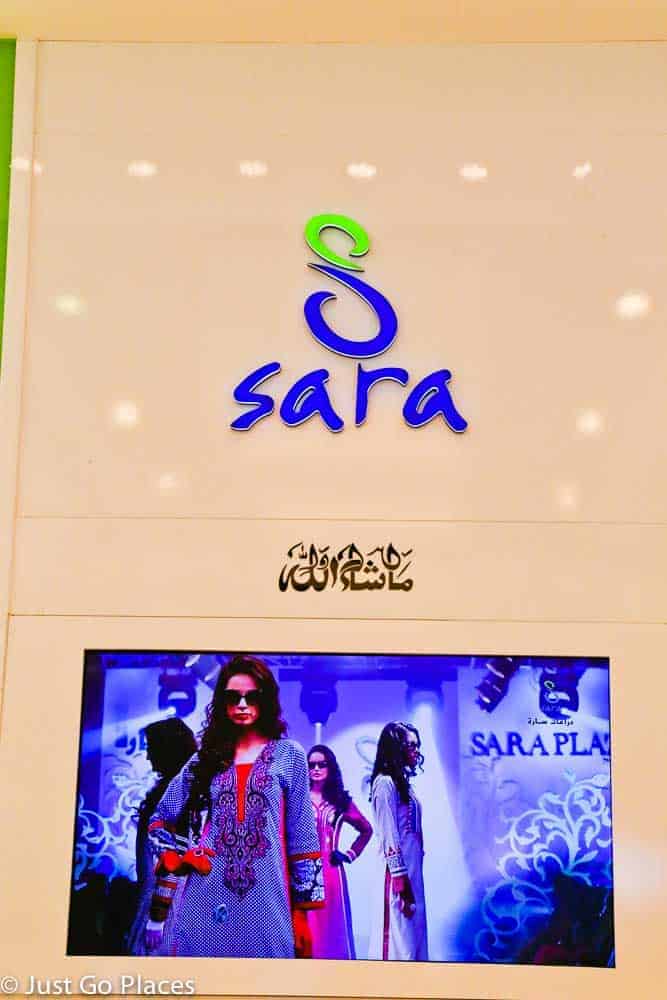 Unlike Western stores, the outfits are mostly folded and behind a counter.  When you ask to see something, the sales person opens it carefully and holds it for your inspection.  You can flip through catalogs which show the outfits fully before you make your choice as well.  Although an old-fashioned type of service, the customer gets a lot of attention this way.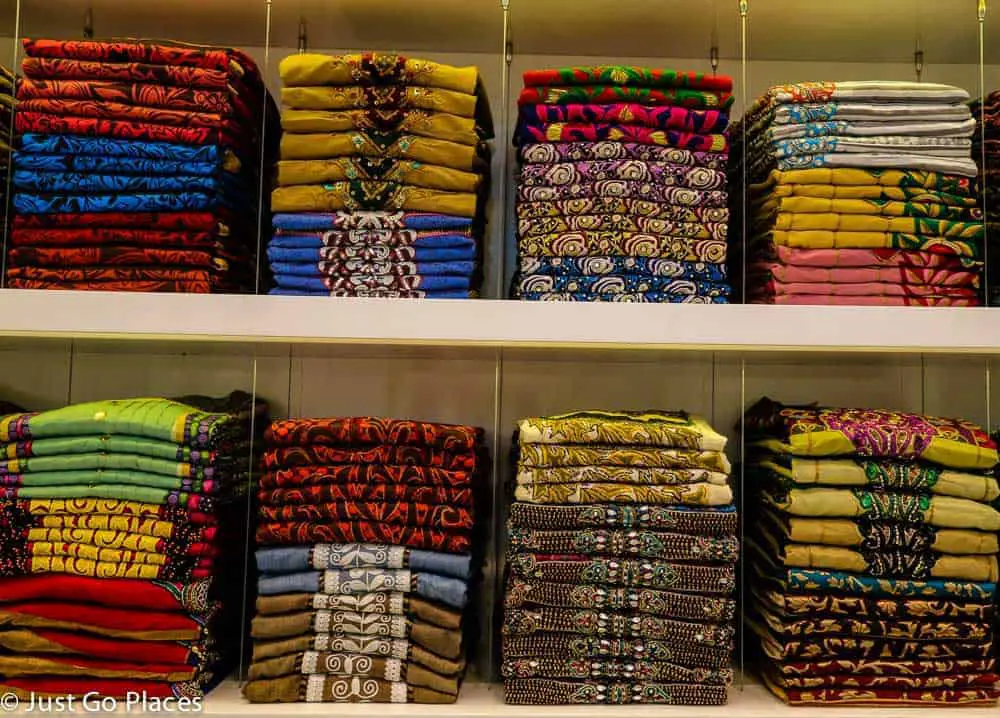 The one downside of this process though?  Having to tell the salesman your size.  On the other hand, these caftans are voluminous because they should be worn loose.  Even then, you would need a much smaller size than you would in a Western sized outfit.  Many dresses have ties that can cinch in the waist, sleeves etc so they are not completely shapeless.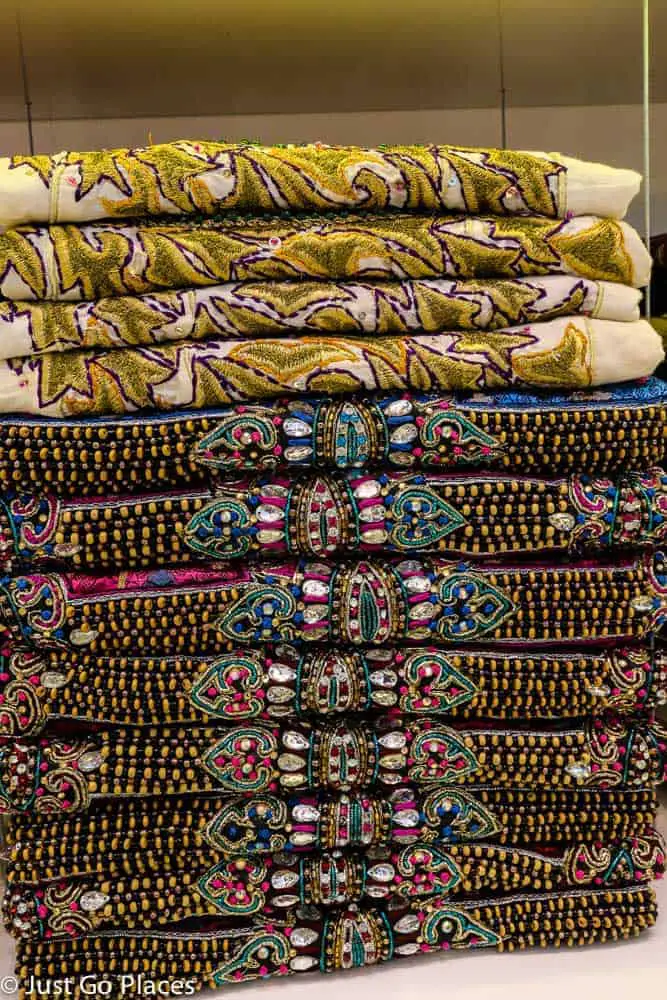 Lulu Hypermarket
We also went to Lulu Hypermarket, a megastore in the Middle East which is similar to an American Target or Walmart.  I was able to buy cheap gifts for the kids and their cousins at Lulu. I had never heard of Lulu before Pamela took me to one,  They are a massive operation with many stores in the Middle East and Asia.  No doubt they will make their way to Europe eventually.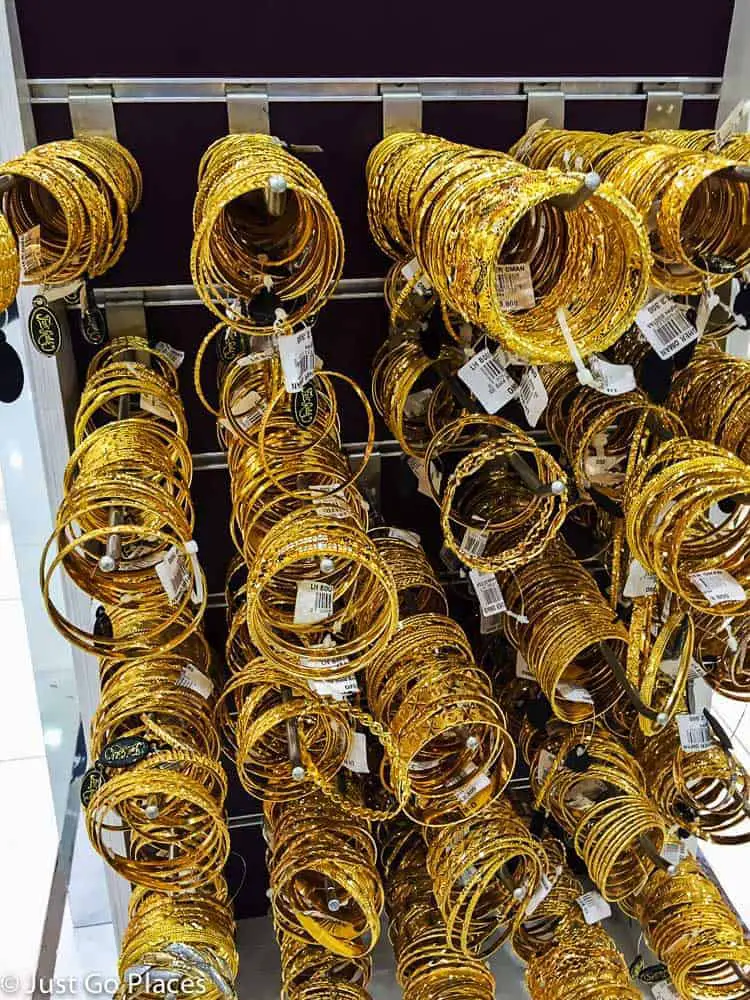 Visiting Avenues Mall in Muscat
A chance meeting of mutual friends in an exotic location provided an interesting shopping experience which was completely different from our visit to the Muttrah Souk.
We took the Shangri La hotel shuttle to the Avenues Mall.  The Mall is located in Muscat proper on Avenue Qaboos Street.  After visiting the Avenues Mall, we took a taxi to the Chedi Hotel Muscat and the charge was the standard 5 Omani Rial for fares within the city.
SPREAD THE WORD! PIN THIS TO YOUR TRAVEL PINTEREST BOARDS FOR FUTURE REFERENCE! 
This site generates income via partnerships with carefully-curated travel and lifestyle brands and/or purchases made through links to them at no extra cost to you. More information may be found on our Disclosure Policy.