Kreuzberg in Berlin is one of the trendiest neighbourhoods of the city.  A fairly considerable area, the neighbourhood is eclectic and interesting.  You can easily spend a few days in this area and not be bored.
The area is an architectural mix of buildings which date from the mid-19th century when industrialisation fueled the growth of Berlin and fairly uninspiring modern buildings.  Irrespective of the building's architecture, the facades of these buildings are the backdrop to the area's famous street art.
During the Cold War, the Berlin Wall isolated Kreuzberg on 3 sides.  Being pretty much surrounded by the Death Strip made it neither desirable nor fashionable.  The neighbourhood was left alone which was great for those people with counter-culture leanings and squatters.  The squatters are still there from what I saw of a commune set up in an abandoned car park.
Kreuzberg has also been the home of Berlin's punk rock movement.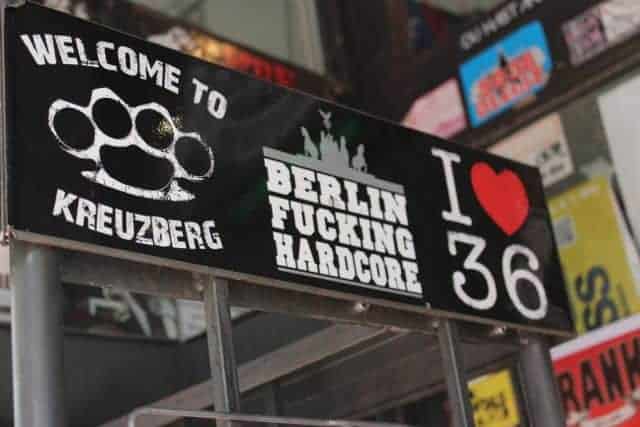 The SO36 Club was Berlin's answer in the 1970's to New York City's CBGB.  The SO36 is still going strong as this line to get into the club on a Thursday evening shows.
Traditionally though Kreuzberg has been home to many Turkish immigrants.  There are many cafes, restaurants and shops that cater to the Turkish community which is still a significant part of the population.
Gorlitzer Park is where the Turkish families come to picnic on a nice day.  It has stone terraces which are supposed to remind the Turks of the thermal hot springs and calcite terraces of Turkish UNESCO World Heritage site Pamukkale.  Possibly if I had tried the drugs that Gorlitzer Park is notorious for, the resemblance might have been clearer.
The young and the hip have moved into the neighbourhood.  I was told Kreuzberg most closely resembles the Shoreditch area of London.  I love this combination of a yoga and deli.  I bet they sell at least one quinoa dish.
Inevitably, the young and the hip have children.  Gentrification along the lines of Islington surely is not far behind.
Kreuzberg is one of the most interesting parts of Berlin which in itself is a pretty fascinating city!