Skiing in Spain?  Yes, Spain.  Not only does the country have miles of beautiful beaches along its coastline, the Pyrenees border with France has a world-class ski resort, Baqueira-Beret.  Throw in the great food and wine, could I love this country more?!  Here are my top 10 reasons for why you should take the family skiing in Spain.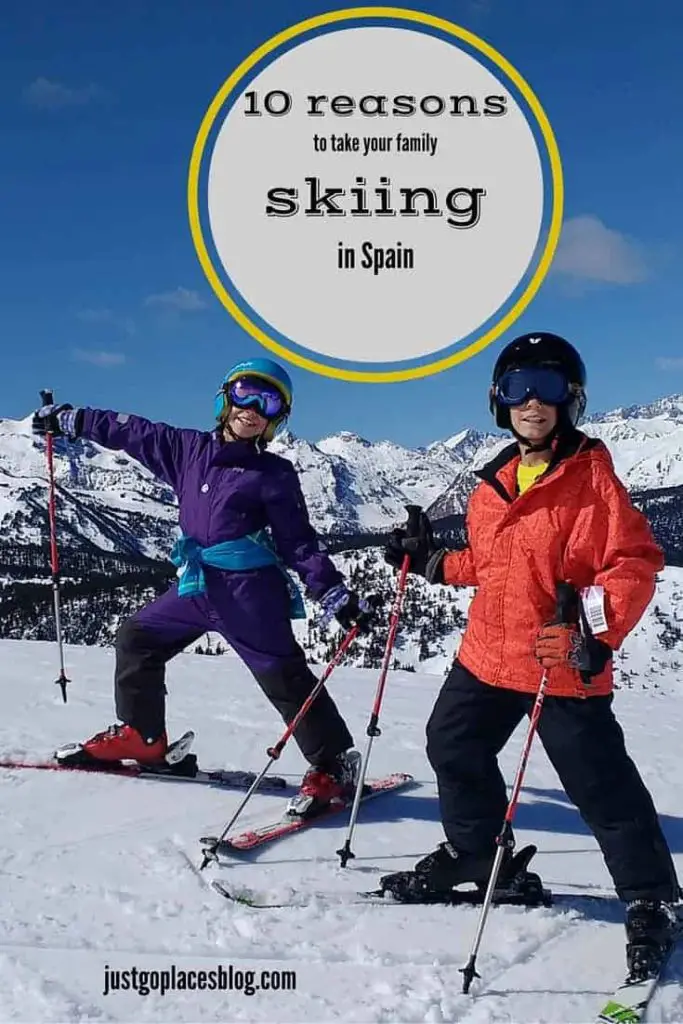 I have to admit that I did not think about skiing in Spain either.  My husband has been to Andorra skiing but wouldn't consider trading in the Alps for it.  At a travel bloggers' conference in Costa Brava last year though, I met a fellow American who lived in the Val d'Aran and raved about its ski slopes.  Intrigued we did some research and found that indeed Baqueira Beret may be a hidden gem.  After all, if the very British Telegraph newspaper name-checked Baqueira Beret along with Alps stalwarts such as Verbier, than my husband was willing to give it a try.  We are so glad we did!!
Why Take The Family Skiing in Spain?
Less Crowded Slopes
The Spanish have a fairly relaxed attitude towards skiing.  Unlike places I've skied in the Alps, the line for the ski lifts is not ridiculously long at 9AM.  In Val d'Isere, for example, there is a 'ski big or go home' mentality where everyone skis from the time the lifts open.  In Baqueira, breakfast was still being served at 11 AM (and people were still lingering over their coffee).
This early morning lack of hustle is probably because the Spanish like to dine and to drink late into the night.  The Spanish trickle onto the slopes by 10-11 AM.  If you don't keep Spanish hours like our family, this timetable means a more relaxed entry onto the slopes.
The resort is fairly snow-sure.  When we went at the end of March for Easter, there was still a base layer of 2 meters of snow.  In addition, they have plenty of artificial snow cannons.
More Skiers than Snowboarders
There are also a lot more skiers than snowboarders at Bacqueira.  Our instructor told us that only about 10% of the snow sports lovers in Baqueira are snowboarders.
If you have had more than one-run with snowboarders like us, you know it is a good thing.  One of the children we went with last year to Val d'Isere broke her leg when she was was run over by a snowboarder.  And, the ludicrous part?  She was merely standing at the side of the slope with the ski instructor waiting for her ski class to catch up with them.
Plenty of Skiing Options
Baqueira Beret is actually strung along their own version of the 3 valleys similar to France – Bacqueira, Beret and Bonaigua. You will have plenty of choice on ski runs.  Having said that, for complete beginners there are only a handful of green runs.  There are, however, plenty of blue runs for an easy progression for those people with a bit more skiing experience.  There are also a good number of red runs for intermediates.
For the more expert skiers, Baqueira Beret has lots of heli-skiing options because really only about 10% of the slopes that are black runs.  Once again, they are reasonably priced and cheaper than the Alps.  My son is determined to be good enough to heliski now that he knows its an option.  If a family is skiing together, then children can go heliskiing, too.
Family-Friendly Resort
There were lots of families at the resort. We went during Semana Santa (the week before Easter) during which Spanish children have a holiday from school.  Baqueira is known for being a family resort.  We saw plenty of multi-generational families who were skiing with grandparents, aunts, uncles and cousins in tow.
We chose Marta, an owner and instructor with The Ski Lab skiing school, to ski with our kids because she was a friend of our former nanny.  Marta spoke excellent English which was handy because our children learned very little useful Spanish from the 2 1/2 years spent with our former nanny.
If you really want native English speaking instruction, there is a Baqueira British Ski School which is associated with Eira Hotel (a British-owned 4 star hotel) in Tanau. Like pretty much most of the area, Tanau is a tiny sleepy hamlet.
As for après-ski, the Spanish kids were just milling around playing while their parents enjoyed a drink.  We didn't have a nanny with us and (as ever) our kids refused to go to the kids club, but we were still able to enjoy a (non-quiet) drink after skiing.
Spanish Service
We had excellent service with friendly locals.  From my years in France, I know that ski resorts think of their clientele more as a necessarily evil. There are plenty of ski hire options, restaurants, bars and other services that cater to skiers.
Most of the skiers are French and Spanish.  We heard a smattering of English and Japanese as well.  If you stay in Tanau at Eira Hotel, it is pretty much all English-speaking people from what we could tell.
On the whole though, I found our lack of Spanish knowledge was not a hindrance.  Most people spoke English well enough to provide all necessary services, such as ski rental or ordering food.
Cheaper than the Alps
Baqueira-Beret is the Spanish answer to Gstaad with the Spanish royal family having a villa at Tanau (which is another part of Baqueira at 1700 meters elevation). The resort is definitely posh. Yet, it is remarkably cheaper than the resorts we've been to in the Alps (e.g., St. Anton in Austria, Val d'Isere and Courcheval in France).
There are other ski resorts which are even cheaper than Baqueira Beret in Spain and, of course, there is skiing in Andorra.  Baqueira Beret, though, gives you the comfort and quality of staying at one of the Alps top resorts without the eye-watering prices (especially a problem in the Alps when all of Europe seems to descend in the area for February half-term holidays).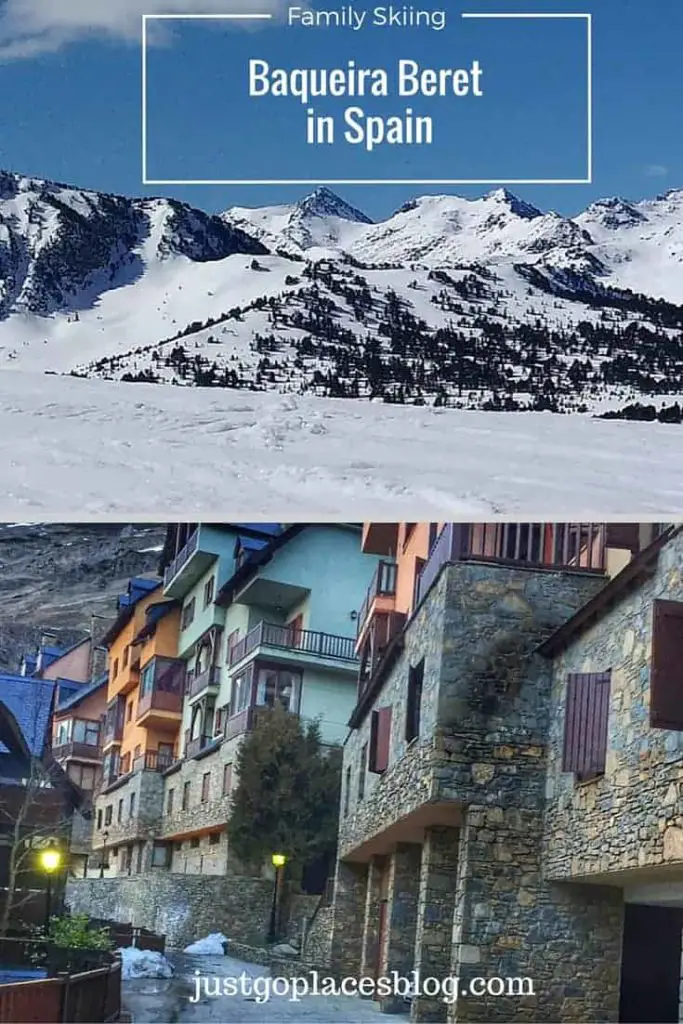 For example, we have hired private instructors for the children's ski lessons in the past.  At Baqueira, our wonderful ski instructor, Marta from Ski Lab, was priced at €50/hour.  They had a full day of private class totalling 6 hours (split between morning and afternoon) during the busy Spanish Semana Santa week for €300.  We paid our equally great ski instructor from Progression Ski at Val d'Isere €480 for the full day during February half-term.
Churros for Breakfast
Can you get churros for breakfast in the French Alps?  I think not.  Along with the usual options such as croissants and crepes, you also get donuts and churros.  Of course, there are yogurts and fruits because, let's face it, the stick-thin glamorous Spanish women do not remain that way by eating churros for breakfast.  One downside:  we did not see any muesli or oatmeal.
To be fair, all the food was excellent.  The food was fairly international.  Our hotel had one restaurant called Le Fondue (what else?) which went with the usual-Alps tradition of melted cheese with everything. Since I've had more than my share of melted cheese for lunch and dinner on past ski-holidays, I saw no reason to eat there.  There were great local wines available as well.
We had a delicious meal at Tanau Sabor which was recommended for its chicken curry.  We were a bit dubious but it was delicious.  Turns out the owner grew up eating Indian food because his mother was born in India when his grandparents worked as a doctor and a nurse in Calcutta many years ago!
Remember what I said about the Spaniards eating late?  Well, on the plus side for us non-Spaniards, the restaurants are pretty empty at 8pm when we like to eat.  The restaurants tend to have 2 seating times – 8pm and 10pm.  You can guess which one is the popular one!
Lack of Scandi Yellow Pine Decor
The Spanish resort is blessedly free of reindeer motifs and that horrible yellow pine wood decor that seems a must in many of the Alps hotels.  Even our beloved Hotel Christiania was not immune to its fair share of traditional decor.
Yes, there are uber-cool places like Le Blizzard in Val d'isere.  They are so achingly cool, though, that it's hard to picture little children at the hotel. People we knew who stayed at Le Blizzard all had teenage children. There were plenty of younger children at our 5 star hotel, Val de Neu, and they were actively welcomed with amenities such as children's toiletries and bathrooms, children's menus and a kids club.
Here's my Steller Story on our hotel, Val de Neu.
Choice of Villages
You don't need to stay in Baqueira Beret to ski at the resort.  The resort of Baqueira itself is pretty small.  I walked it in about 20 minutes.
There are charming little medieval villages strung along the valley. These villages, too, are tiny but they all seem to have the obligatory Romanesque church.  They have accommodation as well as some restaurants.
We didn't rent a car and that was a huge mistake.  The taxi service comes to your remote hamlet from the regional centre of Vielha which in our case was 20 minutes away.  In addition, the basic call out rate is €30 for a taxi even if you are going 5 minutes by car to the next village.  Walking is not a good idea though – the road is windy and there is no easy pedestrian byway on the side of the road.
There is plenty of parking and ice/snow on the roads is not a problem as it is cleared regularly.
Activities for Non-Skiers
There is plenty in the Val d'Aran for non-skiers to be kept busy.  I consider eating and drinking my way through a series of medieval villages very entertaining.
There are the usual horse and sled rides as well as dog-sledding.  The dog-sledding is in the mornings though from 10-1 and my ski-or-die family refused to take a morning off from the slopes to check it out.  For the more active, you can also go snowshoeing or cross-country skiing.
Our Opinion of Baqueira Beret
I had to think twice about whether I really wanted to share this little gem of a resort.  Despite great reviews from even The New York Times, this place is still relatively undiscovered.  We will definitely be returning.
What do you think of my reasons on why you should take the family skiing in Spain?  Don't get me wrong – I still like ski holidays in the Alps. I think it's just an easier/cheaper experience in Spain especially because we are limited to travelling when everyone else is skiing during school holidays.
Practicalities of Family Skiing in Spain
We booked our stay ourselves using online resources.  We flew into Toulouse, France on Easy Jet and arranged for a private transfer to Baqueira-Beret.  Toulouse is only a 2 hour drive away through the valley of the Pyrenees.  Barcelona airport is also an option but it is 4 hours away and you will need to drive through the mountains themselves.  We stayed at the Hotel Val de Neu right in Baqueira because it is a 5 minute walk to a ski lift. Our instructor was from The Ski Lab, a small ski instruction company.  We rented ski equipment through a local store.  The resort is open from November to the week after Easter (no matter how early Easter is in the calendar!).
SaveSave