My relationship with Manhattan is complicated.  Every time I move away, I am drawn back its siren song of wailing sirens, honking taxis and grumpy sales people.  Even now though I live across the pond, I am in New York City at least twice a year.  Manhattan is beautiful, infuriating and alluring – a beautiful woman who knows how to wield her charms effectively.
You're beautiful, that's for sure
You'll never ever fade
You're lovely but it's not for sure
That I won't ever change
And though my love is rare
Though my love is true
From Like A Bird by Nelly Furtado
Every time I see Manhattan I think what a gorgeous city.  We took a Manhattan helicopter tour this past trip and I am even more struck by how beautiful the city looks from above.  The streets and avenues form their grid and the skyscrapers reach up into the sky. Although the people scurrying around below are invisible from my viewpoint in the helicopter, their hopes and dreams are no less real.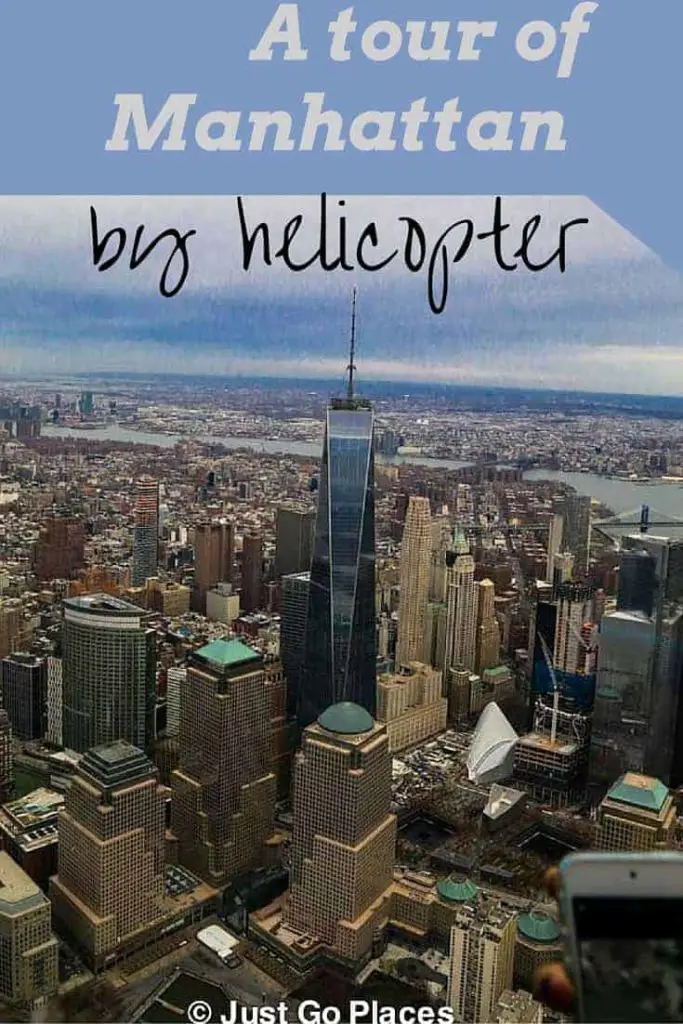 A Bird's Eye View of Manhattan
The view from the helicopter was amazing.  I was actually able to see how the different neighbourhoods of Manhattan fit together.  At street level, you are bombarded by sights and sounds so that it feels like every little bit of Manhattan is bigger than it is.  From overhead, you see how small the neighbourhoods (and even Central Park!) really are.
The Manhattan Helicopter Tour
We took our Manhattan Helicopter tour with Helicopter Flight Services, Inc.  HeliNY leave from a helipad near Battery Park in Lower Manhattan. They have four different types of tours starting from $144 per person.  We took the ultimate New Yorker tour which too a route up the Hudson River and back down and around the New York Harbor.
The whole operation runs smoothly.  You put away your stuff in lockers that are provided.  A member of staff puts on your safety gear and listen to a short safety video.  Next thing you know, you are being lead out to a waiting helicopter for your tour.  We had 3 other people on our tour – a nice Chinese girl who was in the USA for university and her parents from China who were visiting her.
My children absolutely loved the Manhattan helicopter tour.  It was one of the highlights of our most recent trip to New York. My son, the lucky devil, got to sit up front next to the pilot.  We received a concession from Helicopter Flight Services Inc. for our tour of Manhattan.
SPREAD THE WORD! PIN THIS TO YOUR TRAVEL PINTEREST BOARDS FOR FUTURE REFERENCE! 
This site generates income via partnerships with carefully-curated travel and lifestyle brands and/or purchases made through links to them at no extra cost to you. More information may be found on our Disclosure Policy.