There were three of us in this marriage, it was a bit crowded.
Diana, Princess of Wales in an interview on BBC Panorama (1995) 
With those infamous words, the late Diana, Princess of Wales, blew the lid off her husband, Prince Charles's, long-standing affair with Camilla Parker-Bowles on prime-time television to a mesmerised nation.
Royalty in previous years did not have the luxury of a publicly televised tear fest to name and shame.  Their marital strife was conducted in private but was no less complex.   One of the most beautiful chateaus in the Loire Valley in France, the Chateau de Chenonceau, was caught up in such a love triangle. If you visit any chateaux in the Loire Valley, you must visit Chenonceau which is an easy day trip from Paris.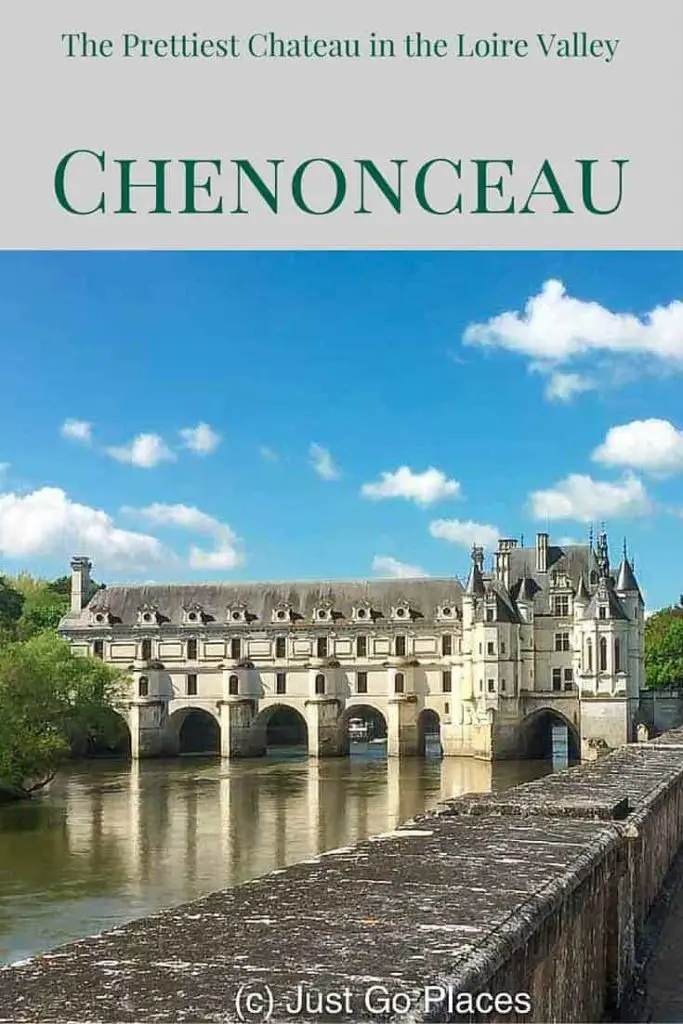 The Royal Love Triangle
First, the players in the biggest love triangle of the 16th Century.
Poor Little Rich Prince
When Henry II was a prince, he was the spare living in the shadow of the heir, his older brother.  His father, Francis 1 was a larger than life figure.  Francis I brought the Renaissance to France, waged war to all and sundry, was a notorious playboy and met Henry VIII of England on the Field of The Cloth of Gold.  Henry II knew his father preferred his brother.  Worse,  his mother, the queen, died when he was a child.  Amidst this family dysfunction, Francis I lost a war to the Holy Roman Emperor and had to send his two sons (aged 7 and 8) off as hostages until he could pay the ransom.  It took daddy 4 years to pay the ransom while his sons languished as foreign prisoners.
When the boys finally returned to France, Francis I gave his younger son into the care of a court noblewoman, Diane de Poiters, a woman almost 20 years older than him.  She cared for him so well that they became lovers while he was still a teenager (because he didn't have enough parental issues).  As was the custom of the day, he was married off in a political alliance to Catherine de Medici.
Little Orphan Medici Maiden
Orphaned as a baby, Catherine de Medici was a rich heiress and a pawn in her relatives battle for power.  Although the Medicis controlled Florence, they were not royalty themselves but merely glorified bankers.  Catherine's 'safe spot' became a convent where she was left in relative peace.  Her relative, the Pope, secured a great marriage for her to the second son of the King of France.
Henry II and Catherine de Medici were married in Marseille to much celebration when they were both 14 years old.  Henry's randy old father stayed in their room on the wedding night to make sure the dirty got done.  Can someone say awkward?!
Anyway, Catherine de Medici loved Henry II but he was under the thrall of Diane de Poitiers.  And, to make matters worse, poor Catherine was hardly a looker and Diane an unrivalled beauty.
So at age 14, Catherine de Medici found herself in a loveless marriage surrounded by French courtiers who were unimpressed with her lack of royal blood.  If you remember the movie, Dangerous Liaisons, the French court really was a nest of vipers.  Worse, it took Catherine almost 10 years to have children.  Although the French courtiers blamed her, it was likely that Henry had some performance issues.  After a doctor was able to solve the couple's problems, Catherine went on to have 10 kids, making up for lost time.  Three of her sons became Kings of France and one of her daughters became a Queen of France.
You can almost forgive Catherine for being bitter and living through her children. If the excellent film, La Reine Margot, is to be believed she may have loved her sons a little too much.  French courtiers were convinced that she was a schemer and poisoner, but Catherine came across as positively nice in comparison to her relative, Marie de Medici.
The Cougar With the Golden Body
Diane de Poitiers was an acknowledged beauty who had a tendency to make the best of any situation in which she found herself.  At the age of 15 she found herself married to a relative of the French King who was 40 years older than her.  After his death, she wore black and white for the rest of her life.  Not only were these mourning colours, they looked good on her.
Diane's beauty was immortalised in both sculpture and painting.  She reputedly drank liquid gold every day as an elixir to keep herself attractive.  A modern-day analysis of her body indicated really high levels of gold which is probably what killed her in the end.
As soon as he was made king in 1547, Henry II gave Chateau de Chenonceau to Diane de Poitiers even though Catherine de Medici wanted it.  Diane adored Chenonceau and went about sprucing it up.
The Love Story
As is usual in those days of high mortality, the heir to the throne died and Henry II ascended to the French throne. You can only imagine how thrilled the Medicis were.  They had only aspired to be related to royalty and hadn't expected to have Catherine ascend the throne herself.
Unfortunately, as the King's official mistress, Diane de Poitiers had a lot of power and influence.  Catherine de Medici found herself sidelined by the king and court.  Henry II even gave Diane the French Crown Jewels (and not just metaphorically).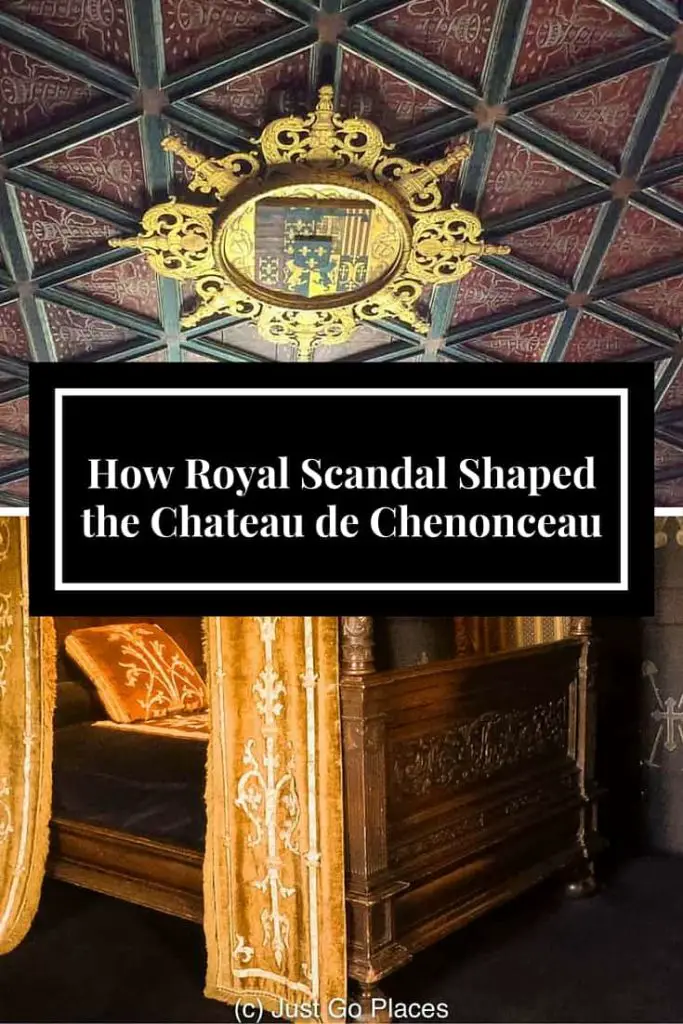 Catherine de Medici took as her personal motto odiate e aspettate  (hate and wait).  I'd be so afraid of anyone with that sort of motto rather than say something positive like, Every Day is A New Day or Don't Worry Be Happy.  It was probably good propaganda though to scare the French courtiers a bit.
Happily Ever After is for Fairytale Endings
So the hating and waiting paid off.  Henry II died from injuries sustained in a jousting tournament where Diane and Catherine were onlookers.  He had chosen to honour his mistress by wear Diane's colours for the tournament.  Coincidence?  Who knows?  Maybe Prince Philip really did have a quiet word with MI5 about his scene-stealing ex-daughter-in-law.
Catherine wouldn't let Diane say her final farewell to Henry II even though he kept asking for her.  Catherine also chucked her out of the Chateau de Chenonceau and took it for herself.  Diane retreated gracefully.  First, she took up temporary residence at the beautiful nearby Chateau de Cheverny.  Then Diane gave her Chateau de Chaumont as a trade for Chenonceau. Chaumont is a beautiful chateau but its no Chenonceau.
The only way a long-standing love triangle ends is when one of the members of the triangle dies.  In the medieval version, it was Henry II in a jousting accident and his two women were left to spar on their own.  In the modern day version, Diana, Princess of Wales died in a car accident and Charles and Camilla went on to get married.  I guess it is a happily ever after of sorts.
The History of Chenonceau
I've been lucky enough to visit Chenonceau several times.  I took a tour with Context Tours with atour guide who gave a colourful explanation of its history.
There has been a chateau at Chenonceau since the Middle Ages.  One of the owners rebuilt the chateau in the 16th century.  A small portion of the 15th century chateau was kept to let people know that the chateau may be new but the family weren't.  French King Francis I took Chenonceau in 1535 as payment for debts owed him.  In 1547, Henry II gave it as a gift to Diane de Poitiers even though his wife wanted it.  I can't decide if Henry II was brave or foolhardy.
Diane de Poitiers undertook extensive renovations to Chenonceau building both the bridge across the river and an elaborate garden.
Once Henry II died, Catherine turfed Diane out.  Catherine loved Chenonceau, too, and undertook renovations as well.  She added rooms over the bridge and an Italian garden on the other side of the Chateau.  Diane liked to put her initials everywhere but Catherine changed the lettering to make them look like her initials, sort of like people do with tattoos nowadays.
Anything Diane could do, Catherine wanted to do better.  She even staged the first fireworks display France had ever seen at Chenonceau when her son Francis II ascended the throne.
Catherine had grand plans for massively enlarging the chateau.  For example, she wanted to add service buildings to each side of the chateau.  Unfortunately only side got built.  Nowadays, the chateau's cafe is on that side.
After Catherine, Chenonceau passed through a series of owners, royal and otherwise.  It survived the French Revolution because it was one of the few bridges crossing the River Cher.  During World War II, the Chenonceau was the link between Nazi-occupied France on one side of the River Cher to the other side which was part of the resistance forces.
Inside Chenonceau and its Gardens
The chateau that the Queen and the mistress both coveted is indeed beautiful.  It is one of the most popular chateaus in the Loire Valley and gets hundreds of thousands of visitors a year.  I would suggest you go early or late in order to minimise the tourist crowds.  Even when I have been there in the early spring when the gardens were not in bloom, Chenonceau had its fair share of tourists.
Although the Chateau is pretty, our favourite part were the gardens.  My children especially enjoyed the maze.
I am not affiliated with Context Tours in any way, nor did I receive compensation of any type from them in exchange for writing this article. I paid for the Chateaux of the Loire Tour because I genuine love Context Tours.