Costa Brava, Costa Blanca, Costa del Sol… the names are beautiful and conjure up mental images of sunshine and beautiful beaches in Spain. Not surprising because Spain has regularly been voted the country with the most high-quality beaches. This summer we will have an extended family vacation on the Costa Blanca, one of the most popular of the Spanish Costas. The Costa Blanca, the area near  Alicante, has an (in)famous party scene at Benidorm and Torrevieja. Our group will be staying further north near the charming and quieter small town of Denia. So what are some family-friendly things do on the Costa Blanca with kids?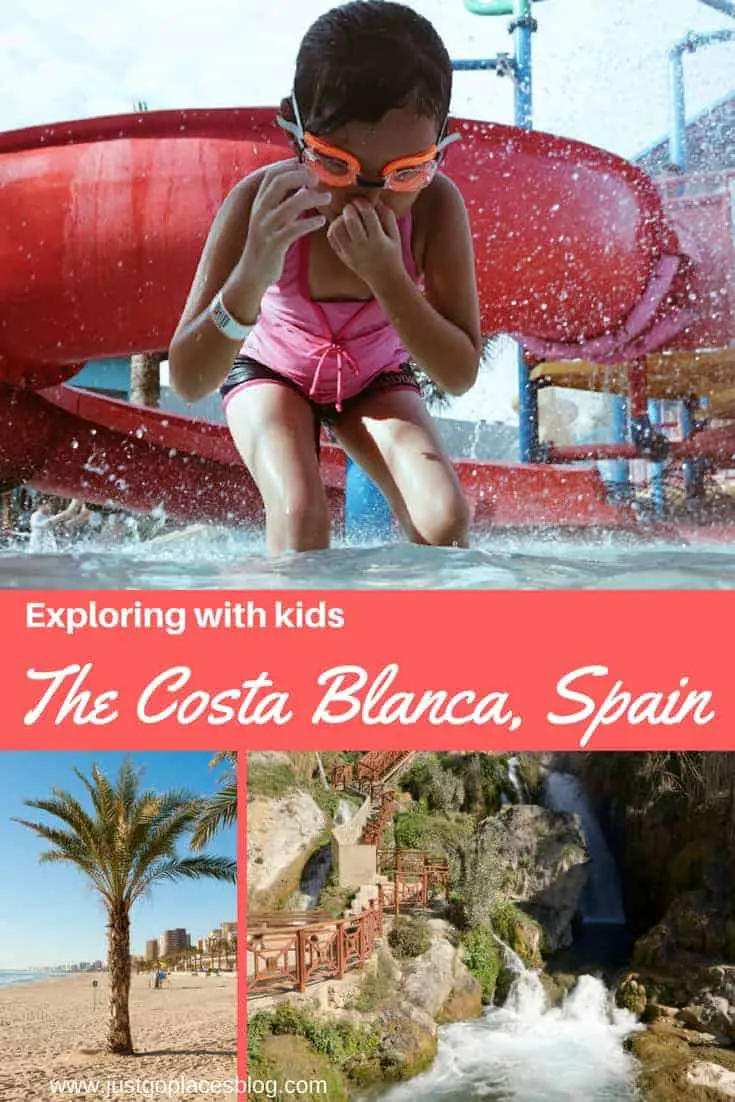 Things To Do On the Costa Blanca With Kids
The younger cousins will obviously be spending loads of time on the beach. The Costa Blanca (or White Coast) is known for its nearly 100 kilometres of beautiful beaches. Besides the obvious beach fun, there's plenty to do on the Costa Brava with kids.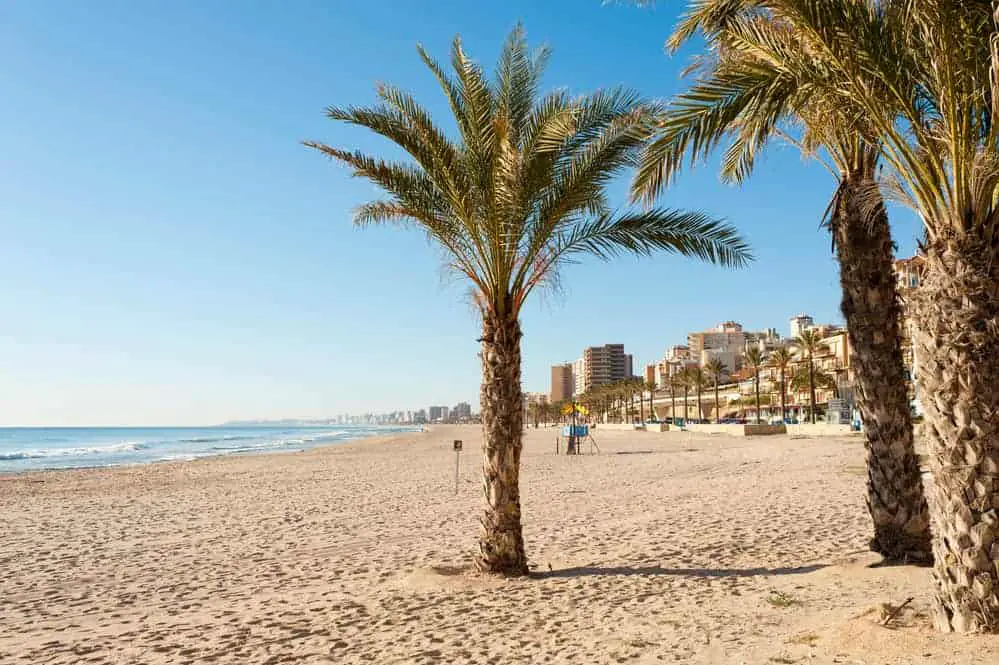 Theme Parks
The Costa Blanca has quite a few theme parks and water parks. None are as big as Port Aventura which is Spain's biggest theme park on the Costa Dorada closer to Barcelona.
Many of the theme parks are located around Benidorm. You've got Terra Mitica (a theme park based on the idea of ancient civilisations). There are 5 such themed zones – Rome, Greece, Egypt *and because they ran out of ancient history) – the Greek Islands and the Iberian peninsula. I guess they wanted to stick to the European/Meditteranean concept of ancient civilisations which is why they didn't venture further abroad to China or Mexico for inspiration.
Check the TripAdvisor reviews for Terra Mitica
If you like your theme parks with a side of animal fun, check out the marine life attractions at Mundo Mar (similar to Sea World in Florida). The attractions include shows with seals, dolphins, sea lions and parrots. Yes, those great water-loving, sea-faring parrots that are perched on pirates' shoulders. Admittedly a stretch but that was the only way I could reconcile having parrot shows amidst all the sea life.
Check the TripAdvisor reviews for Mundo Mar
In addition, Terra Natura and Rio Safari Park are zoo-like theme parks. When our children were toddlers, zoos were the only place they were remotely interested in other than playgrounds. Terra Natura is based around 'zoomersion' which means you are supposed to feel like there are no boundaries between you and the animals. No one has asked the animals how boundary-less they feel.
Check the TripAdvisor reviews for Terra Natura
Not even pretending to have any educational or cultural context, the Aqua Natura Waterpark promises just pure sheer fun. During a hot day on the Costa Blanca, a water park could be just the thing for young and old alike. Aqualandia is another second water park in Benidorm. Choices, choices.
Check the TripAdvisor reviews for Aqua Natura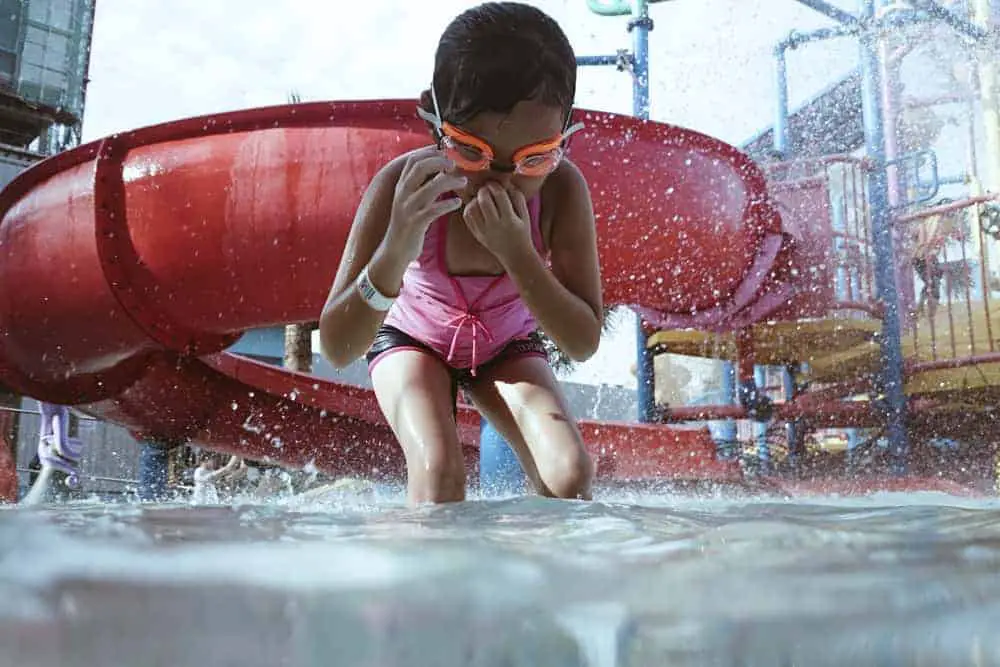 There are discounted tickets available at the theme parks for children between the ages of 4 and 12. In addition, you can buy combination tickets that let you visit two of these parks at a discount on two different days. Two days of theme parks may not be enough for you Disney die-hards but it should be plenty for many people.
Explore Nature
The fun to be had at Elche Palmeral Aventuras in Elche is similar to that at a theme park just with less plastic.  Think zip wires, archery and circuits set amidst the trees with rope bridges and even more zip wires. My children can never get enough of climbing or zip wires! When the children are good and tired, maybe you could convince them to visit the famous Palm Groves of Elche which are a UNESCO world heritage site.
Check the TripAdvisor reviews for Elche Palmer Aventuras
LO Rufete Adventure Park is great with older children who will enjoy zip wires, hiking, kayaking and riding quad bikes. If you have little ones in your group, there is a bouncy castle and trampoline section to keep them occupied as well as a swimming pool on site.
Check the TripAdvisor reviews for LO Rufete Adventure Park
What? You want real nature? Like where you have to entertain yourself? Check out the Algar Waterfalls which are two stories high. They are a fun place for children to explore among the rocks and to swim among the naturally-occurring water pools. The water is ice cold even on a boiling hot Spanish summer day.
Check the TripAdvisor reviews for Algar Waterfalls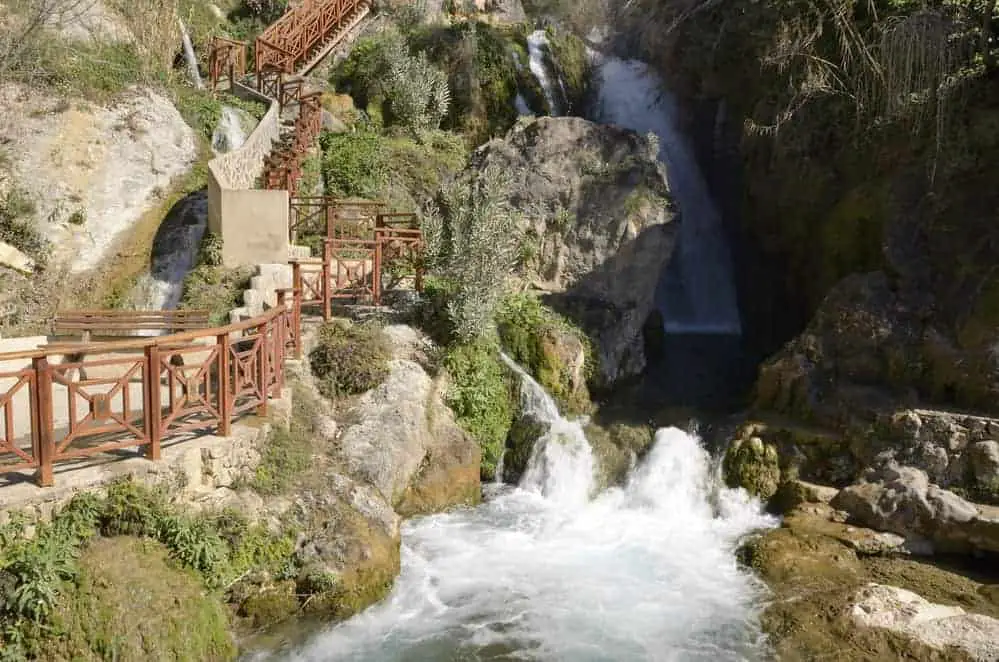 Go underground and cool off from the heat at the Cuevas del Canelobre in the Cabeco mountains near Busot. These caves have one of the largest and deepest cave systems in Spain. You will need to enter on a guided tour.
Check the TripAdvisor reviews for the Cuevas del Canelobre
I know I want to see Casa La Pedrera that was featured in Kevin McCloud's Grand Designs Abroad program. The grounds of the house offers lots of activities like archery, quad biking and kayaking for the kids. You'll find me in the craft shop which has lots of locally-produced artisanal products.
Check the TripAdvisor reviews for Casa La Pedrera
Get Cultured
Denia Castle and museum looms over the little town. It's worth a trip just for the fabulous views. The castle was originally built by the Moors in the 11th century as a fortification against invaders. The archeological museum shows how Denia evolved through the centuries until the 18th century.
Check the TripAdvisor reviews for the Denia Castle and Museum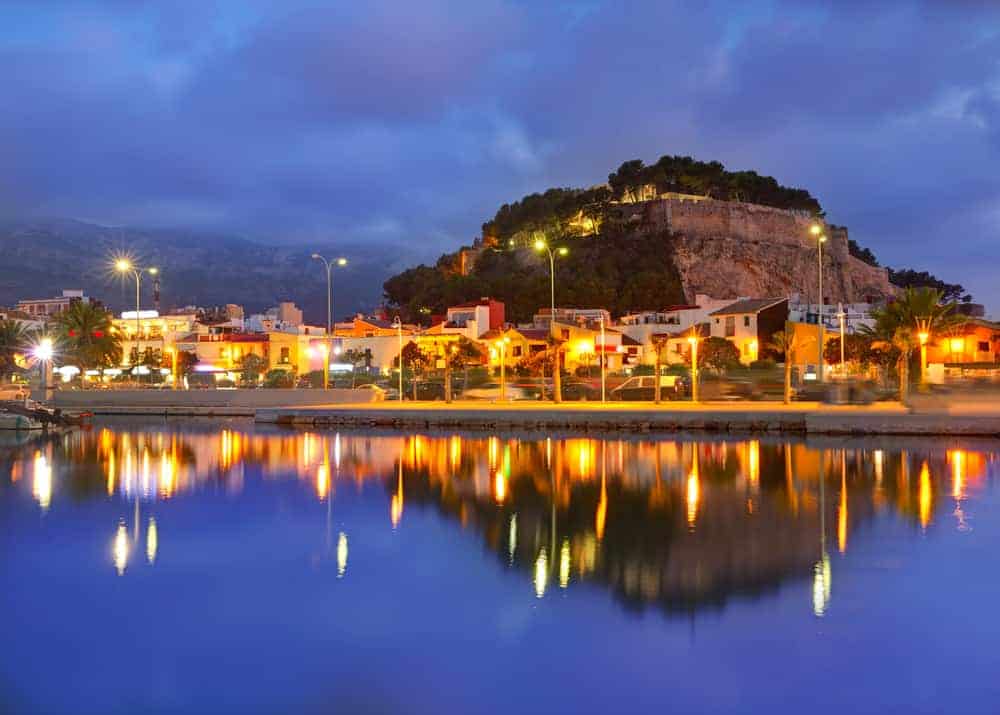 The Museo del Chocolate in Villajoyosa is the sort of cultural activity that everyone of all ages can enjoy. The museum is run by Valor, a Spanish chocolate company which has been in the business for five generations. You will learn about chocolate as well as tasting it so that should put a smile on everyone's face.
Check the TripAdvisor reviews for the Valor Museo del Chocolate
The vertigo-inducing village of Guadelest is a medieval fort perched on a mountain. Its got a series of small museums. My kids may like the medieval torture museum while I have to say I'm entranced by the idea of a salt and pepper shaker museuma salt and pepper shaker museum. I kid you not – a display of over 20,000 salt and pepper shakers. The only other salt and pepper shaker museum is in the state of Tennessee in the USA.
Check the TripAdvisor reviews for Guadalest
My family and I love wandering through the backstreets of historic little towns like Javea and Altea. You can wander around the narrow side streets and people watch from a local cafe. If the beach is too much of a lure, there is people watching from beach cafes as well.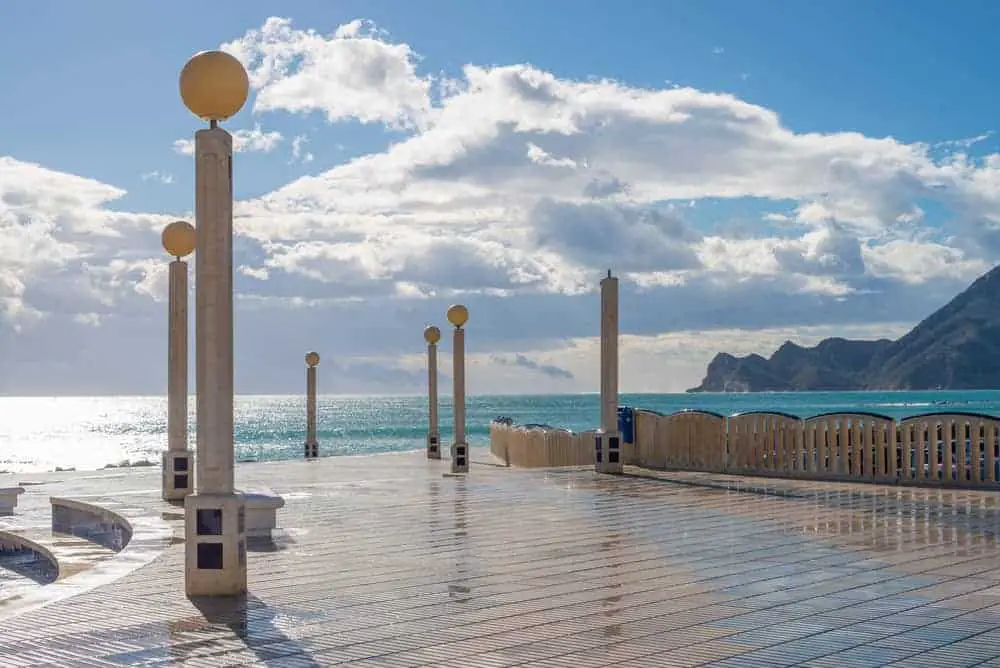 Go Offshore
Head into the water and explore the warm Mediterranean waters. There are boat trips to the off-shore island of Tabarca where pirates used to roam. Taberca offers other fun things to do such as sailing and snorkelling or exploring the cute village centre for you landlubbers.
Check the TripAdvisor reviews for Isla de Tabarca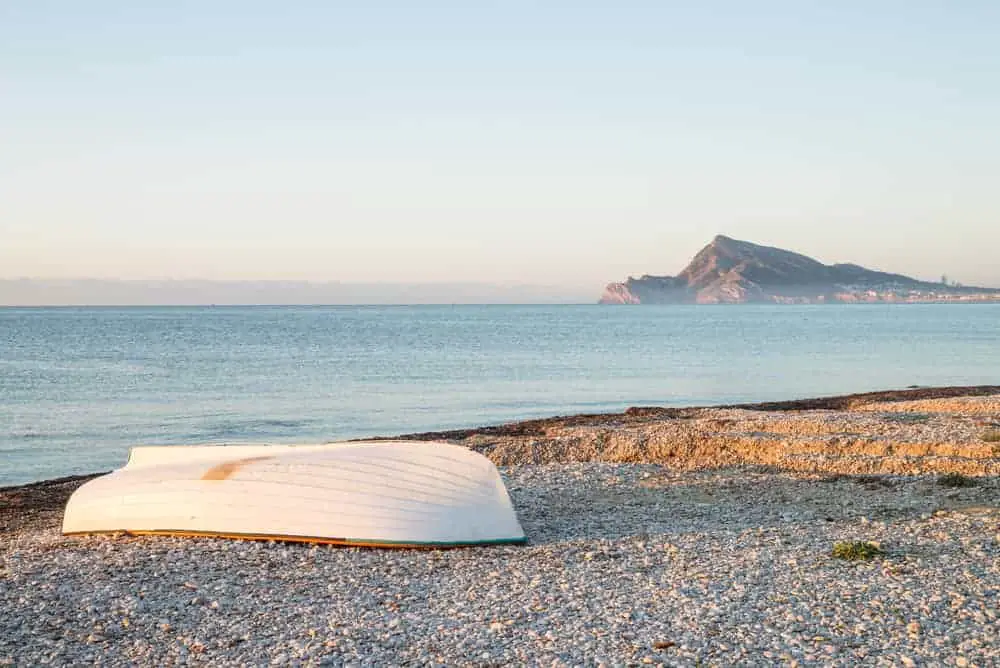 Practical Information For Visiting Costa Blanca
Accommodation
We are exchanging our vacation home in the USA through HomeExchange.com with another family in New York who have a summer home in Denia, Spain.
Another option is to  rent a villa in the Costa Blanca. Most villas in the Costa Blanca are large and come with pools, WiFi and air-conditioning.
If you are travelling with children, a villa is an ideal option for families. The children have a place to hang out and play and there are multiple adults around at all times. I know my children are really looking forward to having extended playtime with their cousins.
Car Hire
You will need a car hire to get around the Costa Blanca. While many villas can be near the beach, if you want to explore the countryside, a rental car is essential. As always we use Hertz rental cars when we are travelling.
This site generates income via partnerships with carefully-curated travel and lifestyle brands and/or purchases made through links to them. More information may be found on our Disclosure Policy.