Santa Barbara prides itself on being the California Riviera (so much so that its trademarked the slogan).  A Riviera anywhere in the world conjures up images of beachside affluence and glamour.  When you think of contemporary cool, you think of Brooklyn.  What do you get when you mix the Riviera and Brooklyn?  Something that is uniquely Santa Barbara – wine tasting rooms, street art and warehouse conversions that add a bit of gritty urban edge to this relaxed coastal city.  Contemporary cool radiates out of the Funk Zone in Santa Barbara.
Where is the Funk Zone in Santa Barbara?
The Funk Zone district is wedged between the Pacific Ocean, Highway 101 and the Santa Barbara Amtrak Station.  The perimeter streets of the area are State, Cabrillo, Garden and Montecito. It is a short distance to the well-touristed Stearns Wharf area.
In historical times, this neighbourhood held the manufacturing and marine industries in the area. In that respect, it is similar to Cannery Row in Monterey.  Since the late 1980's the area's warehouses have been taken over by artists and alternative businesses.
Fear not, hipsters, the funk in the Funk Zone refers not to anything smelling funky but rather the funky quirkiness of the area.  Possibly in ages past it did smell funky with all the manufacturing and the fish nearby.
5 Things to do in the Funk  Zone
Get Cultured
The Santa Barbara Surfing Museum is dedicated to the sport of surfing.  Keep in mind that they are only open for a few hours on Sunday though.  Keeping regular hours doesn't really gel with the whole Hang 10 lifestyle.
The Urban Wine Trail takes you around 20+ wine tasting rooms for local vineyards.  Many of the tasting rooms are in the Funk Zone district.
The Arts Fund is a community gallery exhibiting local emerging talent, including teen artists.  There is a bimonthly Friday evening Funk Zone Art Walk where the galleries stay open for visitors.
2. Eat Up
For casual fare, the Lucky Penny has salads and sandwiches as well as excellent coffee.  The Lark is a bit more fancy with its farm-to-table dining ethos.
3. Drink Some More
There are so many wine tasting rooms, bars etc. that it would be criminal not to keep these enterprises afloat.  If you are a beer lover, there's locally brewed craft beer at the Figueroa Mountain Brewing Company.
4. Brave Traffic
For cycling fun of both the two wheel and the four wheel surrey kind, check out Wheel Fun Rentals.  We had done the silly surrey in Monterey though and were ready for something more epic.  Unfortunately, the kids still aren't tall enough for Segways (available from Segway of Santa Barbara).
Caving into the kids' pleas, we decided to test the limits of California road safety with a three-wheeled SB Buggie. Basically it is a two seater scooter that putters along on regular  roads with the minimum of steering and ignition. If you want to turn you need to do a really wide turn and hope no one is coming fast towards you.  There's no reverse function either. It is a lot of fun though once you get used to it.
5. Shop!
There's plenty of shopping available in the area from the random touristy stuff to the more avant-garde stuff.
Our favourite shopping was in a truck parked on the street.  Technically Stabiles calls itself a mobile boutique (not a shopping truck) that sells artisanal goods.  We bought a tillandsia (an air plant) that sits on its own artisanal stand (excuse me, sculpture).
For other things to do, check out the Funk Zone website for the latest happenings.  Spending the day here is an enjoyable alternative to the white bread affluence of the rest of Santa Barbara (with or without kids).
A Photo Gallery of the Funk Zone
It's much easier to show you the contemporary cool that is the Funk Zone rather than to explain it in words.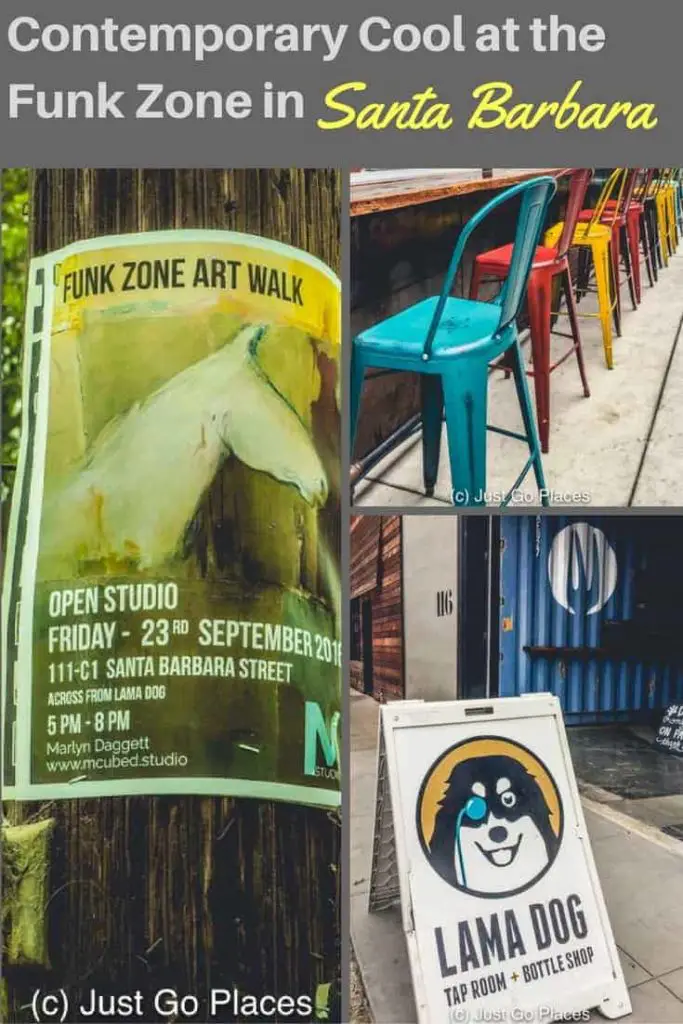 Practicalities for Visiting
There are a couple of hotels in the Funk Zone in Santa Barbara, including Hotel Indigo (an eco-friendly boutique hotel) and the Harbor View Inn (across the street from the beach).
In keeping with our search for vintage coolness, we stayed at AutoCamp Santa Barbara which has restored vintage Airstreams available to hire similar to a hotel room.  Our Airstream was adorable with a tiny kitchen, tinier bathroom and flat-screen TV.  We had a double bed for ourselves and a pull out double bed for the children.  Outside the Airstream, there is a little patio area with a gas grill, a couple of Adirondack chairs and two adult bicycles for  your use.
AutoCamp Santa Barbara has its 6 Airstreams located at one edge of a regular trailer park. I wondered what the families who live in the rest of the trailer park make of the steady stream of tourists who use AutoCamp. The Airstreams were all in use when we used AutoCamp. The family next door to us were tourists from London too.  They were bemoaning how crazy expensive the USA was because the value of the British pound has plummeted thanks to Brexit.
Our kids absolutely loved the Airstream.  My husband and I felt we were sandwiched in a sardine can.  I preferred the Bacara Resort and Spa which is where we stayed last time we were in Santa Barbara.  It's got a great spa, pools, beach access and nice views of the oil rigs off the California coast.  The Airstream was a fun experience but really it's not my thing.
SPREAD THE WORD! PIN THIS TO YOUR TRAVEL PINTEREST BOARDS FOR FUTURE REFERENCE! 
We did not receive compensation of any form, monetary or otherwise, from any of the products, services, hotels  etc mentioned in this article.
This site generates income via partnerships with carefully-curated travel and lifestyle brands and/or purchases made through links to them at no extra cost to you. More information may be found on our Disclosure Policy.