You have to be a dedicated foodie to chase around the Welsh countryside in search of a specific restaurant as dusk gathers and the children are grumbling that they are hungry.  Sure, we could have stopped at any number of pubs that were in the area but we were in search of something special.  Wright's Food Emporium was purported to be delightful by both The Guardian in its roundup of the top 40 UK restaurants and a blurb I had read in Conde Nast Traveller.  So we were people on a mission.  We had wasted time putting in the wrong postcode into the car's GPS but a little hiccup like that only made us more determined to find Wright's Food Emporium.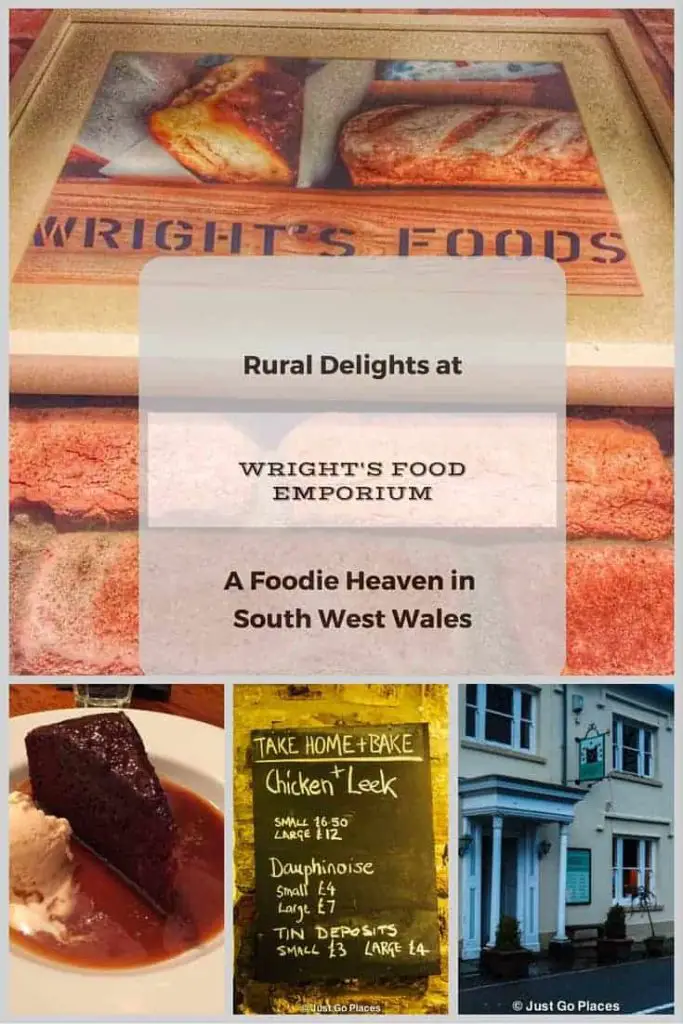 Wright's Food Emporium
The drive through idyllic countryside in search of The One was worth it. Wright's Food Emporium is both a restaurant and a food store located in a converted country pub in Carmarthen, Wales.  From what I could tell, Carmarthen is a handful of houses on the side of the road.  Even in a little village, there has to be an obligatory local pub which in this case has become Wright's Food Emporium.
We piled into one of the side rooms and settled in for some good eats. Thanks to our having taken the scenic route, we avoided the Sunday lunch crush at the restaurant.
The Cafe
The food in the cafe is simple yet delicious. I personally think it is more of a restaurant even though they like to call it a cafe. Made from locally sourced ingredients, the quality of the food is apparent with every bite. There is a fairly extensive and creative menu written on a chalkboard.  The Welsh rarebit was the best I have ever had. My friend pronounced his roast beef sandwich excellent as well.
The service at the cafe is exceptional.  Everyone was friendly and happy to explain the menu.  The wonderful staff made a plate of pasta for my fussy-eater daughter even though it wasn't on the menu.  For my dog who was looking hopefully at the waitress from under the table, they gave him some left-over sausage.  How incredibly kind is that?  I love when good restaurants are not hoity-toity.
We couldn't pass up on the desserts for which there was a great selection.  Our table went with an assortment of British favourites – pear tart, cheesecake and sticky toffee pudding.
The Store
The grocery section was small but charming and well-stocked. They had chicken and leek pie as well as potatoes dauphinoise for taking away.  I took these dishes back to London so that we could relive the gourmet experience back home. Yeah, they were delicious!  Even my daughter loved the chicken and leek pie.
I did wonder what a fabulous place like Wright's Food Emporium was doing out in the middle of nowhere in Wales.  That sentiment, however, is the Londoner in me talking.  Wright's are clearly doing booming business so there are plenty of appreciative gourmands in Wales.  Of course, it helps too that the owner, Simon Wright, is a Welsh writer, food critic and restaurateur.  He knows exactly what he likes and he's brought that knowledge to his food emporium.
Visiting Wright's Food Emporium
Wrights Food Emporium is located in the Golden Grove Arms in Carmarthenshire in South West Wales. It is actually conveniently located near the A40 and the Brecon Beacons National Park. They suggest you make reservations for the cafe if you are larger than a party of 6.  It's quite popular so I suggest you go during an off-peak time.
SPREAD THE WORD! PIN THIS TO YOUR TRAVEL PINTEREST BOARDS FOR FUTURE REFERENCE! 
We did not receive compensation of any form, monetary or otherwise, from any of the products, services, hotels  etc mentioned in this article.
This site generates income via partnerships with carefully-curated travel and lifestyle brands and/or purchases made through links to them at no extra cost to you. More information may be found on our Disclosure Policy.