Santorini is where we spent one week of our honeymoon.  The views are as magical as these photos show. We spent time in Athens and then flew onwards onto Santorini.  As it turned out, we and the Santorini airport would become well acquainted!
The Santorini Hotel Fiasco
We wished we had such a nice view from the hotel though.  Although I had booked a junior suite at one of the luxury hotels, I mixed up the dates.  Both my now-husband/then-fiance were working crazy hours in finance and we didn't double check anything.  The wedding planners completely ran the wedding and the only thing left for us to plan was the honeymoon. Clearly we had no time for that either!
We only found out when the hotel called me in June and asked me if I was showing up.  Our wedding was in August.  Cue: panic.  At that late date, we had our flights booked but no where to stay in high season in Santorini.  We finally found availability at the one and only hotel that had availability:  the airport hotel.
So we spent our honeymoon at the Santorini airport hotel. Santorini is ranked as one of the most romantic places in the world, just maybe not its airport!  The airport runway ran alongside the hotel pool.  We realised in later years that our plane-obsessed son would have loved this hotel!  Hanging out in a pool and frequent plane sightings would be his idea of heaven.
Luckily, Santorini has a small airport and the flights are not that frequent. The room was perfectly adequate.  The hotel insisted on family-style meals though which we absolutely refused. We bailed on their meals because we did not want to spend our honeymoon having to make small talk with strangers.
On the plus side, we spent a lot of time exploring the island of Santorini in our beat-up old jeep rental because there didn't seem to be any point in hanging out at the hotel.
The Crazy Donkey of Santorini
When I read recently that a cruise passenger had been killed by a donkey on the trail ride up the hill from the port at Thira, I was not surprised.  I had a completely crazy donkey. Or, maybe just stupid.  Someone had told this donkey that he had to hug the cliff on his way up the hill.  He would push the other donkeys and jockey his way to the right side which was nearest the wall.  Unfortunately for me, my leg was between his side and the wall.  I was wearing shorts and so had a painful scraped leg by the time I reached the top of the hill.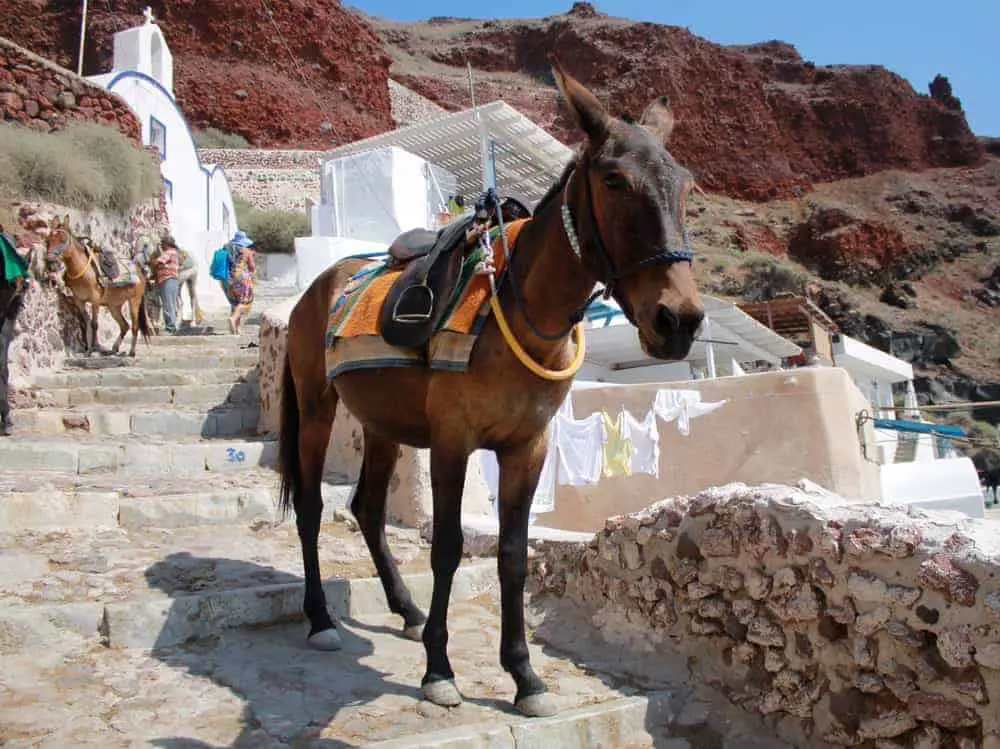 Sunset Skirmish at Oia
We'd heard about the sunsets at Oia and so we moseyed along to see one. Clearly we should have been prepared for the crowds but we weren't thinking (obviously as per the hotel mishap). We wound up returning another day so that we could camp out early and get a primo spot for the sunset.
It was indeed beautiful and worth the high praise it received.  We had no problem getting a nice dinner spot after the sunset. It seems the crowds gather specifically for the sunset but then start their evening meals later.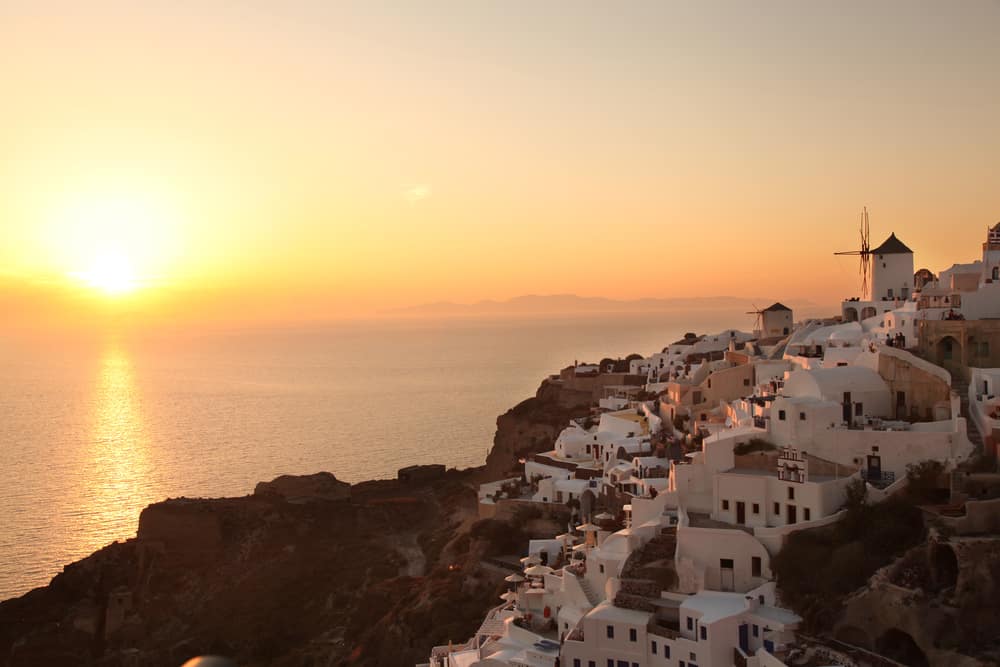 Why I'd Return to Santorini
Despite these mishaps, I'd return to Santorini in a heartbeat.  It is stunningly beautiful.  We explored lots of different beaches including black and red beaches.  I've since seen black beaches in Tenerife and Iceland but never have I ever seen a red beach again. It's a perfect late summer/autumn destination. We went to Santorini on our honeymoon in September. This island is also one of the best places to visit in Greece in October for a last gasp of Mediterranean sunshine as I found out in my city break to Athens.
The food was also amazing.  We found this seaside shack that served up fresh fish perfectly grilled.  We also worked our way through some of the higher-end restaurants as well, including one in the hotel where we were supposed to have stayed.
Needless to say, everyone at our wedding heard about the honeymoon hotel fiasco and we were given a lot of grief for it.  On the other hand, I'm glad we decided to sick with Santorini even after the mix-up.  It provided for a funny story and some great memories.
SPREAD THE WORD! PIN THIS TO YOUR TRAVEL PINTEREST BOARDS FOR FUTURE REFERENCE! 
This site generates income via partnerships with carefully-curated travel and lifestyle brands and/or purchases made through links to them at no extra cost to you. More information may be found on our Disclosure Policy.