Nyhavn (New Harbour) in Copenhagen really is the cutest little harbour you did see.
Built on the orders of King Christian V between 1670-73, the harbour is built at the end of a canal with wide streets on either side.  The promenades are lined with colourful buildings dating back to the 18th century.  The oldest house in Nyhavn, No. 9, was built in 1681.  Many creatives used to live in the area including Hans Christian Anderson who wrote the Princess and the Pea while living at No. 20.  The harbour itself is now lined with wooden boats harking back to Nyhaven's heyday between 1780-1810 when all the ships that came to Copenhagen passed through the port.
Created to promote trade, Nyhavn leads back to the city centre of Copenhagen.  Ships from all over the world would dock at Nyhavn and the streets would be filled with sailors and their friendly female companions. Copenhagen was the bustling center of Scandinavian trade until the Napoleonic wars halted trade.  Denmark faced bankruptcy and Nyhavn's fortunes started a period of long decline.  In the mid 1960's, local citizens formed a society to revitalise the beautiful old port.
Nyhavn quay is now pedestrianised. On the North side of the harbour, the colourful old buildings now are for the most part geared for tourists with bars, cafes, restaurants and hotels.  There are many restaurants with outside seating making it perfect for people watching. It's easy to see why it's been called the longest outdoor bar in Scandinavia!
Admittedly very touristy, the area is still impossibly pretty and one of the many things to do for any visitor to Copenhagen.
The South Side of the quay is the posh side.  It has the large mansions, including Charlottenburg Palace, which were used to house the wealthier inhabitants of the area.
I love the old warehouse windows of the Nyhavn Hotel which was built as a warehouse in 1805 for a wealthy merchant and his sea captain.
A wooden lifeboat hovers over the quay.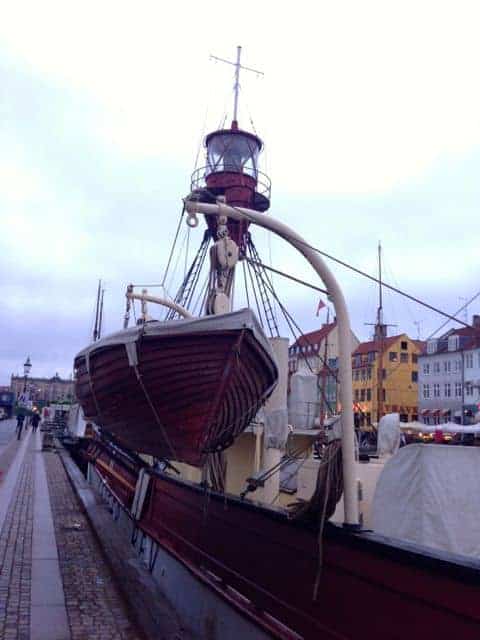 Check out this dog who has been left on board his ship for guard duty.
The Memorial Anchor commemorates the Danish Naval servicemen who died during World War II.
Nyhavn is a must-see in Copenhagen and there are plenty of other things to do nearby as well.