In the United Kingdom, when you hear River Cottage you immediately think of a posh man with curly brown locks who traded London (aka The Big Smoke) for the rural idyll of the English countryside.  Hugh Fearnley-Whittingstall is one of the early proponents of farm-to-table fare in England when he set off on his agricultural adventure in 1998.  He established River Cottage in a small game-keeper's lodge near the Dorset town of Bridport. He had previously used as the cottage as weekend home (as if the double-barrelled name hadn't given enough of a clue to his privileged background).   Hugh's River Cottage has had a major influence on the growth of the popularity of local, organic and seasonal food in the United Kingdom.
River Cottage is an industry in itself between the dozen television series, the 20+ books, the renowned chef-training school, the cookery classes at its HQ, the weekend dining experiences at HQ and the casual restaurants at the four River Cottage Canteens.  I was told they are expanding the brand into Australia as well.
I really want my city kids to understand the process behind how their food is grown and importance of quality in what they eat. What better place to do it in England than River Cottage?  In New York, we have been to Stone Barns on the Rockefeller estate.  Stone Barns though is a more recent addition to the farm-to-table scene having been set up only in 2004  We had a tour of River Cottage HQ and we also had lunch at River Cottage Canteen.
River Cottage HQ
River Cottage HQ is celebrating its 10th anniversary this year. Covering 90 acres of prime Devon agricultural land, HQ is approximately 1/3 self-sufficient.  Animals are raised and the vegetables in the kitchen garden are grown in numbers only enough to pass through the kitchen without wastage.  Around 50 people work on the farm, including the agricultural and office staff.
We were given a tour of River Cottage HQ by a member of staff, Kate.  Kate was enthusiastic about country living and knows her farming stuff well.
The daughter of a tanner and the partner of a dairy farmer, she knew all the answers to my children's random farm questions including 'do the lambs and piglets have names?'.  The answer is that the animals aren't named because they will be 'passing through' the kitchen soon enough.
You can't treat farm animals like pets – clearly a lesson they had not learned reading about Wilbur the pig in the book Charlotte's Web.

We were at River Cottage HQ just in time for lambing season.  The little lambs we saw were at most a week old.  My children loved watching the lambs toddle about on their ungainly legs.
My son briefly thought about becoming a vegetarian until he realised he could never give up bacon.
On the plus side, the animals at River Cottage have a great life gamboling about the great English outdoors while they can.  As Kate noted to the children, animal husbandry is a necessary thing because otherwise these animals would just wind up in zoos without any other purpose.
Visiting River Cottage HQ
Located at Park Farm, Trinity Hill Road, Axminster EX13 8TB, River Cottage HQ is on the border between Devon and Dorset.  It is conveniently located near the resort town of Lyme Regis and the train station at Axminister.  There are trains from London to Axminister which take about 3 hours.  Taxis are available from the train station to HQ.
Check out the excellent website for River Cottage for a calendar of all activities undertaken at River Cottage HQ.  Cookery classes run from one day affairs to four-day classes.  Most of the courses are about 20 people maximum.  The one-day classes are the most popular.  You learn to cook all day and then it's a full supper based on what you cook. It's surprising how much you can learn in a day.  For example, you can learn how to butcher and cook an entire pig in a day.  It's the nose-to-tail approach cooking so there is no wastage of the animal.
Dinners are available at HQ from Friday to Sunday as communal dining events for about 60 people.  It's advisable to book up to 3 months in advance as dinners are very popular.  You start with a tractor ride down to the farm, canapés and drinks in the yurt and then a set menu dinner.  As long as you mention it in advance, they are able to cater to different dietary requirements.
Children are welcome during the summer months with a special reduced rate for lunch or dinner at £10.  Although there are no restrictions on children attending the regular weekend dinners, keep in mind the atmosphere will be for adults and there is no reduced rate for children.  I don't know about you but my kids don't eat a meal that is even close to the starting rate of £70/person.
River Cottage Canteen
The River Cottage Canteens are conveniently located in several small towns around England.  The closest River Cottage Canteen to London is in Winchester.  We went to the original Canteen at Axminster near River Cottage HQ.  With industrial touches and high ceilings, the Canteen & Deli looks urban and hip.  It  wouldn't look out of place in trendy Shoreditch in London but is remarkably different from the nearby stodgy-looking Conservative Club headquarters and charity shops lining the street of this little market town.
We had issues with parking our car nearby (which was news to me because I thought limited parking was just a London thing).  The efficient staff were used to dealing with people who couldn't dilly dally but didn't want to be rushed either.
Although I was desperate for a Diet Coke (hanging out with children for an extended period makes me crave caffeine and sugar in increasing quantities), mass-market sodas don't fit in with the River Cottage ethos.  I was pacified with a ginger drink which was actually very good.
My daughter ordered off the children's menu and had a Welsh rarebit. My son ordered the brisket and devoured it to my dismay. I had ordered the Merguez spiced lamb meatballs and had assumed I'd be having some of his brisket.  Nope, not a chance.  He did offer me some of the parsley mash and cabbage that came with the brisket.  Thanks kid.
The Canteen displays a list of the local suppliers of their farm-to-table fare.  None of the food is sourced though from River Cottage HQ which only raises enough meat and produce to supply their own needs.
The River Cottage Canteen in Axminster is located at Trinity Square in Axminster EX13 5AN.  The Axminster Canteen is a short uphill climb from the train station and pretty much in the centre of the market town across from the church.  You can book online through the website.  It is open for breakfast, lunch and dinner. There is also a deli at River Cottage Canteen if you just want to take stuff away for a delicious picnic in the countryside.
River Cottage and Farm-To-Table Fare
We had a great visit to River Cottage HQ.  It was only supposed to take a half-hour but Kate kindly spent almost an hour and half with us.  I think my children came away with a pretty good understanding of how much effort goes into the raising of good food.  They can definitely taste the difference of good quality food and it's only right, they appreciate the background aspects before it shows up on their plate.
SPREAD THE WORD! PIN THIS TO YOUR TRAVEL PINTEREST BOARDS FOR FUTURE REFERENCE!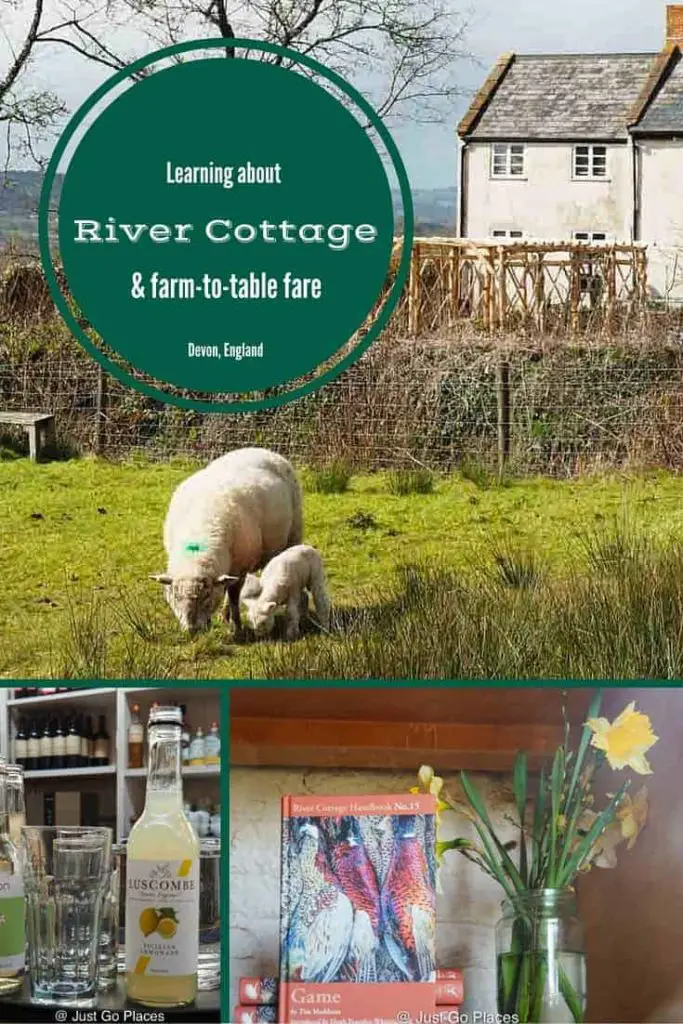 We did not receive compensation of any form, monetary or otherwise, from any of the products, services, hotels  etc mentioned in this article.
This site generates income via partnerships with carefully-curated travel and lifestyle brands and/or purchases made through links to them at no extra cost to you. More information may be found on our Disclosure Policy.