When I heard that Palermo was ranked as one of the best places in the world for street food, I knew our family would have to check out the scene as one of the things to do in Palermo.  We love our street food and it's a fast, easy and casual option for eating out with children.  We had checked out the Vucceria market of Palermo earlier in the week but found the choice of vendors overwhelming.  Our Italian is non-existent and most of the market vendors don't speak English.  So, I duly signed us up for a street food tour with StrEAT Palermo.  We were on a mission to try out street food in Palermo with children and we needed expert guidance.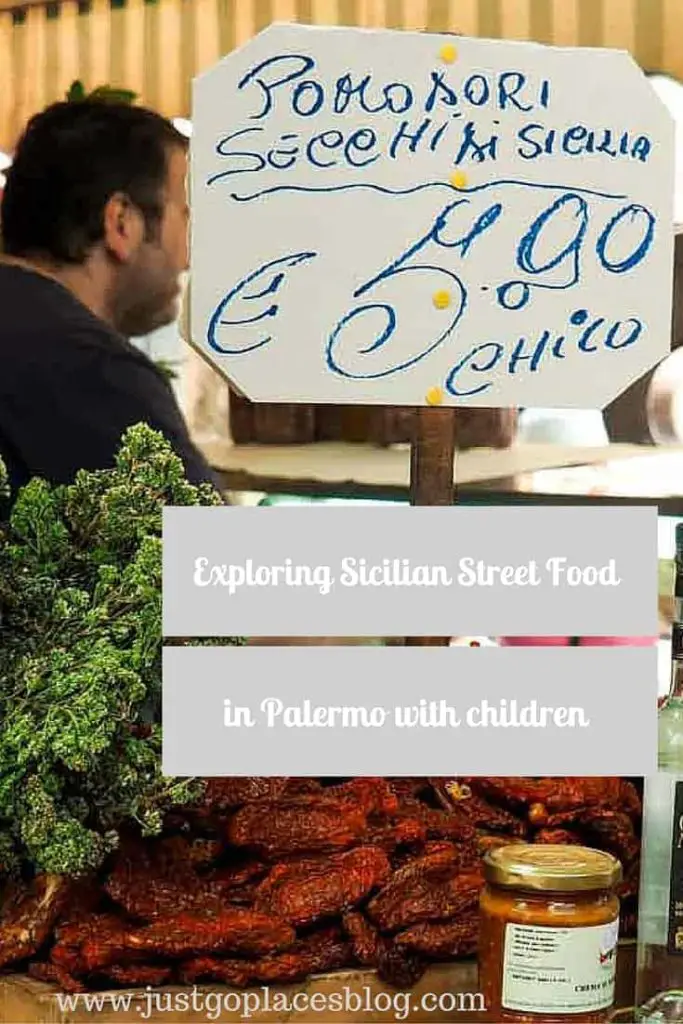 The StrEAT Palermo Tour
Lead by a man named Marco, the owner of StrEAT Palermo, we meet some of the street food vendors of Palermo – Tony, Giuseppe, Mario.  Yes, that's their real names. I'm not sure we would have met these guys on our own because Palermo's markets are a labyrinthine tangle of streets.
It really helped to be with someone who knew where to go and what to buy.  To the delight of my children, Marco had little foodie passports  on which we got stamps when we tried out the different types of food.  Nothing like collecting stamps to bring out their competitive spirit. It turned out to be one of the best things in Palermo that we did.
There are three major street markets in Palermo, the Ballaro, the Capo and the Vucceria.  The oldest, the Capo, was established by the Arabs and has been going strong for 1200 years on the same streets! You can see the Arab influence in the tiny winding streets and the way the market is laid out – divided into food, clothes, leather goods etc.
The Vucceria, located near the Piazza San Domenico, is probably named after the French Norman word 'boucherie' because it used to sell meat. Now it sells everything, including non-food items.  In the evenings, the Vucceria becomes a trendy hangout, with people eating, drinking and playing table football.
Bring on the Sicilian Street Food!
Our morning tour started of with Tony and his frittola cart.  Frittola is basically veal leftovers (fat and cartilage) boiled and fried in lard.
My daughter who is a vegetarian at heart (American hot dogs are her downfall) started to look a little green.  She conceded defeat in the stamp-war early.  No way was she eating offal of any sort. (No, I've not had the heart to tell her what goes into an American hot dog).
Next on the list was babbaluci – small snails cooked in oil and garlic.  You suck the snails straight from the shell. Marco tells us that there is a Sicilian saying that you can never suck too many snails or kiss too many women.  I'll take his word on it!
The babbaluci are usually served in a paper cone.  You suck the snail and toss the shell on the ground (of course – Palermo is not the cleanest city).  When babbaluci are traditionally eaten on the feast of St. Rosalia, the patron saint of Palermo, the sound of crunchy discarded snail shells under the feet of pedestrians add to the general noise and hubbub of the city.
Thank goodness for some of the less adventurous street food.  My daughter really wanted stamps on her StrEAT Palermo passport but not at the expense of eating offal or snails. She loved the arancina (deep-fried risotto balls), panelle (deep-fried chickpea squares) and crocche (deep-fried potato balls). My son thinks its hilarious that the crocche are nicknamed cazzilli (little penises) because of their shape.  It wasn't all deep-fried goodness though.
We had some non-deep-fried starch, too, in the form of sfincione (spongy focaccia-type bread with tomato and cheese).  Sfincione, by the way, is the predecessor to Italian-American Sicilian pizza.  But don't call it pizza in Palermo!
The last of the hardcore Sicilian items we tried was pani ca meusa, the famous spleen sandwich of Palermo.  It wasn't all spleen, there were some lungs in there, too. All of it boiled and deep fried (sense a theme here?).  My son and my husband thought it was delicious.
Photo Gallery of the Palermo Food Markets
I hope you get a sense of the crazy cacophony of colour that marks the food markets of Palermo.  Discovering local foods is one of the joys of visiting a new place I find. For example, I had no idea how many different types of tomatoes you can get in Sicily. In my local supermarket, you get a choice of two sizes (big red or small red). Sometimes the small cherry tomatoes come on a vine and you pay extra for that farm fresh look!
Street Food in Palermo with Children
Was this street food tour a good idea to do with children?
Well, my daughter ate enough to be full.  The tour ended with a traditional Italian gelato which made her very happy.  My son, the more adventurous eater, ate everything and liked it all.  My husband and I were likewise split.  I'm never going to like offal no matter how deep-fried in lard it is.  I just don't like the texture and chewiness in my mouth.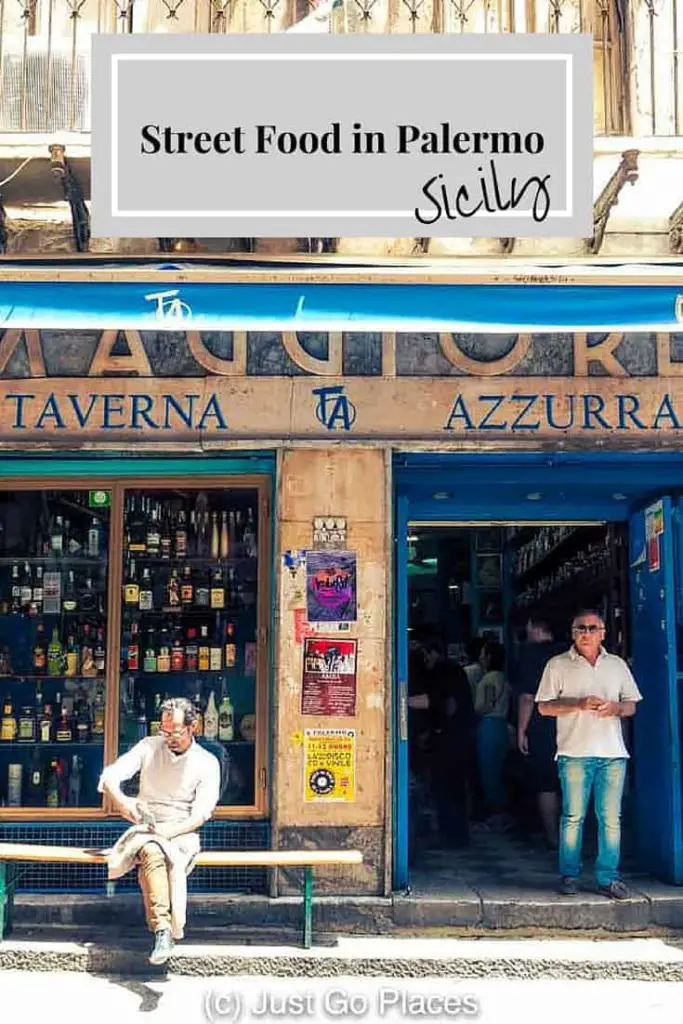 Overall, I'd say the StrEAT Palermo tour was a great experience and we learned loads of cool trivia. As for Marco, he was great with my children.  We were a group of 10 people and we had the only two children on the tour.  Marco made sure they felt included in the group with his jovial personality.
I had read that we would be visiting churches but we didn't.  Neither did we finish the tour near Palermo Cathedral as was stated.  So, in true Sicilian fashion, the details are a little fuzzy but the gist of the tour was as advertised.*
*StrEAT Palermo has pointed out that we were on the shorter summer tour which starts in June.  We thought we were on the longer winter tour because we actually booked the tour in May but the date of the tour flipped into June.
We paid for our StrEAT Palermo tour ourselves.  There are affiliate links contained in this article.  If you click on these links, we will receive a small commission at no cost to you.  
Tips for Experiencing the Street Food Tour in Palermo
Street food in Palermo is definitely for the adventurous foodie! As my daughter showed though, even vegetarians will find plenty to try. The StrEAT Palermo Tour is very easy to find and meets in central Palermo.
Practical Info To Know Before You Go
We stayed at a villa provided by Massimo Villas in the nearby town of Cefalu. Although we liked the hustle and bustle of the Sicilian capital of Palermo to visit on day trips, we preferred staying in the quiet, Mediterranean, stuck-in-the-1950's charm of Cefalu.
We rented our car through Hertz of which we are gold members.  Driving and parking in Palermo is pretty easy.  There are unofficial African parking attendants who will keep an eye on your car for a small tip.  We rented a 7-seater Volvo which was fine in Palermo.  In retrospect, we would not have rented such a big car to navigate the small villages and roads outside of Palermo.  My husband (not me!!) dented the car a couple of times and we wound up paying a fine for damages upon our return of the Volvo.
SPREAD THE WORD! PIN THIS TO YOUR TRAVEL PINTEREST BOARDS FOR FUTURE REFERENCE! 
This site generates income via partnerships with carefully-curated travel and lifestyle brands and/or purchases made through links to them at no extra cost to you. More information may be found on our Disclosure Policy.
Further Reading:
Sicily: A Short History by John Julius Norwich
Sicily: Recipes From An Italian Island by Katie Caldesi & Giancarlo Caldesi
Spring in Sicily: Food From An Ancient Island by Manuela Darling-Gansser
Made in Sicily by Georgio Locatelli