I'm not entirely sure how to describe Swarovski Crystal Worlds which is located near Innsbruck in Austria.  Calling it a museum doesn't acknowledge that there's a lot of contemporary art, great dining, modern architecture, gardens and children's activities.  Frankly, although there are some interesting pieces created historically by Swarovski, there isn't much on the history of the company or the crystal making process.  So, it's not exactly a museum either.
The Swarovski Crystal Worlds centre was built in 1995 to commemorate the 100th anniversary of the founding of the renowned Swarovski crystal company.  In May 2015, the centre reopened after a massive revamp.  One of Austria's most visited attractions, it seems to have a little something for everyone.
Where to start?
The Crystal Cloud
The highlight of the landscaping is the Crystal Cloud installation.  Created by Andre Cao and Xavier Perrot, cloud forms hand-mounted with over 800,000 crystals are reflected in a black pool.  My kids stuck their hands in the pool to find the water is darkened with some sort of purple dye.
The clouds are also set over undulating hills which are fun to climb if you are a kid.  There are chairs set amongst the hills so you can gaze out over the landscaped grounds and neighbouring hills.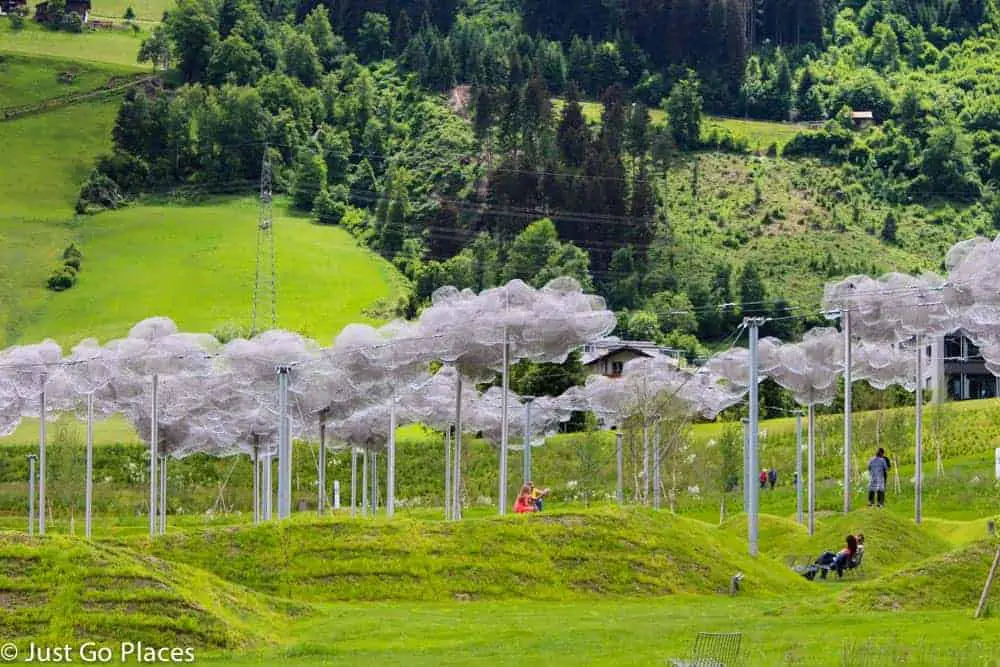 We went on a cloudy day and the crystals were less than sparkly.  I'm thinking we somehow missed how great this installation could be.
Daniels Cafe and Restaurant
Daniels cafe and restaurant is a sinuous modern structure created by Norwegian architects, Snøhetta, which serves modern Austrian food.  There is a children's menu.
The Garden
The garden area has lovely walks with contemporary art sprinkled among the grass and wildflowers.  There are more formal areas such as the little pond and waterfall.
Children's Play Areas
For children, there is a play tower, a playground and a maze.  Created by architects as well, the play tower is built over 4 floors with lots of opportunities to run, play, climb and slide.  It is one of the most innovative play areas I've ever seen (and I've seen a few!).  It's fun for children of all ages because the free form structure allows creative play.
The playground is likewise a free-form structure of steel and wood which allows imaginative play.  The maze by Andre Heller is another really fun place for kids to play hide and seek.
Crystal Worlds
The entry to the crystal worlds is through the Giant's Head with a drooling problem/waterfall. Inside you are lead through a series of modern art installations using Swarovski crystals by leading artists such as Paul Seide and Torde Boontje.  Some of it was cool, some of it was just weird.  The kids were massively entertained though.
As the modern art finished, objects created by Swarovski in the past were on display.  For example, there were tiaras, shoes, clothes etc used by high fashion designers and celebrities.
The Swarovski Store
Of course, there is a giant (and I mean, cavernous!) visitors store as you exit through the back of the Giant's Head..  With all that sparkle, my daughter's eyes gleamed.  We were lucky to escape the store with buying her a relatively inexpensive souvenir.
Visiting Swarovski Crystal Worlds
The Swarovski Crystal Worlds  is located in the town of Wattens. It's open most days from 9 am to 6:30 pm.  Admission is not cheap (adults are Eur 19 per ticket, children from 6-14 is Eur 7.50 per ticket).  There are discounted family admissions.
Our verdict?  Entertaining but some of the artwork is just a little weird.  It made me wonder how Swarovski sees itself as a company that this place is their big visitor's centre.  Focussing very little on the Swarovski process or past, the centre is all about Art and Vision.