I was at dinner in Amsterdam in an Italian restaurant by myself when the restaurant cat came and sat across from me.  Yes, there are cats in Amsterdam everywhere and some of them hang out at the pubs and restaurants. My little visitor was actually pretty funny looking at me as if he decided I needed a dinner companion. I chose a Margarita pizza and I'm sure he was thinking it should at least have had a tuna or anchovy topping. You can pretty much see the look of disdain on his face.
The cat wasn't much of a conversationalist but I've definitely had worse dinner companions! The cat belonged to the restaurant, Casa di David is located at Singel 426, right on a canal.  Case di David has been listed on both Conde Nast Traveller and TripAdvisor as one of the best Italian restaurants in Amsterdam. They are known especially for their freshly-made pasta and wood-fired pizza.
A little thing like having no dinner companions was not getting between that pizza and me! Have you eaten alone at a restaurant before? It invariably becomes part of your travel experience at some point. These tips about dining solo in Spain are applicable in other circumstances.
You might think its unhygienic to have a cat in a restaurant. I don't think its any different from a house cat personally.  An interesting British article points out that Amsterdam has a mouse problem thanks to its location on the water. A cat in a restaurant is actually a sign of a good restaurant because then you know the restaurant doesn't have a mouse problem.
Other Great Eateries in Nine Streets
My family were with me in Amsterdam for a long weekend. Before they left we had lots of fun trying out some local restaurants in the Nine Streets area where we were staying and the nearby Jordaan.
Singel 404, a few doors down from Casa di David, is great for takeaway sandwiches. The cafe part of Singel 404 is tiny and always full. Your best option is to order your sandwich and eat it overlooking the canal in front. The choice of sandwiches is plentiful because they are freshly made on site.
If you go in the other direction on Singel, you will find Sampurna, an Indonesian restaurant located just past the famous flower market. We found it accidentally because we went looking for the flower market which was a bit disappointing. So we decided to drown our sorrows in tasty Indonesian food. This restaurant has been in business for 25 years and is filled more with locals than tourists. We only found out later that it was recommended as among the Top 10 Indonesian restaurants in Amsterdam and on the Eating Europe food tour. Technically I'm not sure Sampurna is within the 9 Streets micro-neighbourhood even though it's on Singel.
I swear we left Singel even though it may sound like we didn't!!  Technically we didn't venture very far because we loved the 9 Streets and adjoining Jordaan neighbourhoods so much that we spent most of the time we had in Amsterdam hanging out in these areas.
Amsterdam and its Cats
The people in Amsterdam love its cats. The kitty that joined me for dinner at Casa di David was its restaurant cat. He wandered around between the tables before he sat down with me.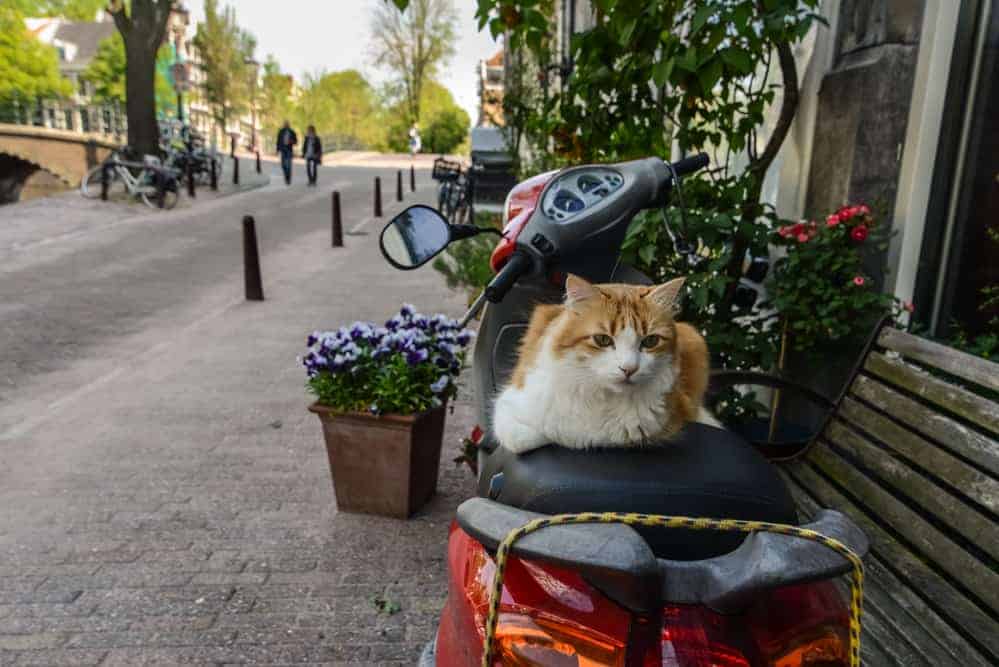 You will find the Catboat (De Poezenboot) also located on a houseboat on Singel. The Amsterdam catboat is a shelter for stray and abandoned cats and is open for visits for limited hours to the public.
Of course, the cat cafe craze which started in Japan has come to this city as well.
The cats in Amsterdam lend an undeniable charm to the city.
SPREAD THE WORD! PIN THIS TO YOUR TRAVEL PINTEREST BOARDS FOR FUTURE REFERENCE! 
This site generates income via partnerships with carefully-curated travel and lifestyle brands and/or purchases made through links to them at no extra cost to you. More information may be found on our Disclosure Policy.
(Updated January 2017)