Would you live with construction workers in your house for 24 hours/7 days a week for 38 years?  It would be enough to drive anyone mad.  Supposedly that is what Sarah Winchester did when she built the Winchester Mystery House in San Jose, California at the turn of the 20th century.  No one knows why she built this strange rambling house with random staircases that lead to dead ends, doors that opened onto a 2 floor drop and pillars placed upside-down. In addition, there was a tragic backstory, a reclusive woman and details that were lost in the mists of time.  After Sarah Winchester's death, it was pretty easy to sell the house as a tourist attraction because the whole thing really was just odd.
When we left San Francisco, on our road trip down the Pacific Coast Highway, we thought we would do a quick detour and see the famed Winchester Mystery House.  Although the house did not disappoint, neither did it provide thrills and chills.
Sarah Winchester, Eccentric Heiress
Sarah Winchester, the architect of the Winchester Mystery House, was a remarkable woman.  Born in New Haven as Sarah Pardee she was noted for her beauty and her intelligence. She spoke 5 languages and was an accomplished musician and classicist. She married William Wirt Winchester who was the son of the man who invented the Winchester rifle.
The Winchester Repeating Arms Company was the most successful gun company in the 19th century.  The Winchester rifle could fire 15 shots in just over 10 seconds. It became known as the 'gun that won the West' and was an American success story.
The couple were happy, young socialites living a charmed life in New England.  Unfortunately, they lost an infant daughter to a rare disease in 1886. When William died in 1881 at the age of 43, Sarah was devastated. She traveled the world for 3 years and then eventually settled in California where she had relatives from the Pardee side of her family.
Upon William's death, Sarah inherited $20 million dollars in cash and shares in the Winchester Repeating Arms Company.  She had about a $1000 a day to spend as she wished.  She choose to spend it on her house.  Even in today's money, Sarah's inheritance would be considered a nice chunk of change but back in the late 19th century, it made her an enormously wealthy woman.
Is the Winchester Mystery House Haunted?
According to the legend, when Sarah was living on the East Coast, she consulted a famous medium who told her that she was a victim of the blood money of her inheritance.  All those Native Americans, civil war soldiers, outlaws, sheriffs etc who had been killed using the Winchester rifles did not go gently into that good night.  No, they were out to get her.
The only way for her to to appease the spirits that haunted her was to undertake living in a never-ending construction site. Clearly these ghosts were pretty spiteful.  Having lived through a house undergoing refurbishment, it is not a fate I would wish on anyone.
I wondered why Sarah Winchester would not have just given away her inheritance to charity. Without the money, the spirits had no reason to haunt her.  She neither got rid of her shares in the evil Winchester money nor the money that came from it.  The Pardee side of the family were wealthy in their own right so it wasn't like she was going to be poor if she got rid of the Winchester money.
In any event, Sarah Winchester died in 1922 at the ripe old age of 82.  Clearly she had done a good job of outrunning malevolent spirits.  She left all the furniture in the house to her niece who put it up for auction.  Without a 160 room mansion, the furniture contained within those 160 rooms would be a little hard to store!
In 1923, the house itself was sold at auction and eventually wound up in the hands of a John Brown who saw the possibilities in opening it up as a tourist attraction.  John Brown had a history of working in carnivals and he knew how to sell a good story.
The Mystery House designation was given to the house in a newspaper article after a visit by famed illusionist, Harry Houdini.
If you want to read an alternative theory about Sarah Winchester, the book Captive of the Labyrinth by historian Mary Ignoffo puts forth the theory that Sarah  just wanted to be a visionary architect.  She was fascinated with the English Renaissance philosopher, Francis Bacon, Freemasonic concepts of encryption and mathematics. She wanted to build a house that was a puzzle similar to Rosslyn Chapel which figured so heavily in Freemason thought (according to Dan Brown's The Da Vinci Code).  Unfortunately, Sarah was born a woman in a time when women weren't allowed to be architects and so everyone just thought she was a little crazy.
So, there you have it… a choice between a haunted house or a Masonic conspiracy.
The Winchester Mystery House Tour
Unfortunately no photographs were allowed of the inside of the house.  Here are some random facts about the Winchester Mystery House that are interesting.
When Mrs. Winchester bought the house it was an 8 room farmhouse set on 161 acres.  There have been so many addition and changes to the farmhouse that its now hard to know where the original house rooms would have stood.
The house has 10,000 window panes, 467 doorways, 160 rooms, 52 skylights, 47 fireplaces, 40 bedrooms, 40 staircases, 17 chimneys, 6 kitchens, 3 elevators, 13 bathrooms, 2 mirrors and 1 shower.
By 1906, the mansion was spread out over 7 floors. After the earthquake collapsed the top 3 floors, Mrs. Winchester kept it as a 4 floor house.
Mrs. Winchester slept in a different bedroom every night supposedly so the spirits couldn't find her.  Well, unfortunately, after the 1906 San Francisco earthquake, the servants couldn't find her either.
Mrs. Winchester was a generous woman to her staff.  Many stayed with her for years.  She employed 18 house servants, 13 carpenters 8-10 gardeners and 2 chauffeurs.
A Winchester Mystery House Photo Gallery
The house is a mishmash of architectural styles but mostly Victorian.  Having been constructed over 38 years, architectural styles and fashion would have changed.
Visiting the Winchester Mystery House
There are regular tours that take you through the Winchester Mystery House.  Our tour group had about 20 people of which 5 were children.  There is nothing particularly scary in the house.  The kids thought it was more wacky and fun than scary.  Like a giant fun house at a fun fair but without the plastic ghosts jumping out at you. So, I guess in that respect the Browns were right on the money.
You have a choice of a tour of the house (1 hour) or the house and gardens (2 hours).  We choose the tour of the house which seemed just the right amount of time for our family.  You don't visit all of the house but more parts of the house are now included in the tour than ever before.
The gardens are pretty enough to wander around on your own.  There is a cafe on site and a giant gift shop.  For Halloween, they have candlelight tours of the house.
The Winchester Mystery House is listed on the National Registry of Historic Places.  It is a privately owned enterprise which is still be owned by descendants of the Browns.
This post is linked up with City Tripping.
SPREAD THE WORD! PIN THIS TO YOUR TRAVEL PINTEREST BOARDS FOR FUTURE REFERENCE! 
We did not receive compensation of any form, monetary or otherwise, from any of the products, services, hotels  etc mentioned in this article.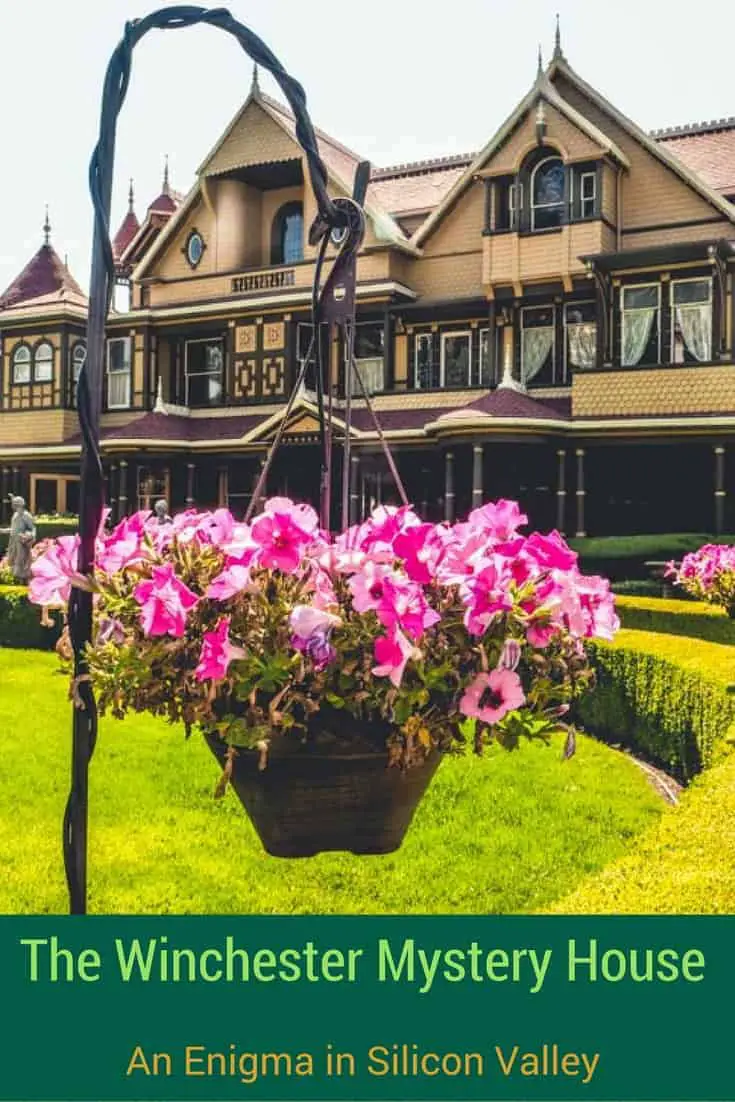 The Winchester Mystery House in San Jose is a major tourist attraction in the areaThis site generates income via partnerships with carefully-curated travel and lifestyle brands and/or purchases made through links to them at no extra cost to you. More information may be found on our Disclosure Policy.