We shouldn't have been surprised by the wind at Kitty Hawk. After all, the weather conditions is why the Wright Brothers first flight at Kitty Hawk worked so well.
The wind took our breath away. My daughter's shoulder-length hair whipped around her head and soon looked like a bird's nest. Elsewhere on the Outer Banks, a strip of barrier islands of the coast of North Carolina, it was a warm sunny beach day.  On Kitty Hawk though it was a wind tunnel.
A Child-Friendly National Park
A visit to the Wright Brothers National Memorial, run by the U.S. National Park Service was really inspirational.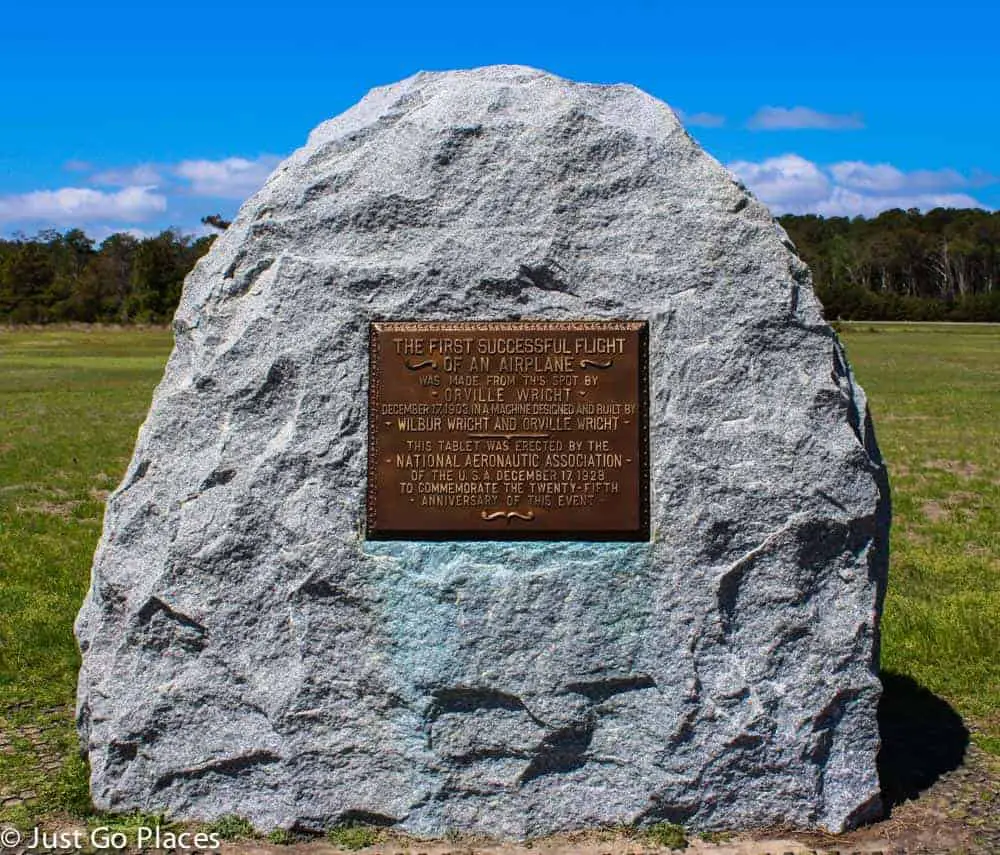 A park ranger gave a funny yet informative lecture about the Wright Brothers at the visitor centre.  In addition, my children took part in the Junior Ranger program where they got to fill out questionnaires geared for their age group.  Successful completion of the questionnaire meant they got a badge.  My kids will jump through hoops of fire if it means they get a sticker or a badge.
The park is a wide open field which is great for children to run around.  There is a marker for where the first flight took off from and where it landed.  Lots of kids (including mine) were running between the markers to see how close they could get to the time of the Wright Brothers' first flight.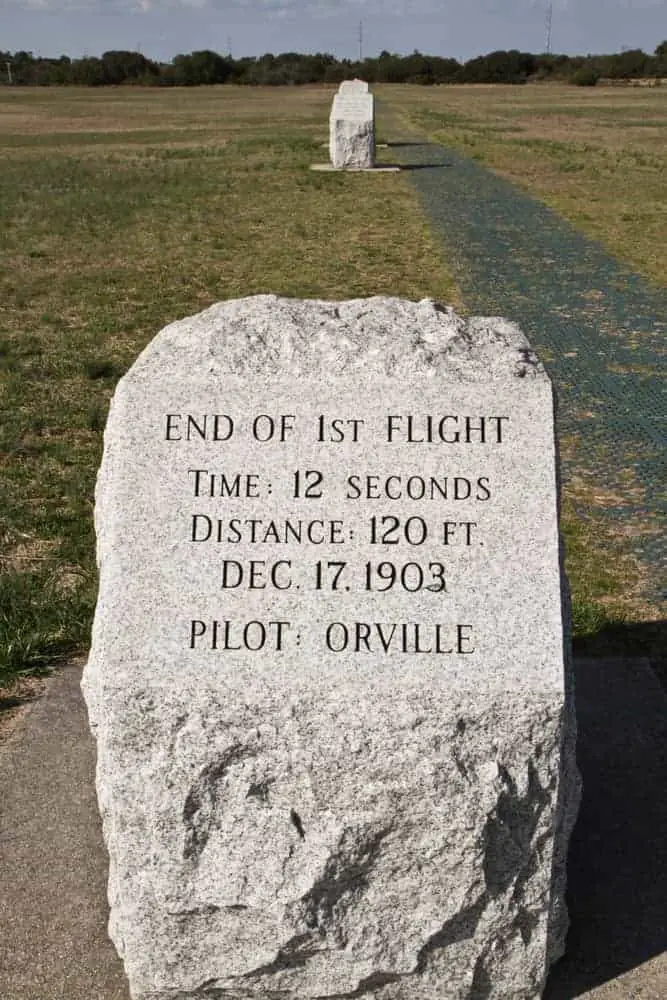 The park also has bunkers where the Wright Brothers camped while they were trying out their experiments.  The camps were very basic but inspirational.  It took years of trial and error before they were able to have a successful flight in 1903.  For my kids who grow up in a world where instant gratification is possible, the whole working at something until you get it right is a good lesson to reinforce.
The monument to the Wright Brothers is on top of a steep hill.  My kids ran up undeterred by the wind.  We followed more slowly behind comforted by the fact that at least they were burning off some energy.
The Wright Brothers First Flight
The Wright Brothers flew the first successful airplane on December 17, 1903.  I can't even imagine how cold and windy December at Kitty Hawk must be.  On that day in December in 1903, the wind was clocked in at 25 miles per hour.
Orville and Wilbur Wright were self-taught engineers.  Although both brothers were smart, they did not even graduate with a high school diploma.  In real life, they owned a successful bicycle shop in Dayton, Ohio which helped to fund their obsession with flying.
They found Kitty Hawk by researching weather patterns from the United States Weather Bureau. Not only was the area windy but the soft sand would help with the landing/crashing issue.
The Wright Brothers started coming to Kitty Hawk in 1900 with their first prototype, a glider.  When they needed an engine for their invention, they had to make their own because no manufacturer would build it to their specifications.  Now that's grit!
Each successive year, the Wright brothers would come set up camp at Kitty Hawk and get a little closer to their dream until Orville and his airplane finally flew a fateful 12 seconds over 120 feet in 1903.  Later that day his Wilbur was able to go 59 seconds and 852 feet.
After their first successful flight, the Wright Brothers walked to the nearby telegram office and wrote to their father who was a bishop for the United Brethren in Christ.  Can we have an 'aww' please?
Or maybe, their first telegram to their father was a plea for parental approval.  After all their religious father had once said that flight was reserved for the angels.
"It is impossible for men in the future to fly like birds. Flying is reserved for the angels. Do not mention that again lest you be guilty of blasphemy."

Milton Wright
For either reason, wanting to tell your father about your big accomplishment is completely understandable.  Milton Wright must've come around to changing his opinion though at some point because he took an airplane flight finally in 1910 at the age of 82.
Visiting the Wright Brothers National Memorial
The Memorial is pretty stark in its simplicity.  It consists of several monuments, a recreation of the camp where the  brothers bunked and a visitor's centre.  The brothers' lived simply and were fairly singleminded while they were undertaking their experiments so there really wasn't much to show on the site.
The Wright Brothers National Memorial Park is located in the town of Kill Devil Hills on the Outer Banks of North Carolina.  The park is open all year round, 7 days a week, except for Christmas Day.  Children under the age of 16 are free and everyone else pays $4 to enter the park.  The park is very popular and gets approximately half a million visitors a year. There are plenty of family-friendly accommodation options in the Outer Banks.
***
SPREAD THE WORD! PIN THIS TO YOUR TRAVEL PINTEREST BOARDS FOR FUTURE REFERENCE!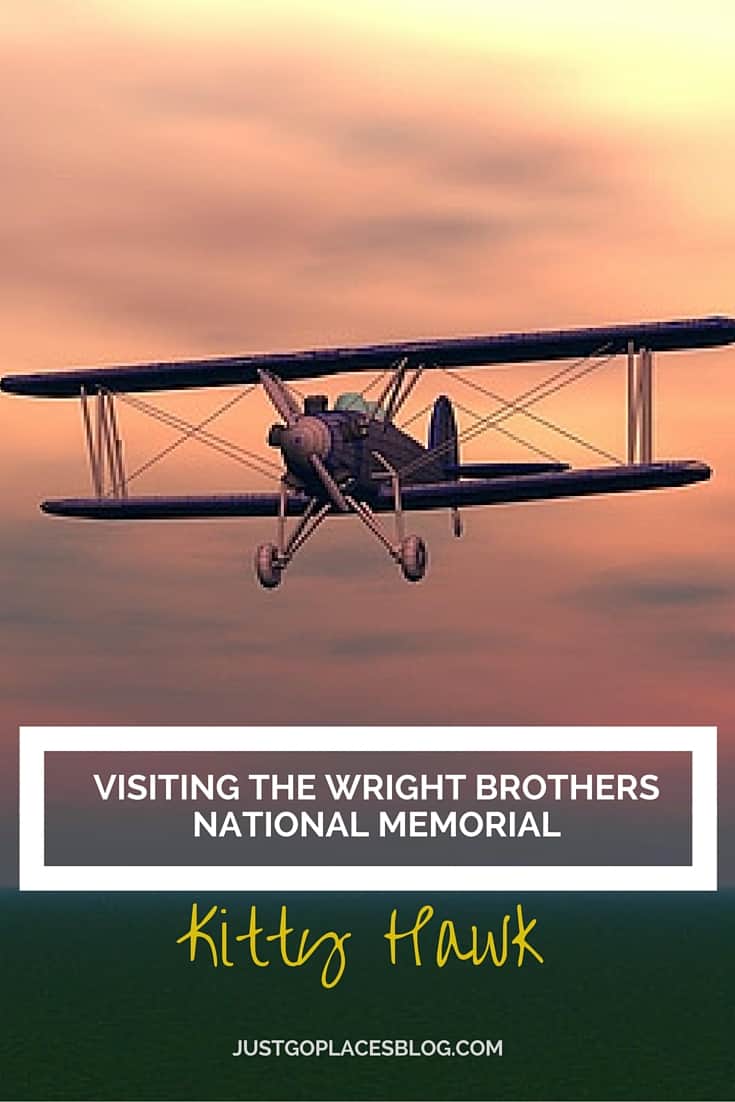 We did not receive compensation of any form, monetary or otherwise, from any of the products, services, hotels  etc mentioned in this article.
This site generates income via partnerships with carefully-curated travel and lifestyle brands and/or purchases made through links to them at no extra cost to you. More information may be found on our Disclosure Policy.