The red and orange Tokyo Tower stands like a beacon in the city skyline.  In a cityscape of very tall skyscrapers, the colours and shape make it instantly recognisable.  Similar to its French counterpart, the Eiffel Tower, Tokyo Tower is a beloved symbol of the city. Here are some cool facts about Tokyo Tower.
10 Facts About Tokyo Tower
Here are ten cool facts about Tokyo Tower.
Tokyo Tower is the second tallest building in Japan (after the Tokyo Skytree).
It's painted white and orange to comply with international air safety regulations.
It's a major tourist attraction with approximately 3 million visitors annually.
More than 150 million visitors have visited Tokyo Tower since it opened in 1958.
Tokyo Tower gets repainted every 5 years with about 7500 gallons of paint.
The two main purposes of the tower is broadcasting and tourism.
Tokyo Tower changes colours for special events like Christmas.
On a clear day, you can see as far as Mt. Fuji in the distance.
Tokyo Tower is actually the 13 meters taller than the Eiffel Tower.
Although Tokyo Tower is taller than the Eiffel Tower, the advances in steel technology make it almost 1/2 its weight.
Among the random Tokyo Tower facts is that The Tokyo Tower is super-popular with Japanese couples for date night. It's deliberately taller than the Eiffel Tower it was modelled on (after all what would be the point otherwise?). As for the dating element, Eiffel Tower is associated with Paris, France and hence the connection to romance.
Tokyo Tower is also exciting for children to visit. There is a glass floor that you can lie on top of (or peer down from). I found it dizzying but the kids liked it. When we went at Halloween, there was a whole dress-up area and scenes they could pose in front of.
A Photo Gallery of Tokyo Tower
Visiting Tokyo Tower
Tokyo Tower has two different observation decks (one at 150 meters and another at 250 meters).  You can even climb the 600 stairs to the first observatory if you feel the elevator is for wimps! No, that wasn't us – in case from your wondering.
The views from the top are astounding because you can see how far Tokyo stretches and its building density. You also appreciate the little pockets of green as well as the traditional architecture tucked in between the modern buildings.
For example, from one side of Tokyo Tower if you look straight down you will see the centuries old temple, Zoji-ji, the most important building of the Japanese Pure Land Buddhist sect. In fact, the main building of Zoji-ji is the oldest wooden building in Tokyo from 1622. I love this aspect of Tokyo – a replica Eiffel Tower from 1958 cheek by jowl with a historic temple.
Obviously, this Japanese tourist attraction has a ginormous shop and lots of Tokyo Tower branded goods. It's a Japanese tradition to bring back omiyage (souvenirs for friends and family) when you visit somewhere.
It may be a tourist trap but Tokyo Tower is definitely worth visiting.  It's open year-round from 9 AM to 11 PM.  There are reduced rates for students and children under the age of 4 are free.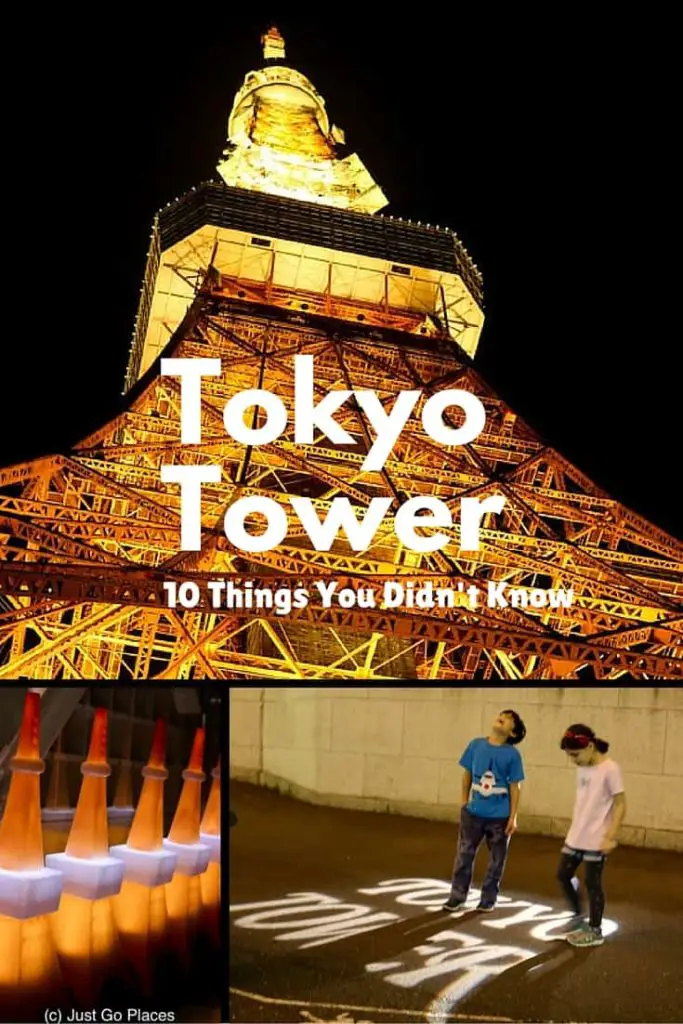 ***
SPREAD THE WORD! PIN THIS TO YOUR TRAVEL PINTEREST BOARDS FOR FUTURE REFERENCE! 
We did not receive compensation of any form, monetary or otherwise, from any of the products, services, hotels  etc mentioned in this article.
This site generates income via partnerships with carefully-curated travel and lifestyle brands and/or purchases made through links to them at no extra cost to you. More information may be found on our Disclosure Policy.