If you thought Bruges was all chocolates and beer or a movie with Colin Farrell on the lam, think again. One of the most interesting places to visit in Bruges is the  Basilica of the Holy Blood.  The basilica, built in the 12th century, was originally the chapel to a home of the Count of Flanders.
Today it is famous for supposedly holding a vial of the blood from Jesus collected by Joseph of Arimathea when he was cleaning up Jesus' body prior to its burial.  This vial was brought back from the Holy Land by the Count of Flanders after a Crusade.  The vial has been pretty famous through the ages and is still available to view by visitors.  In the Middle Ages, one of the Popes granted indulgences to pilgrims who would visit it.   Nowadays, you just get a peek into medieval beliefs.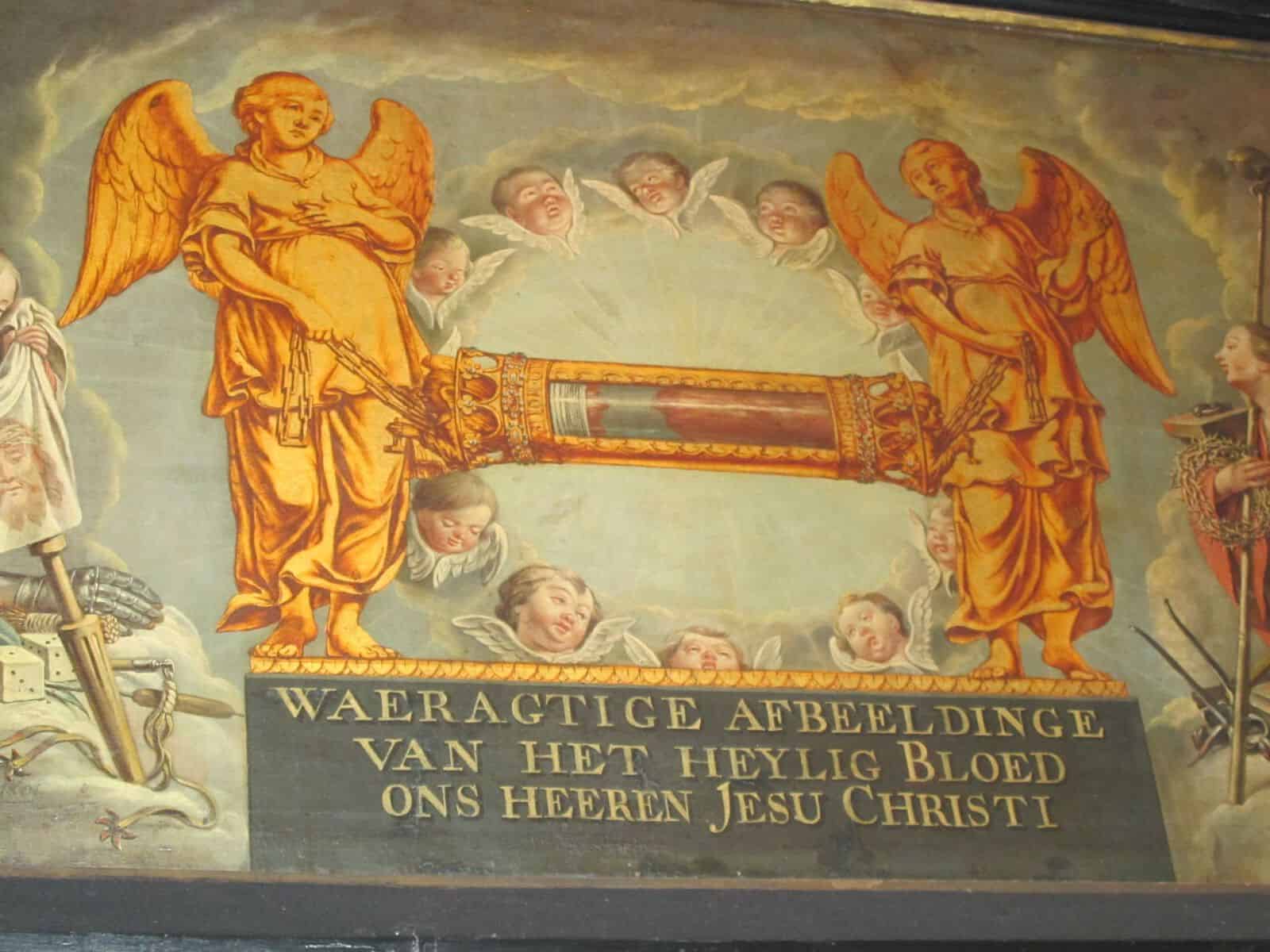 Although very red in colour, it is definitely more believable that the blood is at least dried.  By the way, no one has opened the vial since it was brought to Bruges to check out the blood.  Historians believe the intricately carved vial itself is definitely Byzantine.
The Basilica has two chapels.  The lower chapel is in the Romanesque style and the upper chapel (where the vial is located) is Gothic.  Intricately carved and gilded to an inch of its life, the Basilica is pretty amazing to view.
The Bishop of Bruges parades the vial through the streets of Bruges every Ascension Day along with scenes of the death and and resurrection of Jesus. This procession has been happening since 1291 and is an integral part of the history of Bruges.  Ascension Day is usually in May but dependent on when Easter falls.  In 2015, the procession is scheduled for May the 14th.
The Basilica is still an active church and so getting to see the inside is restricted for tourists.  The weekend we visited, we were lucky to join a Mass at the tail end so that we were able to see the inside of the chapel and the veneration of the holy blood on a Sunday.  My children were pretty good sports about going to Mass on a holiday especially as the entire service was in Belgian.  It was definitely worth seeing though.
Details:  The Basilica of the Holy Blood is located off the main square in the Burg.  The hours the Basilica open are limited and variable.  There is  no entrance fee.