Do you believe in elves and magical people?  My daughter definitely still does. So, when we heard about the Elf Garden in Hafnarfjordur in Iceland, of course, we had to visit.
Searching for Elves in Hafnarfjordur
Hafnarfjordur is believed to be one of the areas with the most magical people in Iceland. It is a short 15 minute drive from Reyjkavik.  Frankly, it is hard to know where Reyjkavik finishes and Hafnarfjordur starts.  The town has an organised hidden worlds tour which we missed, unfortunately, because it is available only twice a week.
The Elf Garden is set in a lava landscape in Hellisgerdi Park, a small park set amongst residential homes in Hafnarfjordur.  It is a short drive from the visitor's centre in Hafnarfjordur, and the other main attraction in town, Viking Village.  The park, itself, is not very big but so well landscaped that it feels bigger.
The Elf Garden has a centre for Icelandic Elves and Huldufolk (Hidden People) which was not open when we visited. We couldn't find signs for when the opening hours are either.  Apparently, its got great Elf Tea.  I really wanted to try Elf Tea! Very disappointing.
We also didn't see any Hidden People or elves during our walk around the park, much to the children's frustration.  We asked them whether they wanted to go to The Elfschool in Reyjkavik itself but anything with the word school in its title got an immediate negative reaction.
Despite our disappointment over missing any sightings of magical people and missing out on the Elf Walk/center, we had a beautiful walk in a place that felt magical.  The children had a blast climbing up and down hills and peering into crevices searching for elves.  Even the Elf Cathedral was empty but, to be fair, it wasn't a Sunday.
A Photo Tour of an Elf Garden In Iceland
The Strength of Beliefs
Over 80% of Icelanders surveyed by the University of Iceland survey in 2007 refused to deny that elves and magical people exist.  On the other hand, most of these people were not willing to say they definitely existed.  They were hedging their bets just in case.
Why do Icelandic people believe even in the possibility elves and hidden people still?  Traditionally, life in Iceland was brutal and full of hardship.  The Hidden People had a much better life which helped fill an active fantasy life.  People were also very isolated in their rural environments and maybe the feeling that they weren't alone with that active volcano in their back yard gave them comfort.  After all, the Icelandic winters are long, dark and cold.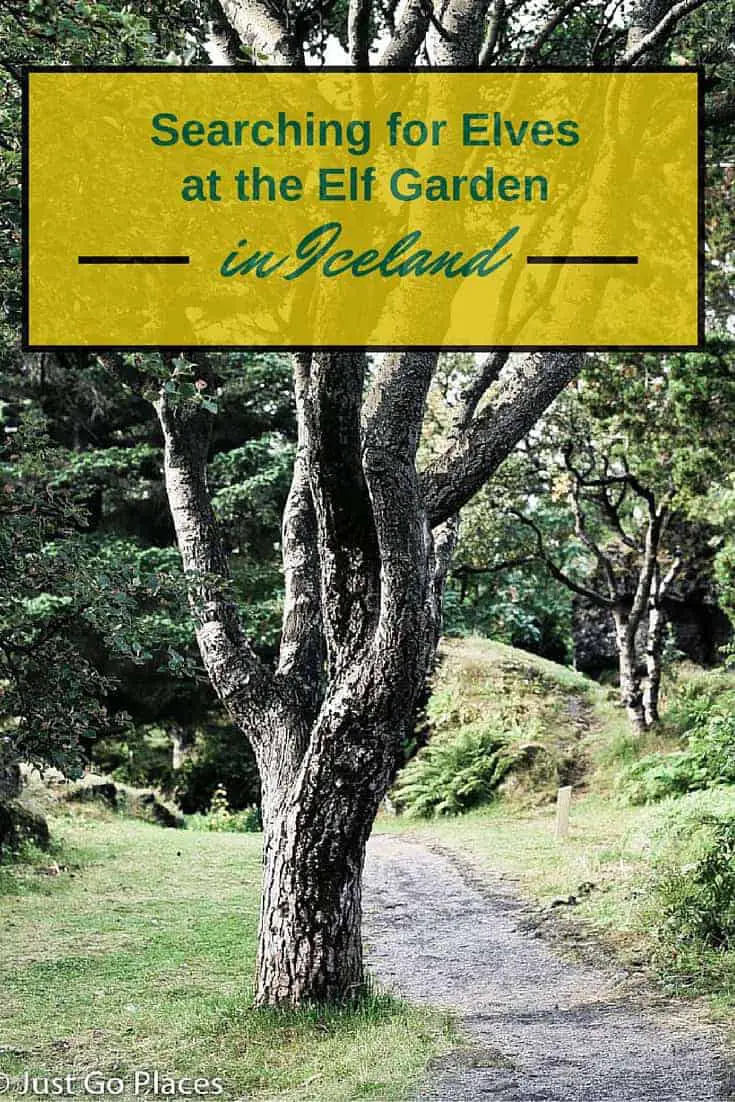 Today, the Hidden People embody a nostalgia for the old ways (which frankly was terrible in reality for most people).  After all, the magical creatures were mainly farmers and fisherman just like many Icelanders in the old days.  Nothing like a rural fantasy of the good old days, right?
The belief in elves and hidden people has an effect on real life as well.  For example, sometimes roads in Iceland are rerouted so that they can avoid certain specific areas.  Lots of people also have a little wooden elf house in their garden in case any magical people stop by.  So, if you don't have time to visit THE Elf Garden in Iceland, just check for local elves in some back gardens.
***
This post is linked up with Travel Tuesday at the Bonnie Rose Blog and BumbleBee Mom, Wednesday Wanderlust, Wednesday Around the World, Photo Friday and Weekend Travel Inspiration.
***