On a sunny day, we considered getting an outside table at Demel, the famous cake and chocolate shop in Vienna, a stroke of immense luck.  Viennese tend to hang out at Demel sipping their coffee and reading the paper with no real inclination to leave. It's old school cafe life with no pressure on the cafe to churn through customers to increase profits. In the shadow of the Hofburg Palace, we had picked the cafe because of its fame and its location which is  perfect for a rejuvenating break after sightseeing.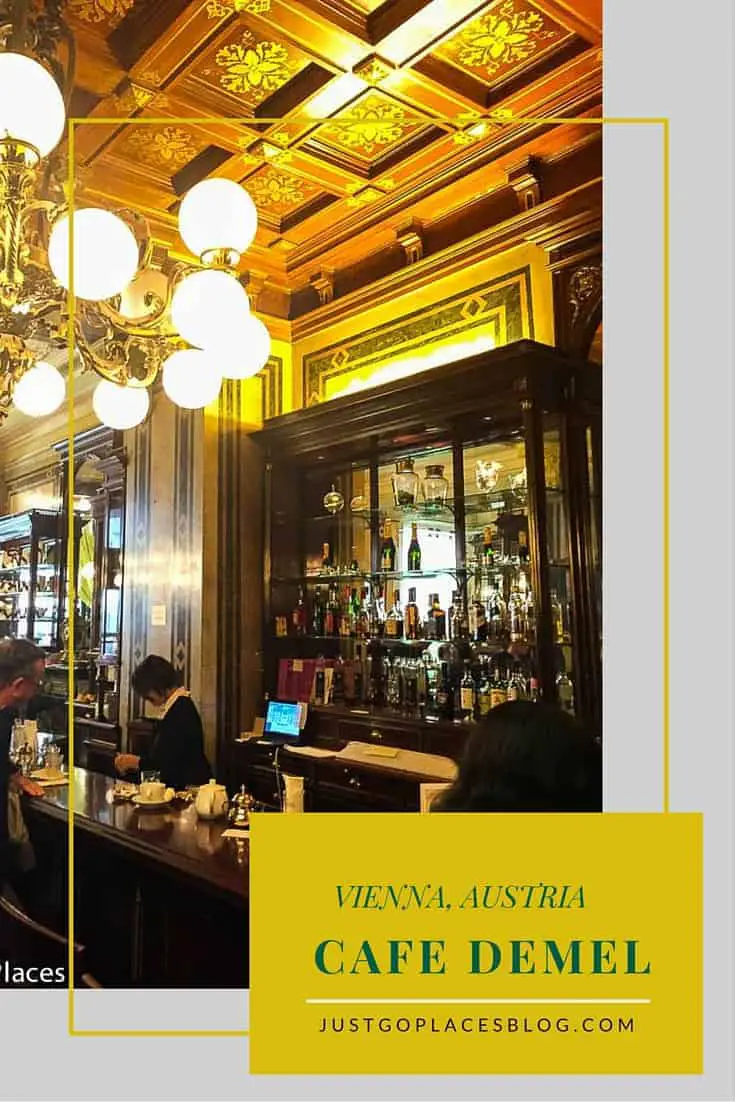 The History of Demel Cafe
Located on an upscale side street near the Hofburg Palace, Demel is perfect for people watching as both locals and tourists throng to the area.  The street is Vienna's equivalent of New York city's Fifth Avenue but with a lot less traffic.  Kohlmarkt and its surrounding areas are chock full of upscale international luxury shops.  Traditionally it has been the location of big name jewellery stores such as Cartier and Chopard for when you needed to nip out of the palace to buy your wife (or mistress) a pretty bauble to keep her happy.
Demel was set up in 1786 by a confectionary assistant from Wurttemburg who came to the big time in Vienna with a krone and dream.  They hold the title of court suppliers of cakes for the imperial and royal family. During the cafe's long history, it got into a legal tussle with the Hotel Sacher on who could name their cake the original Sacher torte.  Located practically on the doorstep of the Hofburg Palace, the cafe was very popular with the Austro-Hungarian Empire's aristocracy, including Empress Sisi, Austria's 19th century answer to Diana, Princess of Wales.  Demel did a regular delivery of confectionaries to Empress Sisi at the court.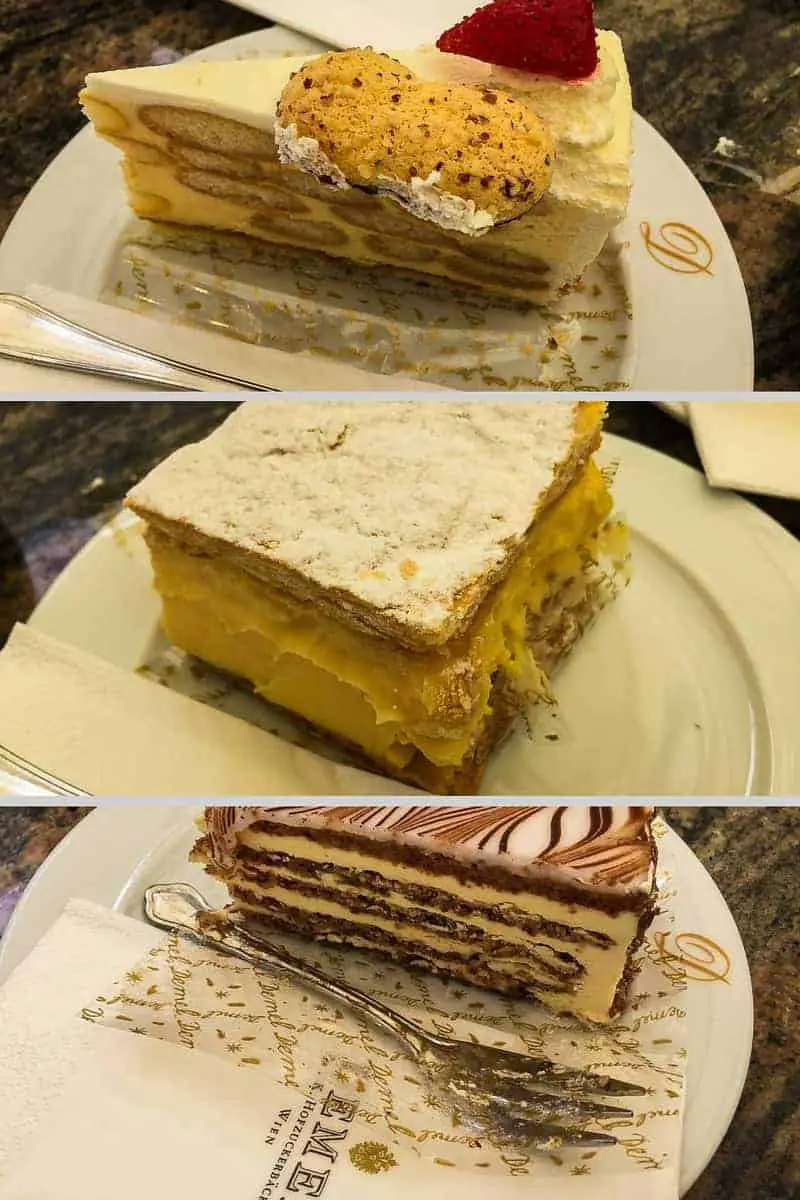 Demel Cafe, A Step Back in Time
The Demel building itself is a neo-baroque concoction that is in keeping with its fluffy, girly cakes.  It was designed by the pre-eminent architects of the time.  It's worth a look to see the inside of the building even if you don't stop for cake (I can't really comprehend that possibility).
There is a charming bar on the ground floor if you wanted a quick coffee and cake.  Coffee in Austria is always served with a water chaser – don't ask me why.  There are tables in the back as well as a first floor dining room.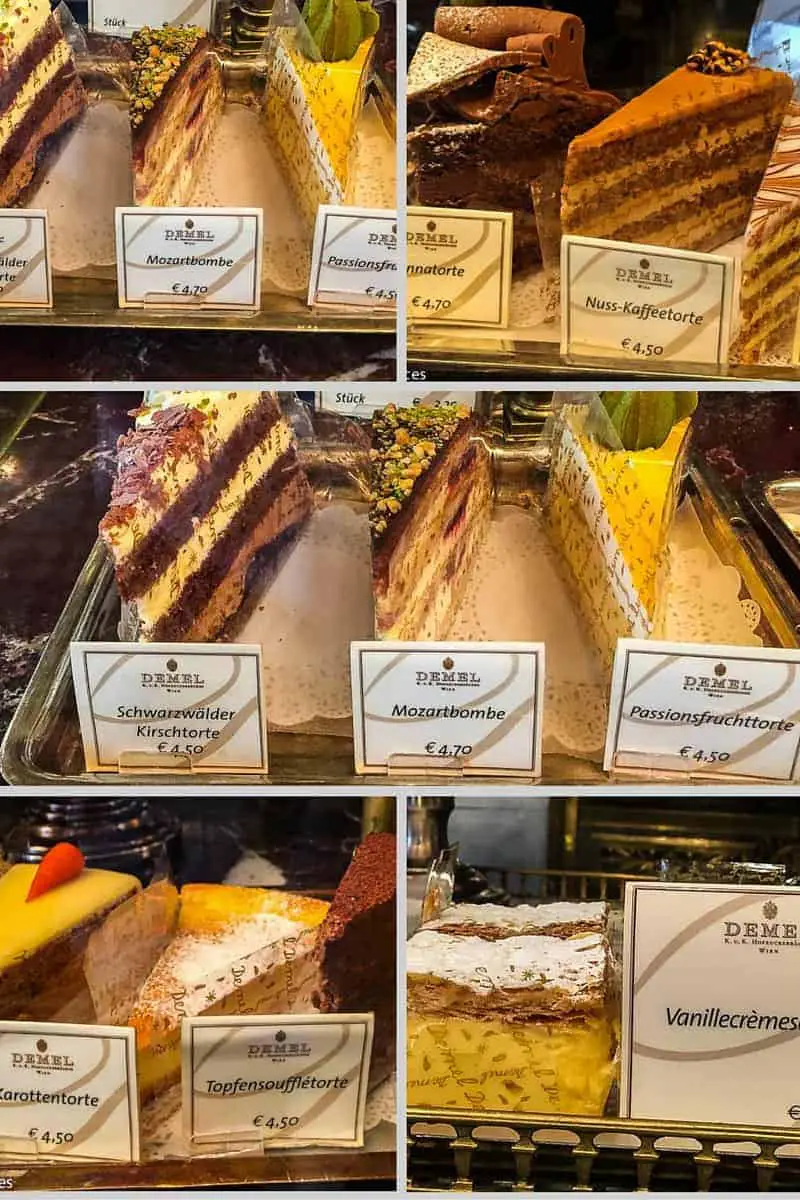 Service was excellent. The waitresses, known as Demelinerinnen, still wear starched black dresses trimmed in white, uniforms which were designed a couple of hundred years ago.  I don't speak German but apparently they have a specific way of addressing customers in the third person which shows respect and deference.  Apparently, this approach was used when titles fell from disfavour but you still wanted to kow tow to the upper classes.
In addition, you can watch the Demel bakers hard at work.  My kids found this fascinating.  They were prepared to volunteer to lick the bowls of cake mix like they do at home.
In addition, there is a Demel museum showing items from its history as well as a beautiful gift shop. The museum is only open for a couple of hours on a Friday morning.
The Pastries at Demel Cafe
There are so many delicious-looking cakes, we couldn't choose between them.  You go inside the cafe, pick out the ones you want and then order at your table.  You know how much my family and I love our cakes and confectionary.  We have sampled our way through many a patisserie, including Danish pastries in California, donuts in Minnesota, tea cakes in England and eclairs in Paris.
So we were four people, and we wound up choosing 6 cakes.  Because that's how we roll.  And we ate them all.  Every last delicious crumb.
Visiting the Demel Cafe in Vienna
The Demel Konditorei is located on Kohlmarkt 14.  Although the Hofburg is huge, you will find Kohlmarkt is the street that runs in front of the giant domed and arched entrance to the Spanish Riding School exhibition grounds.  The cafe is open daily from 9-7.  It also serves light meals in addition to coffee and cake.
***
SPREAD THE WORD! PIN THIS TO YOUR TRAVEL PINTEREST BOARDS FOR FUTURE REFERENCE! 
We did not receive compensation of any form, monetary or otherwise, from any of the products, services, hotels  etc mentioned in this article.
This site generates income via partnerships with carefully-curated travel and lifestyle brands and/or purchases made through links to them at no extra cost to you. More information may be found on our Disclosure Policy.