Everyone remembers the tragic details of 9/11 and the fall of the World Trade Center buildings.  There were other buildings associated with that disaster which were severely damaged  at the time.  They just didn't have the spectacular televised downfall of the North and South Towers.  Brookfield Place in Manhattan has emerged from the ashes of one such complex of buildings, the World Financial Center.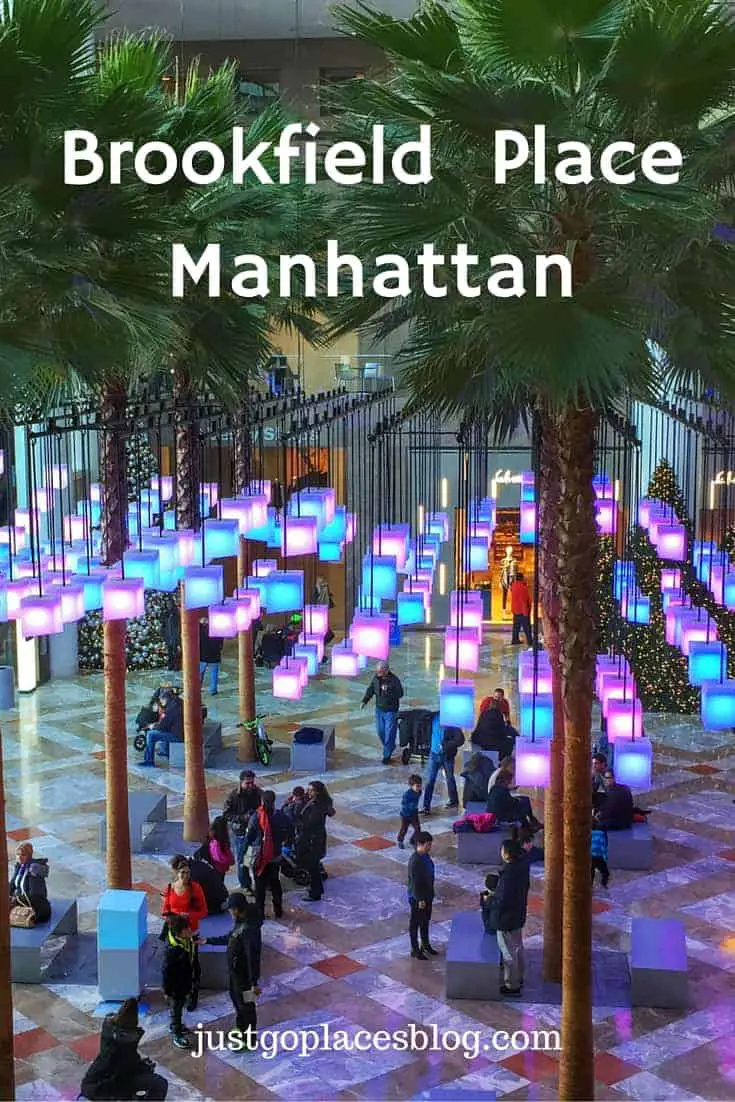 After visiting the One World Observatory (aka Freedom Tower), we went across the street to check out Brookfield Place.  It's very slick looking – definitely slicker than the rather dated 80's-looking World Financial Center.  The original complex was built on landfill from the construction of the World Trade Center buildings.
After the 9/11 attacks, the World Financial Center was severely damaged. The winter garden atrium in the middle has been restored. The whole expanse itself has been enlarged to be both office and retail space. It's part of a whole renovation of lower Manhattan to drive tourism to that part of the city.
Ice-Skating at Brookfield Place
Both the Wollman Ice Rink and the Rockefeller Ice Rink are well known fixtures in the Manhattan winter scene.  Both of these ice rinks, though, can get really busy.  Brookfield Place has an ice rink also which is a lot less busy.
Ice skates are available for rental and sessions run for 2 hours at a time. The rink overlooks New York harbour.  We had a grand time skating in the sunshine. Unlike busier ice rinks, we didn't have to worry about beginner skaters crashing into us.  Instead, we got to be the ones that the other skaters avoided!
Foodies at Brookfield Place
Brookfield Place is also quite the foodie destination. The downstairs has a food hall, Le District, based on the idea of a French shopping area.  The food hall is very similar to what you'd find at Harrods in London or Galleries Lafayettes in Paris.  I would love to have this food hall be my local grocery!
Upstairs in the atrium, you get a floor of small restaurants including a taqueria and a sushi bar.  There's also Hudson Eats, a luxury version of a food court separate places that sell stuff like  cupcakes, sandwiches and pizza. The floor-to-ceiling windows have great views over the New York harbour.
Having to decide what to eat was quite tough.  In the end, we opted for crepes which fit the bill for something both sweet but filling.
Shopping at Brookfield Place
You also have a series of upscale stores, both European and American (e.g., Tory Burch, Bottega Veneta, Michael Kors and Burberry).  Not all the stores had opened when we visited in December.  We did do some serious damage at J.Crew though.
Overall, I was really impressed with Brookfield Place.  The design is light and airy – very open and grand but still intimate in feel.  The food choices are wonderful.  Especially when you are travelling with children, having a choice of eateries can make the difference between a pleasant lunch and one where somebody is sulking (not very) quietly.
Events at Brookfield Place
Brookfield Place also does assorted events for the community.  For example, I know there was a Santa where you could bring your kids.  Hudson Eats also hosts saturday morning shows for children and their parents.  Over the holidays, the Winter Garden was also the setting for the art installation, Luminaries by the Rockwell Group.
Interestingly, I ran into an old friend, his wife and two kids that I had not seen in nearly 20 years.  He lives nearby in one of the many apartments in Lower Manhattan.  They had come to Le District to pick up coffee for the adults and snacks for the kids.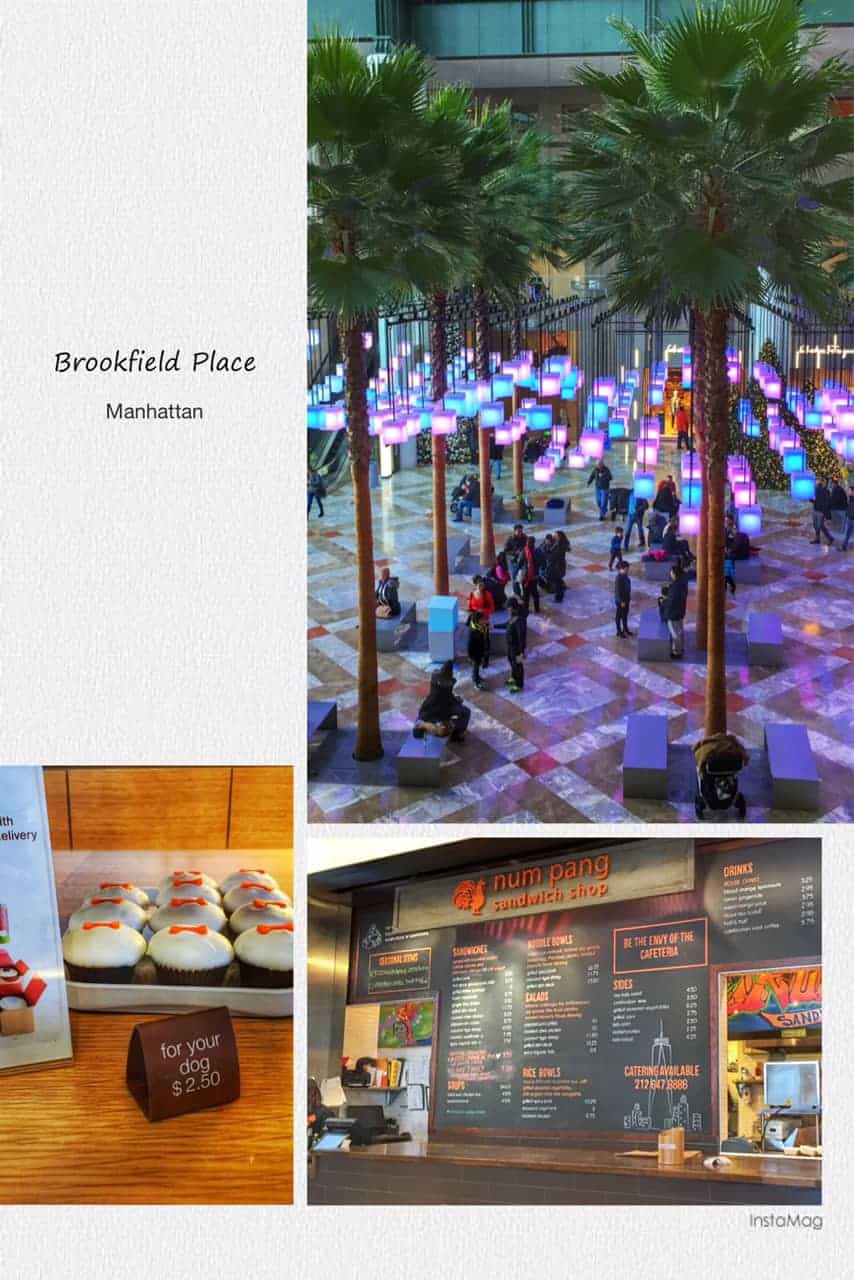 In the old days, I did not know anyone with children who lived in the financial district that was downtown Manhattan.  People worked or socialised in lower Manhattan, but the family homes were definitely further uptown.  I give two thumbs up to Brookfield Place and the renovation that's happening in Battery Park.  I think making a place family-friendly makes a place more vibrant (and not just because I have kids myself!).
Visiting Brookfield Place
Brookfield Place in Manhattan is located at 230 Vesey Street in Battery Park City.  The entrance is pretty much opposite the entrance to One World Observatory. It has dedicated parking but also easy access via the local subway lines.
SPREAD THE WORD! PIN THIS TO YOUR TRAVEL PINTEREST BOARDS FOR FUTURE REFERENCE! 
We received our ice-skating tickets complimentary from Brookfield Place. My words and opinion, however, remain my own and were in no way influenced by this fact.
This site generates income via partnerships with carefully-curated travel and lifestyle brands and/or purchases made through links to them at no extra cost to you. More information may be found on our Disclosure Policy.