My kids love the Cape Cod Inflatable Park in Yarmouth with an intensity that defies logic.  Or maybe I'm just an old grump. Every year, they beg to go to the Cape Cod Inflatable Park during our summer vacation in Martha's Vineyard.  According to them, with its new upgraded inflatables, the park is even more fun than ever.
The Cape Cod Inflatable Park delivers exactly what it says on the tin. It's a whole lot of inflatable bouncy things like you'd find at a kiddie party but bigger, better and just generally… more insane. With so many inflatables, I find that the park does not get that full.  There isn't a long line for rides – if you have to wait to get on a particular inflatable, you just find another inflatable which provides similar hijinks.
Post-revamp of the park, my kids could barely contain their excitement because their old favourite inflatables were still there plus lots of new exciting ones. For example, there was the  inflatable where you put yourself in a Velcro suit and try to throw yourself so that you stick onto a giant dart board.

We had the mechanical bull operator throw my Spanish au pair for a really wild ride. It seemed only fair since the Spanish are still into bull fighting. We felt justice ought to be served in some small cosmic way. 
Then you had the crazy jousting on top of the inflatable which reminded me of those crazy Japanese television contest shows.  It was really entertaining to watch – similar to Total Wipeout featuring your own family.

We had a football game which descended into chaos and occasional flagrant handballs.

Although we'be been to the park midweek before, this year we went on a Saturday in July.  To my surprise, the park was very busy with both kids and adults.
There is a separate toddlers area as well as a water park inflatable area which is included in the general price of admission.  In addition there is a challenge area of trapezes, tightropes, zip lines etc. which is meant for teenagers and adults. It's probably really good if you are preparing for a show like American Ninja. The challenge area is an additional fee, and mercifully, my children were too short/young for it.

The Cape Cod Inflatable Park isn't cheap.  A summer day admission runs $29 (less for little ones). The Stay and Play Rate with the attached Cape Cod Family Resort is not bad value in this context.  For each room you get 4 park passes, breakfast and a double-bedded room. The rooms are recently revamped too with comfortable beds, air conditioning and WiFi.  We had no problem getting connecting rooms.  The breakfast is nothing special (cereal and plastic-wrapped muffins).  The cost of this motel bounty? In the summer, it's $169 per room for the weekdays and $219 per room on the weekends.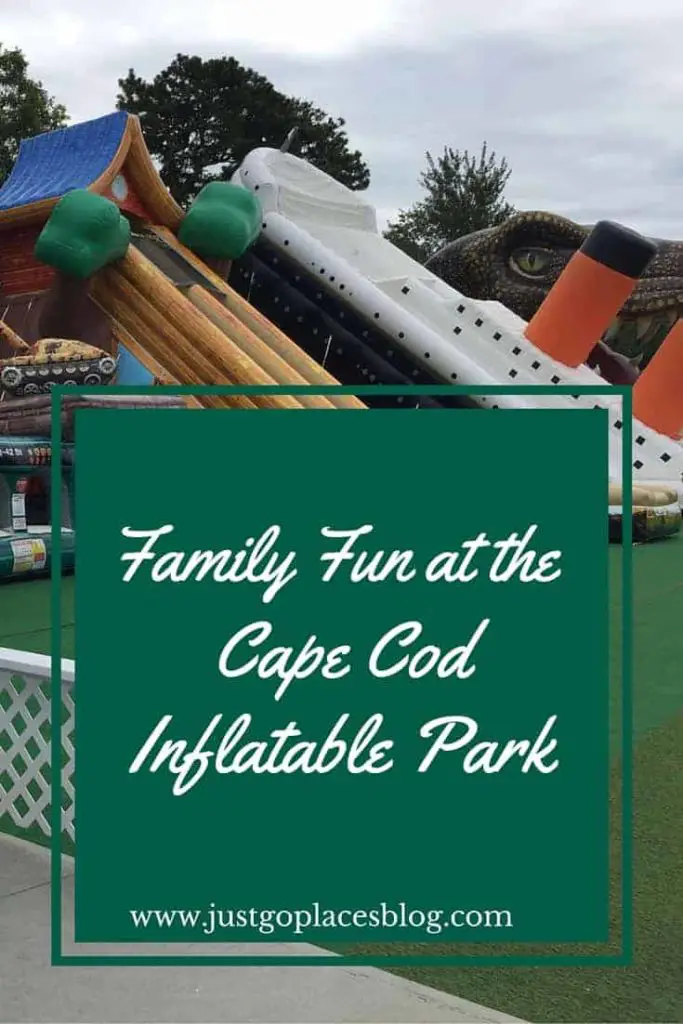 If you are in Cape Cod for the summer, your children will love the Cape Cod Inflatable Park.  Cape Cod has a limited selection of  amusement park-like options. They include Water Wizz (a water park), Ryan Family Amusements (arcade games) and Skull Island Sports World (go-karts, batting cages and other sports-oriented activities).  My children just wanted to bounce around like maniacs and pretend they were on American Ninja Warrior – Cape Cod Inflatable Park was just the ticket!