Spending Christmas time in NYC and thinking about visiting the Christmas lights at Rockefeller Center?  Fuhgettaboudit.  In New York City at Christmas, the spectacle you need to see is Christmas in Brooklyn. No, not the hipster Christmas in Brooklyn you see in Williamsburg or Brooklyn Heights. But OG Christmas in Brooklyn – I'm talking the OTT extravaganza that are the Christmas Lights Dyker Heights Brooklyn displays. Our guide, Marc, from A Slice of Brooklyn showed us a side of Brooklyn that I had never seen and that enthralled my children.  We visited three neighbourhoods that showed off Christmas in Brooklyn but the most amazing were the Brooklyn Dyker Heights Christmas lights.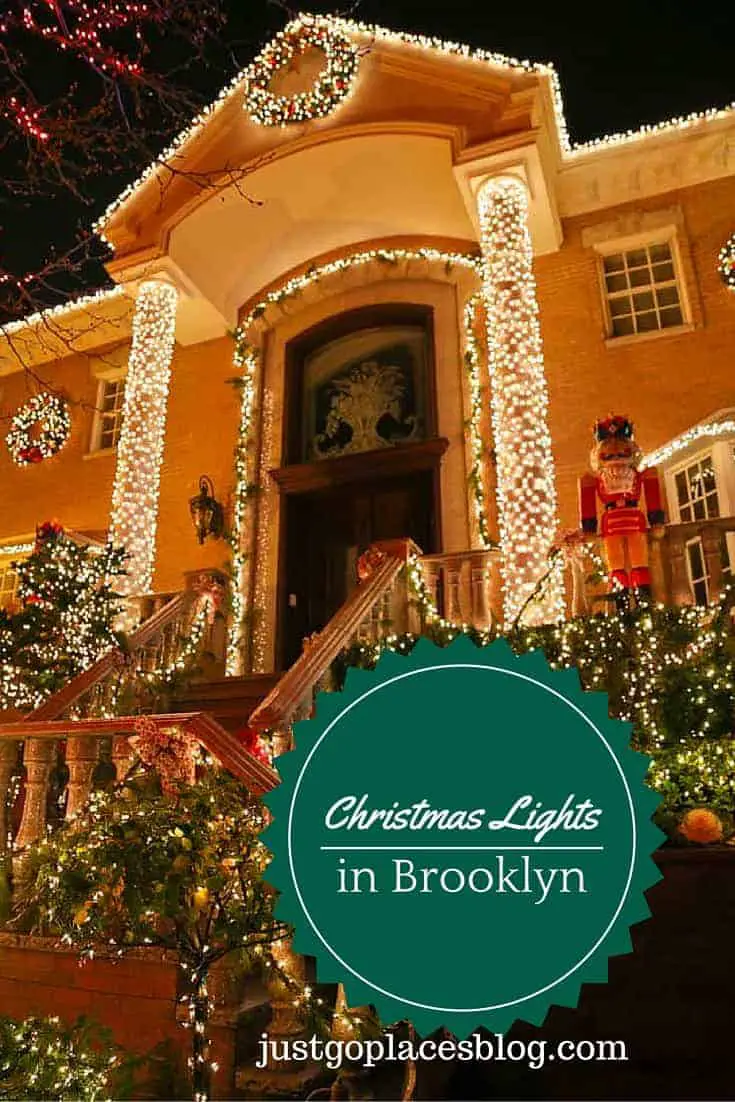 Tasteful?  Depends on what your definition of tasteful is.
Sometimes I felt like I was in a Real Housewives of New Jersey episode.  As Marc pointed out, the Brooklyn Christmas Lights Tour of Dyker Heights really does bring out all the stereotypes. Yet, this is also a super cool tradition for Christmas time in NYC.
Christmas in Brooklyn
Every neighbourhood does not explode in a frenzy of lights and display at Christmas in Brooklyn. You need to head out to the old Italian neighbourhoods which are places not easily accessible by public transportation.Christmas Lights in Brooklyn Tour
Luckily, A Slice of Brooklyn makes it easily accessible to visit the Brooklyn neighborhoods with the best Christmas lights display with a direct bus from Manhattan. You get aa Brooklyn Christmas Lights Tour of Dyker Heights as well as Sheepshead Bay and Bay Ridge.
A Jewish Christmas House in Brooklyn
Bay Ridge has multi-million dollar homes facing the waterfront.  Many of the lighting decorations are tastefully done.
Our favourite Christmas house in Brooklyn has to be the Blue Christmas house.  The husband is Italian-Catholic ad his wife Jewish. For their Christmas in Brooklyn, they compromised on blue lights.  (Blue and white are the colours traditionally associated with the Jewish holiday of Hanukkah).  And, is this house ever blue!
At Blue Christmas house, you can just about also make out the Christmas tree which is hung upside down.  An upside down tree makes a more significant triangle which is supposed to signify the Christian Trinity.  Even with a drop-free needles tree, I bet that tree sheds a lot.
I wonder if this is where Galeries Lafayette in Paris got their idea of an upside down Christmas tree for their store one year.
A Greek Orthodox Christmas House in Brooklyn
Sammy the Greek has a Christmas house in Brooklyn that flaunts Vegas-style neon.  And, he's Greek, in case you missed the Greek flag, or the Greek words spelling out Merry Christmas on the front.
Note the cultural diversity in a predominantly Italian neighbourhood.
Sammy's got his own radio station which plays Christmas tunes coordinated with his light show. Now that's dedication to Christmas in Brooklyn.
He's also got a Christmas village set up in a protective glass case on the front lawn of his Christmas house in Brooklyn.  We noticed other people did Christmas villages too, but maybe not to Sammy's scale.  At least now I know who buys those Christmas village things.
Christmas Lights Brooklyn: Dyker Heights
Now for the ultimate extravaganza, you really have to visit Dyker Heights Christmas lights – Brooklyn at its finest for the holiday season.
Lucy Spata's House
The grandmama of the Brooklyn Dyker Heights Christmas lights tradition is Lucy Spata.  At her Christmas house in Brooklyn, Lucy put up 40 angels to commemorate the passing of her mother in the 1980's.  The neighbours were sympathetic at first, but then they started complaining.
With true Brooklyn attitude, Lucy told them to stick their complaints where the sun don't shine.  The neighbours called the cops on her Christmas house in Brooklyn.
Despite the festive look, New York City at Christmas still has lots of attitude. Don't let anyone fool you.
Then it was WAR.  Not Sopranos style but the Christmas in Brooklyn edition.
But like in the Godfather movies, I'm sure it involved lots of tasty pasta sauce and planning meetings.
Lucy hired carol singers for her front lawn.  The neighbours finally caved to the indomitable spirit that was Lucy Spata and her decision to honour her beloved mama. Christmas lights may be bright but at least they were quiet.
And, lo, unto Dyker Heights, a tradition was born.
Other Christmas Lights Dyker Heights Brooklyn
Eventually, more and more of Dyker Heights got into Lucy Spata's Christmas spirit.  Here are some of my favourite Dyker Heights Christmas lights Brooklyn shows.
B&R are professional Christmas lights decorators.  So, of course, their family Christmas house in Brooklyn looked amazing.
People may have their houses go dark during the Brooklyn Dyker Heights Christmas lights season if there has been a death in the family. Or, like Lucy Spata they may choose to commemorate their family member (even the four legged kind).
What price festive lights for this New York City at Christmas tradition you may ask?  One man has admitted his December electricity bill comes in at $5000.  For the month!!!! Yowza.
Practicalities for the Brooklyn Christmas Lights Tour of Dyker Heights
I'd never seen these lights before because you really need private transport to get to these neighbourhoods.  Our Slice of Brooklyn tour bus left from the very convenient Union Square.  Taking about 3.5 hours total, it was fun, easy and hassle-free.
Our guide Marc was terrific – amusing with the right amount of respect.  After all, he's from Brooklyn and will need to show his face in the 'hood.  It's a small family-run operation expertly run by another Brooklyn native son, Tony Muia, for the last 10+ years.
A Slice of Brooklyn takes about 90,000 visitors a year to see the non-trendy, authentic side of Brooklyn that exists outside of hipsters, Williamsburg and Girls.
Tour Tickets Sell Out Early!
Tickets for the Brooklyn Christmas Lights Tour of Dyker Heights are $55/adult and $45/children and can be bought on the
A Slice of Brooklyn website
.
SPREAD THE WORD! PIN THIS TO YOUR TRAVEL PINTEREST BOARDS FOR FUTURE REFERENCE! 
We received complimentary tickets from A Slice of Brooklyn.  All words and opinions are strictly my own.  And, yes, I would pay to do this tour again.
This site generates income via partnerships with carefully-curated travel and lifestyle brands and/or purchases made through links to them at no extra cost to you. More information may be found on our Disclosure Policy.