Although the Flatiron Building has always been a famous landmark in New York City, the area now known as NoMad has really only been a trendy area in the last few years. With the clean up of Madison Square Park and the Flatiron district going residential, the area has become very family-friendly. Although all these things below are fun, my children absolutely adored the National Mathematics Museum, aka MoMath (much to my surprise). Younger and trendier than other more touristy areas of Manhattan, the neighbourhood is still good with kids (thanks to its gentrification over the last few years).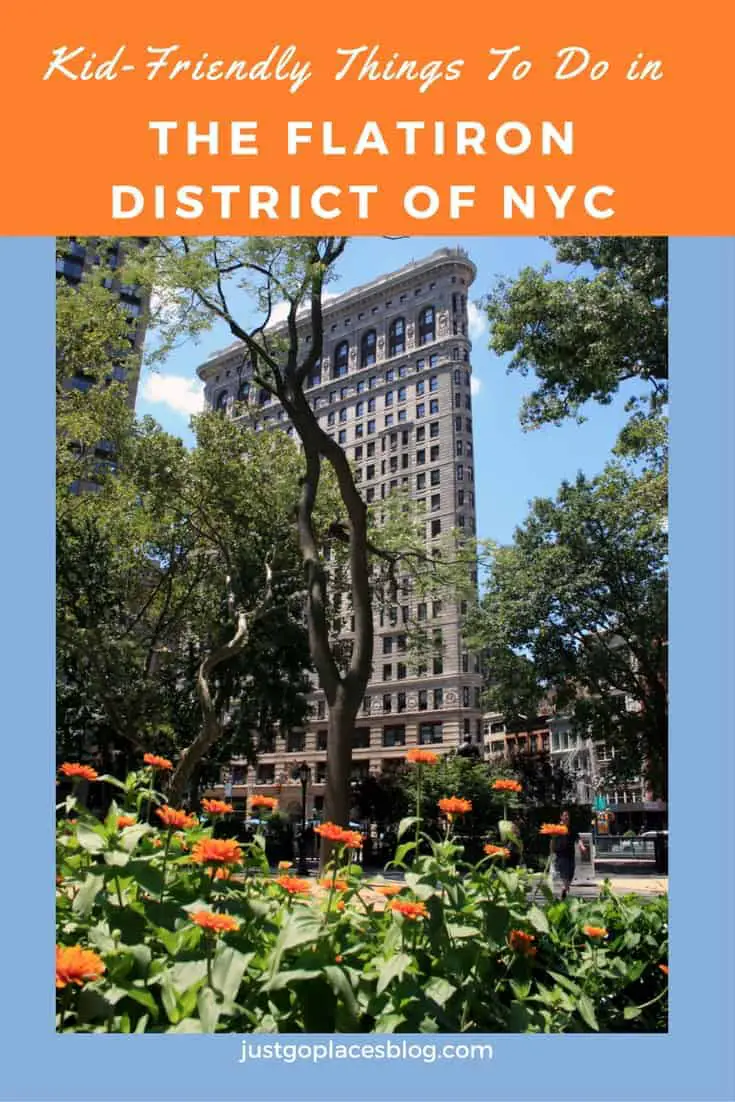 The NoMad Neighbourhood and the Flatiron District NYC
The NoMad neighbourhood and the Flatiron district are basically two neighbourhoods divided by Madison Square Park. NoMad is to the north of the park, and Flatiron to the south.
NoMad Neighborhood
With the arrival of the trendy Ace Hotel and NoMad Hotel, real estate professionals dubbed the area north of Madison Square Park "NoMad" since 1999. In New York city, as my friend Andrew said about NoLiTa (North of Little Italy), you know a neighbourhood has arrived when property people give it a nickname. A trendy neighbourhood emerged from the gritty urban landscape of pawn shops and bodegas.
Madison Square Park
Named after the fourth US President, James Madison, Madison Square Park was established in 1847.  The park is most famous though for giving its name to a sporting and concert arena, Madison Square Garden.
In the late 19th century, many wealthy New York families had mansions in the area, including the Roosevelt family and the Jerome family (a Jerome daughter was the mother of Winston Churchill).
In the 20th century, Madison Square Park had a fairly grim phase before the whole area got cleaned up at the turn of 21st century.
Flatiron District NYC
The Flatiron district is named after the Flatiron building, a triangular shaped building which was an architectural marvel built in 1902. It's one of the most photographed buildings in the world and also appeared in numerous movies, like Spider-Man and Godzilla.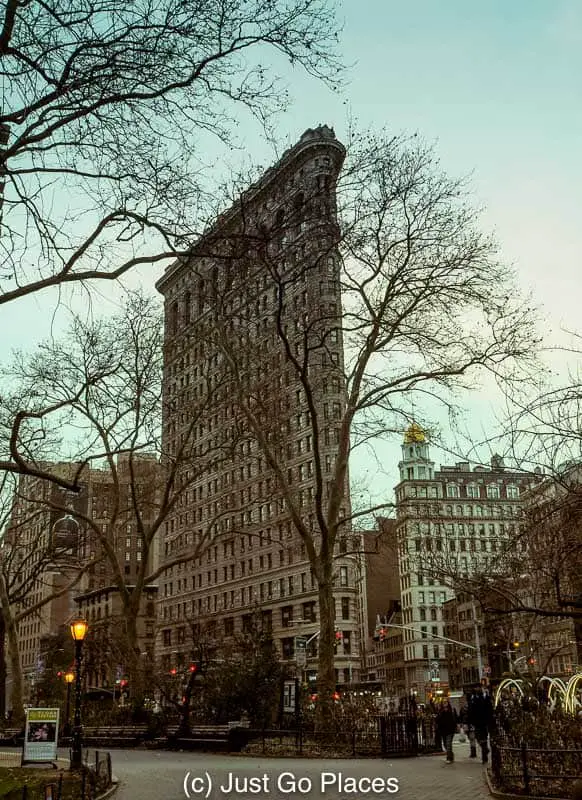 The Flatiron district itself was a pretty commercial area with lots of clothes and toy manufacturers alongside artists attracted by cheap rents. Now it's known as Silicon Alley because of the number of technology companies in the area. It's also become very residential with young professionals and families.
Places To Visit
Museum of Mathematics (11 E 26th Street) is a fabulous little museum for children. My kids are not fans of math at school but I could not get them out of this museum. Ironically, I met with some resistance when I announced we were going to a Maths Museum. A museum and math combination seemed a bridge too far as far as my kids were concerned. They were pleasantly surprised at how much fun it was though!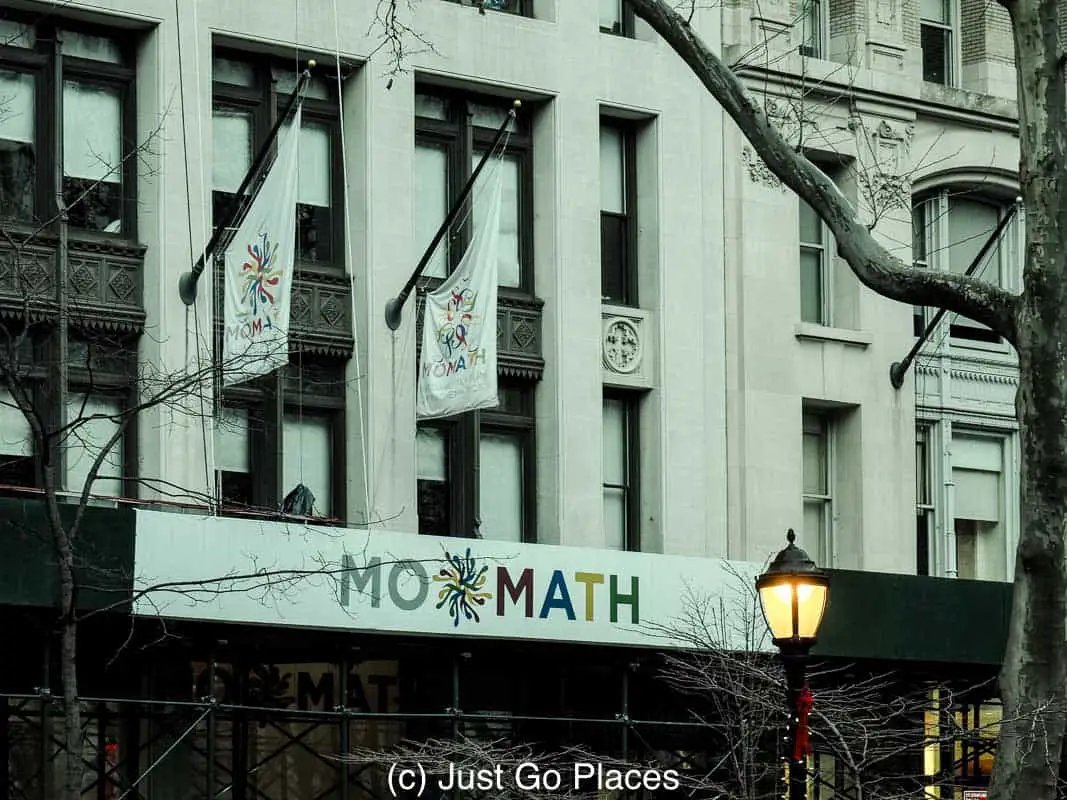 There are two floors which introduces maths concepts that many kids don't even know are mathematics. For example, kids think they are playing but they are really learning about patterns, symmetry, cryptography and the like. Computer generated exhibits like the pattern paints or the dynamic wall show kids in a fun way wave phenomena or symmetry.
Although the top floor is for younger children, my children enjoyed both floors. The bottom floor has a lot of logic games which kept them captivated. In addition to the games, you also have a small cafe and even more activities such as the Tessellation Station where kids use magnets to make patterns.
Madison Square Park is a small green space located between Fifth Avenue and 6th Avenue from 23rd to 26th streets. It's got a playground and public art spread out amongst the landscaping. My kids also like to watch the dogs in the dog run.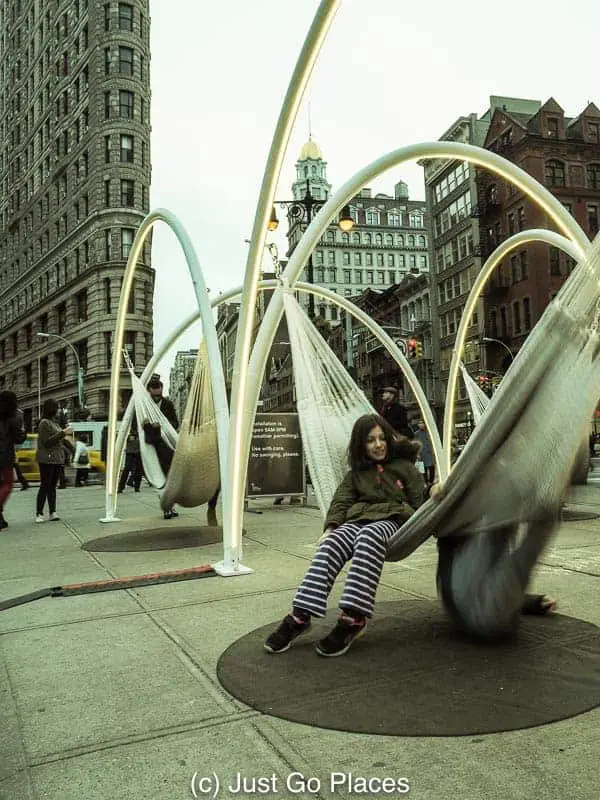 Books of Wonder (18 W 18th Street (between 5th and 6th)) is the largest American children's book store. Nora Ephron, director and writer, used the store as the inspiration for the children's book store in the 1998 movie You've Got Mail.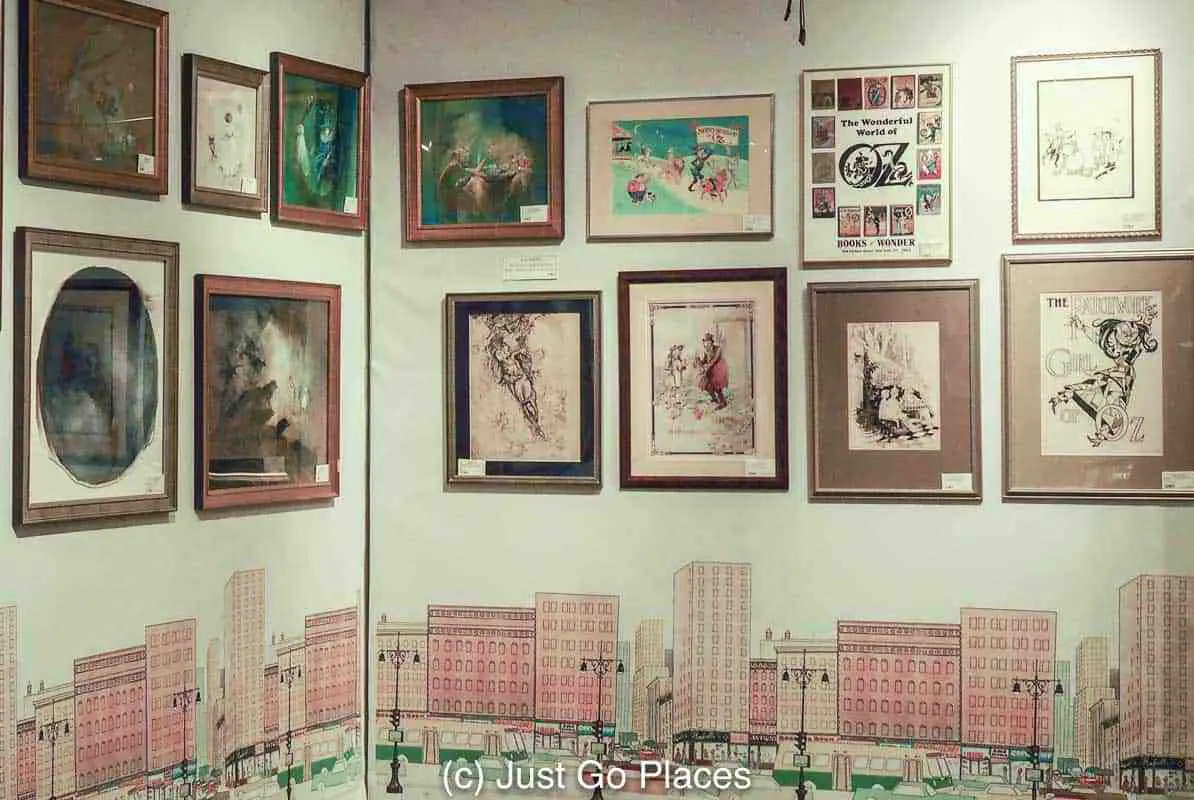 The store is always running events for kids of all ages. Frankly, it's also a great place to hang out  in air conditioned comfort in the dog days of summer or escape the bitter chill of winter. I have never been able to leave this bookstore without buying something!
Theodore Roosevelt Birthplace National Historic Site (28 E 20th St) is run by the National Park Service.  Teddy Roosevelt was a sickly child who went onto be a adventurer and president immortalised on Mount Rushmore in South Dakota. It's a small museum so pretty easy to get kids to go around.
The Lego Store (200 5th Avenue) has the usual giant displays of Lego creations you find in other Lego stores such as the one in Rockefeller Center. Unique to this location though is the giant Lego recreation of the Flatiron District. My kids are Lego crazy and can spend hours in any Lego store.
Kid-Friendly Restaurants in Flatiron District NYC:
Eataly (200 Fifth Avenue) has delicious paninis and gelato either to eat in or to go.
Big Daddy's (239 Park Ave S (btwn E 19th & 20th St.)) is a retro-style diner where you can get the usual comfort foods such as burgers, mac & cheese and milkshakes.
Shake Shack (11 Madison Ave (at E 23rd St)) is a safe bet if your kids are craving a burger.
We ate at this branch of Rosa Mexicano ((9 E 18th St (btwn 5th Ave. & Broadway)) the night before the twins were born. Not that I'm saying that this place brings on childbirth or anything but maybe that explains our kids fascination with Mexican food??
I prefer Burger & Lobster (39 W 19th St (btwn 5th & 6th Ave)) to Shake Shack. Burgers for the kids and lobster for me!
Maybe your family really can't agree on where or what to eat (it's been known to happen to us!). In that case, just go to Whole Foods on 4 Union Square so everyone can just pick something for themselves from the deli counters. Sushi for one person, a sandwich for another person, and life can continue without further drama.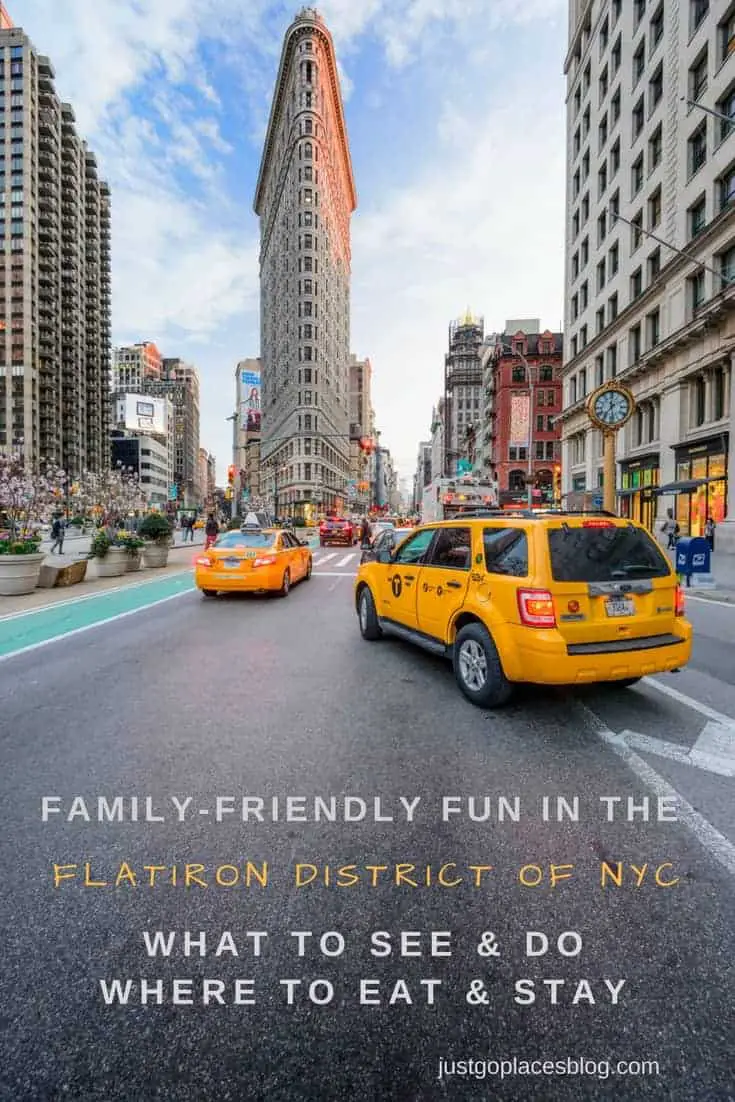 Accommodation near NoMad
You have several good choices for staying in the area if you are looking for cool and contemporary hotels. The stuffy more traditional type hotels tend to be further uptown.
NoMad Neighborhood
We love the Ace Hotel and hang out with the hipsters in its lobby even when we are not staying at the hotel. The downstairs Ace Hotel lobby has large tables, sofas and great WiFi. Throw in the hipper than hip coffee shop and you've got a perfect place to unwind after a hard day of sightseeing.
By the way, there's an old-fashioned photo booth which throws out the coolest vintage-style photo strips. My daughter is a big fan of the photo booth!
The NoMad Hotel attracts a slightly slicker but still young and attractive crowd. My favourite part of the NoMad Hotel is it's library cafe where you can order a light meal in a beautiful setting. The restaurant itself was a bit too grand for my children.
FlatIron District
I have not stayed at The New York Edition but my occasional contributor, Dianna, has stayed at the hotel this year. It's the usual trendiness with compact rooms. The bar is full of beautiful people and difficult to get into (even if you stay at the hotel). It reminded me of the way original Whiskey Blue bar used to be at the midtown W hotel way back in the day. I won't even give a year because it just makes me feel old but it was definitely pre-children.
Gramercy Park
Alternatively, you can go to the original trendy hotel which rocked the neighbourhood when it opened in what seems another era (2006).  The Gramercy Park Hotel is within easy walking distance of this area. My daughter loves its full on dashing red glamour as well as the fact that you can get access to Gramercy Park (the gated residents-only park). The Bar downstairs has great comfy seats and even better people-watching.
If you are wondering why I am on about the public spaces are in these hotels, its because the rooms are fairly similar for what you get — cool and quirky and small. Definitely small square footage for the amount of money you pay. You can get a double double room with children (that accommodates four) or a suite that has a separate sofa bed.
The biggest differences are in their public spaces. And, I'm a fan of their bars for meeting up with old friends. When you are travelling with kids in tow, you can set them up with an iPad on a comfy couch while you have a drink with friends nearby. If I have been hanging out in the Lego Store all afternoon, it ain't no surprise that mama needs a stiff drink and adult conversation!
SPREAD THE WORD! PIN THIS TO YOUR TRAVEL PINTEREST BOARDS FOR FUTURE REFERENCE!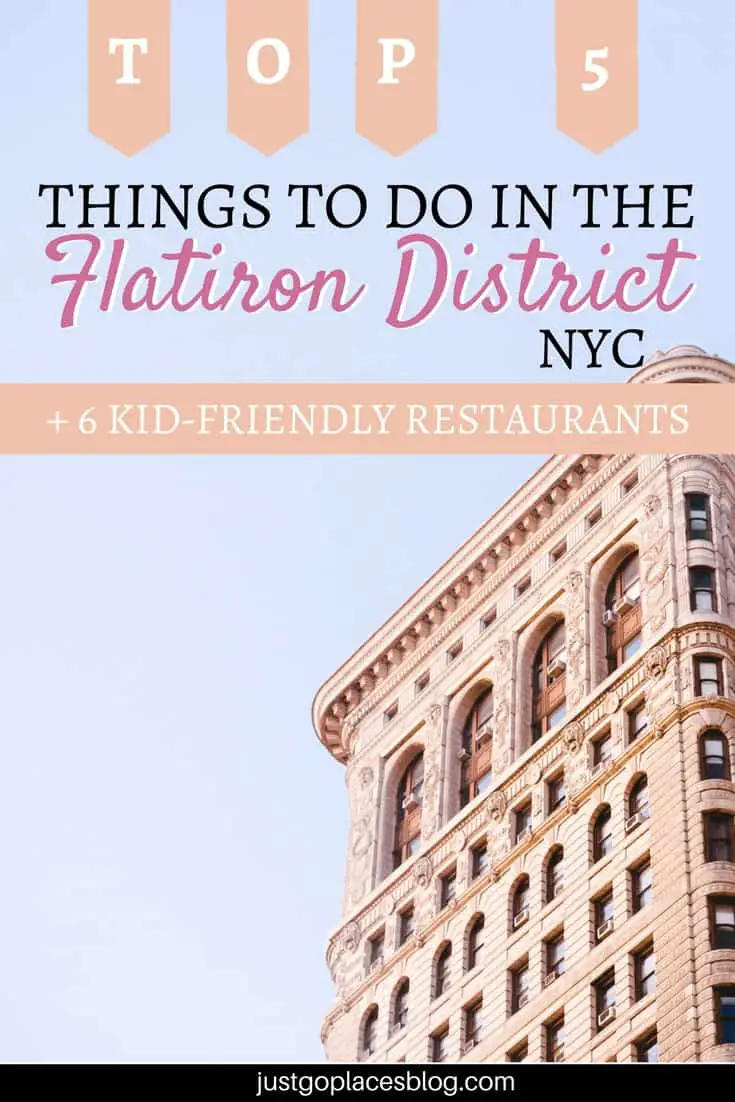 This site generates income via partnerships with carefully-curated travel and lifestyle brands and/or purchases made through links to them at no extra cost to you. More information may be found on our Disclosure Policy.
SaveSave
SaveSave