Remote islands are always going to attract people who are a bit different from the majority of people on the mainland. Perhaps they chose island life because they wanted to escape the conformity of the majority population or maybe island life made them a little bit loony.  The southernmost island in the United States, Key West, has definitely had its share of eccentrics throughout history.  Some of them even rose to the level of freaks in real life and, in the afterlife, ghosts in Key West Florida. I took a Key West ghost tour to learn about the mysterious side of this island.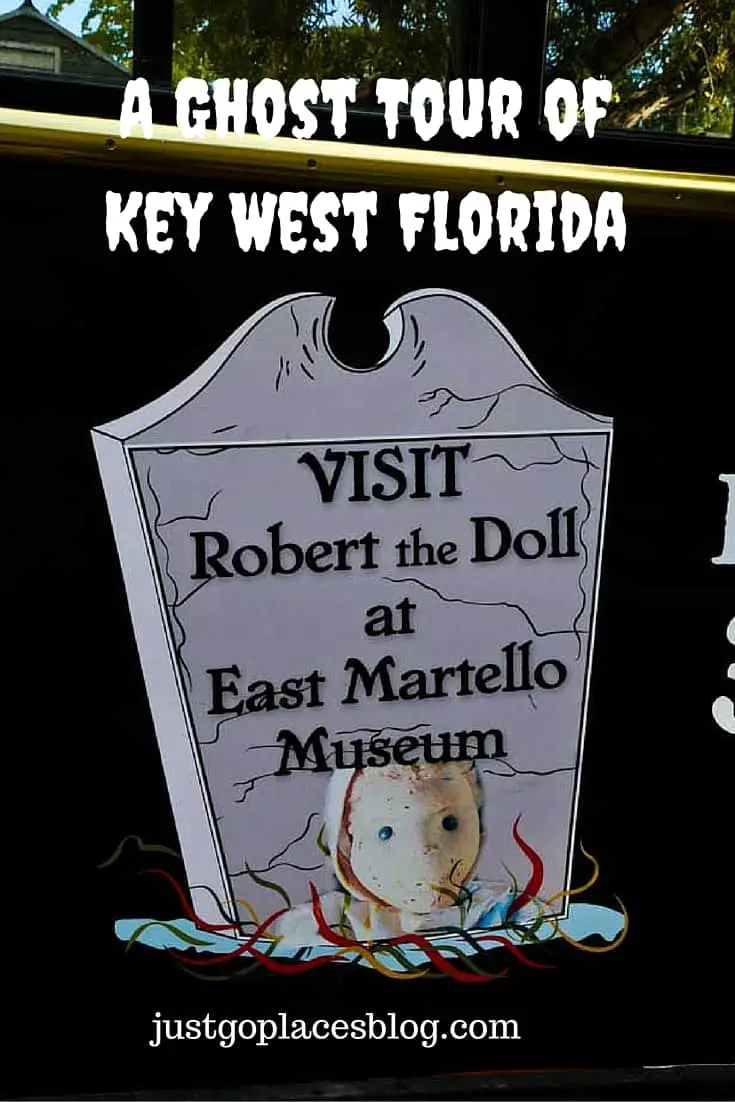 The Nanny Diaries, Circa 1900 Version
One of the most famous residents of Key West isn't even a person.  He is Robert the Doll, apparently the most haunted plaything in the United States, upon whom Chuckie from Child's Play was based.
Robert the Doll Key West Legend
Robert was given to a little kid Robert Eugene Otto at the turn of the 20th century by his Caribbean nanny.  The little kid's mother was a nightmare employer who had fired the nanny.  The nanny was a practitioner of voodoo/santeria and placed a curse on the doll.  As one does, before the advent of employment tribunals.
At first glance, the doll looks creepy but harmless. He's an old-fashioned doll in a sailor suit with button eyes about the size of a four year old child.  He's stuffed with straw (and possibly magic!).  Robert the doll has his own toy lion to keep him company.  Every nefarious villain needs a minion sidekick.  I personally would have picked a little fluffy white Persian kitty as Robert's special friend.
The kid decided to name the doll Robert and used his middle name (shortened to Gene) in order to differentiate between the two of them.  Gene was constantly getting into mischief and his response was always the same:  "Robert did it!".  Gene's mother eventually sent Robert to live in the attic.
Robert was just biding his time though.  After he got married, Gene took over the family house.  He brought Robert back down from the attic and continued to treat him as if he were alive.
Needless to say the wife was less than happy.  Robert and the wife hated each other.  Once the police were called for a domestic disturbance to find the wife locked in a room.  What did Gene have to say for himself?  "Robert did it!"
Of course.
Robert the doll has a long history of mischief.  After Gene's death, the family who bought his house found Robert in the attic. The little girl in the family took a liking to Robert.
Uh oh.
She soon changed her mind and started having nightmares that Robert was trying to kill her.  So, Robert wound up at the East Martello Museum in a protective glass case.  He's also got a loJack chain on him just in case he decides to wander off.
Robert's exhibit at the East Martello Museum has a series of letters from people apologising for either not believing in him or not approaching him with the appropriate amount of courtesy.  You need to verbally ask his permission before you take a photo of him.
I guess he wasn't enthusiastic about me because I found that my video of him cut off prematurely.  I'm pretty sure that Robert did it.
You can also stay in Robert the Doll's former house which is now a B&B called The Artist House.  People have reported strange things happening in the attic room as well as sightings of Gene's long deceased wife on the lookout for a crazy homicidal doll.
Robert the Doll has his own website, his own blog, Facebook page and twitter account.  Yes, even the homicidal doll is on social media.
Count Frankenstein and his Bride
I found the story of Count Carl von Cosel just as creepy and even more disturbing.
Carl Tanzler was a German immigrant and a self-proclaimed count.  He worked in a hospital in Key West and was looking for love in all the wrong places.  Carl took a liking to one of the patients, Elena, a beautiful 22 year old Cuban woman dying of tuberculosis.
After Elena died, he'd visit her grave and talk to her.  Reportedly, she talked back.
And, told him she hated her grave.
So he disinterred her (without anyone knowing) and stuck her in a wingless airplane.  Stuck in a metal can in the Florida heat and humidity is not good for anyone, never mind a year and a half dead corpse.
Creepy Carl eventually took Elena to his home where he kept her for 7 years.  During that time he managed to stuff her insides and keep the body going with wire and wax to be as realistic as possible.  Plus lots of scented candles and perfume.
Rumors began to reach Elena's sister that Creepy Carl was up to something with Elena's body.  She marched on over to Carl's house to find out it was indeed true.  Elena's body was wearing a wedding dress and lounging on Karl's bed – but definitely dead.
Carl got taken off to jail but released on a technicality.  Because, you know, Florida.
Elena was reburied in a grave where Creepy Carl couldn't get to her.  By this time, the case had received a lot of publicity.  Her wake was attended by 6000 people!
Creepy Carl went back to Tampa where he had had a wife and two kids living the entire time.  He wrote a book about his experience.
When he eventually died, he was found with a life-size mannequin of Elena. A habit he just couldn't quit.
Key West Haunted Tours
There are a number of ghost tours offered in Key West as befitting America's fourth most haunted city.  I took the Ghosts and Graveyards tour on an appropriately black-coloured trolley bus. We didn't visit the graveyard so they may need to rethink the naming of this Key West Haunted tour.
There were children present on my Key West Ghost Tour and I didn't find it very creepy.  How creepy can a trolley bus tour be, right?
The stories were entertaining and really added colour to a quirky city separated by location, temperament and weather from the rest of the United States.
Those crazy Florida inhabitants who may have fried their wits as well as their bodies in the sunshine.
SPREAD THE WORD! PIN THIS TO YOUR TRAVEL PINTEREST BOARDS FOR FUTURE REFERENCE! 
We did not receive compensation of any form, monetary or otherwise, from any of the products, services, hotels  etc mentioned in this article.
This site generates income via partnerships with carefully-curated travel and lifestyle brands and/or purchases made through links to them at no extra cost to you. More information may be found on our Disclosure Policy.
SaveSave