Usually you think of corrugated metal buildings in the United States as an industrial cladding – something cool and urban for a modern house or a practical shed in the country.  When I was in South Africa, the townships had a lot of corrugated metal houses in the townships. Once again, the metal was a utilitarian material devoid of charm or quaintness.
Nowhere except in Iceland have I seen corrugated steel building look charming with their bright colours and occasionally fancy design.  Who knew corrugated steel could be made to look Victorian?!
Reasons for Corrugated Steel Construction in Iceland
Corrugated metal was exported around the world in the mid-19th century to put up quick, cheap housing.  In the 1860's British ships would trade the local sheep for corrugated steel which turned out to be an excellent building material for the harsh weather in Iceland.  Although first used to clad the roofs, corrugated steel soon became a wall cladding as well.
Thanks to the Vikings, Iceland has a shortage of timber for building homes.  The Vikings had razed the existing forests to build ships and then allowed sheep to graze on the land preventing the trees from growing. Corrugated steel protected the timber building underneath from the harsh elements extending its life by many years.
Following a massive fire in 1915, city officials in Reyjkavik ordered all houses to be covered in fire proof materials to prevent future fires.  Corrugated steel once again proved to be the best solution because it was strong, lightweight and cheap with excellent insulation properties.
The Diversity of Corrugated Steel Buildings in Iceland
These buildings are traditionally painted in bright colours which must really help brighten the gloom in the dark days of winter.  In the sunshine, the light bounces off the metal making it sparkle, like on this church roof.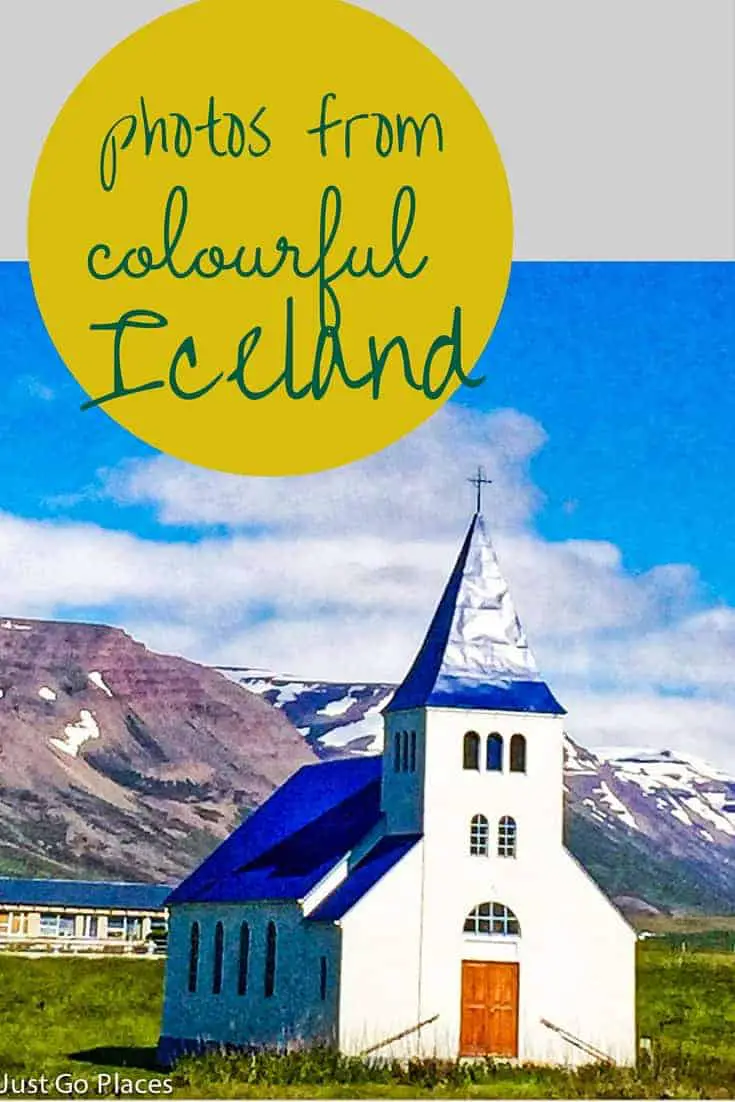 It's not just the homes either.  You get offices, restaurants, supermarkets and churches with the corrugated steel shell. And this log cabin… which somehow mixes up rustic with industrial and still makes it cool.
This little black house is the Icelandic Emigration Center at Hofsos and stands as bulwark from the wind blowing off a fjord in North Iceland.  Although we went in summer, we were still buffeted by the wind.  Note the little windows which help with the insulation.  The bench was pretty against the black siding but no one was brave enough to actually sit there!
Here are some photos of the beauty of corrugated steel architecture in Iceland.  The steel colours are varied and individual such as light, dark, pastel and bright.
These last three photos of buildings are located in Seydisfjordur, a town known for its prefabricated wooden houses that the herring barons imported from Norway.  These kit-houses are mixed in with the usual corrugated steel architecture to give the town a very unique look.
***
This post is linked up with #TravelPhotoThursday, #OurWorldTuesday, #ThroughmyLens and #WednesdayAroundTheWorld.