I have to confess that my husband is the haute cuisine foodie. I am an equal opportunity eater who likes a good pizza restaurant as well as a Michelin-starred restaurant. So when we decided to take a family holiday to the Costa Blanca, my husband promptly booked the two of us into the three Michelin-starred Restaurante Quique Dacosta in Denia, Alicante. The restaurant is named after the chef and owner, Quique Dacosta, who is one of the bright stars of Spanish nouvelle cuisine in the post-El Bulli phase of Spanish fine dining. Restaurante Quique Dacosta was named one of the top 50 restaurants in the world last year. We were curious about the hype!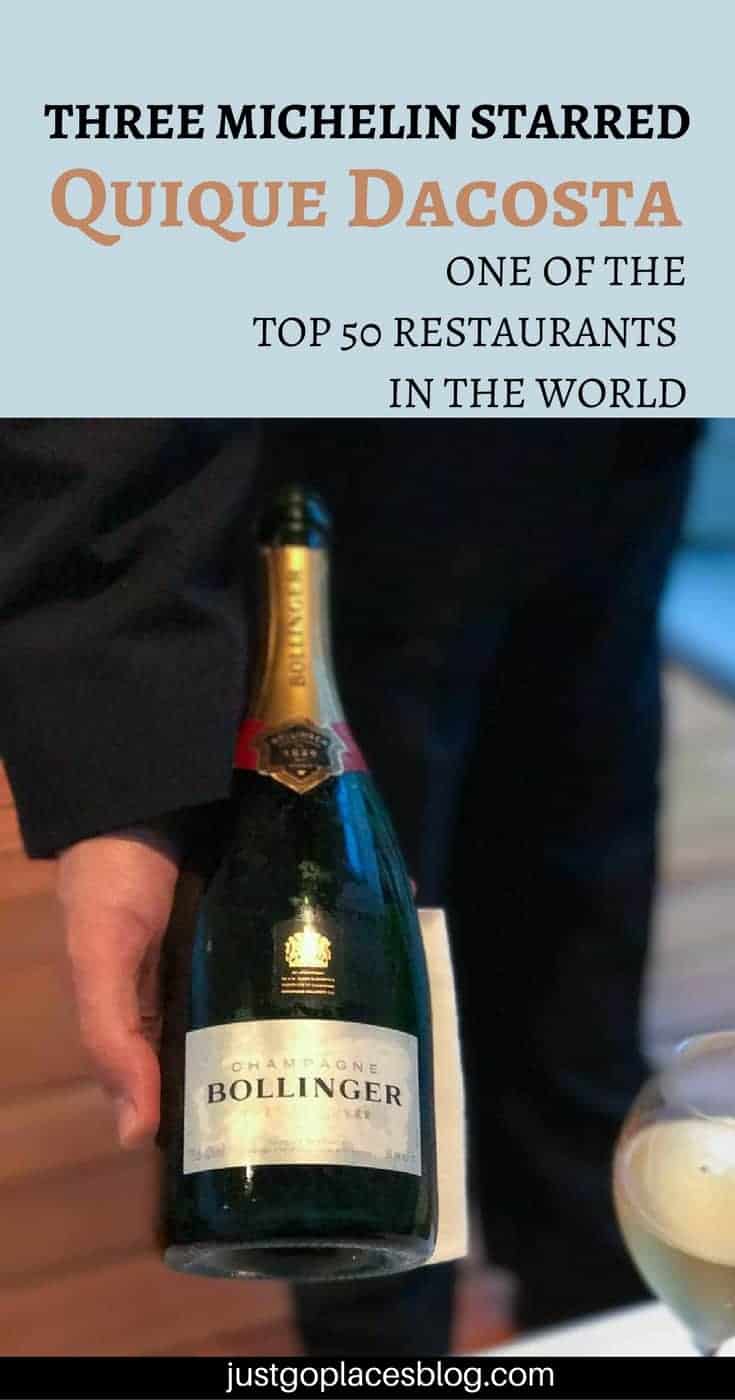 Quique Dacosta
Quique Dacosta, himself, has a fascinating history. Born to a teenage mother, he started work in Denia washing dishes/waiting tables at the age of 14. He read voraciously about food and decided he wanted to open up a different type of restaurant.
He worked at the time at the same restaurant that would later become Restaurant Quique Dacosta. At that time though, it was a fairly standard family-owned beach town restaurant serving Mediterranean food. When he took over the restaurant, he turned into a destination for high-end Spanish nouvelle cuisine.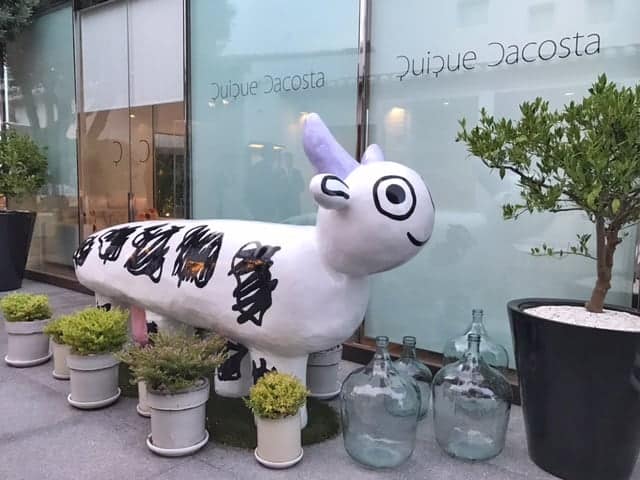 Not only is Quique Dacosta one of the youngest chefs to have achieved three Michelin stars but his cooking is completely self-taught!!  Now,  he's got the flagship restaurant in Denia, three tapas restaurants in Valencia, a soon-to-open paella restaurant in London as well as several books.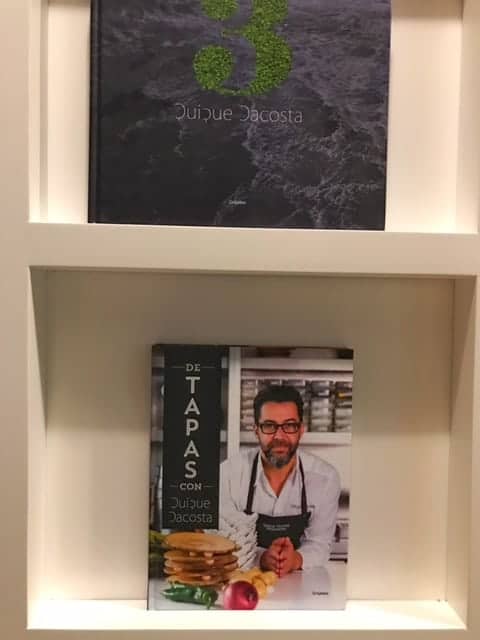 We did not expect him to be in the kitchen on the night we ate at the restaurant.  We were really surprised though when he came out and thanked us for coming to his restaurant. He even agreed to a selfie! I would never had the courage to ask Gordon Ramsay for a selfie in case he went off on a profanity-strewn tirade.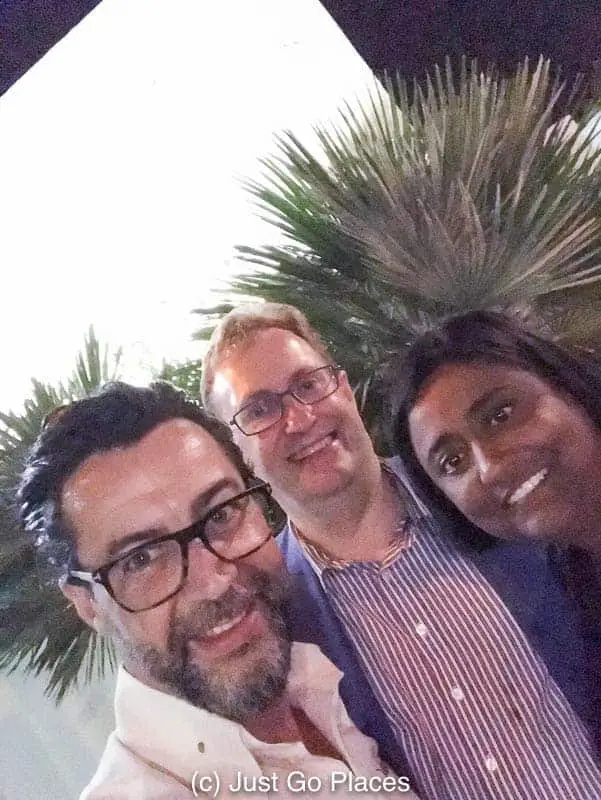 Restaurante Quique Dacosta
The restaurant is housed on a white-washed villa near the beach on the outskirts of Denia. The decor is pure white simplicity splashed with modern works of art and a bevy of attentive waitstaff.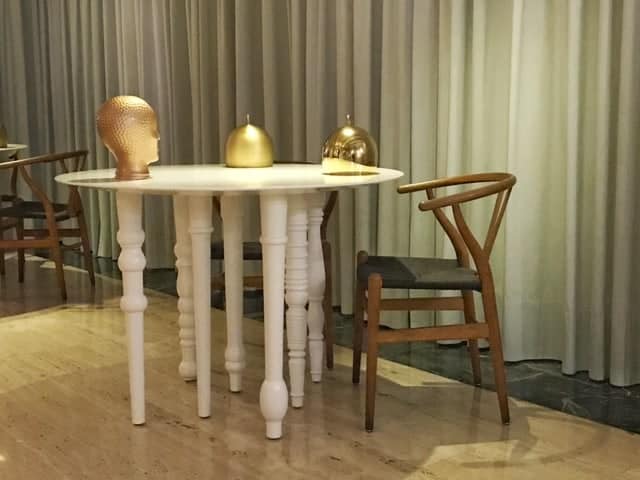 Both the starters and desserts are served outside the main restaurant.  You have a choice of a beautiful garden house or the garden itself.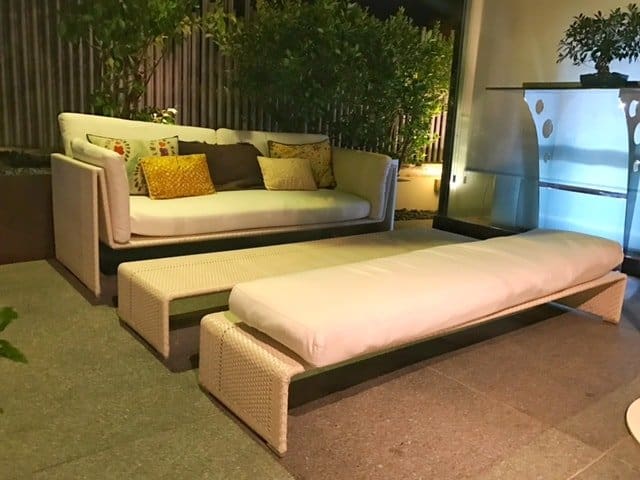 The interior of the restaurant is whitewashed walls, bleached ceiling tresses and Mid-century modern furniture. We recognised the Baccarat tea light holder from a meal we had at the Grace Vanderbilt Hotel in Newport Rhode Island.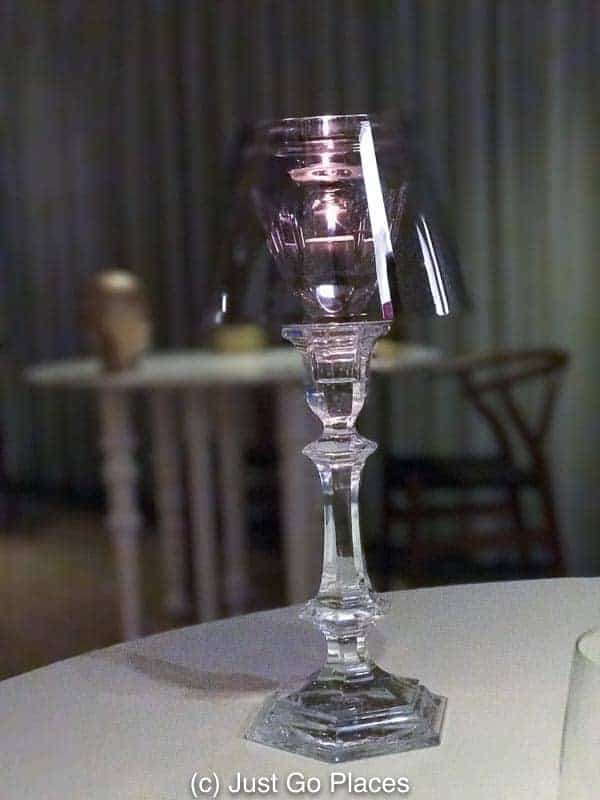 Restaurante Quique Dacosta is open for a few months during the height of the main tourist season in the Costa Blanca. They close the restaurant for the remainder of the year in order to research and to prepare for the next year's menu.  In the interim, you could always go to Quique Dacosta's Valencia restaurants which are open all-year round.
Restaurant Quique Dacosta Menu
Like many places with such high accolades, Restaurante Quique Dacosta tells you what you will have. Both the Quique Dacosta menu and the price are fixed. I can't eat mussels and clams so they substituted those items for me.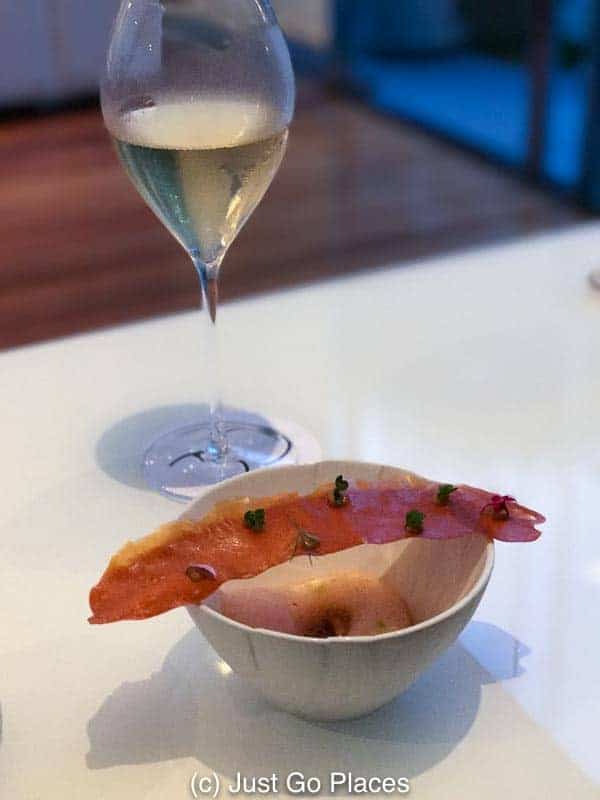 The menu comes with a wine pairing which is also a set price. Alternatively, you can order from the extensive wine list.  My husband chose to go with the wine pairing and I ordered a la carte. He said the wines were excellent and he was given 8 or 9 glasses during the meal.
The Quique Dacosta Menu is actually a work of art in itself and yours to keep.  You open it up and it's got the menu and a full-page description of the ethos of the restaurant. Inside the double-folded paper is artwork signed by Quique Dacosta.
Our menu was separated into 6 acts each of which had 3 dishes (which we decided were likes scenes in a play). Effectively you had 18 little dishes. Individually they were beautifully presented but tiny.  Together, we were feeling very full by the end of the meal.
Quique Dacosta Dishes
Everything on the menu is sourced from within 75 kilometres so you really get a sense of the local flavours. Like so many high-end places, the menu incorporated offal into the menu. Presumably, doing something with chicken breast is too last century.
There is nothing to do but show you how the beautiful presentation of the food! Some of the plates were marked with the Quique Dacosta trademark so they must have made the dishwater to order, too. You'll have to take my word that it is delicious.
We started with Act 1 in the garden house.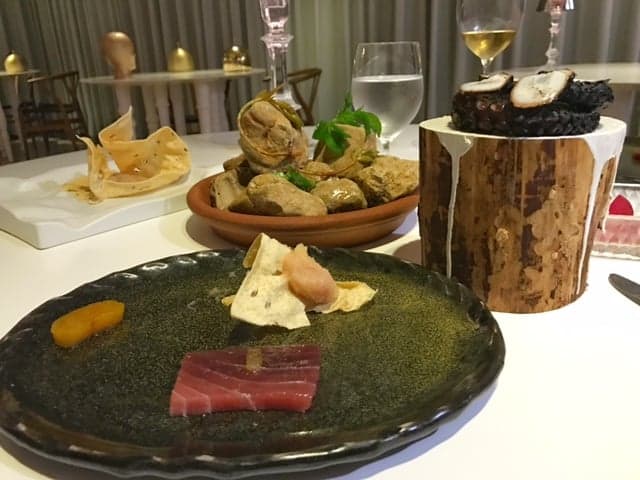 Then we were shown into the restaurant where there was a surprise waiting for us at the table.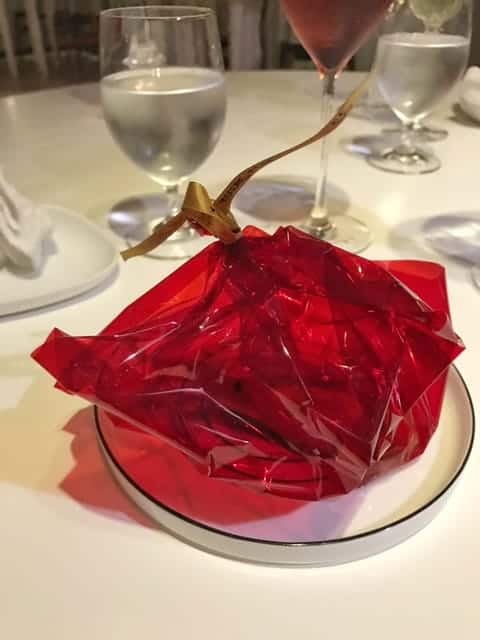 What could it be?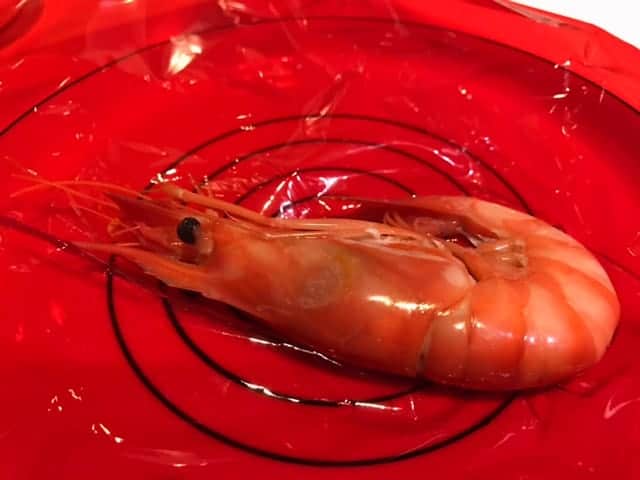 Next, we had Acts 2-5 which came out to  a total of 12 dishes.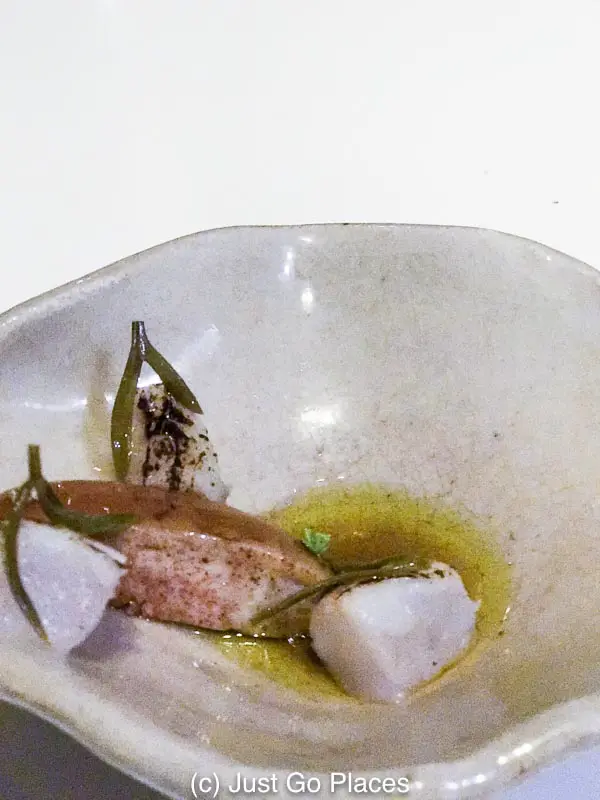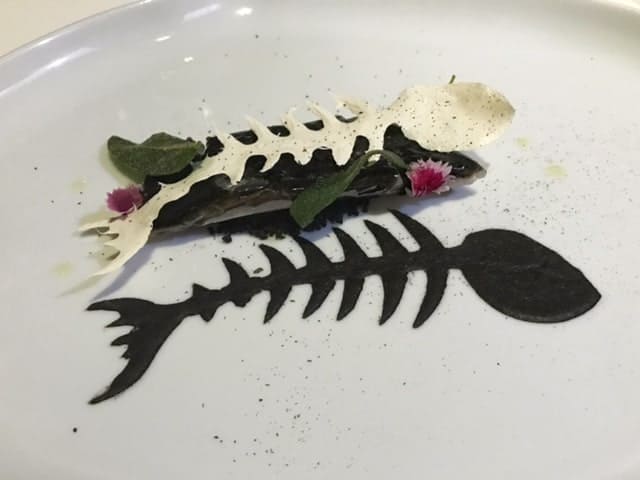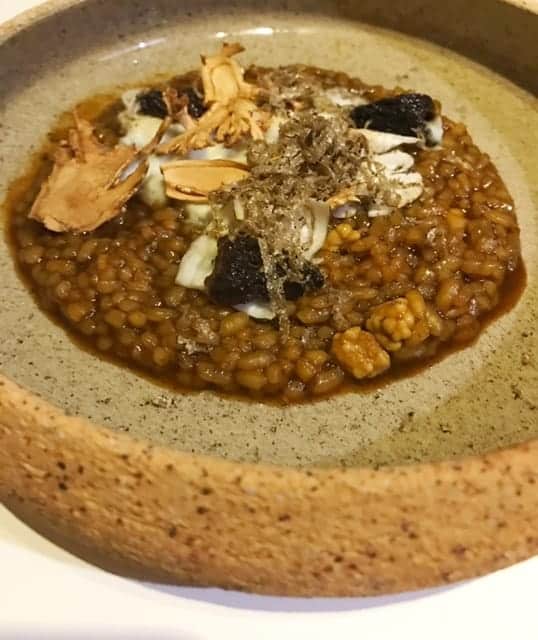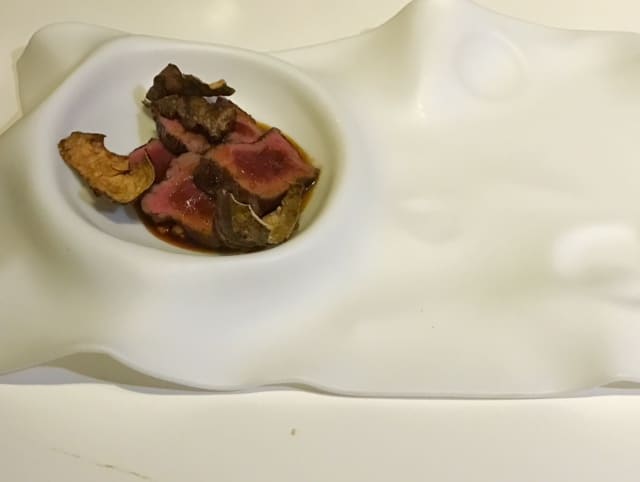 Instead of being an accompaniment, the bread became a course in itself.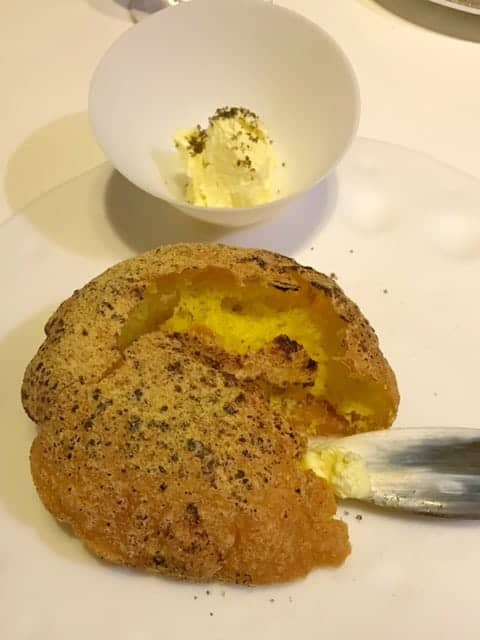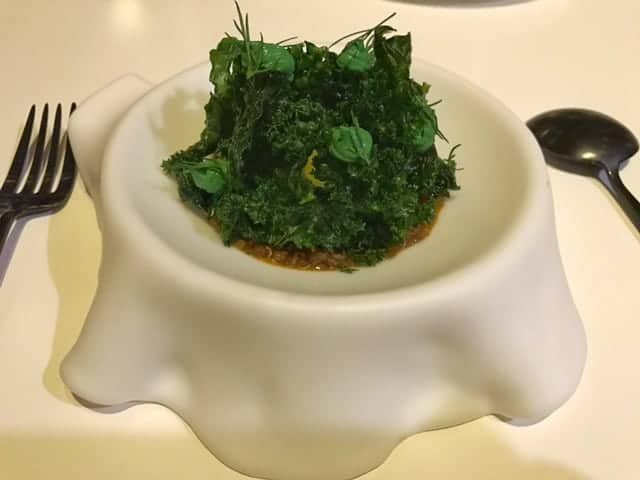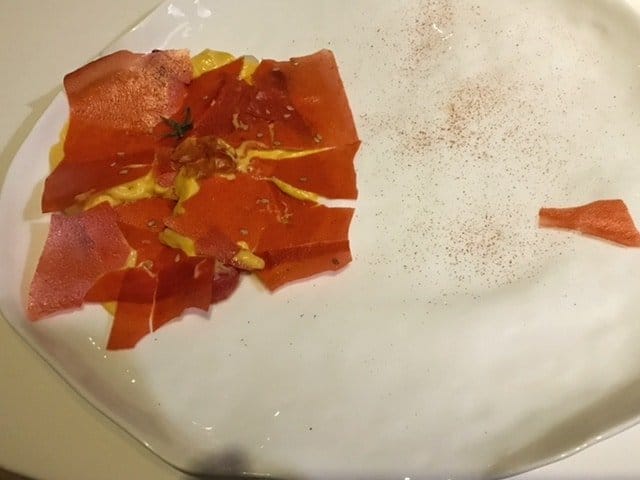 The last scene of Act 6 was presented back in the garden setting. Yes, that rose really did have an edible part on top.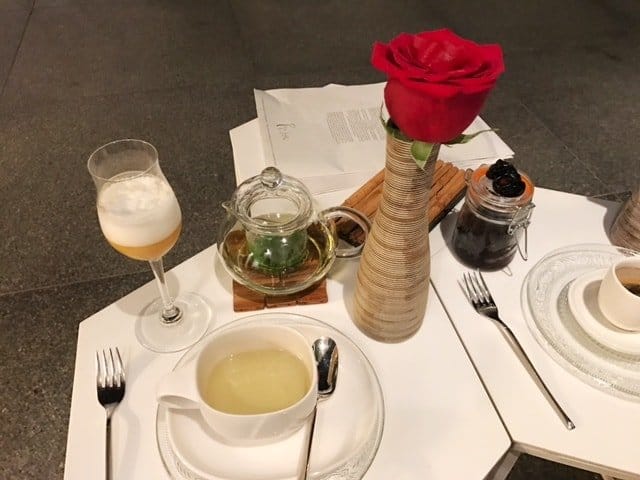 Quique Dacosta Further Afield
Quique Dacosta has expanded beyond his original base of operations in Denia. He has his flagship restaurant in Denia, Alicante and tapas bars in Valencia.
He is planning a chain of paella restaurants in major cities called InPaella by Quique Dacosta because he has been interested in this particular Valencian dish for years. The first InPaella is slated to open in London by the end of this year.
Quique Dacosta Valencia
The Quique Acosta Valencia tapas bars are a nice alternative if you don't fancy having the restrictions (or price tag) of a full fixed menu.
El Poblet in the historic city centre of Valencia is a one-Michelin starred restaurant. It is Quique Da Costa's foray into democratising high end dining with meals priced to come in less than €100. The meals at El Poblet tend to be dishes that he has served in previous seasons at Restaurant Quique Dacosta so there's less R&D involved. Think of it as the diffusion line equivalent for a couture fashion brand.
The gastro-bar Vuelve Carolina is located nearby El Poblet. I could see me taking my kids to this restaurant because they have rice and steak dishes (and a giant chocolate chip cookie for dessert!).
Mercat Bar has an extensive menu which would work for more adventurous children as well. It's a gastro-bar with affordable prices designed to seem like you are eating at a local street market. The food is all locally sourced but with an international touch. For example, there is gazpacho and ham baguettes but also tacos and noodles.
Visiting Restaurante Quique Dacosta
Restaurant Quique Dacosta is open for lunch and dinner. On the booking form, it asks if you need space for a buggy so presumably you could bring young children to the restaurant.  The restaurant is located at Urbanización El Poblet, Calle Rascassa, 1, 03700 Dénia, Alicante. You can book online.
Accommodation in Denia, Alicante
We were supposed to stay at a Home Exchange villa in Denia but it turned out to be a complete nightmare. We stayed one night at Hotel Villamor which turned out to be quite close to Restaurant Quique Dacosta. Although rated only 2 stars, we found the hotel to be perfectly fine.
For the rest of our trip, we rented a villa in Javia, a town nearby to Denia, through AirBnB. We rented a car through Avis at Valencia airport for the duration of the trip.  The drive from Javia to Restaurante Quique Dacosta took 20 minutes.
This site generates income via partnerships with carefully-curated travel and lifestyle brands and/or purchases made through links to them. More information may be found on our Disclosure Policy.
SaveSave
SaveSaveSaveSave
SaveSaveSaveSaveSaveSave
SaveSave
SaveSave