We were open-mouthed at the sheer opulence of the parade floats and costumes in the Sambadrome at Rio's Carnival.  We have been to a lot of parades but we were completely blown away.  Between the sound system, the floats and the dancers, Rio's spectacle was the most extravagant we had ever seen.  A look at the backstage of Rio's Sambadrome parades, though, reveals a whole lot of work and a fair bit of dodgy dealing.
Preparing for Rio's Sambadrome Parades
My children got to try on some Sambadrome parade outfits when we went to the H.Stern jewellery museum. The handmade beaded outfits are heavy. My daughter couldn't even move her head wearing a plumed head dress.  I assume that's why the women's costumes were so skimpy.  It would be hard to dance and smile for an entire hour and a half through the Rio Sambadrome parades if your outfit was heavier than you.
Each year the theme for each samba school changes as does the costumes, floats and official song.  The planning work for the next year's carnival begins almost as soon as the previous year's carnival ends.  You need new costumes, music, floats, dances and choreography.
The beads, feathers etc. of the costumes are recycled from year to year.  The costumes themselves are always different though.  Hundreds of people-hours are spent designing and creating the costumes for the thousands of people involved.
The Samba Schools
Rio has more than 100 samba schools and the top 12 are part of the elite Special Group. Below the Special Group, there are other tiers (just like in football divisions), Groups A, B, C and D.  Just like in football, samba schools can be promoted a division or relegated down to another group.  Also, similar to football, the samba schools inspire fierce loyalty that can make grown men cry.
The samba schools are a bit like community centres.  They provide a recreational outlet for favela dwellers. People are really devoted to their own samba school. Even within the same favela, there may be different samba schools.  Each one has its own flag and colours.  The samba schools were started in Rio in 1920 based on the centuries old traditions and structures of carnivals held in the city.
Samba City
The city of Rio set up Samba City located near the port to help the Special Group prepare for Carnival.  A massive 93,000 square meters, each Special Group member gets its own warehouse so that they can prepare and rehearse for Carnival.  These warehouses are also where the floats and the costumes are made and stored.  A trip to a favela would reveal that there's hardly any room in these shanty towns for oversize floats prior to their use in Rio's Sambadrome parades.
At any time of the year, you can visit Samba City and get a flavour of the spirit of Carnival.  Visiting Samba City is a popular tourist attraction and you can get organised tours to see it.  Regular tours are conducted in both Portuguese and English.
Funding Samba Schools
Each samba school works hard to create a masterpiece of showmanship and theatre for carnival.  Located in favelas, I wondered how the samba schools funded this extravagance.  While many people living in favelas are dirt poor, other inhabitants are the working class.  For example, they work as the maids, gardeners and household help in the houses of the wealthy.  I can't imagine either type of favela dweller having the spare cash needed to participate in Rio's Sambadrome parades.
The official story says that samba schools raise money for their activities through fundraisers, government grants, ticket sales and corporate sponsors.  Many of the participants in the Sambadrome parades don't have to pay for their outfits.  Moreover, there are people who are paid to work on Rio's Sambadrome parades as their official job.  So, you would need to do a whole lot of fundraising to finance this effort.
The ugly truth?  The millions of dollars needed for the extravagance of the samba school displays at Rio's Sambadrome parade comes from the underbelly of Carioca life.  Drug dealers launder money through the favelas.  Drug gangs fund the samba schools to  keep the favela dwellers happy and turn a blind eye to the drug dealing in the community.
Who needs religion?  The opiate of the masses can be sparkly costumes and dancing.  It wasn't just the theatricals, music and dancing that reminded me of Bollywood movies.  Indian Bollywood movies are immensely popular and cheap to attend.  They are a way to keep people entertained and their minds off their problems. At least the Brasilian samba schools require audience participation.  There are at least 4000 people marching in each school's parade and countless more behind the scenes doing the artwork, music, construction etc.
In addition, carnival is funded by gambling sources.  Although gambling is illegal in this very Catholic country, back-street gambling in the form of a lottery called 'jogo do bicho' is very popular.  This money is laundered through samba schools, too.  Our guide, Marco Bransford, told us that the government is considering making Jogo do Bicho legal. Brasil is not doing well financially and the government could use the tax money raised from the lottery.
The dodgy funding isn't limited to Brasilian sources either.  The 2015 Carnival winner, Beija-Flore, was rocked by controversy that its floats were funded by the dictator of the small West African nation of Equatorial Guinea. The people of Equatorial Guinea are among the poorest in the world even though the country is oil-rich.  It's a bizarre form of wealth transfer to take from the poor of one country to give to the poor of another country (and not even for health, education or other resources that would improve their lives long-term). Such controversies are old news in Rio's Sambadrome parades.  For example, in 2006, another school was accused of being funded by Venezuelan President Chavez.
I went to Brasil thinking that Catholicism was its religion and football was its main preoccupation.  Now, I know that samba schools are another form of religion.  Between Catholicism, football and samba, the people in the favelas of Rio are kept too busy to complain about their miserable lot in life. It's a win/win for everyone, or so it seems.
SPREAD THE WORD! PIN THIS TO YOUR TRAVEL PINTEREST BOARDS FOR FUTURE REFERENCE!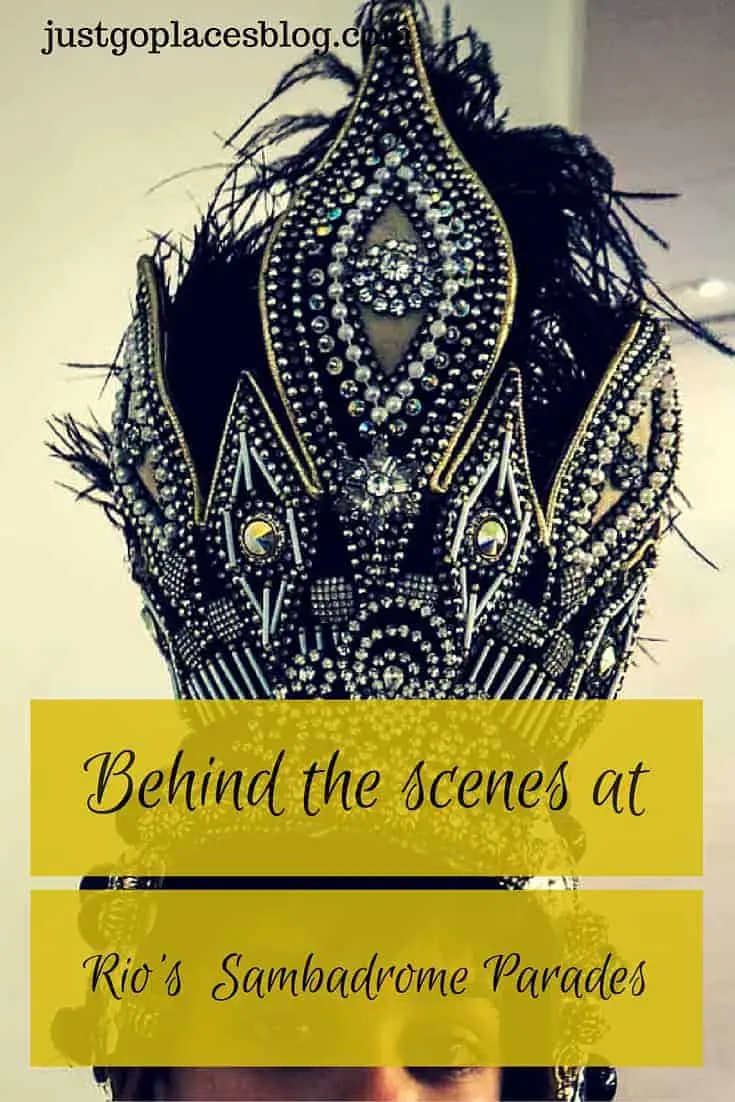 We did not receive compensation of any form, monetary or otherwise, from any of the products, services, hotels etc mentioned in this article.
This site generates income via partnerships with carefully-curated travel and lifestyle brands and/or purchases made through links to them at no extra cost to you. More information may be found on our Disclosure Policy.