A Louisiana road trip shows you all the fun things to do in Louisiana! Every Louisiana trip must include New Orleans and then add on visits to the Louisiana river road plantations and other road trips in Louisiana, such as to Louisiana Cajun country. When you road trip Louisiana, you will be assured of great food and music as well as a fascinating history. In addition, we also show you how easy it is to do road trips from Louisiana for example, a Louisiana to Florida road trip or a Louisiana to Texas road trip.
Road trips in Louisiana: Louisiana River Road
One of our favourite Louisiana road trips was on the Louisiana River Road. Start in New Orleans and take Louisana Highway 18, aka the Louisiana Great River Road, for about 80 miles up to Baton Rouge. 
The Louisiana River Road plantations start pretty much as soon as you leave New Orleans with Destrehan Plantation and Ormond Plantation. There are 10 River Road plantations to explore so choose the ones that interest you! 
For example, we visited three river road plantations Oak Alley Plantation, Laura Plantation and Whitney Plantation – each of which was chosen for their diversity and family-friendliness.  We felt our kids could visit a maximum of three plantations on the Louisiana river road before we faced rebellion in the ranks.
We stayed overnight at a cottage in the Oak Alley Plantation which was perfect. Not only was the cottage charming but we got to see Oak Alley in the early morning hours before the tourist hordes descended.
Road Trips From Louisiana
It's easy to navigate road trips from Louisiana following along on the Gulf Coast for either a Louisiana to Florida road trip on the east or a Louisiana to Texas road trip on the west.
Louisiana to Tennessee
Luisiana to Tennessee makes a great North/South road trip because you can enjoy great food and music in both states!
Head north on a road trip from Louisiana with visits to plantations along the Louisiana Great River Road and ending up in Baton Rouge.
You have two options for Louisiana to Tennessee road trip destinations. One version uses part of our Alabama road trip itinerary as well. 
 Go north from Baton Rouge to Birmingham Alabama with its civil rights history, Huntsville Alabama for its NASA space center and then Nashville Tennessee for its music and barbecue!
Alternatively, music lovers will want to take a road trip along Route 61, aka The Blues Highway, from Baton Rouge to Memphis Tennessee.
This Louisiana road trip shows how easy it is to incorporate a Louisiana trip into a larger Southern USA road trip.
Louisiana to Texas road trip
After Mardi Gras one year, we did a Louisiana to Texas road trip that took us through Louisiana Cajun country.  We flew into the international airport in New Orleans and out of the international airport in Houston. 
Some of the cool things you can do on a Louisiana to Texas road trip:
visit Avery Island to see where Tabasco is made
spot alligators on a swamp tour
eat ice cream at Borden's, a historic ice cream shop in downtown Lafayette
chow down on great Gumbo and other cajun food 
learn about the diversity of Louisiana Cajun country at the Vermillionville living history museum
On this Louisiana to Texas road trip, you will encounter many things in Louisiana Cajun country that make a Louisiana trip truly different from visiting other American states.
Louisiana to Florida road trip
We have not done the entire Louisiana to Florida road trip – just missing about a  150 miles on the Mississippi coast side. We know people, however, who have done this trip and they say its fabulous.
The distance from Orlando to New Orleans is about 650 miles. This Louisiana to Florida road trip can easily be a 12 hour drive so it makes sense to break it up into smaller sections. Moreover, there's so much to do and to see along the way!
Drive along the Gulf Coast and some of the things you will encounter are:
beautiful Gulf Coast beaches and glorious sunsets
Bilox Mississippi with its casino and fun atmosphere
Mobile Alabama which will remind you they did Mardi Gras first
tacky fun in Flori-bama
small town charm at Apalachicola Florida
There are so many fun things to do in Louisiana that the party doesn't need to stop if you head east on a Louisiana to Florida road trip.
Louisiana Road Trip Stops
We have asked these travel experts to tell us about their fun things to do in Louisiana. Incorporate these ideas into your Louisiana road trips to make your Louisiana trip truly unforgettable.
Baton Rouge, Louisiana
Most people who visit Louisiana head straight for New Orleans but just up the Mississippi River in Baton Rouge you'll find a city marching to the beat of its own drum. Cajun and creole influences combine with a good dose of southern charm in Baton Rouge and here you'll find a city that's uniquely Louisiana.

Located 2 hours from New Orleans. Baton Rouge's downtown is compact and very walkable. Start your visit taking in the views of the iconic Mississippi River before checking out the diverse collection at the LSU Museum of Art.

Most state capitals have one state building but Baton Rouge happens to have two with very distinct personalities. The Old State Capitol, built in 1852, is a Gothic castle overlooking the Mississippi River. Equal parts Willy Wonka and 19th Century Paris, the colorful interior makes it hard to believe that this was a place for government work.

A few blocks away the new State Capitol, an Art Deco masterpiece standing at 450 feet high, is the tallest state capitol building in the country where a rooftop viewing platform offers up sweeping views of the Mississippi.

Being in Louisiana, Baton Rouge is definitely a city that takes its food seriously. From classic Louisiana oysters to gourmet tacos White Star Market is a casual food hall with something to suit every taste, if you have a sweet tooth be sure to stop by Elsie's Plate and Pie for scratchmade pies like coconut cream and smores.

– by Brianna Simmons at The Casual Travelist
Lafayette, Louisiana
There is something special about smaller towns – the charm, the food, and the sense of community. Lafayette, LA, is this and so much more. It's unique culture, history, and delicious food makes it the perfect place to visit on a southern road trip.

Lafayette's heritage is a combination of the arrival of the Acadians from Acadia, Canada in 1765, and the rich presence of the Native Americans and African Americans who already occupied the land.

In fact, they have two culture museums dedicated to their history- Vermilionville and Acadian Village. Both museums embody the life and culture of the individuals who lived in Lafayette during the 18th century. The museums include restored homes, historians detailing the history, and musicians performing local zydeco-style music.

If there is a love of water or nature, the Bayou Vermilion District has canoes and kayaks for rent. You can take a self-guided tour across the bayou or relax and enjoy the beauty of nature.

Similarly, the Lafayette area is surrounded by state parks that offers beautiful nature trails to explore. In fact, Louisiana State Parks offers glamping for those who want to enjoy the beauty of the parks overnight.

A trip to Lafayette is not complete without enjoying some of it's amazingly delicious cajun food. Poboys are the quintessential sandwich of Louisiana. Therefore, Pop's Poboys has to be on your food list. The food is well seasoned and the french bread is soft and fluffy. Similar to poboys, boudin and cracklins is a Louisiana staple. Don's Speciality Meats makes the best.

No matter if history, nature, or food is your jam, Lafayette, a two-hour drive from New Orleans, makes the perfect visit on a Southern road trip.
 – Marquita from Marquita's Travels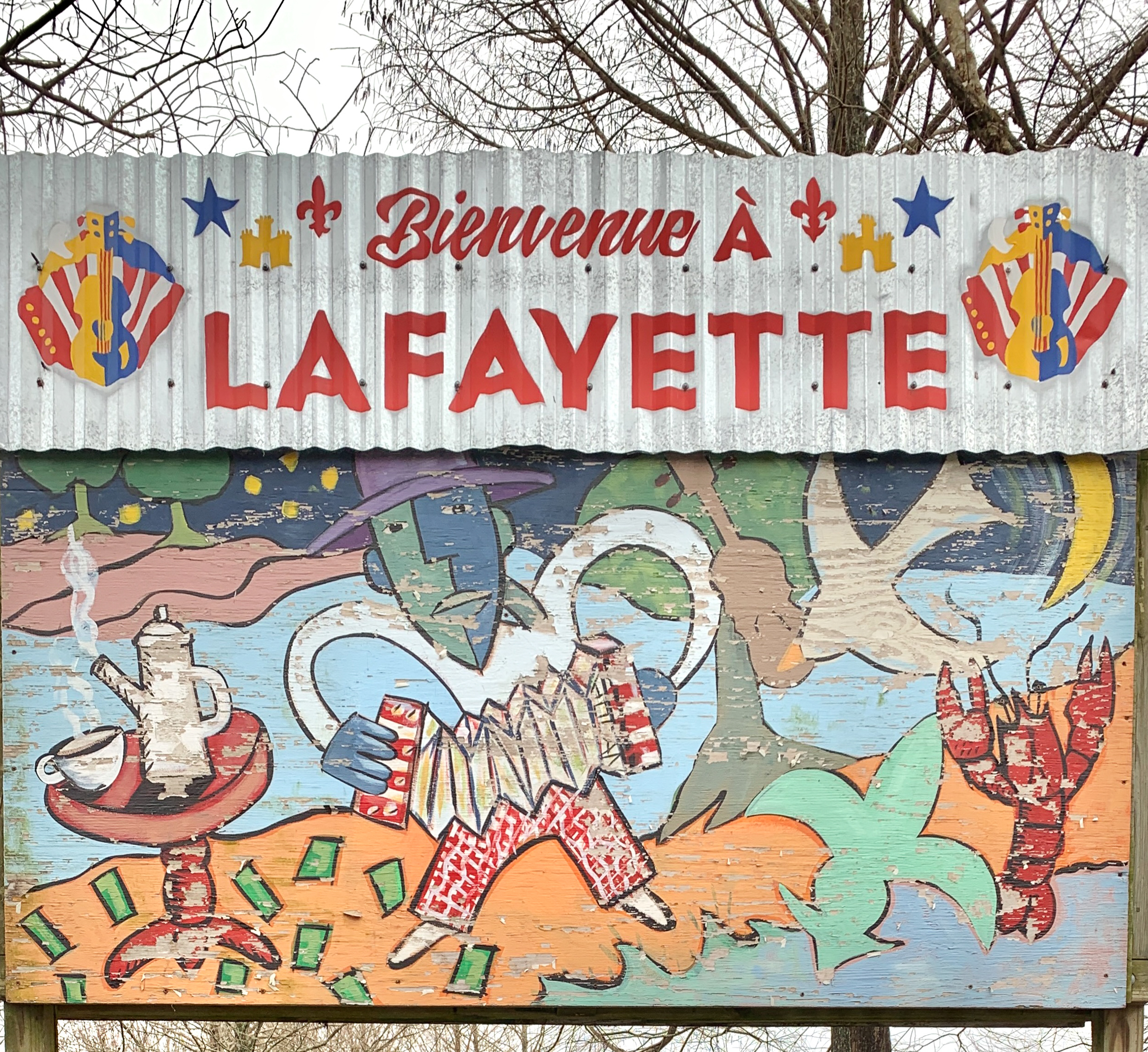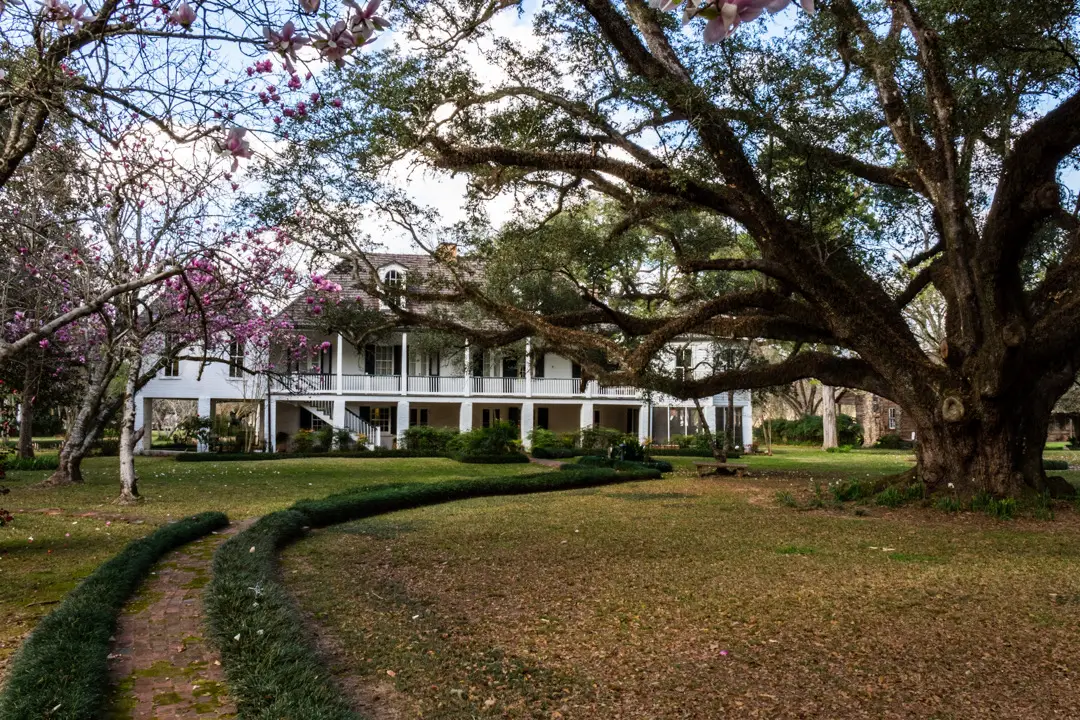 Natchitoches, Louisiana
Situated on the banks of the Cane River, Natchitoches is a city that you definitely be included on your list of places to visit on a southern road trip. As one of the oldest cities in Louisiana, Natchitoches is packed with history and small town charm.

Find your accommodations in the 33-block National Historic Landmark District at one of the many great bed and breakfasts located here like the Steel Magnolia House (where the movie Steel Magnolias was filmed) or the Sweet Can Inn. Both of these are located in the heart of the town where you will find great shopping and restaurants.

Be sure and make one of your restaurant stops Lasyone's Meat Pie Restaurant and try one of their famous meat pies.

History lovers are surrounded by history in Natchitoches. There are three plantations in the area that you can visit including Oakland, Magnolia, and Melrose Plantations.

In addition to the plantations, you can also explore Los Adaes State Historic Site and Fort St. Jean Baptiste State Historical Site. Natchitoches is also home to the Louisiana Sports Hall of Fame, so be sure to check it out during your visit also.

Come during Christmas to enjoy the famous Natchitoches Christmas Festival. The city is all lit up with more than 300,000 lights throughout the downtown district and around Cane River Lake.

There are really so many things to do in Natchitoches that you could stay busy for days, so grab your road trip essentials and head out to Natchitoches, Louisiana!

– by Michelle Snell of That Texas Couple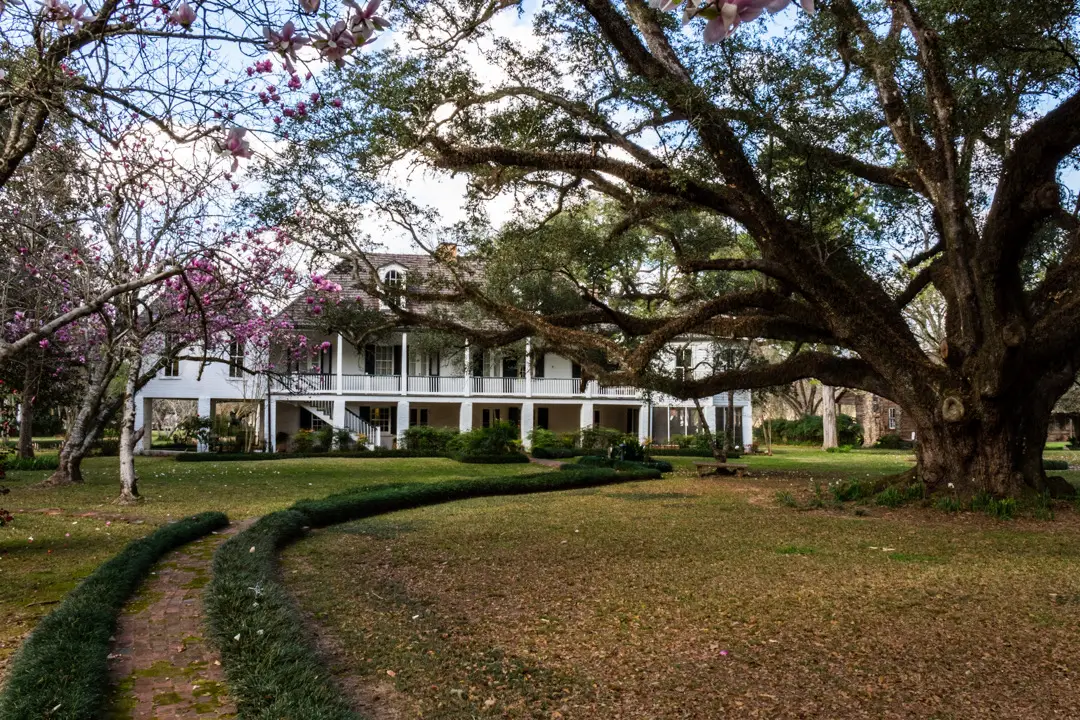 Natchitoches, Louisiana
Situated on the banks of the Cane River, Natchitoches is a city that you definitely be included on your list of places to visit on a southern road trip. As one of the oldest cities in Louisiana, Natchitoches is packed with history and small town charm.

Find your accommodations in the 33-block National Historic Landmark District at one of the many great bed and breakfasts located here like the Steel Magnolia House (where the movie Steel Magnolias was filmed) or the Sweet Can Inn. Both of these are located in the heart of the town where you will find great shopping and restaurants.

Be sure and make one of your restaurant stops Lasyone's Meat Pie Restaurant and try one of their famous meat pies.

History lovers are surrounded by history in Natchitoches. There are three plantations in the area that you can visit including Oakland, Magnolia, and Melrose Plantations.

In addition to the plantations, you can also explore Los Adaes State Historic Site and Fort St. Jean Baptiste State Historical Site. Natchitoches is also home to the Louisiana Sports Hall of Fame, so be sure to check it out during your visit also.

Come during Christmas to enjoy the famous Natchitoches Christmas Festival. The city is all lit up with more than 300,000 lights throughout the downtown district and around Cane River Lake.

There are really so many things to do in Natchitoches that you could stay busy for days, so grab your road trip essentials and head out to Natchitoches, Louisiana!

– by Michelle Snell of That Texas Couple