What do you do when you get tired of how rundown your street is looking? Most people would call and complain to the city council. In Rio de Janeiro, though, rundown streets are a dime a dozen and probably not that high on the financially-strapped city's list of problems. So Chilean artist, Jorge Selaron took it upon himself in 1990 to fix the steps outside of his house. Along the way, he got caught up in the project, redid the whole street and created a new Rio landmark. It's officially known as Manuel Carneiro street although everyone knows it as Escaderia Selaron.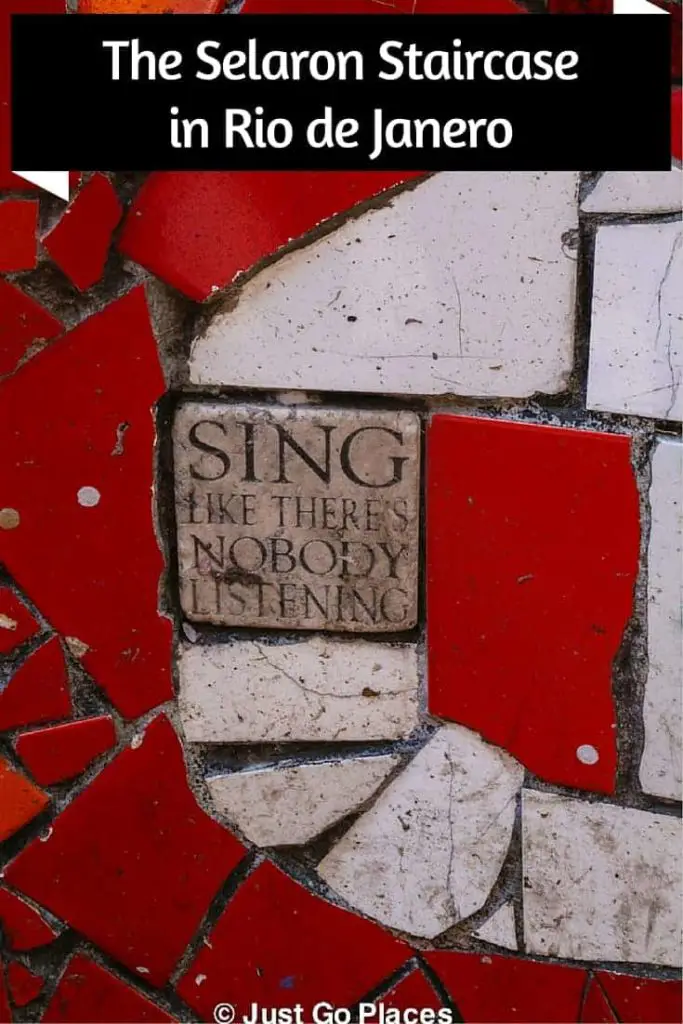 The Selaron steps is a steep street that runs between the two artsy neighbourhoods of Santa Teresa and Lapa. Santa Teresa is a gentrified bohemian neighbourhood which is easily accessible from downtown Rio by a special tram.  The area has lots of galleries, cafes and the very nice boutique hotel, Hotel Santa Teresa.  The Lapa neighbourhood is stuffier and filled with street art.
There are 250 steps that total about 125 metres. The work took over 20 years to complete with Selaron adding to the project until his death in 2013.  Had he not died, you could see unadorned parts where he no doubt would have finished tiling.
Selaron started off using yellow and green, the colours of the Brasilian flag. He got the mosaic pieces from construction sites and urban waste sites.
He started expanding his colour repertoire in later years though.  From what I could tell he got lots of red tiles in some sort of bulk deal.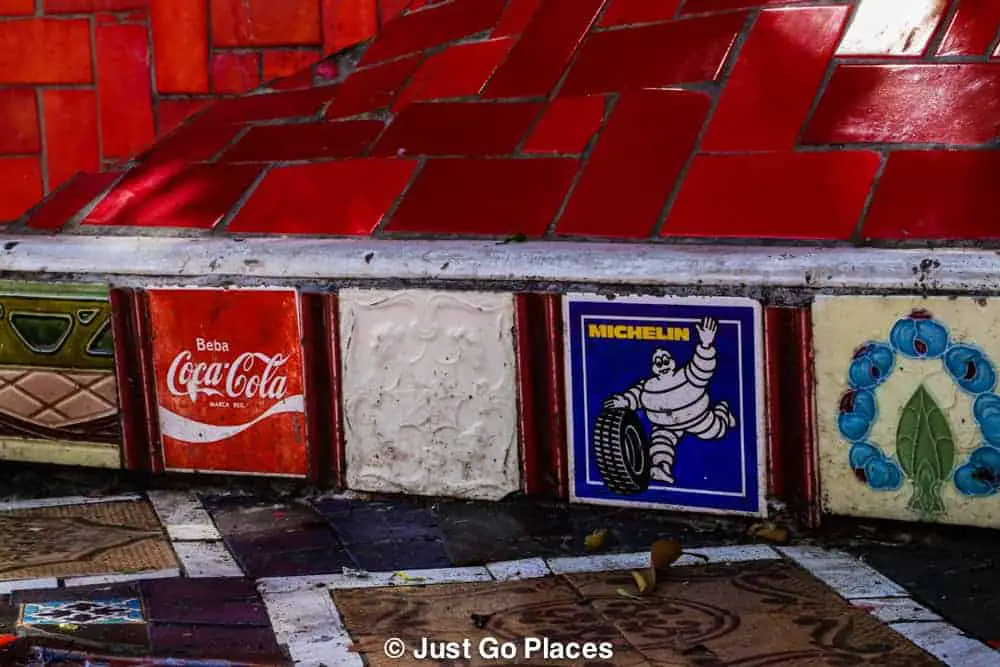 There are more than 2000 tiles many of which were donated by visitors and admirers. We really liked checking out the tiles to see which ones were from the most random countries. There are more than 60 countries represented.  A fun game for the kids was guessing how many countries they could spot.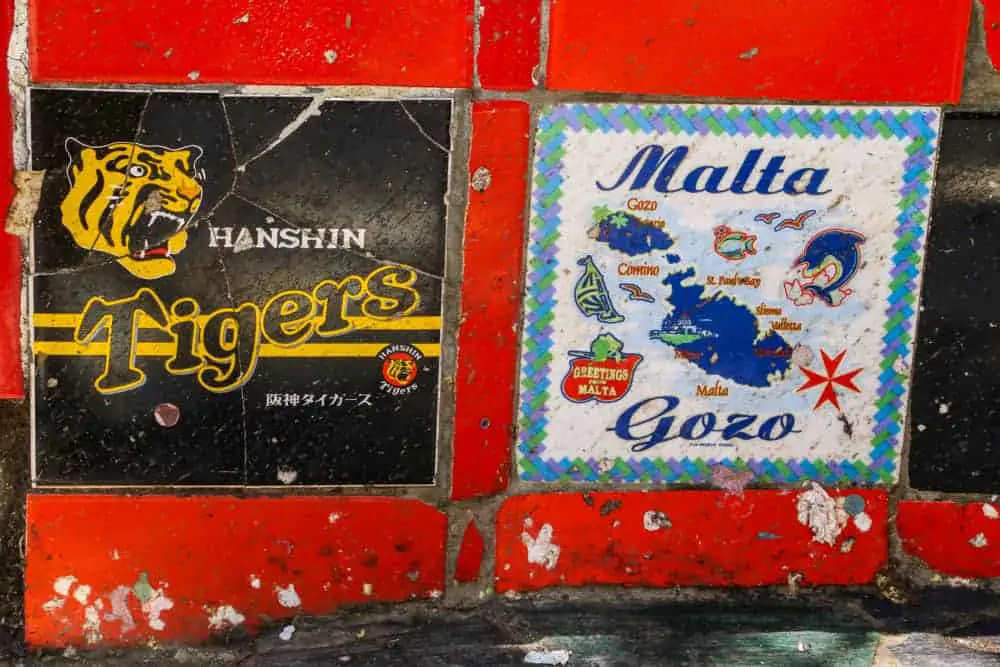 Approximately 300 of the tiles are paintings by Selaron of a pregnant African women.
There are houses all along this street.  When Selaron started his project, his neighbours thought he was crazy.  Now, the neighbours are flooded with tourists especially during peak season such as Carnival.
Rio considers Selaron the city's version of Antoni Gaudi, the Catalan artist known for using broken pottery to create mosaics.  Selaron, with his handlebar mustache, even had unique facial hair just like Gaudi.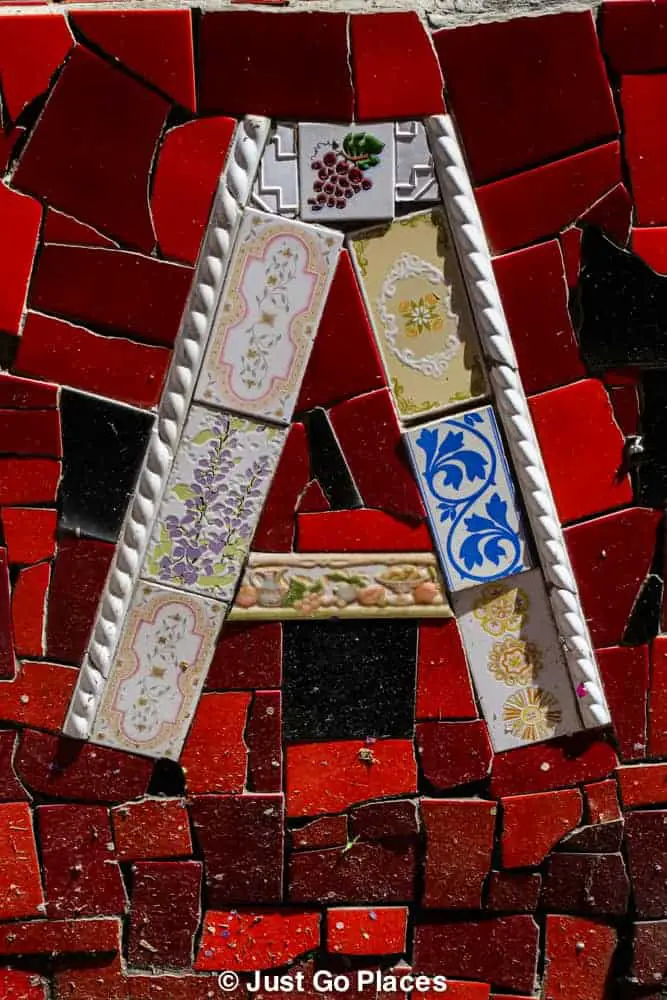 Selaron died in 2013 in mysterious circumstances.  His body was found lying on the steps that he had lovingly created.
The Selaron Steps achieved international fame when they were featured in the 2003 hit song 'Beautiful' by Pharrell featuring Snoop Dogg.  By the way, the beach scenes from this video were filmed in Copacabana Beach.
Rio likes to think of Selaron as their answer to Catalan modernist, Antoni Gaudi. In Sao Paolo, we had Estevado who created The Stone House who is compared to Gaudi, too.  The Stone House is completely covered in 'stuff' the artist had either found or bought and then cemented into the wall.  These items ranged from the ordinary (phones) to the ridiculous (tourist souvenirs).  Although Selaron's work is more similar to Gaudi's broken pottery mosaics, Estevado has pushed the boundaries of Gaudi's ideas and created something completely new. What do you think Gaudi would have thought of these two Brasilian artists who have paid homage to him?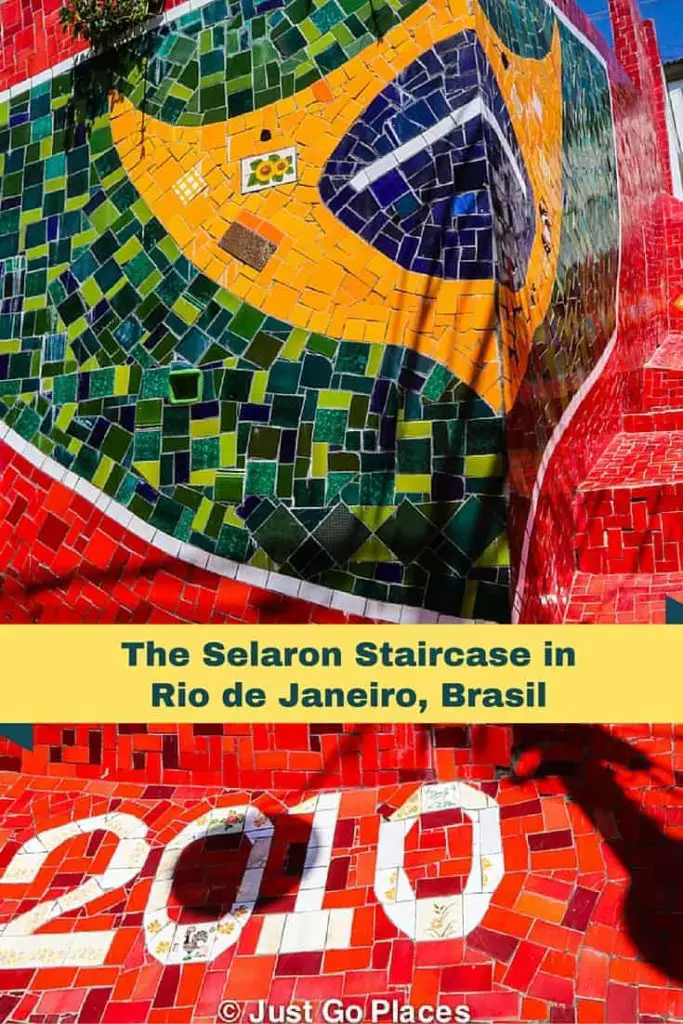 SPREAD THE WORD! PIN THIS TO YOUR TRAVEL PINTEREST BOARDS FOR FUTURE REFERENCE! 
This site generates income via partnerships with carefully-curated travel and lifestyle brands and/or purchases made through links to them at no extra cost to you. More information may be found on our Disclosure Policy.