It's not often a place leaves me speechless.  Looking around at the trinkets cemented into the walls which were curved every which way, I was at a loss for words.
We were at a house in Parasaipolis, the second largest favela in the largest city in South America, to visit the Casa de Pedra (The Stone House).  The house is the work of Estevado Conceicao, an artist hailed as Brasil's answer to Barcelona's favourite artist and proponent of Catalan Modernism, Antoni Gaudi.  Our guide, Leo from FlaviaLiz Tours had met Estevado at his day job when he was working as a gardener.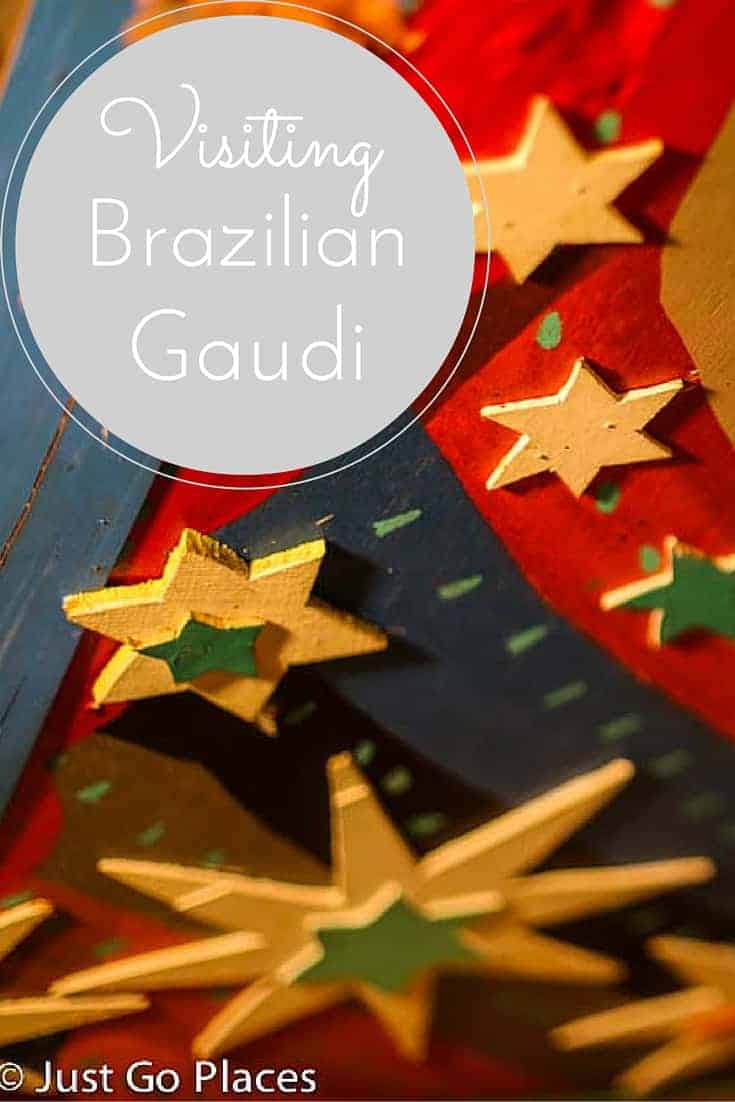 We are shown around by Estevado's wife, Edilene, who is completely supportive of her husband's vision. My friend and I agree that we would not be so understanding.  My husband had an enormous collection of pennies housed in beer bottles when we moved into our first house.  Shortly thereafter, the collection found itself being donated to charity 🙂
Estevado, the Brazilian Gaudi
The parallels to Gaudi are obvious – the use of organic forms and the recycling of materials.  Whereas Gaudi used shards of ceramics to decorate his works, Estevado is more liberal.  He has cemented into place whole trinkets and everyday objects that he has found.
Although Estevado has been nicknamed the Brazilian Gaudi, he had never heard of Gaudi when he started on the Casa de Pedra.
The Gaudi Foundation was so impressed with the Casa de Pedra that they flew Estevado to Barcelona so that Estevado could see in person the works of the artist he so admired.  Estevado also created a cow for the international Cow Parade. His work, Cowdi, got auctioned off for charity bringing in 31,000 Brazilian Reals (approximately £6000).
Surely, Estevado's wife, Edilene, has to be the most patient and understanding woman EVER.  Apparently Edilene takes a portion of his gardening income for the housekeeping bills and then he is free to spend the rest on buying trinkets to cement into the walls.  I also can't even imagine living in such a house.  Other artists have a studio where they can let their imagination run wild but their families don't necessarily have to live with and through the creative process.
Like many people in Parasaipolis, Edilene and Estevado are from the Northern province of Bahia.  They came to Sao Paulo for work many years ago and settled in Parasaipolis.  They have a son and a daughter who live with them in their house.  A small section of the back of the house serves as a lounge, kitchen/diner.  Upstairs, there are three bedrooms.  The rest of the house is devoted to Estevado's vision.
Estevado's Casa de Pedra
Estevado started creating in 1985 when the family had a rose tree they wanted to preserve.  He cemented the tree with artefacts and never looked back.  Although he does some art for sale, his major piece is the Casa de Pedra.
From the outside the house looks like the stuff of a bad acid trip (a cement house with objects haphazardly attached to it).  The inside is pretty much the same.  The neighbours are pretty unhappy with the house believing it to be black magic.  I'm pretty sure anyone in any neighbourhood would a strong opinion about living next door to such a house.
We walk hunched low through tunnels in the house.  True to his inspiration, there are no straight walls in Estevado's creation.  Each corner you turn brings you to another viewpoint of yet more random items whether they be cellphones, religious items, a typewriter, cups and saucers.  You climb between floors using an assortment of found objects (such as a swimming pool ladder) and holding onto whatever's cemented on the wall.
We climb through tunnels until we reach the roof which really has amazing views of the roofs of Parasaipolis.  He has created a roof terrace like no other.  Plants are bedded into assorted containers and then decorated some more.  Too much is never enough.  For whatever reason, Estevado has enshrined a few bicycles up there. It's a really strange feeling to sit on a rooftop bicycle in a Sao Paulo favela.
Estevado's children's friends apparently love visiting the house.  I can see that.  For a child the rabbit warren is a perfect place for imaginative play. And the bicycles on the roof garden?  I know I would have a problem getting my kids off the roof garden.
What Does It All Mean?
Even now weeks later, I find that describing (and understanding) Estevado's work is difficult.  I felt uncomfortable inside the house which was a masterpiece of sensory overload.  In many ways, the house reminds me of the larger city of Sao Paulo – crowded, attractive in unexpective ways and yet loved.
The house really is a symbol of consumerism in this day and age.  So many cheap items mass-produced, enjoyed briefly and then thrown away for the  next thing that catches the eye.  In Estevado's house, these items are enshrined – a testimony to life in the late 20th Century.
Estevado is now retired from gardening.  He will not be expanding his house anymore he has promised his wife.  Instead he will spend his time filling any uncovered space in the house.  I was hard pressed to find such space myself but I'm sure Estevado knows every square inch of his house.
A recreation of the house appears in the popular Brasilian soap opera, I Love Parasaipolis.  Thanks to the fame from the soap opera, Edilene tells us there is almost one visitor a day to the house.  Visitors are asked to pay 30 Brasilian reals for entry (£5.50).  It's definitely not a place for the claustrophobic.  Moreover, Paraisopolis itself is a place that is best visited with a local such as our guide Leo.
***