When I saw that our hotel was set in a Spanish mini-mall, I was not exactly thrilled.  After all, I was expecting a 5-star design hotel. Once we were through the revolving doors, however, the Hotel Val de Neu in Baqueira was full of surprises.  A luxury hotel that was a design hotel and also very family-friendly? Now, if only more hotels could achieve that balance, I would be a happy family traveller.
The Hotel Val de Neu in Baqueira
We chose Val de Neu because of its location and its amenities. OK, those reasons were what attracted my husband. As for me, I also liked having a contemporary design hotel after years of traditional ski lodges.  A member of a small group of Spanish hotels, the Hotel Val de Neu ticked most of our boxes.  We really liked it!
I've created a story on Steller about the Hotel Val de Neu in Baqueira which has proved pretty popular with over 9000 views.  Check out how gorgeous this hotel is!
Location
Hotel Val de Neu is part of a small complex on the Val de Ruda in the Baqueira section located at 1500 meters.  There are two other hotels, a Haagen-Daz store, a little supermarket, a handful of ski rental stores and boutiques and an apres-ski joint. The whole bit was covered and heated like a little mini-mall which was why I was surprised when I first saw it.
Basically Val de Ruda is only this little complex and a group of apartment-style ski lodges on the other side of the street.
The great part about the apres ski?  Parents could hang out with a drink while the children were messing around in the mini-mall nearby.  No  need to hire a babysitter.  On Saturday night, the bar had live music as well.
The hotel is located right near the ski gondola and the place where you buy your ski pass. The hotel Val de Neu has lockers near the gondola as well.  You don't need to cart your skis and boots on the 5 minutes it talks to walk the 50 yards to the gondola.  If you have children, you know that 5 minute walk can feel like an eternity when they are tired and whiny.  At the lockers, the staff hand out cereal bars for snacks which I found a thoughtful touch.
If you drive (and I strongly urge you to do so), there is a hotel car park right underneath the building.
Amenities
There is a kids' club at the Hotel Val de Neu. It's got a climbing frame, some PS3 games and lots of arts and crafts. There is also a small pool (more like a giant bathtub) which was pretty crowded with crazy kids jumping in the water.  My son also complained that the water was not heated.  I know, I know.  We were there for Easter and the kids' club organised a Easter Egg Hunt in which many of the kids at the hotel participated.  The language of chocolate spoke to all kids, even my too-cool-for-kids-clubs kids.
The Spa at the hotel is available for over-16's only and has treatment rooms, soaking areas and relaxing areas. As you would expect from my spa-loving self, I had a massage which was pretty good.
You have to pay €40 extra to enter the Spa area which I thought was annoying.  On the other hand, the Spa had a great selection of whirlpool baths, including an outdoor one, which was perfect for soothing away aching muscles.  I've read that many of the hotels in the area charge for using their spa even for their hotel guests.
There is a tiny gym which I did see people using.  If you are skiing, however, I would have thought it was exercise enough!
Rooms
Our room was a duplex.  The downstairs area has a sofa which turned into a large bed for the children.  Upstairs is the open-plan bedroom and bathroom.  When the sofa bed is opened though, you don't have much room to navigate the downstairs area.  As you would expect from a luxury hotel, both beds were very comfortable.
We noted that there is a connecting door to the next room.  Larger families would find the layout very convenient.  While we only had a large walk-in shower, I know there are bathrooms with bathtubs so if your children need a bathtub you should specifically request it.
The upstairs roof was pitched with dormer windows (and blackout blinds which would be necessary because the Spanish sleep late).  You really got the sense of being in a little chalet which presumably was the idea of dormer windows.
Restaurants
The hotel has four restaurants – El Bistro for casual  meals, El Bosque for fine dining, La Fondue if you miss your Alps melted cheese experience and a restaurant for children.
My children felt the kiddie buffet was beneath their dignity but I stopped by for a look.   It was basically a converted conference room with a buffet of usual children's favourites.  What did I find funny?  The kiddie buffet was served early as per the usual custom.  Early in Spanish dinner time meant 8pm-10pm.    The children were pretty young – 7 and under – I would say.  When my kids were aged 7 and under they were in bed fast asleep by 8pm.
We had lunch at El Bistro and dinner at El Bosque both of which were excellent. El Bosque let us have a kiddie menu at our table for my daughter.
Overall Assessment
Service at the hotel was excellent.  All the staff spoke English ranging from excellent to passable.  We don't speak Spanish but had no problems communicating.
The WiFi was excellent.  It reached the rooms, the spa and restaurants well.  Ironically?  The one place we did not have good WiFi was our upstairs loft bedroom.  Very annoying but it did stop us from playing with our electronics late into the night.
There were lots of thoughtful little touches.  For example, when our taxi service didn't show up a couple of times, the hotel driver took us to our destinations.  Every afternoon, bottles of water and little sweet treats were left in our room.  When we left, they gave us bottles of water and snacks for the kids for the transfer to the airport.
Other Hotel Options in Baqueira
There were two other hotels that were part of this complex on the Val de Ruda.  The AC Baqueira is part of the Marriott chain and is likewise 5-star.  It doesn't have the same large spa complex though that Val de Neu does. The 4-star Himalaia, the third hotel, is likewise contemporary in style.  I personally would not pick either hotel over the Hotel Val de Neu.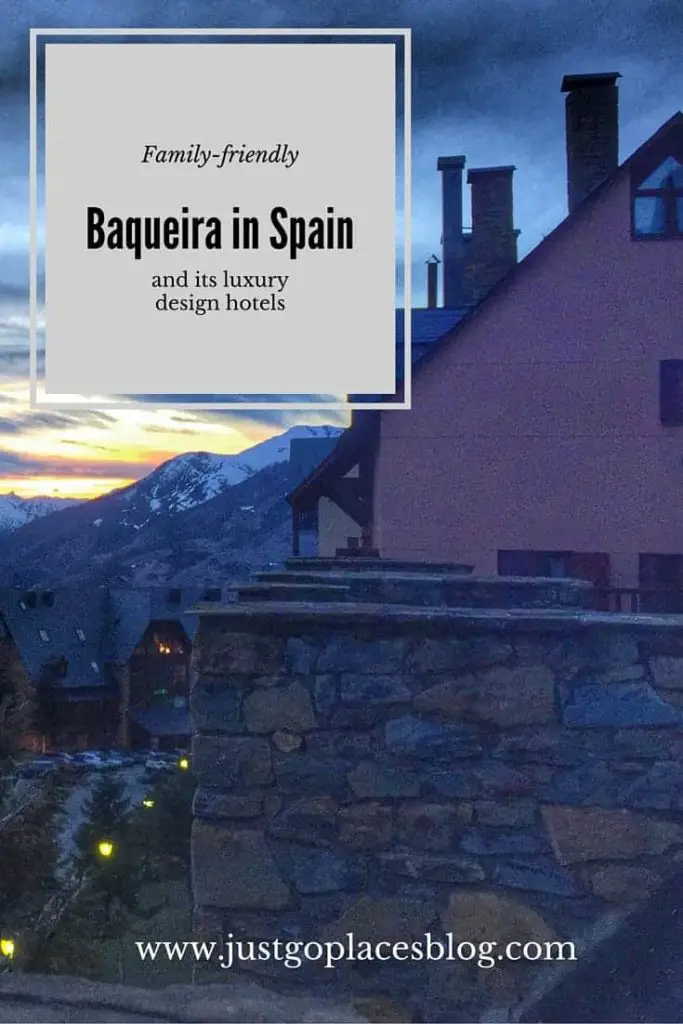 Tanau, another part of Baqueira, is higher up the mountain.  Located at 1700 meters, Tanau peers over the Val de Ruda hotels and the rest of the valley.  Although Tanau has its own set of villas and a couple of hotels, restaurants and stores,  this hamlet is equally tiny and has its own ski lift.  It is marginally famous for having the villa of the Spanish royal family.  The Melia Royal Tanau is the 5-star family-friendly hotel.  Ironically, I don't find it as convenient because of it's lack of mini-mall setting.
Chalet Eira is owned by a British couple and is popular with English-speakers.  They also have their own ski school located on the premises, the Baqueira British Ski School.  A quick look in the hotel convinced us that it was a little piece of Britain transplanted into the Spanish Pyrenees.
The Chalet Eira rates are half-board so you don't actually need to have any interaction with the locals if you so wish. When we went next door to the fabulous little restaurant, Tanau Sabor, we found lots of English people having their Chicken Tikka Masala curry fix.  In addition to the hotel rooms, they have several self-catering 2 and 3 bedroom apartments.
Our Opinion of the Hotels in Baqueira
We didn't know much about the Baqueira-Beret resort before we went skiing there over Easter. We loved the resort, however, and plan on returning next year.  So, we made a point of checking out all of our hotel options for a future trip.
You can stay elsewhere in the Val d'Aran and still ski at Baqueira-Beret.  With children in tow, I am not a fan of this idea.  When my kids get tired, it's like when the battery on my iPhone dies. It goes red for a few minutes, you can quickly plug it in or it's kaput in short order.  My kids seem to have a very little gap from tired to cranky annoying dead-tired. I need to order downtime for them quickly for all of our sanities.
We've decided that we love the Hotel Val de Neu in Baqueira for all the reasons that we first picked – a luxury, family-friendly design ski hotel in a great location.  We also love the hotel for some more reasons that we did not know until we got to experience it – excellent and friendly service, the churros, and, yes, the convenience of a mini-mall.  The American is strong within me, I fear.
SPREAD THE WORD! PIN THIS TO YOUR TRAVEL PINTEREST BOARDS FOR FUTURE REFERENCE! 
We did not receive compensation of any form, monetary or otherwise, from any of the products, services, hotels  etc mentioned in this article.
This site generates income via partnerships with carefully-curated travel and lifestyle brands and/or purchases made through links to them at no extra cost to you. More information may be found on our Disclosure Policy.