Who doesn't like value for money?  I know I do.  Finding a good quality three star hotel is like searching for a needle in a haystack. In my experience, many independent hotels (except for the ones associated with a reputable brand like Small Luxury Hotels) are generously allocated their star rating.  We don't tend to stay at three star hotels because they tend to run towards the quality of a two stars establishment.  It is really remarkable to find a 3 star hotel which could in effect be a four star hotel. I was really delighted to find Hotel Touring in Bologna in Italy is one of those rare gems.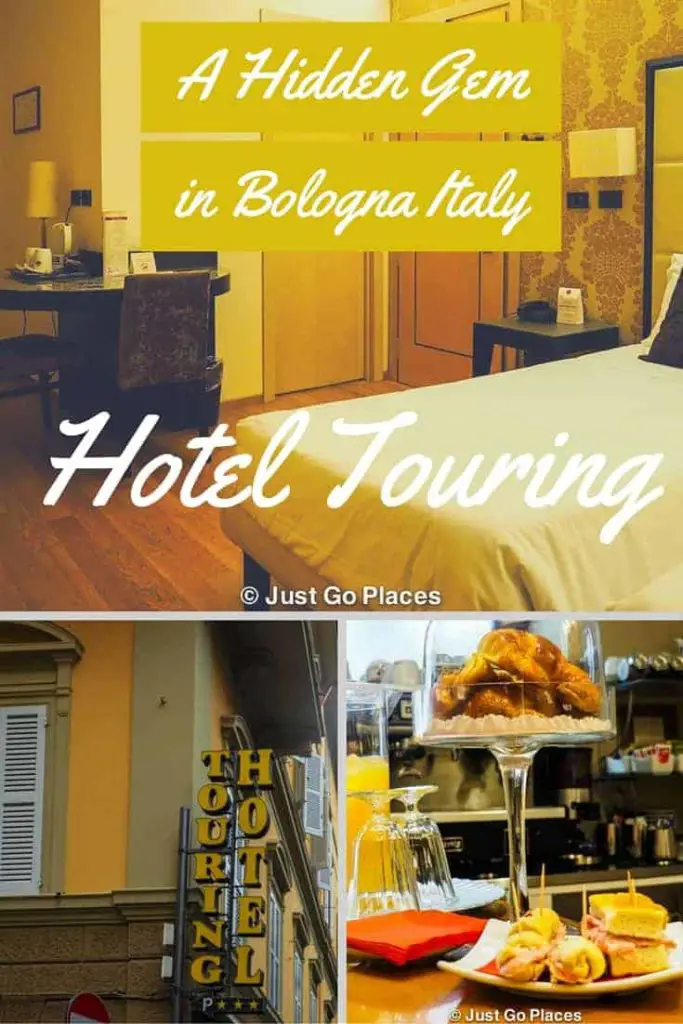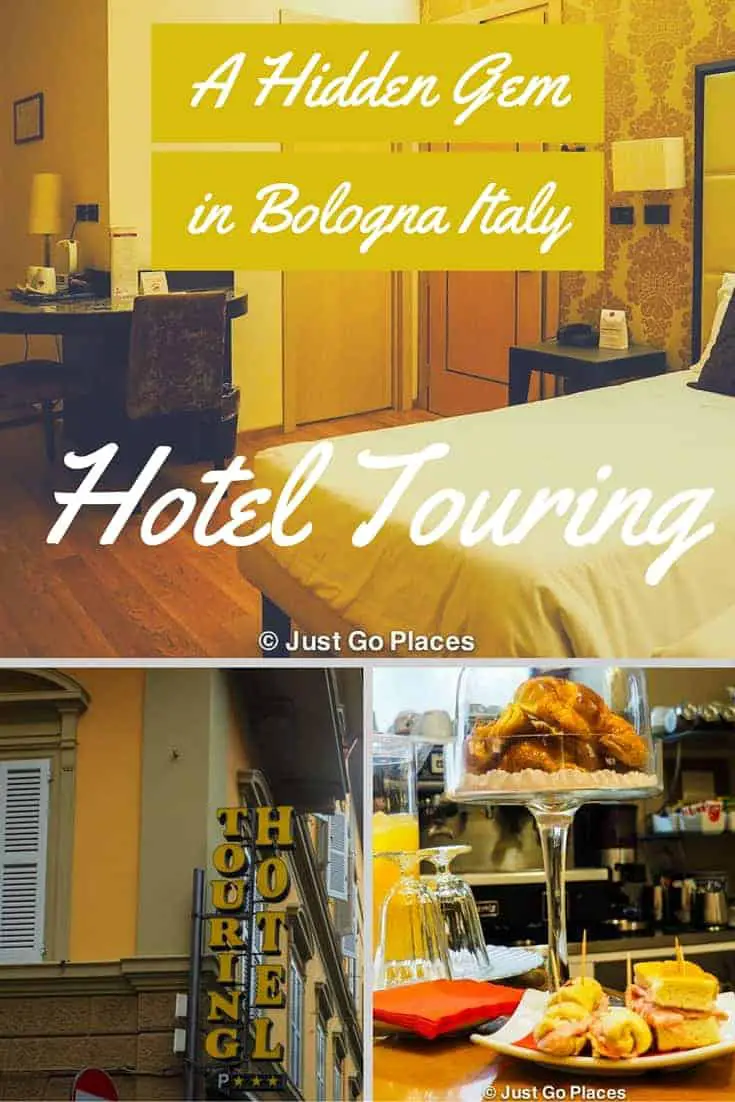 Why I Loved Hotel Touring in Bologna
Excellent Location
Hotel Touring is located right near the historic centre of Bologna.  It is on a quiet side street located near two landmarks in the city.  On one side, you have the Courts of Justice housed in the majestic Palacio Baciocchi (formerly the home of a prince married to Napoleon's sister). On the other side, you have Piazza San Domenico with the Basilica San Domenico, one of the most beautiful and historic churches in the city.
A few minutes along the beautiful Garibaldi colonnade will take you to the famous library and anatomy studio at the Archignassio for culture or to the Galleria Cavour for high-end shopping.
The historic part of Bologna has traffic restrictions which make it perfect for walking.  You lose track of time while you wander around admiring the beautiful architecture.  At the end of the day when your feet are about to drop off, it's simply heavenly to realise that you don't have very far to walk to get back to your hotel.
Tip:  For a delicious pick-me-up, Caffe Zanarini, for great coffee, chocolate and snacks is located on the corner of the Archignassio building.  I also found the cafe a perfect place for people-watching.   
Contemporary Interiors
Most of the rooms have been recently refurbished.  The interior decor is a harmonious marriage of modern furnishings in a historic setting.  Each room has tea and coffee making facilities as well as a flat-screen TV.  The bathrooms are also sleek and contemporary with ultramodern rain showers.
The free WiFi was excellent.
Tip:  Make sure you get one of the refurbished rooms.  Ask for a room in the back of the hotel. They have terraces some of which are quite large.  Just think:  You can sit in the comfort of your own terrace sipping wine on a balmy summer evening.  The higher floors have better views obviously.
Friendly Service
Hotel Touring is a small hotel which has been in the same family for 50+ years.  The family take pride in their hotel and rightfully so.
As a small family-run establishment, they are open to catering to individual needs.  For example, the hotel driver, Giacomo Colombo, told us about Touring in Love where you can rent the rooftop for private use.  The hotel will set up a special dinner and, occasionally, Giacomo is called on to whisk an unsuspecting partner to the hotel in his car for a very nice afternoon surprise.  Doesn't that sound just dreamy??
Family Rooms Available
As I have previously mentioned, I think Bologna is underrated as a family-friend city.  If you are visiting Bologna with children, the Hotel Touring is a great option for you.
The Hotel Touring has 5 family rooms made from 2 regular size rooms connected together. These rooms are in the back of the hotel and they have a small terrace overlooking the nearby rooftops.  They have a double bed as well as a sofa bed which can sleep 1-2 children.
In addition, the courtyard on the ground floor has 2 suites.  They have a private courtyard themselves.  One of the suites has a kitchenette.  The two suites are next to each other so they would be ideal for two families travelling together.
Tip:   I did a quick check at a booking website and it did not let allow me to reserve one room with 2 adults and 2 children.  I know from having spoken to the owner, Manuela Stagni, that they definitely do have family rooms available to rent irrespective of what the booking portal says.
Outstanding Views
Even if you don't have one of the top-floor rooms with a view, the rooftop terrace is open to all guests.  During the summer months, there is a hot tub available for guest use.  The roof terrace has a retractable awning for protection from the searing summer heat.  Space heaters and shades allow the use of the rooftop well into the winter nights.
I went to the rooftop every evening.  I could not get enough of the view because it was the perfect way to end the day.  As the clouds and light changed, the view felt fresh and different every time.  And, yes, the WiFi signal worked on the roof terrace.
Tip:  Ask for reception to bring you a bottle of wine and nibbles up to the roof terrace for a civilised pre-dinner drink.
Visiting Hotel Touring in Bologna
You can book directly with Hotel Touring through their website. The website is available in English as well as a host of other languages.  Hotel rates range from $80 to $325/night which includes a continental buffet breakfast.
Tip:  If you book directly with Hotel Touring and mention this post, you will receive a 15% discount on their rack rates. 
I visited Hotel Touring in Bologna with my friend Rachel of Rachel's Ruminations.  She had received a complimentary room for two nights for review purposes from Hotel Touring.  We paid for our room for the third night of our stay.  My views and opinions on this review are completely my own and are in no way influenced by the partnership with Hotel Touring.
SPREAD THE WORD! PIN THIS TO YOUR TRAVEL PINTEREST BOARDS FOR FUTURE REFERENCE! 
This site generates income via partnerships with carefully-curated travel and lifestyle brands and/or purchases made through links to them at no extra cost to you. More information may be found on our Disclosure Policy.