If you haven't had a chance to visit London this Christmas, I've got a virtual tour of festive events that will have you planning to visit London next year in December!  From the City of London to the West End, Londoners take Christmas very seriously.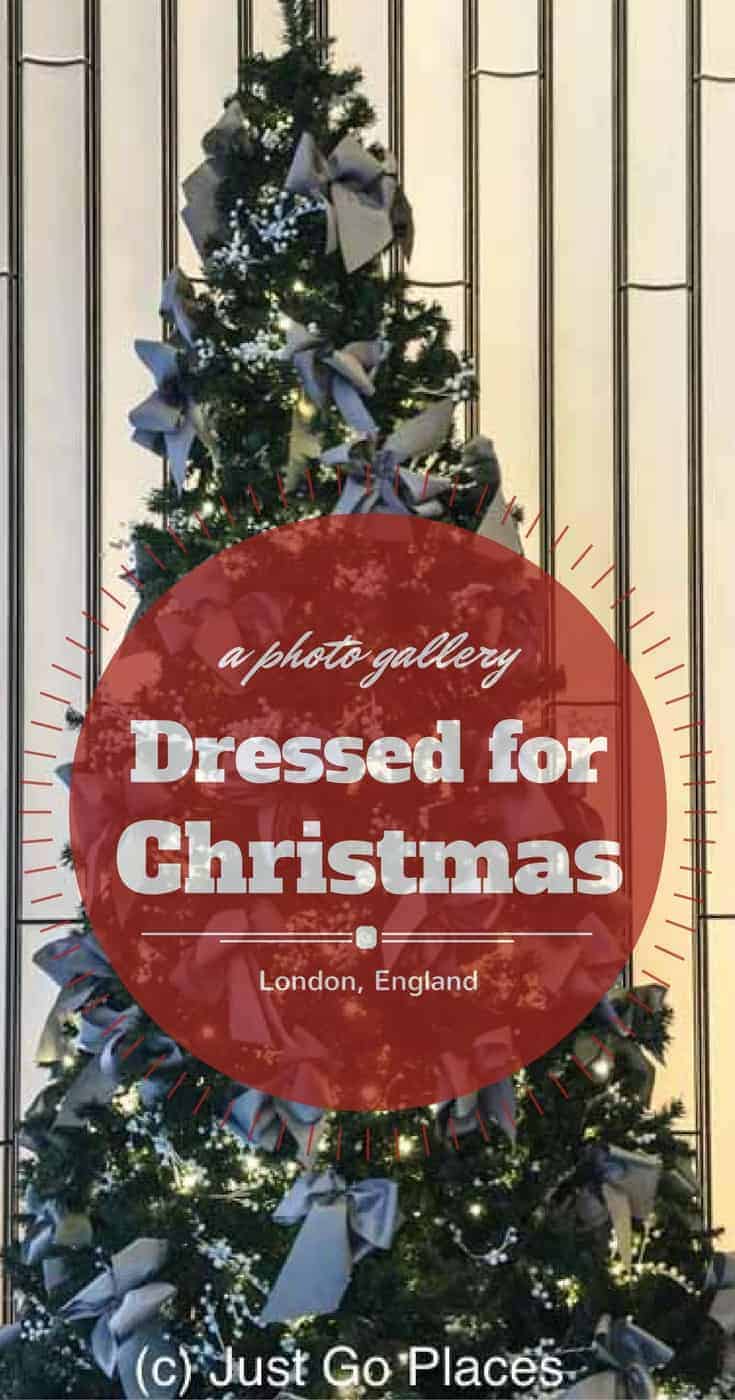 The Christmas Makeover of Dennis Severs' House
Dennis Severs was an American with way too much money and a love for period architecture.  He restored a house in Spitalfields where the Huguenot silk weavers had settled in the 18th century after they had fled persecution for their faith from France. The house is now 'still life drama' with each floor showing how the fortunes of the house (and occupants) fared from the 19th century to the 20th century.
For Christmas the house is decorated like it would have been during the period portrayed included smells and noises. I really did feel like I had my own Ghost of Christmas past leading me through the house. Needless to say, the Victorian period did make you feel you were hanging out with Tiny Tim from A Christmas Carol in all of their sad squalor.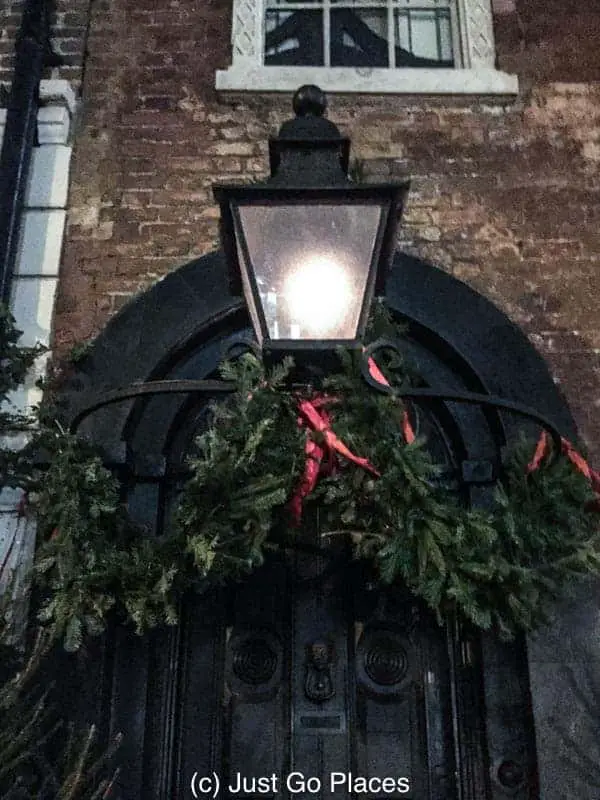 No photographs are allowed inside the house but the museum does have a YouTube video showing you what to expect.
The Most Festive Pub in Britain
The Churchill Arms in Notting Hill in London has been called the most festive pub in London.  It's got 90 Christmas trees strapped to its outside and is decorated with 21,000 lights.  I would say having a pint (or two) inside counts as a festive event in London don't you?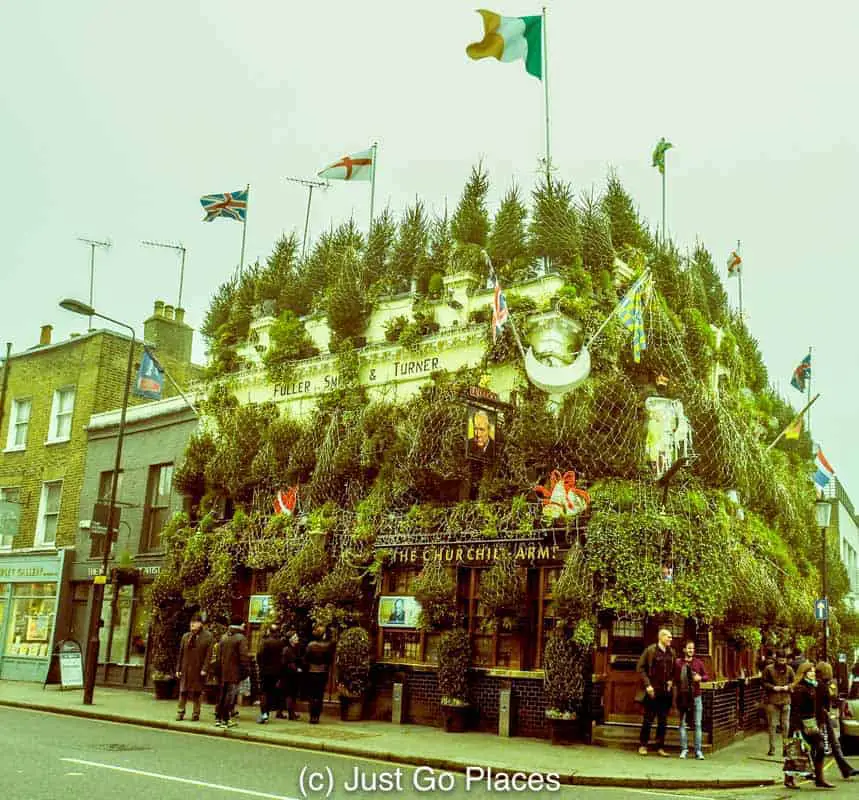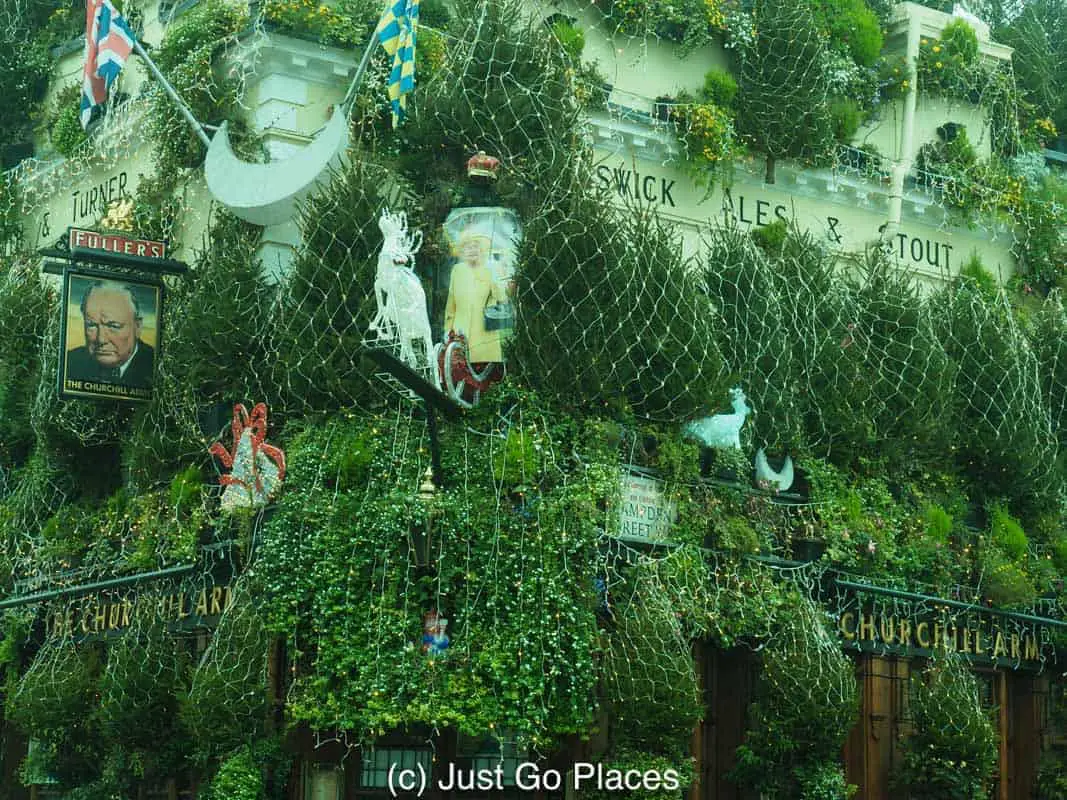 Harrods, the Christmas Experience
Harrods this year went with a very British fairy tale Christmas theme.  The windows were decorated with mannequins of children and animals. I guess in times of world uncertainty it all goes back to children and animals (and very expensive accessories).  I found it underwhelming – perhaps all in just too good taste. Let's face it, no one goes to Harrods to experience good taste.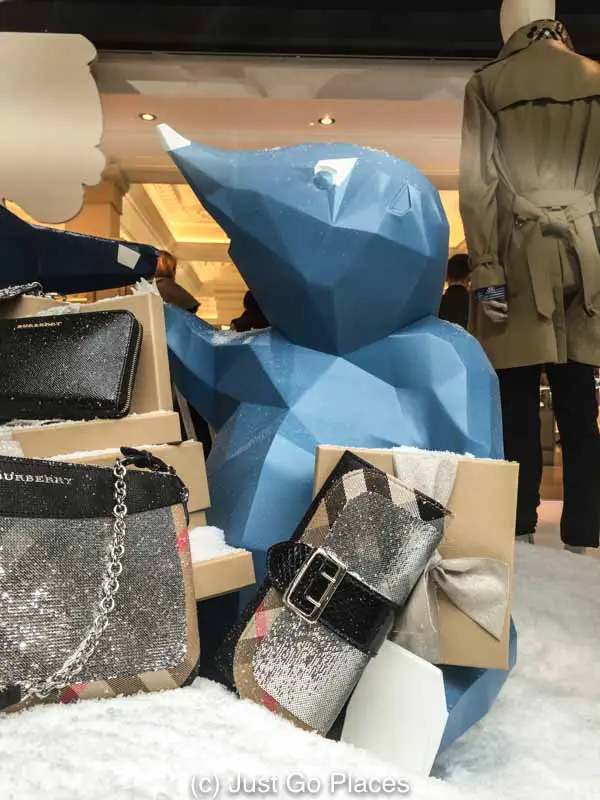 One of the funniest things we saw in Harrods this year was a mother chasing her child who was wailing that she wanted her Elsa doll NOW.  The 3 year old was too fast for the mother who was teetering around in heels. I'm sure the mother was thinking that quality time with her child was overrated.
The Santa Grotto at Harrods is in the massive toy department. The appointments open in August and it is usually full up by October.  I remember taking my kids to the Santa Grotto each year and dreading having to go through the toy department. It definitely is a lesson in fortitude.
The Harrods Food Hall has great gifts if you need something easy to give someone you don't know very well.  It's easily packaged and the Harrods name conveys that you care (enough to pay over the odds).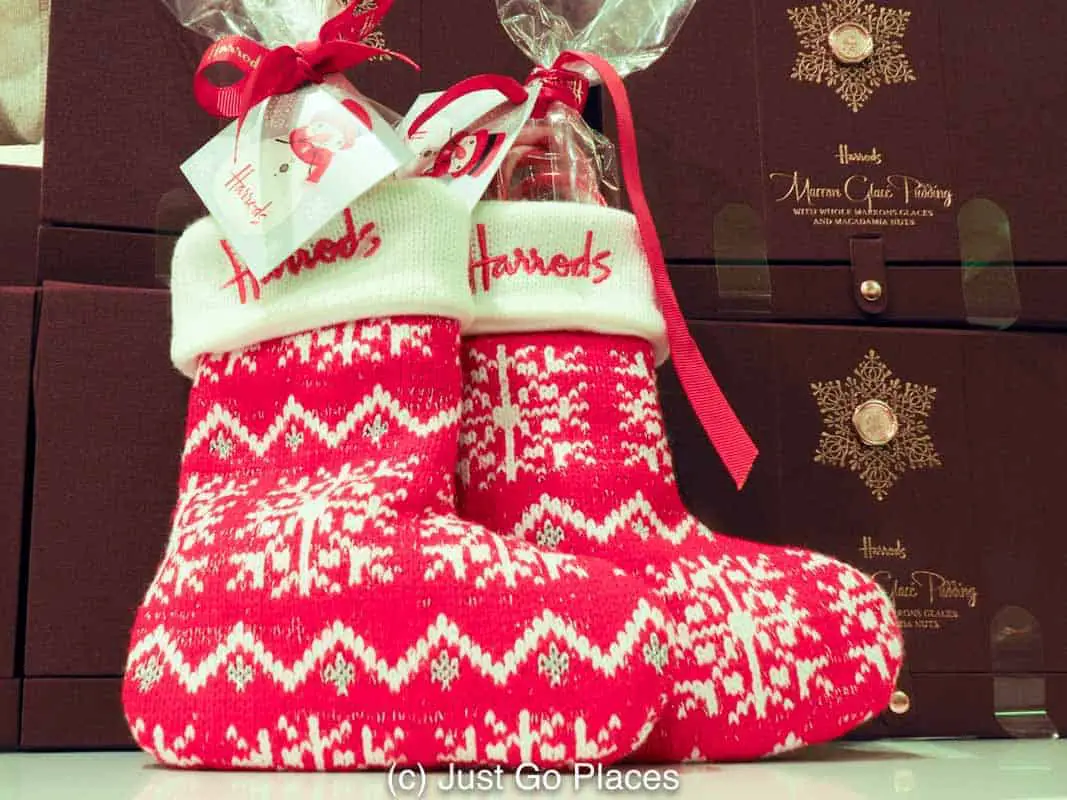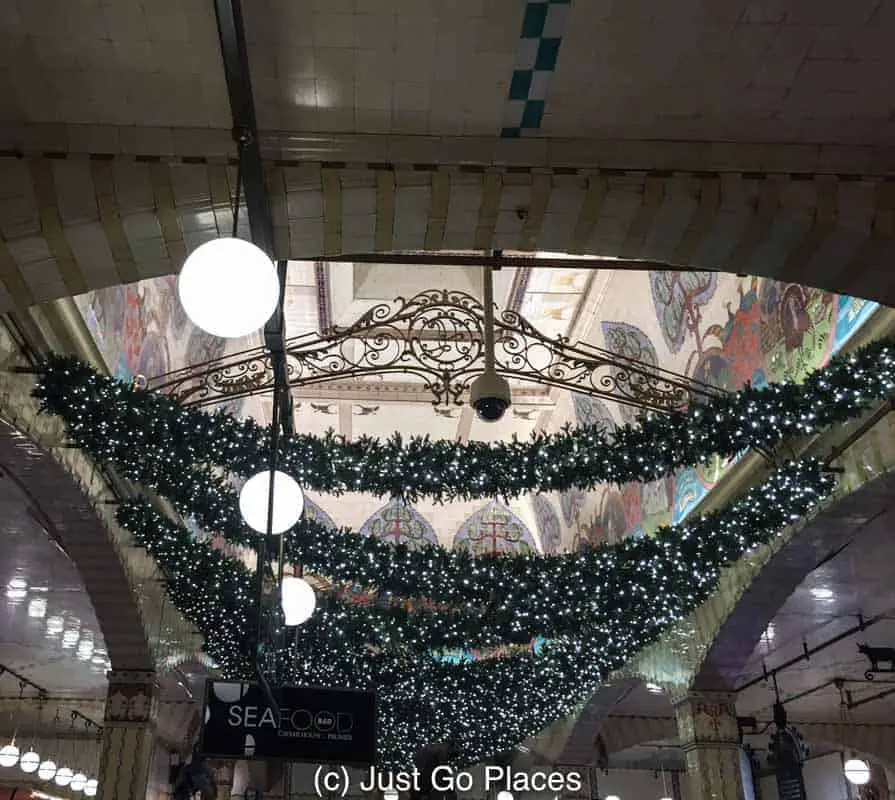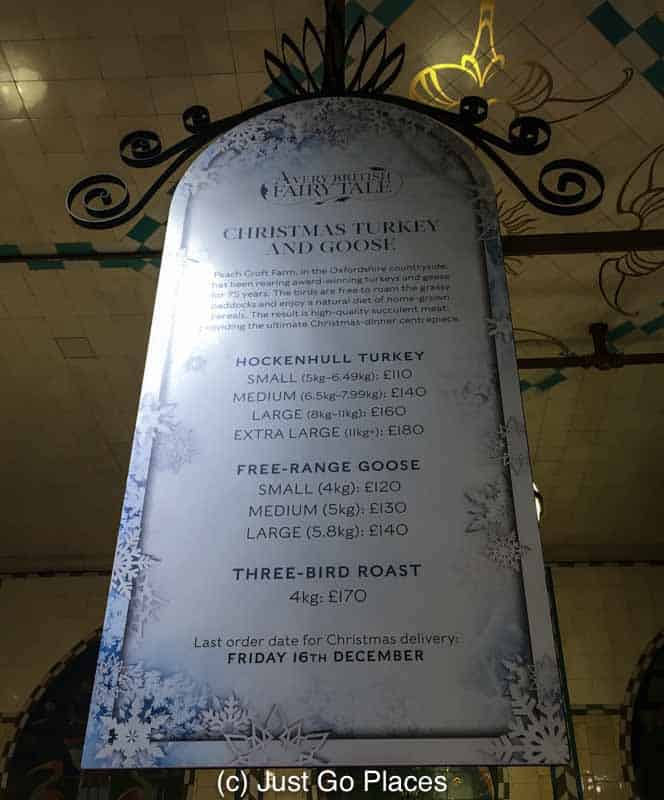 Festive Window Shopping
Like in Paris, New York and other big cities, the big hotels and department stores do very creative festive displays.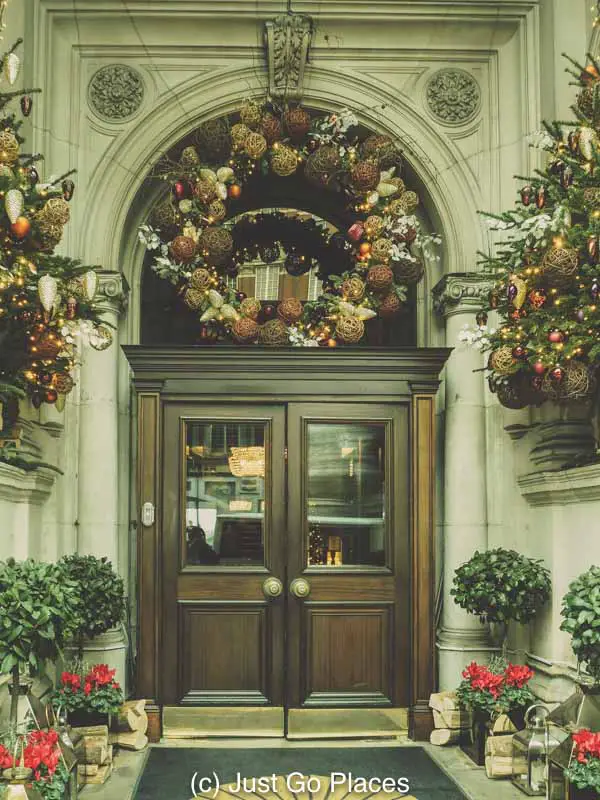 The Harvey Nicks window displays were not as colorful as last year. They were more interesting though than Harrods.  A certain Let Them Eat Cake attitude prevailed.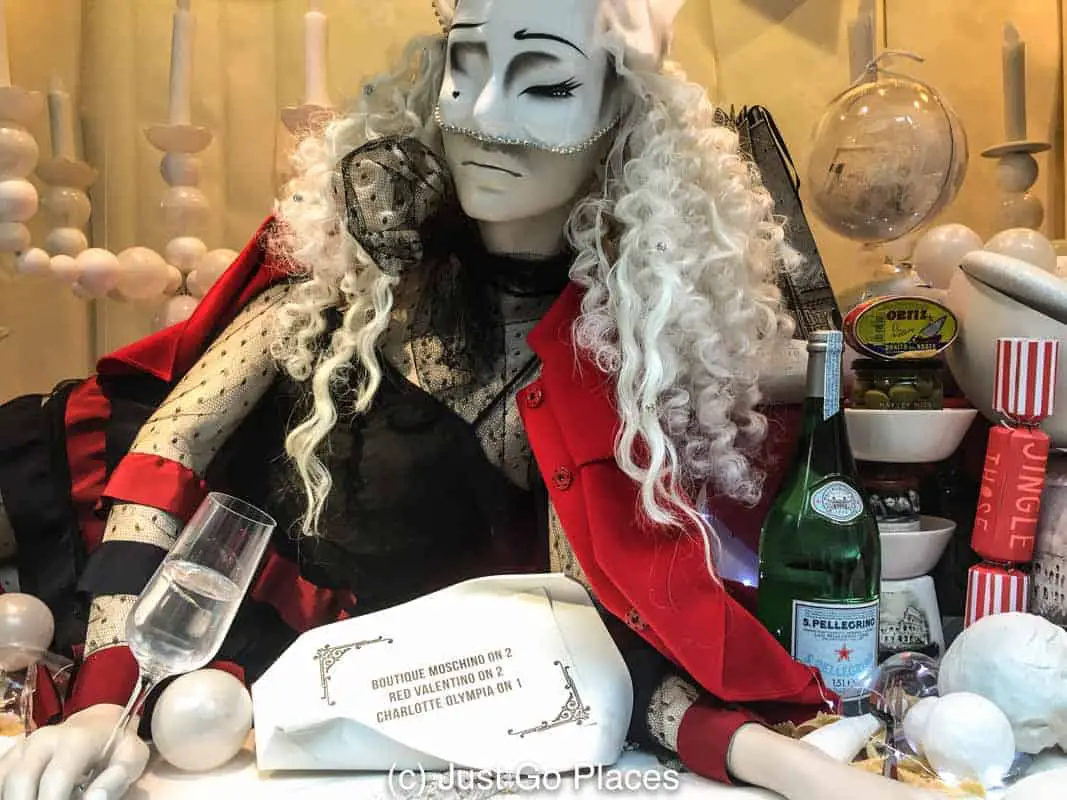 I have no idea why some of the stores in London and New York both insisted on having insects in their windows. I personally found it creepy even if the fashionistas declare that insects are a big thing for next season.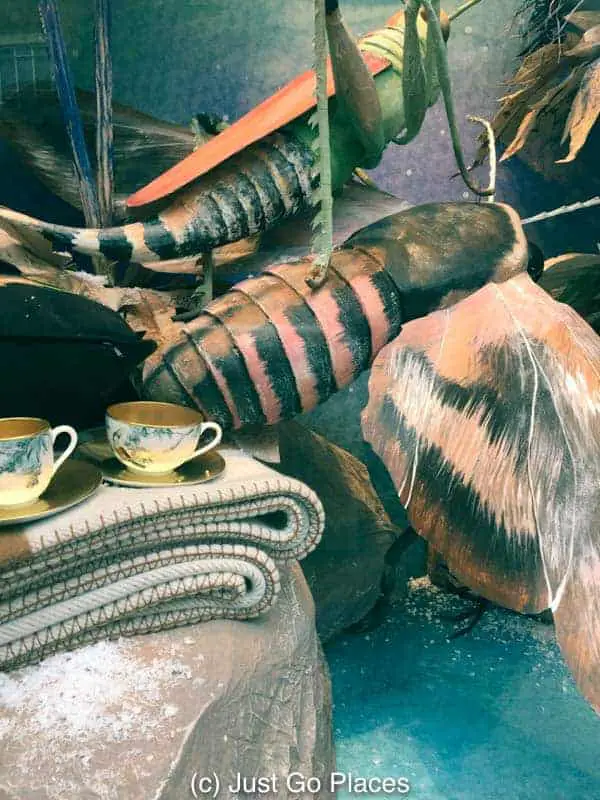 Dolce and Gabbana went back to Sicilian roots with a decadent store front display.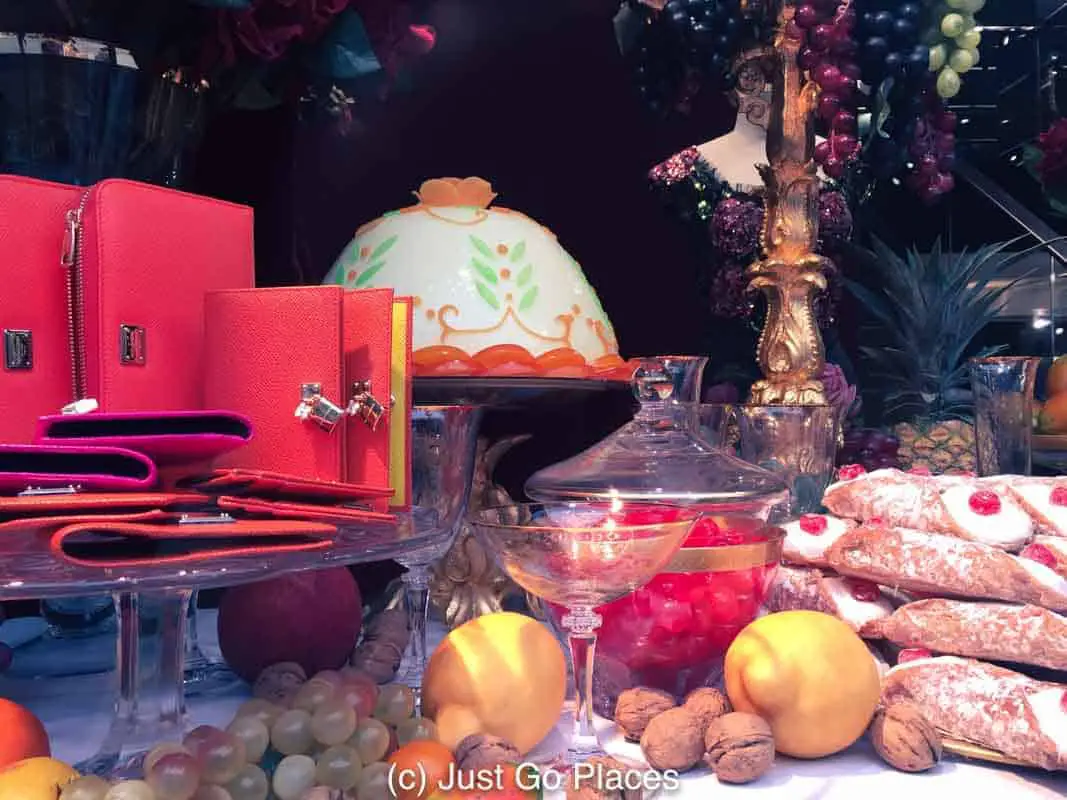 The Lights, The Trees etc.
My favourite tree this year was in front of the art school, Central Saint Martins, in Granary Square in Kings Cross. The 17 foot Christmas tree with 1200 lights is frozen in resin created to look like a giant block of ice. The ice puddles into the fountains in which it is located in an effect created by 550 pounds of melted clear wax. It's called "Fighting Fire with Ice Cream" by Alex Chinneck who is known for creating OTT public works of art.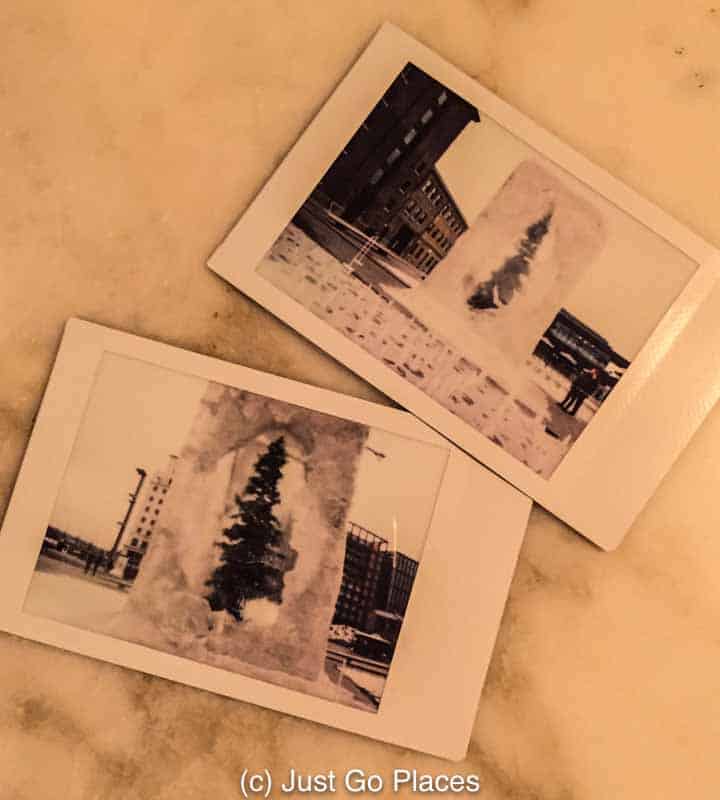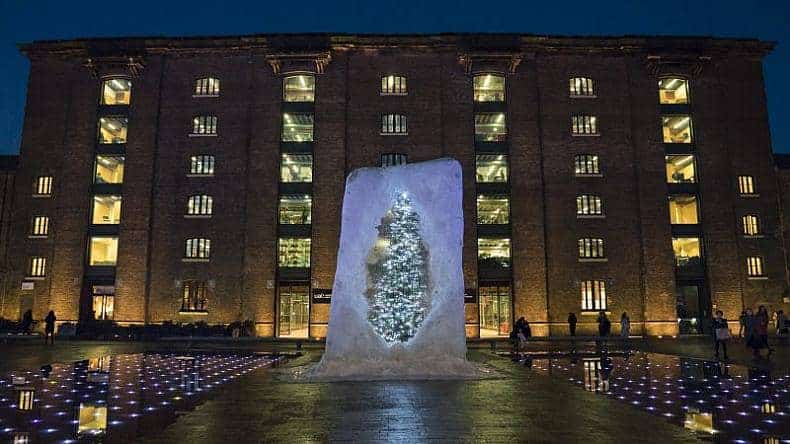 For some more traditional Christmas festive events such as the ice rinks that dot the city and the lights at Oxford Circus, check out this video put together by the Visit London:
What do you think?  Would you now consider coming to London in December?  The days may be short and dark, but there is plenty of sparkle in the city nonetheless.