We got into the taxi and my husband realised he had forgotten the name of the restaurant where we were dining. For someone who is super-organised at work, he is remarkably forgetful as soon as he leaves the office.  It was up to me to explain where we needed to go while he was trying to get a signal on his phone to find the address.  My explanation of sail-shaped tower building seemed to make no impression on the Pakistani taxi driver. Luckily, his taxi meter had a photo of the Burj Al-Arab and we were able to tell him to take us there.  Good thing then that we were having dinner at the Burj Al-Arab in Dubai and that a photo of the building is splattered everywhere in the city.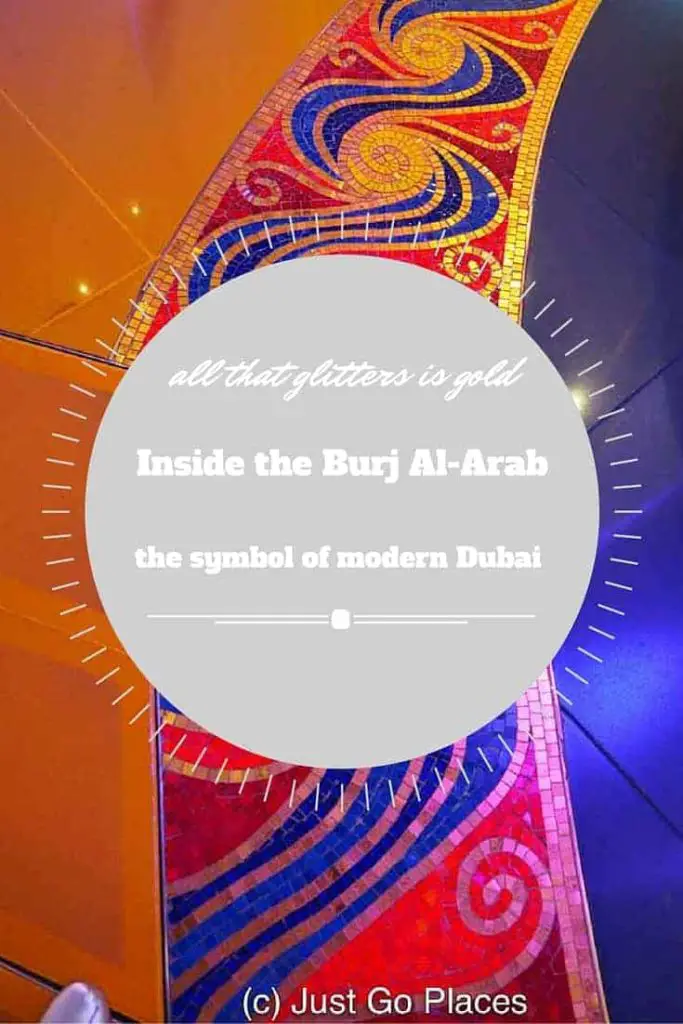 About the Burj Al-Arab
Design
The Burj Al-Arab stands on an artificial island connected by a bridge to the mainland. A guard has to check that your name is on the list before you are even allowed onto the bridge.  The better to keep the plebs away.
It likes to think of itself as a 7-star hotel although technically there is no such thing.  Even the Emirates Palace in nearby Abu Dhabi doesn't try to beat such rankings. Frankly, the last time I was blinded by so much bling and opulence was at the Emirates Palace. The Burj Al Arab's been voted tops in the world's luxurious hotel stakes by the Daily Telegraph, Travel & Leisure and others.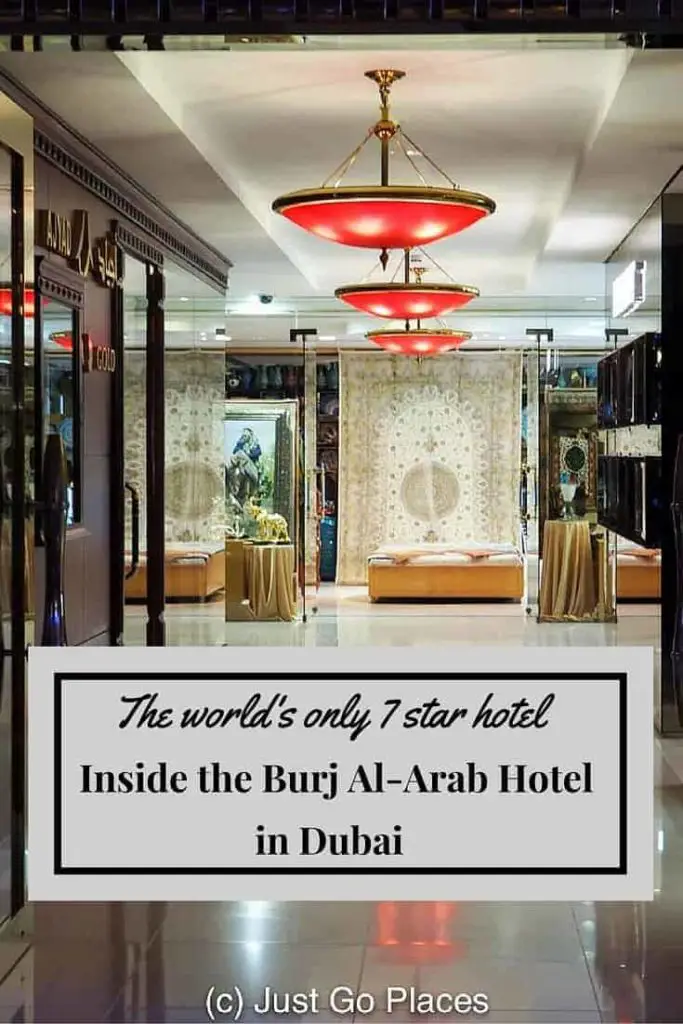 The hotel was designed to become a symbol of modern Dubai in the same way that the Eiffel Tower, the Statue of Liberty or other well-known architecture symbolises their cities.
I think the interior is as interesting architecturally as the famous exterior. It has a vast atrium and buttresses that soar to the ceiling.
This hotel has been criticised for being more style over substance.  Unfortunately, that could be said for all of Dubai.  And, it's done just fine.
Hotel
The hotel is shaped like the spinnaker sail of a yacht .  On the top there is a helipad.  Because you know every sailing yacht needs a helipad.  The law of physics shouldn't stand in the way of dreams.
The whole hotel is speckled in gold leaf and marble.  If you want total over-the-top opulence, then this hotel is for you. There are butlers, in-room check-in, a pillow menu and free Wi-Fi (yeah!).  The two Royal Suites are the peak of extravagance and meant for those guests only used to the best.  Costing over $20,000 a night, each Royal Suite takes up one half of the 25th floor.  Take a look via Architectural Digest because we definitely can't afford it.  Not unless this blogging gig kicks it up several notches.
Random Facts
Some impressive facts about the Burj al Arab in Dubai:
The atrium is 590 ft tall.
The hotel has 28 duplex floors with 202 suites.  The smallest suite is a little less than 2000 square feet and the biggest is more than 8000 square feet.
There are 4 swimming pools and a private beach.
Almost 30% of the hotel is non-usable space.
It took 5 years to build and 2000 immigrant construction workers toiling in the sun.
And, don't let anyone tell you that this hotel doesn't give freebies.  You get free access to the Wild Wadi Water Park (owned by the same Jumeirah Group) and located down the road from the gates.  You could probably get yourself driven there in one of the chauffeur-driven Rolls Royce.
Dining at the Burj Al-Arab
There are nine restaurants in the building all of them trying to outdo each other (it would seem).  The Skyview Bar is located 660 feet above the Persian gulf with panoramic views.  Gold on 27 is a nightclub decked out in (what else?) more gold leaf.  Sahn Eddar is where you can have afternoon tea.  The Al Mahara is a seafood restaurant located inside an aquarium.  Junsui is Japanese food in a setting drowned in Swarovski crystals.  These restaurants have half-price menus available for children – very handy because these places are NOT cheap.
What I thought was really cool (if you want to see more than one restaurant) and have a half-day free to spend just eating is the Culinary Flight Restaurant Experience.  You get to try the different restaurants for either lunch or dinner. For example, pre-dinner drinks at the Skyview Bar, appetisers at one restaurant and then two different courses and dessert at three of the other restaurants. During low season (summer), it runs 875 AED (US$ 238) for lunch without drinks.  Obviously the price only rises from this base figure.
Al Iwan Restaurant
We opted to try the Al Iwan which serves Middle Eastern fare because you figure you have to get the best Arabic food in this place. Al Iwan means 'Royal Hall' in Arabic and it's definitely sumptuous.  It is a buffet so that you can try a variety of different dishes.  There is a small corner serving non-Arabic food such as pasta.
The theme of the restaurant was red and gold and ornate.  Really ornate.  It was about this time when the gold glare got to me that I envied my husband who is colour-blind.
Photo Gallery of Burj Al-Arab
This place has got to be seen to be believed.
If you would like to see more photos of the inside, please check out my Steller Story on the Burj Al-Arab.
I hope you enjoyed this tour inside the Burj Al-Arab. We satisfied our curiosity of what the inside of such a symbolic building could look like.  I'm not sure we'll be rushing back but it was good to see how the 0.001% live.