Thanks to Gwen Stefani, Harajuku became popularised in mainstream Western culture with her Harajuku Girls backup dancers.  Harajuku is a very trendy area in Tokyo which is located in the Shibuya ward.  It runs from Harajuku station right in front of the Meiji Shrine on the edge of Yoyogi Park through Omotesando and their little side streets, including the can't miss Takeshita Street and Cat Street.  The area is known for both youth culture as well as seriously high-end international shopping.   Only in Japan can counter-culture and luxury culture mix so seamlessly.
We loved the area so much we spent several days roaming through the back streets and even attending the Harajuku Halloween Parade.   I've distilled our experience though into something that you can do in one day because you may only have one day for trendy Tokyo and Harajuku with kids in tow.
Here are some fun options that you and your kids will both enjoy:
Around Ometesando
The Japanese like to think of Ometesando as the Tokyo version of the Champs Elysses. There are a lot of international stores on this street as well as great architecture.  For example, check out the Prada flagship store which was built by a Swiss architectural firm to look like stacked glass blocks.
The Gyre Mall is another cool building built by a Danish architectural firm where each floor is twisted so that it forms a spiral.  The stores inside also range from luxury such as the Chanel store to trendy concept fashion stores.  It's also got one of the only two Museum of Modern Art Store outside of New York in the world.  In case, you're wondering the other MoMA outpost is in Korea.  As I've mentioned before, my kids love the MoMA design stores for finding cool gifts.
With children though, the highlight of Gyre Mall has to be located in the basement.  There is a branch of that other New York favourite, Magnolia Bakery, with its scrumptious cakes.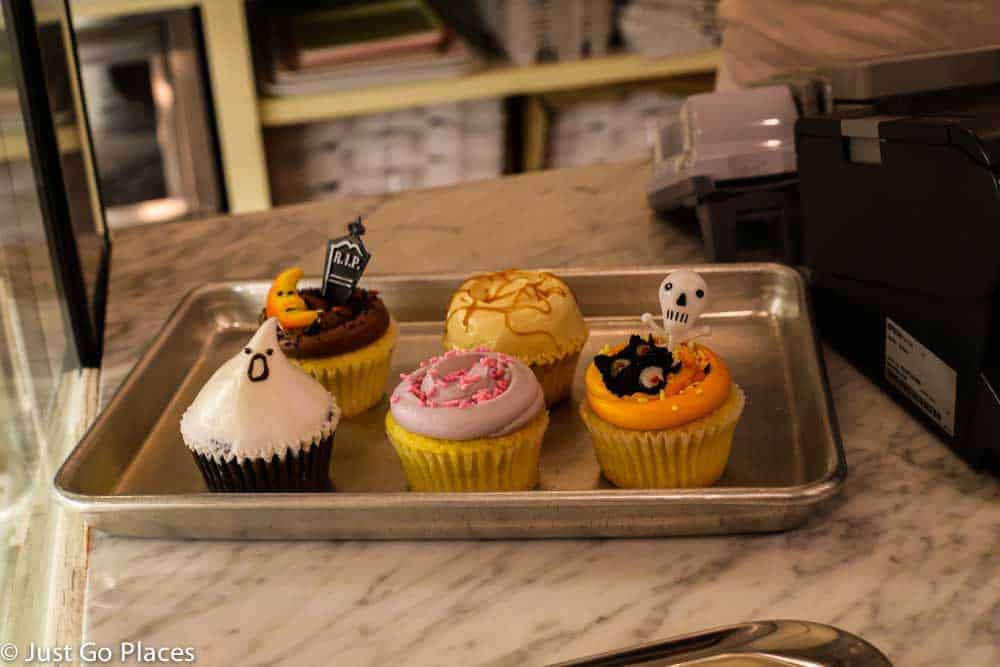 The children's store, Kiddy Land, is several floors of children's delight. It's got lots of stuff from the popular children's Japanese characters such as Doraemon and Little Twin Stars.  We found some unique gifts for friends and cousins to take home.
The Ometesando Hills shopping mall was designed by Japanese starchitect, Tadao Ando. It's worth visiting even if you don't shop in the luxury stores.  The design is built half-underground on a triangular spiral.  I know that makes no sense until you see it for yourself.  Sort of like the Guggenheim Museum, the building is a work of art in itself.
Around Cat Street
There are lots of cafes and stores on and off Cat Street which is a pedestrianised street.  For example, there is an entire store devoted to children's North Face clothes.  I also loved the vintage clothes stores.  Its quite easy to find because Cat Street dead ends onto Omotesando street by the Gyre Mall.
The first side street that goes off Cat Street at the Omotesando end will take you to a fantastic gyoza restaurant, Gyoza Lou.  It only serves up fried or boiled dumplings but they are delicious!
The Roastery is a great coffee shop with plentiful outside seating where you can hang out and watch the street life.  Of course, while you are watching people, be prepared to have people watch you.  I saw a whole bunch of Japanese people giggling at my son and his friend making faces at each other and mucking around like kids do.
Beauty & Youth United Arrows is a great Japanese store that stocks lesser-known international fashion. I also liked their range of homewares.
My kids absolutely loved Rainbow Spectrum. This store has got cheapish cool things sort of like the Danish stores, Tiger, but with a Japanese sensibility.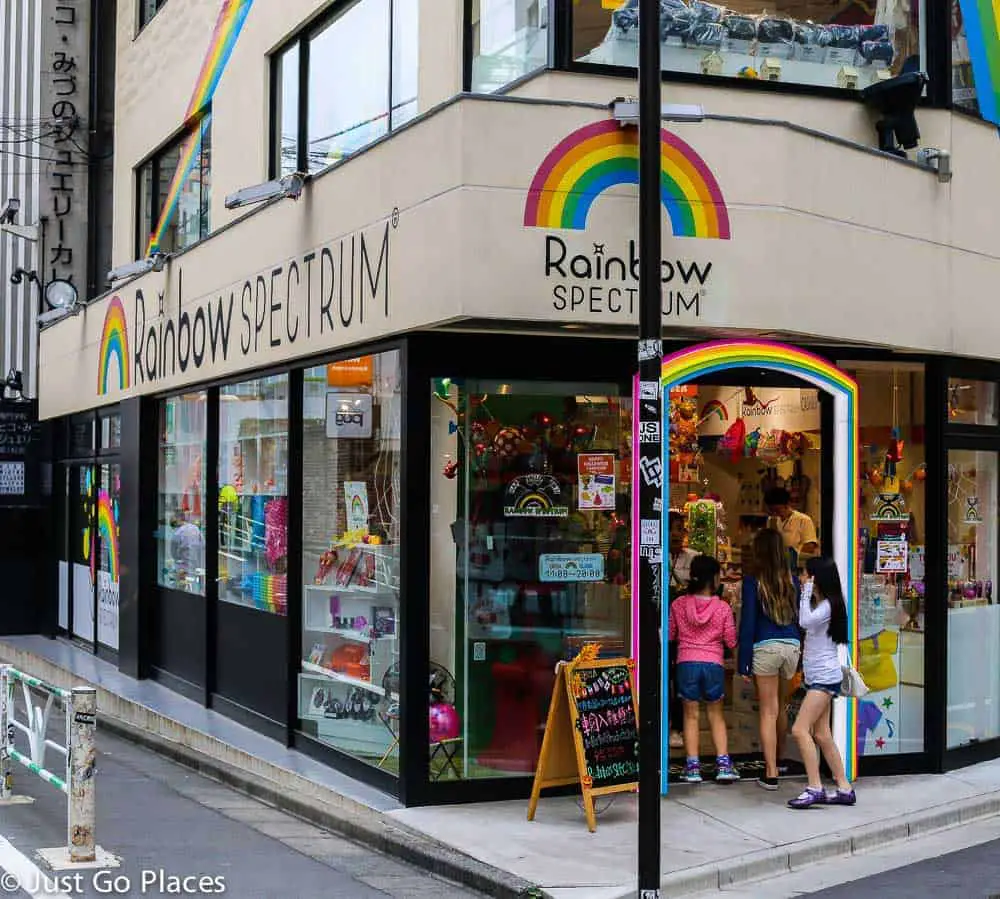 On a side street right behind Cat Street, you will find the Harajuku branch of R.a.a.g.f (the rabbit animal cafe we tried to visit).  The rabbits were absolutely adorable and the staff very apologetic when we tried to visit on a busy Sunday without an appointment.
The Choosy Cat Cafe right next door to R.a.a.g.f. was less friendly than we expected especially for the uber-polite Japanese culture.  With this sort of sign, I'd be afraid to knock on the door even if I didn't have the children with me.  By the way, they don't allow children aged under 13 in this cat cafe.
Around Takeshita Street
Takeshita Street is pedestrianised as well.  The street is easy to find because it is pretty much across the street from the JR Harajuku station.  Be prepared for sensory overload as there is a lot happening.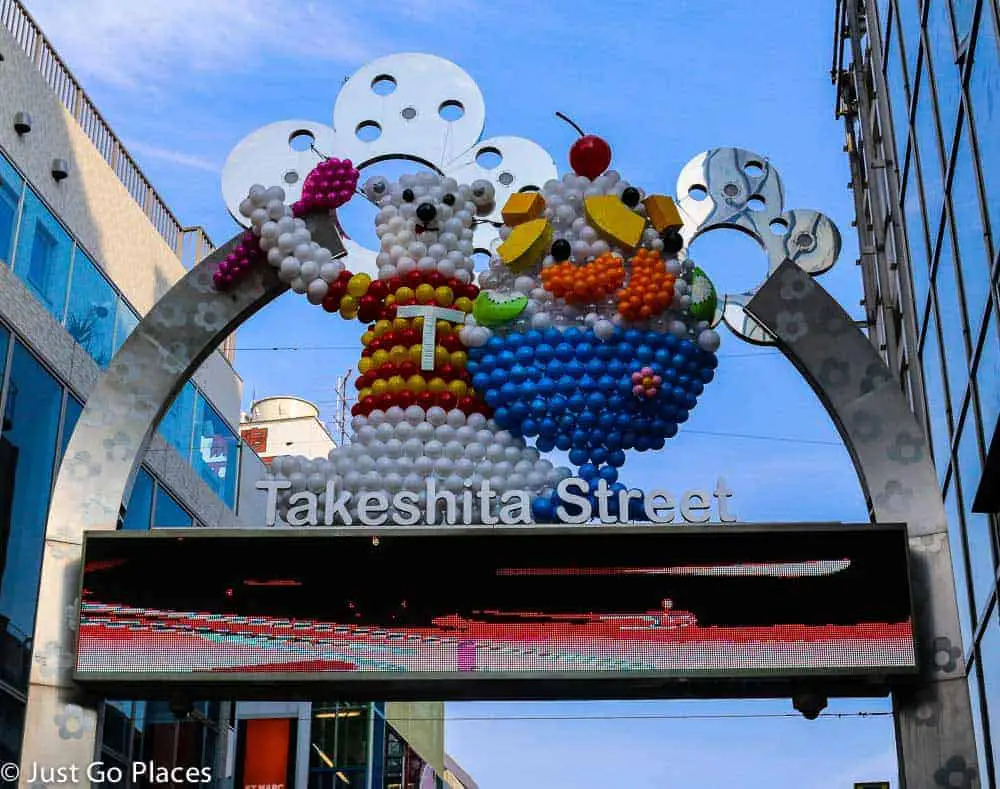 Another place you can let your children buy random things without breaking the bank is Daiso which is a (mostly) 100 yen store.  My kids were delighted with the cutesy Japanese erasers and stickers they found.  No way can you get that sort of stuff in England or the USA for the equivalent of 50p.
We had lunch at Wolfgang Puck Express. Not very Japanese I know but the kids were angling for a burger.  Harajuku is also famous for its crepe stores of which there are plenty on the street.  They have plastic displays of each type of crepe variety that are startlingly realistic.
My daughter loved the Wego store. I mean woollen gloves with penguins on them – how could she be expected to live without them?  Of course, it meant we didn't have to buy anything at the Hello Kitty store which is as pink and girly as you would expect.
At the other end of Takeshita Street, you will come across a major thoroughfare (Meijii Dorii). When you cross Meijii Dorri, you can continue exploring on Harajuku Street.
My Verdict on Harajuku with Kids
There are so many interesting places to nip in and out of that you will have no problem spending a day exploring Harajuku.  I really enjoyed the back streets and the pedestrianised streets because then the children could explore without my fear they would get run over.  Especially on Takeshita Street, you may want to go on a weekday because the weekends can be quite crowded.
***
SPREAD THE WORD! PIN THIS TO YOUR TRAVEL PINTEREST BOARDS FOR FUTURE REFERENCE!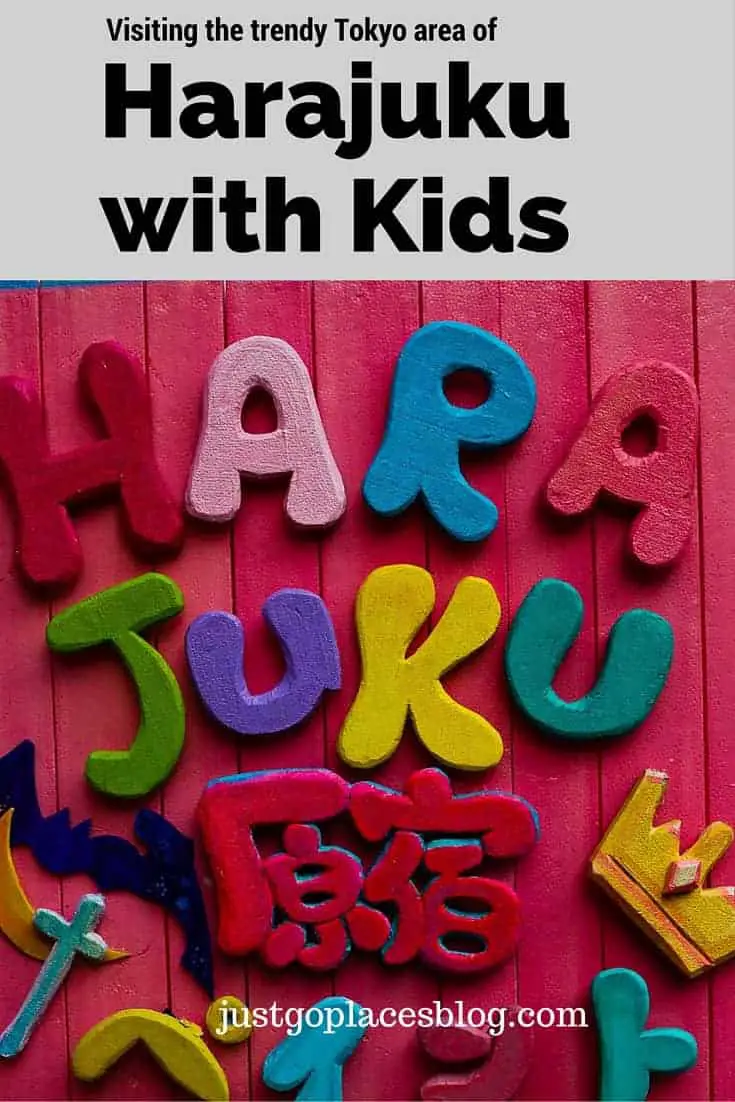 This site generates income via partnerships with carefully-curated travel and lifestyle brands and/or purchases made through links to them at no extra cost to you. More information may be found on our Disclosure Policy.