Austria
Austria had its heyday with the Hapsburgs when they controlled the Austro-Hungarian Empire, one of the world leaders of its time. They lavished their money on art, music and buildings, the results of which can still be seen today. Outside of the cities, you get the beautiful mountains and lakes, popular for both summer and winter activities.
Things To Do in Austria
We have been to Austria several times for different reasons and for good reason. There are so many things to do in Austria that we feel we can keep going back without being bored. Vienna and Salzburg make charming city breaks. In and around the Tirol is great for walking in the summer, spa breaks all year round and skiing in the winter.
Things To Do In and Around Vienna
Going to Vienna's historic centre is like stepping back in time. The wealth and power of the mighty Habsburg Imperial Family and the Austro-Hungarian Empire is in your face. There's no subtlety. None was intended.
The Hofburg Palace is one of the biggest palaces in the world has various attractions to visit including the state rooms and museums. We were super-impressed with the Imperial Library at the Hapsburg Palace. We heard the famous Vienna Choir Boys sing in the Imperial Chapel.
We went to visit the famous Lipizzaner Spanish horses in the Imperial Stables twice – once to see the Lipizzaners do their morning exercise and the second time to see the Spanish Horses perform the precise choregraphy for which they are known.
We've been to Vienna in both summer and winter. Vienna at Christmas is magical – so many Christmas markets. You can throw a stick and hit a Viennese Christmas market practically.
Vienna is a very family-friendly city with lots of attractions geared for kids.  You will not run out of things to do in Vienna with kids, such as the Haus des Meeres, an aquarium situated in a former World War II gun tower.
My children loved LOVED loved the thermal spa, Therme Wien which had slides, diving boards and pools all heated to a perfect temperature.
Another big hit was The Prater, the oldest amusement park in the world. We rented bikes and traipsed around the adjoining park where lots of locals were hanging out enjoying themselves.
The kids enjoyed the House der Musik, an interactive sound museum, especially the exhibit that let them lead an orchestra and the piano keyboard steps. There is an exhibit which is supposed to mimic the noise they would have heard in utero but that room completely freaked them out.
As for the food? Well we are big fans of the local hot dog, Kasekrainer, at Bitzingers stand right near the Hofburg Palace.
We also ate way too much cake. The Austro-Hungarians turned art making into high art and we are big fans of art especially in food form!!  We taste tested the sacher torte which is THE famous chocolate cake from Vienna as well as a whole host of other pastries at Demel, the pastry shop that kept the Hapsburg sweet tooth happy.
Things To Do In and Around Salzburg
We are big fans of the classic movie, The Sound of Music, and so Salzburg has long been on our must-visit list. We did the traditional The Sound of Music tour as well as visited the original home (now turned hotel) of the von Trapp Family.
Salzburg has lots more to recommend it than just as the picturesque setting of The Sound of Music. It is also home to the oldest restaurant in the Europe, a gigantic fortress, the Red Bull Aircraft Museum and a charming old town.
You are also well-located for day trips from Salzburg to picture-perfect towns, lakes and mountains. Nearby you have the national park near Berchtesgaden (technically in the Bavarian Alps of Germany) and the salt mines that gave Salzburg its wealth (and name). Another good side trip is to Hallstatt, a town made wealthy by its salt mining and famous for being impossibly pretty.
Things To Do In and Around the Tirol
A friend told us about Aqua Dome, a thermal spa in the Tirol, which is supposed to be one of the best in Austria. So, of course we went and it was indeed great! We did some hiking to burn off the calories from all the food we consumed because it was an all-inclusive with a great menu.
In addition, we drove to Innsbruck and spent the day at Swarovski Crystal Worlds – a crystal museum and art complex. It's got lots of interactive exhibits and is well-geared towards families. My kids loved the play areas and the maze.
We've been skiing in St. Anton and Lech. Both resorts are great for intermediate to advanced skiers. I would not recommend it for beginner skiers because there isn't that much easy terrain (despite what the resorts themselves say). When one of our pregnant friends had cramps one night at the hotel, she was whisked off in an emergency helicopter to the nearest hospital. Austrian efficiency to the rescue!
Practicalities for Visiting Austria
Safety in Austria
Austria has a pretty low crime rate but you do get the occasional petty theft such as pickpocketing around the tourist areas.
Getting Around Austria
We have both hired a car to drive around Austria and also taken the trains.
The roads are easily navigable and easy to drive.
Travel Tip: If you hire a car across the border in Germany, you need a special sticker that you pay for at the Austro-German border and attach to the windscreen that allows you to drive in Austria.
The Austrian inter-city trains are a joy to take (almost on par with Japanese trains for cleanliness, timeliness and efficiency).
Accommodation in Austria
Hotel Imperial Vienna (5* former palace which is part of Starwood Group)
Altstadthotel Kasererbrau (3* in Salzburg with a family duplex available)
Hotel Schloss Leopoldskron (4* in Salzburg)
Aqua Dome (4* in Langenfeld)
Hotel Schwarzer Adler Sport & Spa (4* in St Anton am Arlberg) is well-located for the main ski area of St Anton. Being central helps you get the most of the apres-ski as well in this party town.
Hotel Haldenhof (4* in Lech) has a family room where the kids' have an upstairs lofts space.
Sightseeing Tours We Took in Austria
The Spanish Riding School Morning Exercises for the Lipazzaner horses
Vienna Tour of the Hapsburg Imperial Library
Salzburg Lakes and Mountains Tour
Tour of Berchtesgaden and Konigsee from Salzburg
Innsbruck Swarovski Crystal Worlds Tour
SaveSave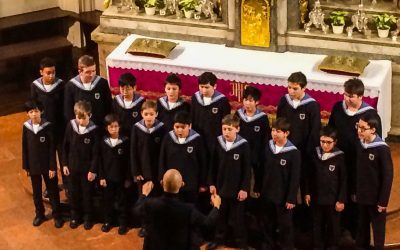 I grew up listening to the Vienna Choir Boys Christmas album.  Yes, album, not cassette, tape or CD.  Although vinyl albums have been surging in popularity lately, this memory makes me feel really old.  But what's Christmas with a little nostalgia, right?  Along the...
read more
INSPIRATION FOR FAMILIES WHO ENJOY INDEPENDENT TRAVEL IN STYLE AND COMFORT
We are a participant in the Amazon Services LLC Associates Program, an affiliate advertising program designed to provide a means for us to earn fees by linking to Amazon.com and affiliated sites.